What Is a Wheel Hub?
Wheel hubs are a cast or machined metal part, found between the vehicle's suspension and the wheel. Hubs connect the axle to the wheel and allow the wheel to spin smoothly with the help of a bearing.
A hub has a wheel flange on one end for mounting the brake rotor or brake drum and the wheel. On the other end, a hub has a wheel bearing inside or over it. A mounting flange will mount stationary to the steering knuckle.
On some wheel hubs, a drive axle can fit in the center. Other cars might integrate a brake rotor or drum with a wheel hub.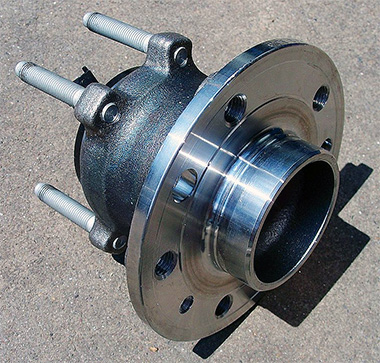 Wheel Hub Assemblies with ABS Sensors
The hub will spin at the same rate as the wheel. Its speed is measured by an ABS sensor.
Manufacturers have designed ABS sensors a few different ways. Some hubs or axles will have a tone ring mounted to measure wheel speed. As the tone ring spins, the sensor will count the number of teeth that pass.
Other designs have a sensor implanted inside the wheel hub, so when the sensor fails, the entire hub assembly will need to be replaced.
If you have a truck with a solid axle, the end of the axle shaft will act as a hub. The bearing on solid axles sits on the axle shaft, allowing you to replace the bearing separately if it fails.
Wheel Hub Failure and ReplacementBecause hubs and bearings come as an assembly on many cars today, the hub is usually replaced when the bearing wears out.
Wheel hubs rarely fail on their own, but a failed wheel bearing can wear out a hub, and bearings usually fail from usage over time.
There are some vehicles (like certain Hondas or Toyotas) that have a separate wheel bearing and hub. If that's the case, sometimes it's better to replace both if the bearing fails—especially if the hub is old and rusty.
If you have a defective wheel hub that worsens while turning or accelerating, or if the bearing is grinding or clicking, or if the ABS sensor is broken, replacing this part soon can prevent a future accident.
Browse our high quality wheel hub assemblies and replace yours with help from our how-to videos.


photo credit: Wikimedia