What Are Low Beam Headlights?
Low beam headlights, also known as the "headlight lower beam" or "dipped headlights," are lights for when drivers cannot see more than 100 feet ahead (or farther depending on state laws), usually due to darkness or inclement weather. They are also handy for driving in traffic. When we think of "turning on our headlights," we usually mean the low beam light. It is the default setting used, for example, when it's dark out.
The Difference Between Low Beams, High Beams, Day Time Running Lights, and Fog Lights
Low Beam Lights vs. High Beam Lights
We use low beam headlights more than high beam headlights because they illuminate the road better in certain conditions and allow other drivers to see your vehicle without blinding them. This improves safety during adverse weather conditions and darker times of the day. Unlike high beam lights—which travel farther and, in an attempt to illuminate everything, are not aimed in a specific direction—low beam lights are aimed forward and down, and can reach up to about 200 feet. High beam headlights can easily blind other drivers, and in some weather conditions the light can reflect back, blinding the drivers using them and could result in a ticket depending on the state.
Low Beam Lights vs. Daytime Running Lights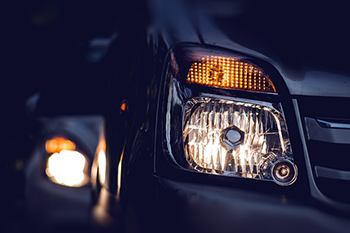 Low beam headlights are not to be confused with running lights, also known as daytime running lamps or DRLs, which allow other drivers to see your vehicle but don't illuminate much of the road when driving.
Low Beam Lights vs. Fog Lights
Low beam headlights are also not to be confused with fog lights, which are aimed further down to illuminate the road during harsh or hard-to-see conditions when high beams are ineffective or not appropriate.
Low Beam Light Symbol
The low beam, high beam, and fog light options each have a symbol that is similar to the letter "D," which represents the headlamp.
High Beam Symbol
The high beam light has lines, which represent the light beams, placed straight forward.
Low Beam Symbol
The low beam symbol usually has lines placed diagonally toward the ground, but sometimes this symbol is similar to the high beam with straight lines.
Fog Light Symbol
The fog light symbol has lines placed diagonally with a wavering line, which represents fog traveling through them.
If you are unsure if the high beams or the low beams are on, cars usually have a dashboard light that switches on when the high beams have been turned on.
How to Turn Low Beam Headlights on
For a common way to turn on the low beam headlights, look for the low beam symbol or the "auto" option on the turn signal stalk. Selecting the low beam signal will turn on the low beams, but it might be important to turn this option off when the vehicle is off, as this can drain the battery if the car does not automatically turn off the headlights.
The "auto" option will also turn on the low beam lights by automatically turning on the low beams when it senses darkness.