Parking, Corner, Side Marker, Turn Signal, Bumper, Repeater Lights & Reflectors Guide

What is the Difference Between a Turn Signal Light, Parking Light, Corner Light, Bumper Light, Side Marker Light, Repeater Light, and a Reflector?
It may seem simple, but this is actually a strangely complex automotive question. The crew at 1A Auto got together to discuss this matter at great length, and this is how we believe it all plays out.
What Are Turn Signal Lights, Directionals, and Blinkers?
While they do describe the function beautifully, "turn signal light", "directional", and "blinker" are all unfortunately too vague to be real objects. They describe what a light does, more than the type of light that it is. This is because many different lights on a car could blink when you flick the turn signal switch on the steering column. So stating that you need a replacement "turn signal light", "directional", or "blinker" could mean nearly any light on the front or side of a car or truck.
What Are Bumper Lights?
Bumper light is another term that is unfortunately far too vague. A car may have parking lights, side marker lights, or fog lights mounted to the front bumper, but being in that location won't magically turn all of those lights into "bumper lights". On the rear of a car, one may have reverse lights, tail lights, or license plate lights mounted to the bumper, but those aren't "bumper lights" either. It is perfectly fine to say that a light is "bumper-mounted", but calling a light a "bumper light" is a bit too obscure.
What Are Corner Lights?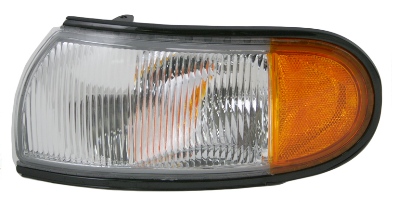 A corner light is definitely a real tangible object. It is mounted on the front of the vehicle in the corner of the front fender. It is located right next to the headlight, and on newer vehicles it is often integrated into it. Corner lights most often have yellow, amber, or orange reflectors built into them, though it is possible to have white or clear corner lights with yellow bulbs as well.
What Are Parking Lights?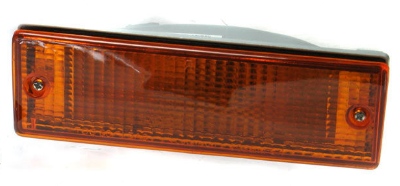 Parking lights are another light on the front of a vehicle. They can be mounted in the front bumper, the grille, or to the body itself. Sometimes parking lights flash when you flick the turn signal switch on the steering column, sometimes they light up with the headlights, and sometimes they do both. Their function entirely depends on the vehicle itself.
What Are Side Marker Lights?

Side marker lights serve a very similar function to the parking lights, but they are mounted on the side of the vehicle. They are located in front of the front wheel, or behind the rear wheel on the side of the body. Side marker lights may be attached to a bumper, fender, or rear quarter panel depending on the type of vehicle. They sometimes illuminate with the headlights, sometimes blink with the directionals, and sometimes they do both.
What Are Repeater Lights?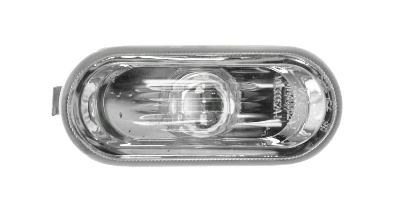 Repeater lights are most commonly found on European model vehicles, though there are some Japanese and domestic exceptions. As you can imagine, they "repeat," or blink at the same time as the directionals. They are located on the side of the vehicle between the front door and the front wheel on the front fender. Repeater lights are usually smaller in size than side market lights, and may or may not illuminate with the headlights.
What Are Reflectors?

Reflectors are exactly what they appear to be. They reflect light and don't have any electrical components behind them. They can be located in the front or rear bumpers, or on the corners of the grille or fenders. They obviously don't blink or turn on with the turn signals because they aren't lights. They just reflect any light that comes in their direction.
When is a Replacement Light Needed?
A replacement corner light, parking light, repeater light, side marker light or reflector is needed whenever there is internal or external damage to the plastic lens or housing. This is extremely common in low speed accidents and parking lots. Excluding reflectors, the bulbs for these lights are all replaceable, so when one burns out, it as easy as swapping an inexpensive bulb. If the lens or housing is damaged though, no amount of tape or glue will make it look new again, and it will need to be replaced.
Replacing a Parking Light, Corner Light, Side Marker Light, Repeater, or Reflector
Replacing any of these lights or reflectors is almost always do-able by a motivated do-it-yourselfer. It typically does not require anything more than basic hand tools. In fact, some light replacements don't require any tools at all.
Learn how to replace parts yourself specific to your year, make, and model with our how-to video library.
Need a New Parking Light, Corner Light, Side Marker Light or Another Automotive Light?
When it comes to automotive lights, 1A Auto has them all. We have any light that you may call a turn signal, blinker, directional, parking light, etc. If it is attached to your car, we probably have it in stock. We use these lights on our own cars and trucks, and we have absolute confidence in the fit, finish, and quality.