How Long Do Headlights Last?
How long headlight bulbs last varies depending on the type of bulb, the vehicle, the headlight's condition, and how often they are used. Halogen bulbs may last anywhere from 400 hours of use to about 1,000 hours. Xenon bulbs used in HID headlights can last up to 2,000 hours of use. Read about the different kinds of headlights in depth here.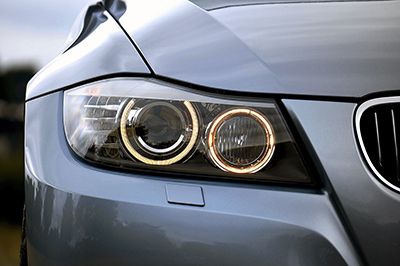 Common Types of Headlights
Halogen Headlights
Composite halogen headlights are very common and have replaceable bulbs, making them an easy repair. They can last from 400 hours to 1,000 hours of use due to their design.
High Intensity Discharge (HID) Headlights
An HID headlight is filled with xenon gas. With an HID headlight ballast, the bulb's brightness and life increases. They cost more than composite halogen headlights, but they can also last up to 2,000 hours of use.
Projector Headlights
Either halogen or xenon bulbs can be found in projector headlights, using a metal shield to send light out of the car. This shield will automatically move when the high beam switch is turned on. They are considered to be high performance headlights and use xenon HID bulbs, which can last up to 2,000 hours of use.
Causes of Failure
Age: The most common cause of headlight bulb failure is age. As the bulb wears from use over time, it eventually burns out. The type of headlight bulb used can affect the bulb's lifespan.
Moisture Buildup: Many modern headlights are vented at the top and bottom to regulate air pressure inside the headlight housing, but this also means moisture can build up and condense inside, giving a cloudy appearance over time and potentially decreasing the life of the bulbs.
Broken Headlight Housing: If the headlight housing is cracked or has a broken seal, dirt, debris and water can get inside the headlights, also decreasing the lifespan of the bulbs.
Improper Installation: During installation, touching the bulbs with bare hands can lower the lifespan of the bulb. Oil from skin contact can burn out the bulb prematurely.
Defective Headlight: Sometimes the headlight itself is defective and will need to be replaced. If the bulb repeatedly burns out quickly, it may be the headlight assembly.
If you frequently drive in areas with a lot of dirt, for example, the headlight lenses may damage or scratch quicker and easier. Over time, this can give an older appearance that can be reversed with new headlights.
Need New Headlights?
Thankfully the aftermarket industry offers many direct-fit, high quality headlights. If your headlights are damaged, it's important to replace them as soon as possible. Headlights are necessary for creating visibility for you and other drivers and are a safety hazard if not replaced as needed. Help your car maintain its value and get better usage from the headlight bulbs. Browse our direct-fit options, see more, and keep your car looking like new.
You can also install new headlights from 1A Auto on your own with the help of our how-to videos made for many years, makes, and models.