Top 5 Ford F-150 Problems: 12th Generation (2009 to 2014)
The Ford F-150 is one of the most popular truck series in the United States. While there are many generations of F-150s, no generation is perfect and each year range of models has its own unique set of issues and problems. This article will review the top 5 Ford F-150 problems of the 12th generation, years 2009 to 2014.
Most Common Problems on the 2009 to 2014 12th Gen F-150
1.) Transmission Unexpectedly Downshifting
Symptoms of Transmission Downshifting
Transmission downshifts while driving
A common problem on F-150s is the transmission unexpectedly downshifting while driving. Owners report that sometimes while driving down the road, the transmission has slipped into first or second gear, creating an obvious safety concern.

Causes of Transmission Downshifting
The output speed sensor is likely the main cause of this. It's reported to sometimes run faulty and not communicate with the power-train control module (PCM). The PCM interprets this lack of communication as the vehicle being in a stopped position and downshifts the transmission.

How to Fix Transmission Downshifting Problems in the 2009 to 2014 Ford F-150
Considering Ford has a safety recall on this, we recommend bringing the truck down to a Ford dealer and letting them resolve the issue, which consists of reflashing the PCM.
2.) MyFord Touch Head Unit Problems
Symptoms of Head Unit Problems on the 2009 to 2014 Ford F-150
Touchscreen ability is sometimes unreliable, such as difficulty returning to the home screen and the back-up camera turning off when in reverse
MyFord Touch is a touchscreen system that provides features such as navigation and Wi-Fi. For the 09-14 F-150, owners have reported the touchscreen ability and other features are sometimes unreliable.
Owners have also reported the system can have difficulties when trying to return to the home screen after entering energy-saving mode, and, even worse, the back up camera can fade to black when reversing, which is also likely to be a head unit connection error.

Causes of Head Unit Problems
Sometimes the lack of responsiveness is an intermittent software issue, and sometimes it's a problem with the head unit. The head unit has also been known for having connection issues with smartphones, like connecting to listen to music.
How to Fix Head Unit Problems
Ford provides software updates, and one potential fix is to download this software to a USB drive and connect it to the head unit, which will restart the system's software. If this does not work, another option is to disconnect and reconnect the battery to restart the system. The head unit may need to be replaced if these solutions do not work. And if replacing the head unit does not resolve the reverse camera issue, a new camera may need to be installed.
3.) O2 Sensors - Trouble Codes P0130 P0150
Symptoms of Trouble Codes P0130 P0150
Check engine light for trouble codes P0130 P0150
Causes of Trouble Codes P0130 P0150
If the check engine light is on and the scanner reads codes P0130 or P0150, that means there's likely a bad oxygen (O2) sensor, but there could be some other causes on this generation of F-150s.
There may be other causes for codes P0130 or P0150 besides the O2 sensor that you can diagnose. The O2 sensor's wires may be frayed, pinched, or worn. There could also be a bad electrical connector. These trouble codes could also indicate a leaking exhaust.

How to Fix Trouble Code P0130 P0150 Problems on the 12th Gen Ford F-150
For O2 sensors, depending on the location, the repair can be as simple as disconnecting the wiring harness on the O2 sensor and removing it with a ratchet and O2 sensor socket. These installation videos show how to replace the oxygen sensor on the 90-10 Ford F-150 and the O2 sensor on the passenger side of the 97-05 Ford F-150. Learn how to identify upstream and downstream O2 sensors with this video.
Check the O2 sensor's electrical wires for fraying, pinching, or wear. Check electrical connectors for a blue or green color on the metal connectors, which indicate it is defective.
Look for poor fuel consumption, a foul odor, or odd or loud noises from the exhaust area, which are symptoms of a leaking exhaust.
4.) Canister Purge Solenoid or Canister Vent Valve Solenoid Failure
Symptoms of a Bad Purge or Vent Valve Solenoid
Truck stalls or doesn't start after filling it up with gas
Another common problem on 09-14 F-150s is a bad canister purge solenoid or faulty canister vent valve solenoid. After filling the tank or even while having a full tank, the truck may stall out while driving or won't start at all.
Causes of a Bad Purge or Vent Valve Solenoid
Ford has a technical service bulletin (TSB) addressing this issue, and it may be a problem with the wiring in the electrical circuit.
How to Fix the Vent Solenoid
To diagnose the vent solenoid, with the vehicle off first disconnect the wiring harness and inspect the wiring to confirm the issue is not electrical. Then disconnect the hose from the solenoid and remove the vent solenoid. Blow air through it. If air successfully passes through the vent solenoid when disconnected, it is faulty and needs to be replaced.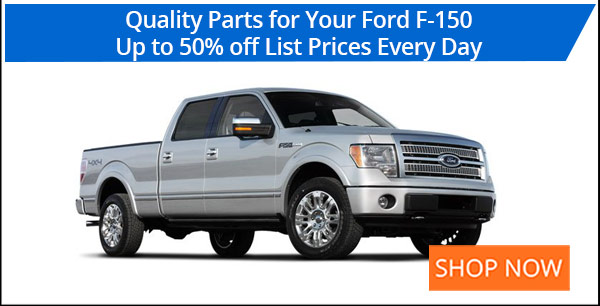 5.) Engine Misfires
Symptoms of Engine Misfires
The 5th most common issue on 09-14 Ford F-150s is an engine misfire. Noticeable symptoms include an engine running rough or vibrating while driving, a noticeable drop in performance when pressing the accelerator or gas pedal, a noticeable drop in fuel mileage or miles per gallon (mpg), or a check engine light. If the check engine light is on, an OBDII code scanner can help with diagnosing.
Causes of Engine Misfires on the 12th Gen Ford F-150
Typical causes for these symptoms can range from low fuel pressure to a bad fuel pump, bad fuel or clogged fuel injectors, a dirty, clogged or broken mass air flow (MAF) sensor, or a vacuum leak. It's also possible dirty engine air filters or fuel filters are causing a misfire, or the ignition coils or spark plugs have worn out and are ready to be replaced.
How to Fix Different Causes of Engine Misfires
Mass Air Flow (MAF) Sensor
If the problem is with the MAF sensor, our experts recommend removing the sensor, which is a do-able DIY repair for beginners with this how-to video as it's connected to an electrical connector and screwed on, and inspecting it for dirt or debris before replacing.
Spark Plug and/or Ignition Coil
If the problem is with the spark plugs or ignition coils, these can be replaced by disconnecting the electrical connector, removing the bolt from the ignition coil, and, if needed, removing the spark plug with a spark plug socket. Watch this how-to video to do it yourself.
Fuel Related
To diagnose a fuel related problem you can check the fuel pressure by attaching a fuel pressure gauge to the fuel rails, starting the vehicle, and confirming if the reading matches Ford's recommended specs.
Vacuum Leak
If, when experiencing these symptoms there is a hissing sound from the engine bay, it's likely a vacuum leak, which can be fixed by replacing the defective or broken vacuum hose.
Learn How to Fix Your Own 2009 to 2014 Ford F-150
Learn how to do more repairs on the 12th generation 2009-2014 Ford F-150 with 1A Auto's
how-to video library
.