Do I Need to Turn Rotors When Changing Brake Pads?
Although replacing rotors can be more affordable, if you choose to reuse existing rotors, it's highly recommend to turn them when you replace your brake pads.
What Does It Mean to Turn Rotors?
"Turning," also known as resurfacing, cutting, or machining, is the machining or resurfacing of rotors on a lathe to ensure a smooth friction surface for new brake pads. A flat or "true" rotor surface will improve the new pads' performance.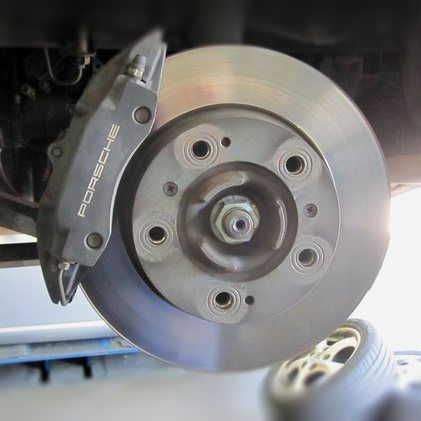 If you decide to keep the rotors when changing the brake pads, you want to resurface them, but this should not be done if it means braking less safely in the future. To tell if rotors are safe to turn, find the minimum thickness specification stamped on them, and inspect and measure them for the minimum thickness. As long as the rotors are within the specified thickness, they can be turned. Otherwise, they should be replaced.
Does It Cost Less To Turn Rotors?
Turning rotors used to be more affordable than replacing them, but resurfacing them is now less common because of the cost.
Replacing rotors can be a more economical choice because new rotors are now designed to be lighter and more efficient thanks to a reduction in mass by original equipment manufacturers.
To compare prices, one of our product experts said the cost of turning rotors could be around $25 per rotor, while replacing rotors can range from $18 to $95 each.
Replace your rotors yourself
Need to replace your rotors and brake pads? Check out our large selection of brake rotors, pads, and brake kits, which help you take the guesswork out of figuring out which brake parts to buy individually.
Our mechanics will walk you through the steps of replacing your own rotors. For help removing and installing front brake pads and rotors on a 2007-2009 Chevy Equinox, check out this video. Or search for how-to videos specific to your vehicle's year, make and model in our video library.
Photo credit: https://www.flickr.com/photos/clemson/3548756259