Bad or Failing Crankshaft Position Sensor Symptoms
There are a number of reasons why a crankshaft position sensor can fail, and a number of symptoms associated with that failure. Problems with the crankshaft position sensor will often present as problems with engine timing. If you think your sensor has failed, here are some common symptoms of a bad crankshaft sensor that can help you in determining whether or not it has failed.
Shop Crankshaft Position Sensors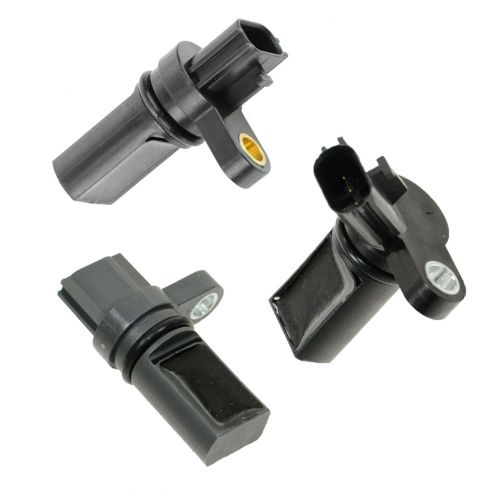 Acceleration Problems
As the engine speeds up, there needs to be adjustments to spark timing and fuel injection. Without accurate input from the crankshaft sensor, the engine control unit (ECU) can't make these adjustments as well as it should. This can result in slow or uneven acceleration.
Reduced Gas Mileage
Without accurate timing information, fuel injection won't occur as efficiently as it should. That means the engine will need to use more gas and your morning commute will use up more fuel than usual.
Engine Misfires
Lack of proper spark timing can cause a different problem: one or more of the cylinders may misfire. That is to say combustion may be disrupted. You will feel, and maybe hear, this as a brief stutter in the engine.
Rough Idling
You might feel that the engine runs rough or vibrates at idle, say, when you're sitting at a red light. This is similar to the above in that it stems from poor spark timing.
Stalling
As seen with rough idling, sometimes crankshaft position sensor problems are worse at low engine speeds. Sometimes the engine might even stall out entirely at low speed if the fuel injectors aren't giving it the fuel it needs.
Difficult Starting or No Starting
It might be hard to get your engine started without the fuel it needs or without proper timing. If the crankshaft sensor has failed completely, and isn't sending a signal to the ECU at all, then the computer won't send any fuel to the injectors. This will leave you unable to start the car.
Check Engine Light
A failing or failed crankshaft position sensor may cause the check engine light on your dashboard to come on. A diagnostic scan tool will show a code between P0335 and P0338. The check engine light doesn't always come on, though, so you could be experiencing any of the above symptoms for some time before you see the warning light.
Related Issues
There are a number of different problems that can cause similar symptoms to a crankshaft position sensor problem. Many of the issues mentioned above can be caused by failures in the ignition system or fuel injection system. Before you conclude that the crankshaft position sensor is bad, you may need to run some tests.
Does This Sound Like Your Car?
If you are experiencing the problems mentioned above, then it may very well be time to replace your bad crankshaft position sensor. However, before you replace it, you might want to run some tests first to confirm that the crank sensor really is the source of the problem. Check out this article from the experts at 1A Auto to learn more about how to test a crankshaft position sensor.
Browse other Crankshaft Position Sensor articles: