1AFWA00001-Chevy GMC Front Axle Shift Actuator
Replaces
Chevy GMC Front Axle Shift Actuator - 1AFWA00001
1AFWA00001
Frequently bought together
Specifications:
2 wire plug with round pin terminals
Mounts INTO front axle housing
Durable construction shift actuator
Direct bolt in replacement
Built to strict quality control standards
Improved gas filled heating element type activation
Installation
The 4 wheel Drive Actuator actually installs quite easily. Locate it on the front axle. Unplug it. Use a large adjustable or correct size wrench and remove the actuator. Reverse to install a new one.
How this four wheel drive actuator works
When you press the button in your vehicle an electrical current passes through the actuator. The actuator is filled with a gas. This gas expands when heated. The electrical current heats the gas the gas builds pressure and forces the plunger out which engages the front axle.
The Problem
There are a number of things that can go wrong to cause you not to be able to engage four wheel drive. Age, damage, and lack of consistent use are the most common reasons for these actuators to go bad. These actuators work in an unfriendly environment. Underneath the car attached to the drivetrain, they are subject to extreme temperature change as well as physical damage from dirt, debris, rocks, etc. The gas inside the actuator can leak out over time and/or from a fracture caused by road debris. There is a mechanical mechanism that can start to stick as time goes on. Sometimes these actuator just plain don't work in extreme cold weather as the gas actually does not get hot enough to expand. Many times these actuators are not used for 9-10 months or more during warm weather. A little moisture penetrating can quickly cause a malfunction. Any one, or combination of these can result in your 4WD system not engaging or not staying engaged.
Diagnosis
A VERY telling symptom that this particular part is your problem is if your 4WD engages when the weather is warm but either does not engage or takes a lot longer to engage when the weather is colder. On most vehicles you push a button for 4WD and an indicator light blinks until the actuator engages. While the light is blinking the electric current is heating the gasses. If you light continues to blink but does not engage or takes a long time to engage (more than 10 seconds) then this actuator is the problem.
Our manufacturer changed the mixture of gas in this new actuator so it is more sensitive at lower temperatures. This has solved the cold temperature problem. We suggest engaging your four wheel drive periodically even during good weather just to "work out" the part and make sure it does not stick.
Item Condition: New

Attention California Customers:
WARNING: This product can expose you to chemicals including Lead and Lead Compounds, which are known to the State of California to cause cancer, and birth defects or other reproductive harm. For more information, go to www.P65Warnings.ca.gov.
Lifetime Warranty
This item is backed by a Limited Lifetime Warranty. In the event this item should fail due to manufacturing defects during intended use, we will exchange the part free of charge (excludes shipping charges) for the original purchaser.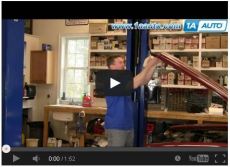 step : Removing the Four Wheel Drive Actuator (0:39)

Pull the four wheel drive actuator wiring harness of its bracket
Disconnect the wiring harness
Pull the wire out of its bracket
Twist the actuator loose with an adjustable wrench
Twist the actuator out by hand

step : Installing the New Four Wheel Drive Actuator (1:11)

Twist in the new actuator by hand
Tighten the actuator with the adjustable wrench
Clip the wire back into its bracket
Reconnect the actuator wiring harness
Clip the harness back into its bracket
Tools needed for replacement:
Pliers, Cutters & misc Wrenches

Adjustable Wrench
I am very pleased with the overall purchasing experience with 1A Auto. My payment was processed immediately and accurately, and I received the part 7 days after I ordered it, which is really commendable because it had to be shipped to Canada and cross the border. I received the part, and installation was pretty easy. The only snag I ran into was that the 2 terminal connector had the wrong terminal and would not fit into my factory wiring harness. All it took though, was to take my old harness and wire it to the new shift actuator. Even with that snag, I would still rate it overall as excellent. The part is fully operational and my 4x4 is back in perfect working order. Thanks 1A Auto
4 wheel drive actuator
Exact fit, unit works great and back in business! Easy install with great instructions.
4 Wheeling it!
Fast shipping, Very reasonable price. Write application for my vehicle. Very Happy to be 4 wheeling again ! Thank You
Easy as pie
Removed old part and installed new part in less than one minute. Took longer to crawl under the truck.
Right on !
Right on price , right on shipping , right on time. Excellent value and works very well. Thank you .
As usual service and parts outstanding
The instructional video made repairing my 4x4 a snap. The part was an exact fit and now all four wheels can get me out of trouble (sometimes all four get me in trouble).
Fast delivery, Perfect fit and connection.
Unit took about 2 minutes from the time opening the package til complete.
What is important, it works! It has my 4wd working again in time for winter. Everything I have bought from 1aauto has been very satisfactory.
Quickly shipped, perfect fit - easy install.
I ordered this part and had it 2 days later. It was a perfect fit. It was very easy to install using the online video. It took about ten minutes to remove the old one and install the new one. Fired up the truck and it engaged the 4 wheel drive instantly. Problem solved. 1A Auto is the best. I get all my parts from them!!!
Fixed my 4 Wheel Drive
A1 Auto shipped out the part quickly and I had no problem installing the actuator after watching the A1 Auto video. Great replacement part!
I really liked that this came so quickly. It was easily installed and works.
Actuator was like original
Shipped fast, part fit correctly. Great price as usual
Worked in my 94
I put in my 94 GMC and it worked fine. The price was the best i could find.
I did my homework and pin pointed the problem. The installation couldnt of been any easier. Just unscrewed the old one the screwed in the new one.
Super deal
Found this part on the ito be a excellent part fix rite and worked rite and the price was awesome compared to all auto stores in western ny
Fixed the Issue
Looked slightly different than the stock one, but it fit and fixed the issue of 4wd not engaging.
Axle Shift Actuator
had to replace end as damaged, would have gave 5 stars if that would have not been the case. Works great now.
Had to make it work.
You said it would fit my 96 Tahoe but the plug on the wire did not match up. I cut the old plug off and wired it to the new unit and made it work.
Front actuator 89 chevy k1500
Part arrived quick, installed perfect engages in short time.
GM axle shift actuator
Best price around. Appears to be a quality part. Arrived very quickly, and installed easily. Perfect fit. Have ordered fro 1aauto.com before, and will again.
Best online auto parts store hands down!
After shopping around for a couple days I quickly realized that 1A Auto Parts has the best selection and the absolute lowest prices and I wont shop anywhere else! Thank you 1A-Auto!
On previous order
Please on price fast response on message Nd fast delivery on order .Thanks
Customer Q&A
Ask a question to 1A Auto customers who purchased the product
Replaced the actuator but still no 4 wheel drive?
Still no 4wd
Brian J
November 20, 2018
Check the motor on the transfer case . Also check 4 wheel drive fuse
Steve S
December 16, 2018
My 95 Silverado has a floor shifter for the 4x4 could this still be an issue or are the 4x4 actuators only needed for the truck with a push button shifter?
The actuator is wired by the way of the floor shifter. I want to recommend the ALL ELECTRIC actuator (comes as a kit with instructions) it is an upgrade from the gas type. I had 2 of the gas type go out before I upgraded mine to the all electric actuator. A little extra work to install the extra wire but well worth the effort. I bought mine from 1A Auto and never a problem sense. My truck is a 93 Silverado 4x4,
I have a 1995 GMC with the 4 wheel drive on the floor. This actuator is needed for the 4 wheel drive to work. It is down on the front axle on the passenger side. Check to see if you have voltage down at the connector before buying this part. If no voltage then the switch up on the transfer case is bad.
Christopher B
March 21, 2018
Or check your truck grounding strap may be loose or broken, not getting a good body ground
| Year | Make | Model | Description |
| --- | --- | --- | --- |
| 1992-1994 | Chevy | Blazer Full Size | Chevy Blazer Full Size 4 Wheel Drive Front Axle Shift Actuator |
| 1988-1995 | Chevy | K1500 Truck | Chevy K1500 Truck Front Axle Shift Actuator |
| 1996 | Chevy | K1500 Truck | Chevy K1500 Truck Front with 2 Pin Style Connector Axle Shift Actuator (Built Before 1/96 Production Date) |
| 1988-1995 | Chevy | K2500 Truck | Chevy K2500 Truck Front Axle Shift Actuator |
| 1996 | Chevy | K2500 Truck | Chevy K2500 Truck Front with 2 Pin Style Connector Axle Shift Actuator (Built Before 1/96 Production Date) |
| 1988-1995 | Chevy | K3500 Truck | Chevy K3500 Truck Front Axle Shift Actuator |
| 1996 | Chevy | K3500 Truck | Chevy K3500 Truck Front with 2 Pin Style Connector Axle Shift Actuator (Built Before 1/96 Production Date) |
| 1992-1995 | Chevy | Suburban K1500 | Chevy Suburban K1500 Front Axle Shift Actuator |
| 1996 | Chevy | Suburban K1500 | Chevy Suburban K1500 Front with 2 Pin Style Connector Axle Shift Actuator (Built Before 1/96 Production Date) |
| 1992-1995 | Chevy | Suburban K2500 | Chevy Suburban K2500 Front Axle Shift Actuator |
| 1996 | Chevy | Suburban K2500 | Chevy Suburban K2500 Front with 2 Pin Style Connector Axle Shift Actuator (Built Before 1/96 Production Date) |
| 1995 | Chevy | Tahoe | Chevy Tahoe 4 Wheel Drive Front Axle Shift Actuator |
| 1996 | Chevy | Tahoe | Chevy Tahoe 4 Wheel Drive Front with 2 Pin Style Connector Axle Shift Actuator (Built Before 1/96 Production Date) |
| 1988-1995 | GMC | K1500 Truck | GMC K1500 Truck Front Axle Shift Actuator |
| 1996 | GMC | K1500 Truck | GMC K1500 Truck Front with 2 Pin Style Connector Axle Shift Actuator (Built Before 1/96 Production Date) |
| 1988-1995 | GMC | K2500 Truck | GMC K2500 Truck Front Axle Shift Actuator |
| 1996 | GMC | K2500 Truck | GMC K2500 Truck Front with 2 Pin Style Connector Axle Shift Actuator (Built Before 1/96 Production Date) |
| 1988-1995 | GMC | K3500 Truck | GMC K3500 Truck Front Axle Shift Actuator |
| 1996 | GMC | K3500 Truck | GMC K3500 Truck Front with 2 Pin Style Connector Axle Shift Actuator (Built Before 1/96 Production Date) |
| 1992-1995 | GMC | Suburban K1500 | GMC Suburban K1500 Front Axle Shift Actuator |
| 1996 | GMC | Suburban K1500 | GMC Suburban K1500 Front with 2 Pin Style Connector Axle Shift Actuator (Built Before 1/96 Production Date) |
| 1992-1995 | GMC | Suburban K2500 | GMC Suburban K2500 Front Axle Shift Actuator |
| 1996 | GMC | Suburban K2500 | GMC Suburban K2500 Front with 2 Pin Style Connector Axle Shift Actuator (Built Before 1/96 Production Date) |
| 1992-1995 | GMC | Yukon | GMC Yukon 4 Wheel Drive Front Axle Shift Actuator |
| 1996 | GMC | Yukon | GMC Yukon 4 Wheel Drive Front with 2 Pin Style Connector Axle Shift Actuator (Built Before 1/96 Production Date) |