Highest Ratings

Quality: We've got the awards to prove it!

We've won the Bizrate Circle of Excellence award,

7 years in a row. Rated outstanding for quality, satisfaction, service, and on time delivery. 1A Auto selects the highest quality parts from the best manufacturers.

Check our excellent ratings

.

Fastest Shipping

No-Hassle Returns

USA Support Techs

Best Value

Our Guarantee
Customer Feedback

I used to rely on parts stores...
Buick Roadmaster
Jeff, Winter Springs, FL
Click here to try out our new site!
Volkswagen Rack & Pinion Steering Parts
Choose Your Volkswagen Model
Rack & Pinion Steering Parts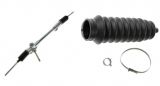 What is a Rack and Pinion Steering System?
Rack and pinion steering systems have taken the place of the older gear box driven systems in most cars, trucks and SUVs on the road today. In a rack and pinion system, the steering wheel is attached to an intermediate steering shaft that, when the driver turns the steering wheel, spins a pinion gear in the steering rack. The rotational motion that is applied to the pinion when this occurs causes the steering rack to move, thereby converting the rotational motion into the linear motion of the steering rack. The steering rack then pushes the tie rods that are connected to each end of the rack toward the spindles to move the front tires in the desired direction. In a power steering system, a hydraulic power steering pump located on the front of the engine aids the process.
Rack and Pinion Steering Part Failure
Since the steering system is always in use, it is subject to constant wear and tear. Rubber seals built into the steering rack and pinion assembly can breakdown and tear, causing fluid leaks and loss of steering assistance. Joints in the tie rods and intermediate steering shaft slowly develop "play", resulting in sloppy movement clicking in parts. Many states require the steering system be in top working order as part of annual safety inspections, so maintenance is important.
Need Replacement Rack and Pinion Steering Parts?
At 1A Auto, shopping for aftermarket rack and pinion steering replacement parts for your vehicle is easy - we're here to help you! Whether your car needs a replacement steering rack assembly, or replacement mounting bushings, seals, bellows or other rack and pinion components, 1A Auto has what you need to ensure the safety and integrity of your vehicle's rack and pinion steering system! Call our customer service toll free at 888-844-3393 if you have any questions about our aftermarket rack and pinion parts, warranty, compatibility or to purchase, or email us at service@1aauto.com.
For more than 50 years, the Green family has been installing and using the same high quality auto parts that you'll find on our website. We actually use the parts we sell, and we've been selling online since 1999. Our company's mission is to
make your car projects go smoothly
, and to become your trusted source for auto parts. To this end, we treat our customers like family.
We employ USA based, knowledgeable support technicians. They'll help you through your project. We always make sure you get the right part. And we boast the industry's most generous returns policy. You won't find a company more passionate about auto parts than 1A Auto.