Highest Ratings

Quality: We've got the awards to prove it!

We've won the Bizrate Circle of Excellence award,

7 years in a row. Rated outstanding for quality, satisfaction, service, and on time delivery. 1A Auto selects the highest quality parts from the best manufacturers.

Check our excellent ratings

.

Fastest Shipping

No-Hassle Returns

USA Support Techs

Best Value

Our Guarantee
Customer Feedback

I used to rely on parts stores...
Buick Roadmaster
Jeff, Winter Springs, FL
Click here to try out our new site!
Choose Your Dodge Model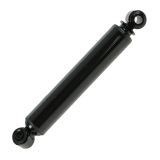 What is a
Steering Damper

and where is it Located?

The steering damper, sometimes called a steering stabilizer or sprint damper, is a shock absorber that reduces the impact of bumps on the steering. They prevent small impacts, bumps and irregularities in the road and other events that may jostle the steering from causing the steering wheel to shake and jerk around by absorbing and dissipating the vibrations they cause. This allows you, the driver, to maintain control of the vehicle. The shock absorption provided by the steering damper also takes some of the strain off of other steering components.

Since larger tires present a higher risk of feedback to the steering wheel or steering wandering, steering stabilizers are found primarily on trucks, vans and SUVs. The result is improved handling and a smoother ride by absorbing the vibration problems these oversized tires can cause and eliminating any shimmy in the steering wheel. The steering damper is usually found on the passenger side at the front of the vehicle, mounted horizontally from the vehicle's chassis to a tie rod. Some vehicles may use two steering dampeners (or potentially even more on large commercial vehicles).
How do I Know if my Steering Damper Needs to be Replaced?
The steering damper can become rusted or corroded, or worn over time, especially if it is exposed to a lot of dirt or road salt underneath the body of the vehicle. This can cause the hydraulic fluid inside to leak out, making the steering dampener less effective.
You may experience this as jerking or jostling of the steering wheel in response to bumps or potholes. You may also feel a general vibration or looseness of steering. Visually inspecting the steering damper may help to pinpoint the problem. Check the damper for signs of rust or corrosion as well as dents. You should also check for leaking fluid. Clean the dampener off with a rag, take the vehicle for a short drive and inspect the damper again. If there's fluid on the damper again, then you know it's leaking. This tells you that it's time to replace your steering stabilizer.
Can I Replace a Steering Stabilizer Myself?
Replacing a steering stabilizer is relatively straightforward. You'll just have to raise and secure the vehicle, unbolt the old steering damper and bolt the new one into place. While the old damper is off, you'll probably want to clean any dirt and grime off the surrounding area. Also be sure to install the damper with the shock, or "plunger", compressed about half way. This ensures that it has enough "give" to adjust in either direction. After installing the new damper, test the steering to make sure it moves smoothly and that the shock doesn't reach its limit at either end during steering.
Need a Steering Damper Replacement?
A worn steering dampener can cause excessive steering linkage movement - thus not allowing you to handle the steering wheel easily - which can pose a potentially serious safety concern not only to you, but to all others who share the road with you. Having to constantly battle your steering wheel for control will also be a tiring affair, no doubt. So, replace that heavily rusted, rotted, or damaged front steering damper immediately in order to absorb the vibrations caused by rough patches in the road before they get to you, and restore the control of your vehicle under all driving conditions.
At 1A Auto, we make shopping for a replacement steering damper for your truck, van, SUV or car easy - we're here to help you select the right part for your vehicle! Call our customer service toll free at 888-844-3393 if you have any questions about our steering stabilizers, warranty, compatibility or to purchase, or you can buy online.
For more than 50 years, the Green family has been installing and using the same high quality auto parts that you'll find on our website. We actually use the parts we sell, and we've been selling online since 1999. Our company's mission is to
make your car projects go smoothly
, and to become your trusted source for auto parts. To this end, we treat our customers like family.
We employ USA based, knowledgeable support technicians. They'll help you through your project. We always make sure you get the right part. And we boast the industry's most generous returns policy. You won't find a company more passionate about auto parts than 1A Auto.