Highest Ratings

Quality: We've got the awards to prove it!

We've won the Bizrate Circle of Excellence award,

7 years in a row. Rated outstanding for quality, satisfaction, service, and on time delivery. 1A Auto selects the highest quality parts from the best manufacturers.

Check our excellent ratings

.

Fastest Shipping

No-Hassle Returns

USA Support Techs

Best Value

Our Guarantee
Customer Feedback

I live in Alaska, in the milit...
Ford F 250 Super Duty
James, Eielson AFB - Fairbanks, AK
Click here to try out our new site!
Oldsmobile Radiator Fan Clutch
Choose Your Oldsmobile Model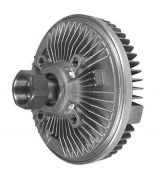 What is a Radiator Fan Clutch and where is it Located?
The radiator fan clutch is an important, but often overlooked part of your vehicle's cooling system. Most automobiles have either electric cooling fans, or a fan mechanically driven off the front of the engine to help air flow through the radiator. A radiator fan clutch is found on the fans that run off of the engine. This system is used primarily in trucks, SUVs, and rear wheel drive cars where the engine is mounted longitudinally. In these cases, a fan driven off of the front of the engine can blow air onto the radiator to cool it.
In these engines, the radiator cooling fan is attached to the water pump by the radiator fan clutch. In some systems, known as non-thermal fan clutches, when the water pump spins, the cooling fan spins. So these types of fan clutches react to speed. In the more sophisticated thermal fan clutch there is a thermostatic spring that controls fluid flow to engage and disengage the fan clutch from the water pump.
Thermal fan clutches use a bimetallic spring, much like what's in the thermostat in your house. This spring opens a valve which allows silicone fluid to flow from a reservoir, and the fluid engages the clutch when the temperature in the engine rises above the fan clutch's engagement temperature setting. This in turn fully engages the cooling fan, thus drawing in a higher amount of ambient air through the automobile's radiator to lower the temp. As things cool down in the engine and the air temperature decreases, the fluid returns to the reservoir and the clutch disengages, causing the clutch to "slip" on the water pump and the fan to slow down. This process keeps the engine at its normal, optimal running temperature - warm but not too hot - and conserves energy since the engine does not have to fully drive the fan. If the fan ran constantly, it would use up power from the engine.
While there are only two types of radiator fan clutches, thermal and non-thermal, there are a few different designs. You may hear the terms standard, heavy duty and severe duty when talking about fan clutches. Each type is made for specific applications only and provide for varying levels of performance benefits, etc. If your vehicle has an engine that has greater than 360 cubic inches of displacement, has air conditioning, or you tow or haul, then a heavy duty fan clutch is used. .A severe duty fan clutch is correct for vehicles with heavy duty cooling and/or air conditioning, and can replace a light duty clutch with no modification needed. A standard duty clutch is intended for smaller displacement engines that are not running A/C. There are also electric fan clutch assemblies available. These types of fan clutches, as you might have guessed already, are electrically activated and are used only for specific applications as well when a replacement is needed. It is important to note that replacing your original fan clutch with the wrong replacement can result in a number of problems, including full blown failure of the fan clutch, so make sure you are getting the right one for your vehicle.
How do I Know if my Radiator Fan Clutch Needs to be Replaced?
There are a number of issues that can cause different problems with your fan clutch assembly. Over time, the fluid can deteriorate or leak, which can increase the slippage. This will make the fan run slower than it should, which can lead to engine overheating, especially during idling. It is also possible for the thermal valve to wear out, which could also result in increased slippage.
The opposite situation can also occur, and predictably cause the opposite problem. If the radiator fan clutch becomes stuck engaged, then overcooling may occur. Poor performance or poor gas mileage can be symptoms of overcooling. If overcooling happens during the winter, you may find that when you run your vehicle's heater the air is not as warm as it was before. The bearings that connect the radiator fan clutch to the water pump could also become too loose or seize, causing too much slippage or too much engagement and the associated problems described above.
One way to check for problems with the radiator cooling fan clutch is, with the engine turned off, to try to turn the radiator fan by hand. If you can spin it more than a full rotation then there may be too much slippage. If you can't budge it, it's seized to the water pump. In either case, the cooling fan clutch will need to be replaced. If you see a greasy build up, or fluid leaking out of the fan clutch assembly, this is also a sign that it needs to be replaced.
Can I Replace a Radiator Fan Clutch Myself?
Replacing the radiator fan clutch will require some time, some effort, and a specialty tool called a fan clutch wrench. The fan clutch wrench provides leverage to help remove the central nut from the fan clutch. You will need to remove the entire cooling fan assembly in order to replace the fan clutch. Since you will be working near the radiator, be careful not to damage the radiator fins, since that could cause overheating.
Need a Radiator Fan Clutch Replacement?
A radiator fan clutch plays an important role in keeping your engine temperature at an optimal level. Basically, it functions to tell the cooling fan assembly when to turn and when to stop in order to meet the temperature needs of the engine. If the fan clutch fails, the operation of the vehicle's cooling system is undoubtedly compromised, and the engine thus becomes more susceptible to overheating or overcooling. The performance of the air conditioning system may also suffer. Therefore, if you need to replace a busted radiator fan clutch, it's important that you do so immediately. At 1A Auto, we carry aftermarket radiator fan clutches for many makes and models, and at great prices.
At 1A Auto, we make shopping for a replacement radiator fan clutch for your car, truck, SUV or van easy - we're here to help you select the right part for your vehicle! Call our customer service toll free at 888-844-3393 if you have any questions about our radiator fan clutches, warranty, compatibility or to purchase, or you can buy online.
For more than 50 years, the Green family has been installing and using the same high quality auto parts that you'll find on our website. We actually use the parts we sell, and we've been selling online since 1999. Our company's mission is to
make your car projects go smoothly
, and to become your trusted source for auto parts. To this end, we treat our customers like family.
We employ USA based, knowledgeable support technicians. They'll help you through your project. We always make sure you get the right part. And we boast the industry's most generous returns policy. You won't find a company more passionate about auto parts than 1A Auto.