Highest Ratings

Quality: We've got the awards to prove it!

We've won the Bizrate Circle of Excellence award,

7 years in a row. Rated outstanding for quality, satisfaction, service, and on time delivery. 1A Auto selects the highest quality parts from the best manufacturers.

Check our excellent ratings

.

Fastest Shipping

No-Hassle Returns

USA Support Techs

Best Value

Our Guarantee
Customer Feedback

i bought all my parts from 1-...
1995 & 1998 Chevy Corvette
GERALD S.
Click here to try out our new site!
Choose Your BMW Model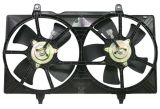 What is a
Radiator Fan

and where is it Located?

One of the key components of a vehicle's engine cooling system is the radiator fan. Most front wheel drive cars, and even a lot of late model rear wheel drive cars use an electric radiator fan to assist in cooling the radiator (another key component of your engine's cooling system), and in turn the engine to prevent it from overheating.

As the engine in your vehicle burns the air / fuel mixture, it heats up. Since the engine operates at its best when it is at the right temperature, it needs to be cooled down, and that is what your vehicle's cooling system is for. Basically, coolant from the radiator is pumped through the engine via the water pump, and the warm coolant then exits back into the radiator. The warm coolant is then cooled down by the air that is passed through the radiator by the radiator fan. Cooled coolant is then pumped back into the engine, and the process repeats itself.

Radiator fans can either be located in front of the radiator to push air through its core, or behind the radiator to pull air. There are basically two types of radiator fans - manual and electric. Manual radiator fans are mechanically driven and are attached to the car's engine, meaning that once you turn your car on and the engine starts running, the radiator fan starts turning as well. Then there are electric radiator fans which include an electric motor and have essentially replaced manual radiator fans in today's automobiles. Electric radiator fans are controlled by a thermostat and are set to move only at certain temperatures, making them much more efficient when it comes to cooling your engine. Regardless of type, a radiator fan assembly consists of a mounting shroud and fan blade, with the only difference being that an electric radiator fan assembly will also include an electric motor.
Radiator Fan Failure
Since it is exposed to extreme heat on a regular basis, radiator cooling fan motors can break down, or overheat and melt. If a bearing wears out in the motor, it can also cause the fan blade to shift and strike the shroud causing damage to the shroud and the fan blade itself. A damaged or inoperative radiator cooling fan will result in overheating the engine, especially when the vehicle is not moving. If your vehicle's engine is overheating, it's time get a replacement radiator fan.
Need a Radiator Fan Replacement?
A working radiator fan assembly is extremely important to the proper operation of your vehicle's cooling system. Without it, the radiator would not be provided with the air that it needs to keep the coolant that it uses for the engine cool. If you are in need of a replacement radiator fan assembly for your car, truck, SUV or van, then you have come to the right place. 1A Auto has a large selection of aftermarket electric radiator fans for many makes and models, at great prices. Our aftermarket electric radiator cooling fans are built to the highest quality control standards – see for yourself!
1A Auto Radiator Fan Features:
- Includes a new, not rebuilt, electric radiator fan motor
- Geometrically designed blades for optimal circulation and precise balancing
- All radiator cooling fan shroud units feature direct bolt on design for easy installation (includes proper
plug).
At 1A Auto, shopping for a replacement radiator fan assembly is easy - we're here to help you select the right part for your vehicle! Call our customer service toll free at 888-844-3393 if you have any questions about the product, warranty, compatibility or to purchase, or you can buy online. So, don't let a worn out or melted radiator fan keep you off the road! Do the right thing for your cooling system and buy an aftermarket automotive radiator cooling fan from 1A Auto today!
For more than 50 years, the Green family has been installing and using the same high quality auto parts that you'll find on our website. We actually use the parts we sell, and we've been selling online since 1999. Our company's mission is to
make your car projects go smoothly
, and to become your trusted source for auto parts. To this end, we treat our customers like family.
We employ USA based, knowledgeable support technicians. They'll help you through your project. We always make sure you get the right part. And we boast the industry's most generous returns policy. You won't find a company more passionate about auto parts than 1A Auto.