Mazda Protege Door Handles
Times Are Changing, But Mazda Protege Door Handles Aren't
Rather than changing something that was cheap to make and already being produced, the Mazda Protege used the same exact interior door handle from 1995 and 2003. Yes, the people buying Mazda Protege's new in 2003 were getting door handle designs from the mid 1990's. This is awesome for car manufacturers because doing this keeps the cost of the vehicle down, and if down seamlessly, the owner can't tell the difference. The 2003 model has different body styling than the 1995, so a slightly aging door handle wouldn't have turned off a new car buyer in 2003. But back to the door handle...the Protege inside door handles looked the same, attached the same, and the original ones even broke the same way! The only differences between all 8 years of inner Mazda Protege door handles were the color options. The four most popular color options were:

Gray with a Chrome Handle
Tan (Light Brown) with a Chrome Handle
Medium Gray with a Medium Gray Handle
Dark Gray with a Dark Gray handle
Door Handle Location:
Sometimes door handles do things that you least expect, like when the driver's side front door handle is the same part number as the one on the driver's side rear door! What?! I know, it's crazy right? Well let me tell you, Toyota Corolla's are way crazier than that, but we aren't touching that topic today. Nope. Not with a ten foot pole. As I said above, the front door handle of a 1995-03 Mazda Protege can be installed on the rear and vice versa. As long as the door handle is kept on the same side of the Protege, it doesn't matter if it is front or rear. So technically in a pinch, if your front door handle snaps off, you could steal the one from your rear door, and be back in business. That is... until your friends in the back seat want to exit the vehicle.
Replacing A Mazda Protege Door Handle
Interior door handle replacement is not rocket surgery by any means. On most vehicles, an interior door handle can be replaced by any do-it-yourselfer with basic hand tools. The job sometimes involves removing the door panel, and other times it does not. Luckily, the Mazda Protege from 1995-2003 is one of the easiest interior door handles to replace.
Pull the handle slightly, you will see a phillips screw. Remove that screw.
Gently slide back the handle, and you will see that the back of it is connected to a metal rod. (Unless your handle is broken, then the handle is probably already sitting in your hand.)
Twist the clip that is holding the rod to the handle. Then slide the rod out.
Reinstall new handle in the reverse order
Done! Now sit back and relax.
Let's see one of these handles up close:
Need A New Protege Inside Door Handle?
You have come to the right place if you are in need of a door handle. We carry interior and exterior door handles for thousands of car and truck applications. They come in many different colors, and although not in this case, many power and manual options are available as well. We have absolute confidence in the fit, finish, and quality of the door handles that we carry, and we use them on our own vehicles. If you have any questions about our products, warranty, compatibility, or to make a purchase, call our customer service toll free at 888-844-3393. We're here for you!

Customer Feedback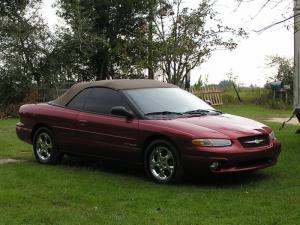 "Thanks for the fast reliable service. Great price, and the headlights were as good as oem or better!!! Keep up the good work..."
- Dwuan M.
---
Read More