How to Replace a Serpentine Belt on 1992-1996 Ford F150 & F250 Trucks
Video Summary
1A Auto shows you how to repair, fix, change or replace a broken, cracked, snapped or cut serpentine belt on 1992-1996 Ford F150 and F250 models. You will first learn how to remove your existing serpentine belt, and then install a new serpentine belt replacement.
Video Transcription
"In this video, we're going to show you how to remove a serpentine belt and then install a new replacement on this 1996 Ford F-150. This truck has the five liter V-8, so the procedure for changing the serpentine belt is basically the same as any 1992 to 1996 Ford F-150, 250 or 350 with the five liter as well as the 5.7 liter V-8, or 5.8 liter V-8. Only tool you'll need for this repair is a 15 millimeter socket with a ratchet, or a large 15 millimeter wrench will do as well.
Okay, first we will be removing the serpentine belt; this truck has the five-liter V-8 engine in it and obviously, your serpentine belt's right here. The first thing you want to do though, is you want to make sure that your belt diagram, okay right here, is intact. That's going to be a big help when you're putting the belt back on. It actually gives you a little diagram of how to do it. You'll need a 15-millimeter socket on a ratchet. Okay, and you take the socket and ratchet and put it right down here. Okay, put it right down here on your bolt. Okay, and then you pull this kind of clockwise. Okay and you can see that the belt loosens up when I do that. Okay, so I pull the wrench that way. Then you just slip it right off of this tensioner or this idler pulley here and then slowly let your wrench back and take it off.
Then just pull the serpentine belt off. Pull it right up and you have to reach down, pull it off your crank pulley and the belt comes right up and out. That's how to remove the serpentine belt, and now, what you're going to do next is take a loop, and feed it down and get it on this crankshaft pulley first. Okay, and then up around this air pump and you can flop it over down here to the power steering pump up to the A/C and then across. We'll put it on the alternator and keep it off the idler pulley first.
Okay, now that we have removed the old serpentine belt, we are going to replace it with a new serpentine belt from 1AAuto. I'll say we'll put it down, and reach down on the other side of the motor and pull a loop down on to the crankshaft pulley. Okay, pull some of the slack out. Okay, and then take a loop and then go down to the power steering pulley way over here on the other side. Bring it up onto the AC pulley. Okay, I'm pulling this up. It actually comes down. It goes down around. It comes up from the crankshaft pulley to the air conditioner pulley and then it goes around the tensioner and then around the alternator. This belt's a little bit tighter, so what we're going to do, we put it around the alternator first. What we are actually going to do is just put the socket here. Okay, take some tension off with this wrench. First, I'll get it right on the tensioner pulley.
Okay, so now it's actually on the tensioner pulley so it's on everything correctly. It's on the A/C. It's on the power steering, here on the water pump, way down underneath the crank and everything. Now, I can pull the tensioner back, and take it and push it underneath this idler pulley. Okay, and take some tension off and it's all set. That is how you remove and change a serpentine belt on this 1996 Ford F-150.
We hope this helps you out, thanks for watching! Please feel free to call us toll free 888-844-3393 with any questions or to order any of the parts shown in this video, or you can order your 1992-1996 Ford F150 Truck serpentine belt online."

Customer Feedback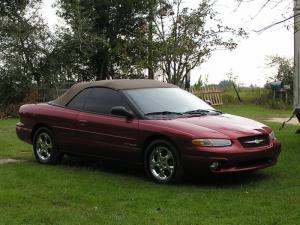 "Thanks for the fast reliable service. Great price, and the headlights were as good as oem or better!!! Keep up the good work..."
- Dwuan M.
---
Read More