ACWWB00002-Wiper Blade
Replaces
Wiper Blade ACDelco 8-4426 - ACWWB00002
ACWWB00002
Specifications:
Brand New AC Delco All Season Wiper Blade
26"
Fits LH (Driver Side) Front
Metal frame
Direct replacement
Built to strict quality control standards
Item Condition: New

Warranty
Please inspect this part carefully prior to installation and contact us with any questions BEFORE attempting to install it. Due to the nature of this part, our 60-day warranty covers exchanges only. Parts that have been installed, neglected, or modified in any way are not eligible for this exchange.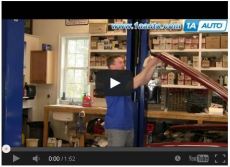 step : Removing the Wiper Blade (0:42)

Lift the wiper arm off of the windshield
Place the blade in a horizontal position
Slide the blade down off the arm
Lay the wiper arm down

step : Installing the Wiper Blade (1:05)

Lift the wiper arm up
Slide the wiper arm up the arm
Carefully lay the wiper arm down
Tools needed for replacement:
1A - No Tools Needed

No Tools Needed
Vehicle Fit
| Year | Make | Model | Description |
| --- | --- | --- | --- |
| 2013-2015 | Acura | ILX | Acura ILX Front Wiper Blade Driver Side ACDelco 8-4426 |
| 2007-2014 | Acura | MDX | Acura MDX Front Wiper Blade Driver Side ACDelco 8-4426 |
| 2007-2014 | Acura | RDX | Acura RDX Front Wiper Blade Driver Side ACDelco 8-4426 |
| 2007-2014 | Acura | TL | Acura TL Front Wiper Blade Driver Side ACDelco 8-4426 |
| 2004-2008 | Acura | TSX | Acura TSX Front Wiper Blade Driver Side ACDelco 8-4426 |
| 2010-2013 | Acura | ZDX | Acura ZDX Front Wiper Blade Driver Side ACDelco 8-4426 |
| 2010-2014 | Buick | LaCrosse | Buick LaCrosse Front Wiper Blade Driver Side ACDelco 8-4426 |
| 2013-2015 | Cadillac | XTS | Cadillac XTS Front Wiper Blade Driver Side ACDelco 8-4426 |
| 2015 | Chrysler | 200 | Chrysler 200 Front Wiper Blade Driver Side ACDelco 8-4426 |
| 2007-2009 | Chrysler | Aspen | Chrysler Aspen Front Wiper Blade Driver Side ACDelco 8-4426 |
| 2008-2014 | Chrysler | Town & Country | Chrysler Town & Country Front Wiper Blade Driver Side ACDelco 8-4426 |
| 2013-2014 | Dodge | Dart | Dodge Dart Front Wiper Blade Driver Side ACDelco 8-4426 |
| 2004-2009 | Dodge | Durango | Dodge Durango Front Wiper Blade Driver Side ACDelco 8-4426 |
| 2008-2014 | Dodge | Grand Caravan | Dodge Grand Caravan Front Wiper Blade Driver Side ACDelco 8-4426 |
| 2007-2014 | Ford | Edge | Ford Edge Front Wiper Blade Driver Side ACDelco 8-4426 |
| 2010-2013 | Ford | Transit Connect | Ford Transit Connect Front Wiper Blade Driver Side ACDelco 8-4426 |
| 2003-2014 | Honda | Accord | Honda Accord Front Wiper Blade Driver Side ACDelco 8-4426 |
| 2007-2014 | Honda | CR-V | Honda CR-V Front Wiper Blade Driver Side ACDelco 8-4426 |
| 2011-2014 | Honda | CR-Z | Honda CR-Z Front Wiper Blade Driver Side ACDelco 8-4426 |
| 2008-2014 | Honda | Civic | Honda Civic Front Wiper Blade Driver Side ACDelco 8-4426 |
| 2013-2014 | Honda | Crosstour | Honda Crosstour Front Wiper Blade Driver Side ACDelco 8-4426 |
| 2009-2014 | Honda | FIT | Honda FIT Front Wiper Blade Driver Side ACDelco 8-4426 |
| 2010-2014 | Honda | Insight | Honda Insight Front Wiper Blade Driver Side ACDelco 8-4426 |
| 2005-2014 | Honda | Odyssey | Honda Odyssey Front Wiper Blade Driver Side ACDelco 8-4426 |
| 2012-2014 | Hyundai | Accent | Hyundai Accent Front Wiper Blade Driver Side ACDelco 8-4426 |
| 2012-2014 | Hyundai | Azera | Hyundai Azera Front Wiper Blade Driver Side ACDelco 8-4426 |
| 2007-2010 | Hyundai | Entourage | Hyundai Entourage Front Wiper Blade Driver Side ACDelco 8-4426 |
| 2013-2014 | Hyundai | Santa Fe | Hyundai Santa Fe Front Wiper Blade Driver Side ACDelco 8-4426 |
| 2011-2014 | Hyundai | Sonata | Hyundai Sonata Front Wiper Blade Driver Side ACDelco 8-4426 |
| 2012-2014 | Hyundai | Veloster | Hyundai Veloster Front Wiper Blade Driver Side ACDelco 8-4426 |
| 2011-2012 | Infiniti | G25 | Infiniti G25 Front Wiper Blade Driver Side ACDelco 8-4426 |
| 2007-2008 | Infiniti | G35 | Infiniti G35 Front Wiper Blade Driver Side ACDelco 8-4426 |
| 2008-2013 | Infiniti | G37 | Infiniti G37 Front Wiper Blade Driver Side ACDelco 8-4426 |
| 2000-2001 | Infiniti | I30 | Infiniti I30 Front Wiper Blade Driver Side ACDelco 8-4426 |
| 2002-2004 | Infiniti | I35 | Infiniti I35 Front Wiper Blade Driver Side ACDelco 8-4426 |
| 2013 | Infiniti | JX35 | Infiniti JX35 Front Wiper Blade Driver Side ACDelco 8-4426 |
| 2012-2013 | Infiniti | M35h | Infiniti M35h Front Wiper Blade Driver Side ACDelco 8-4426 |
| 2011-2013 | Infiniti | M37 | Infiniti M37 Front Wiper Blade Driver Side ACDelco 8-4426 |
| 2011-2013 | Infiniti | M56 | Infiniti M56 Front Wiper Blade Driver Side ACDelco 8-4426 |
| 2002-2006 | Infiniti | Q45 | Infiniti Q45 Front Wiper Blade Driver Side ACDelco 8-4426 |
| 2014 | Infiniti | Q50 | Infiniti Q50 Front Wiper Blade Driver Side ACDelco 8-4426 |
| 2014 | Infiniti | Q60 | Infiniti Q60 Front Wiper Blade Driver Side ACDelco 8-4426 |
| 2014 | Infiniti | Q70 | Infiniti Q70 Front Wiper Blade Driver Side ACDelco 8-4426 |
| 2014 | Infiniti | QX60 | Infiniti QX60 Front Wiper Blade Driver Side ACDelco 8-4426 |
| 2014 | Jeep | Cherokee | Jeep Cherokee Front Wiper Blade Driver Side ACDelco 8-4426 |
| 2014 | Kia | Cadenza | Kia Cadenza Front Wiper Blade Driver Side ACDelco 8-4426 |
| 2014 | Kia | Forte | Kia Forte Front Wiper Blade Driver Side ACDelco 8-4426 |
| 2014 | Kia | Forte Koup | Kia Forte Koup Front Wiper Blade Driver Side ACDelco 8-4426 |
| 2012-2014 | Kia | Rio | Kia Rio Front Wiper Blade Driver Side ACDelco 8-4426 |
| 2012 | Kia | Rio5 | Kia Rio5 Front Wiper Blade Driver Side ACDelco 8-4426 |
| 2007-2012 | Kia | Rondo | Kia Rondo Front Wiper Blade Driver Side ACDelco 8-4426 |
| 2006-2012 | Kia | Sedona | Kia Sedona Front Wiper Blade Driver Side ACDelco 8-4426 |
| 2014 | Kia | Sedona | Kia Sedona Front Wiper Blade Driver Side ACDelco 8-4426 |
| 2011-2014 | Lexus | CT200h | Lexus CT200h Front Wiper Blade Driver Side ACDelco 8-4426 |
| 2013-2014 | Lexus | ES300h | Lexus ES300h Front Wiper Blade Driver Side ACDelco 8-4426 |
| 2013-2014 | Lexus | ES350 | Lexus ES350 Front Wiper Blade Driver Side ACDelco 8-4426 |
| 2013-2014 | Lexus | GS350 | Lexus GS350 Front Wiper Blade Driver Side ACDelco 8-4426 |
| 2013-2014 | Lexus | GS450h | Lexus GS450h Front Wiper Blade Driver Side ACDelco 8-4426 |
| 2010-2014 | Lexus | GX460 | Lexus GX460 Front Wiper Blade Driver Side ACDelco 8-4426 |
| 2010-2012 | Lexus | HS250h | Lexus HS250h Front Wiper Blade Driver Side ACDelco 8-4426 |
| 2004-2006 | Lexus | RX330 | Lexus RX330 Front Wiper Blade Driver Side ACDelco 8-4426 |
| 2007-2014 | Lexus | RX350 | Lexus RX350 Front Wiper Blade Driver Side ACDelco 8-4426 |
| 2006-2008 | Lexus | RX400h | Lexus RX400h Front Wiper Blade Driver Side ACDelco 8-4426 |
| 2010-2014 | Lexus | RX450h | Lexus RX450h Front Wiper Blade Driver Side ACDelco 8-4426 |
| 2007-2014 | Lincoln | MKX | Lincoln MKX Front Wiper Blade Driver Side ACDelco 8-4426 |
| 2006-2010 | Mazda | 5 | Mazda 5 Front Wiper Blade Driver Side ACDelco 8-4426 |
| 2012-2014 | Mazda | 5 | Mazda 5 Front Wiper Blade Driver Side ACDelco 8-4426 |
| 2007-2012 | Mazda | CX-7 | Mazda CX-7 Front Wiper Blade Driver Side ACDelco 8-4426 |
| 2007-2014 | Mazda | CX-9 | Mazda CX-9 Front Wiper Blade Driver Side ACDelco 8-4426 |
| 2004-2011 | Mitsubishi | Endeavor | Mitsubishi Endeavor Front Wiper Blade Driver Side ACDelco 8-4426 |
| 2004-2012 | Mitsubishi | Galant | Mitsubishi Galant Front Wiper Blade Driver Side ACDelco 8-4426 |
| 2008-2014 | Mitsubishi | Lancer | Mitsubishi Lancer Front Wiper Blade Driver Side ACDelco 8-4426 |
| 2014 | Mitsubishi | Outlander | Mitsubishi Outlander Front Wiper Blade Driver Side ACDelco 8-4426 |
| 2002-2012 | Nissan | Altima | Nissan Altima Front Wiper Blade Driver Side ACDelco 8-4426 |
| 2011-2014 | Nissan | Leaf | Nissan Leaf Front Wiper Blade Driver Side ACDelco 8-4426 |
| 2000-2014 | Nissan | Maxima | Nissan Maxima Front Wiper Blade Driver Side ACDelco 8-4426 |
| 2003-2007 | Nissan | Murano | Nissan Murano Front Wiper Blade Driver Side ACDelco 8-4426 |
| 2009-2014 | Nissan | Murano | Nissan Murano Front Wiper Blade Driver Side ACDelco 8-4426 |
| 2013-2014 | Nissan | Pathfinder | Nissan Pathfinder Front Wiper Blade Driver Side ACDelco 8-4426 |
| 2004-2009 | Nissan | Quest | Nissan Quest Front Wiper Blade Driver Side ACDelco 8-4426 |
| 2011-2014 | Nissan | Quest | Nissan Quest Front Wiper Blade Driver Side ACDelco 8-4426 |
| 2008-2014 | Nissan | Rogue | Nissan Rogue Front Wiper Blade Driver Side ACDelco 8-4426 |
| 2007-2014 | Nissan | Sentra | Nissan Sentra Front Wiper Blade Driver Side ACDelco 8-4426 |
| 2007-2014 | Nissan | Versa | Nissan Versa Front Wiper Blade Driver Side ACDelco 8-4426 |
| 2009-2010 | Pontiac | Vibe | Pontiac Vibe Front Wiper Blade Driver Side ACDelco 8-4426 |
| 2014 | Ram | ProMaster 1500 | Ram ProMaster 1500 Front Wiper Blade Driver Side ACDelco 8-4426 |
| 2014 | Ram | ProMaster 2500 | Ram ProMaster 2500 Front Wiper Blade Driver Side ACDelco 8-4426 |
| 2014 | Ram | ProMaster 3500 | Ram ProMaster 3500 Front Wiper Blade Driver Side ACDelco 8-4426 |
| 2005-2010 | Scion | tC | Scion tC Front Wiper Blade Driver Side ACDelco 8-4426 |
| 2008-2014 | Scion | xD | Scion xD Front Wiper Blade Driver Side ACDelco 8-4426 |
| 2014 | Subaru | Forester | Subaru Forester Front Wiper Blade Driver Side ACDelco 8-4426 |
| 2012-2014 | Subaru | Impreza | Subaru Impreza Front Wiper Blade Driver Side ACDelco 8-4426 |
| 2010-2014 | Subaru | Legacy | Subaru Legacy Front Wiper Blade Driver Side ACDelco 8-4426 |
| 2010-2014 | Subaru | Outback | Subaru Outback Front Wiper Blade Driver Side ACDelco 8-4426 |
| 2013-2014 | Subaru | XV Crosstrek | Subaru XV Crosstrek Front Wiper Blade Driver Side ACDelco 8-4426 |
| 2007-2013 | Suzuki | SX4 | Suzuki SX4 Front Wiper Blade Driver Side ACDelco 8-4426 |
| 2013-2014 | Toyota | Avalon | Toyota Avalon Front Wiper Blade Driver Side ACDelco 8-4426 |
| 2012-2014 | Toyota | Camry | Toyota Camry Front Wiper Blade Driver Side ACDelco 8-4426 |
| 2000-2005 | Toyota | Celica | Toyota Celica Front Wiper Blade Driver Side ACDelco 8-4426 |
| 2009-2014 | Toyota | Corolla | Toyota Corolla Front Wiper Blade Driver Side ACDelco 8-4426 |
| 2008-2014 | Toyota | Highlander | Toyota Highlander Front Wiper Blade Driver Side ACDelco 8-4426 |
| 2009-2014 | Toyota | Matrix | Toyota Matrix Front Wiper Blade Driver Side ACDelco 8-4426 |
| 2004-2014 | Toyota | Prius | Toyota Prius Front Wiper Blade Driver Side ACDelco 8-4426 |
| 2012-2014 | Toyota | Prius C | Toyota Prius C Front Wiper Blade Driver Side ACDelco 8-4426 |
| 2012-2014 | Toyota | Prius V | Toyota Prius V Front Wiper Blade Driver Side ACDelco 8-4426 |
| 2013-2014 | Toyota | Rav4 | Toyota Rav4 Front Wiper Blade Driver Side ACDelco 8-4426 |
| 2004-2010 | Toyota | Sienna | Toyota Sienna Front Wiper Blade Driver Side ACDelco 8-4426 |
| 2009-2014 | Toyota | Venza | Toyota Venza Front Wiper Blade Driver Side ACDelco 8-4426 |
| 2006-2011 | Toyota | Yaris | Toyota Yaris Front Wiper Blade Driver Side ACDelco 8-4426 |
| 2009-2012 | Volkswagen | Routan | VW Routan Front Wiper Blade Driver Side ACDelco 8-4426 |
Part #: ACWWB00002
Order must be placed by 4pm ET
Get it in: 2 - 4 Business Days
Want it sooner? Choose Next Day Air at Checkout

Brand #: 8-4426