ACWWB00003-Wiper Blade
Replaces
Wiper Blade ACDelco 8-417 - ACWWB00003
ACWWB00003
Specifications:
Brand New AC Delco All Season Wiper Blade
17"
Fits RH (Passenger Side) Front
Plastic frame
Direct replacement
Built to strict quality control standards
Item Condition: New

Warranty
Please inspect this part carefully prior to installation and contact us with any questions BEFORE attempting to install it. Due to the nature of this part, our 60-day warranty covers exchanges only. Parts that have been installed, neglected, or modified in any way are not eligible for this exchange.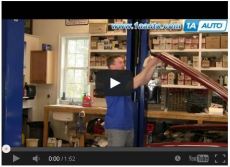 step : Removing the Wiper Blade (0:38)

Press the tab and disconnect the wiper blade
Pull the wiper blade off of the hook

step : Installing the Wiper Blade (0:54)

Insert the wiper blade onto the hook on the wiper arm
Pull the blade back until it clips
Tools needed for replacement:
1A - No Tools Needed

No Tools Needed
There are no reviews for this item.
Customer Q&A
Ask a question to 1A Auto customers who purchased the product
No questions have been asked about this item.
| Year | Make | Model | Description |
| --- | --- | --- | --- |
| 1991-1996 | Buick | Roadmaster | Buick Roadmaster Front Wiper Blade Passenger Side ACDelco 8-417 |
| 1990-1996 | Chevy | Caprice | Chevy Caprice Front Wiper Blade Passenger Side ACDelco 8-417 |
| 1990-2005 | Chevy | Cavalier | Chevy Cavalier Front Wiper Blade Passenger Side ACDelco 8-417 |
| 2005-2010 | Chevy | Cobalt | Chevy Cobalt Front Wiper Blade Passenger Side ACDelco 8-417 |
| 1985-1988 | Chevy | Nova | Chevy Nova Front Wiper Blade Passenger Side ACDelco 8-417 |
| 1985-1988 | Chevy | Sprint | Chevy Sprint Front Wiper Blade Passenger Side ACDelco 8-417 |
| 1977-1978 | Datsun | 280Z | Datsun 280Z Front Wiper Blade Passenger Side ACDelco 8-417 |
| 1979-1983 | Datsun | 280ZX | Datsun 280ZX Front Wiper Blade Passenger Side ACDelco 8-417 |
| 1978-1983 | Dodge | Challenger | Dodge Challenger Front Wiper Blade Passenger Side ACDelco 8-417 |
| 1978-1992 | Dodge | Colt | Dodge Colt Front Wiper Blade Passenger Side ACDelco 8-417 |
| 1984-1986 | Dodge | Conquest | Dodge Conquest Front Wiper Blade Passenger Side ACDelco 8-417 |
| 1991-1992 | Eagle | Summit | Eagle Summit Front Wiper Blade Passenger Side ACDelco 8-417 |
| 1990-1994 | Eagle | Talon | Eagle Talon Front Wiper Blade Passenger Side ACDelco 8-417 |
| 1976-1993 | Honda | Accord | Honda Accord Front Wiper Blade Passenger Side ACDelco 8-417 |
| 1988-1991 | Honda | CRX | Honda CRX Front Wiper Blade Passenger Side ACDelco 8-417 |
| 1986-1989 | Hyundai | Excel | Hyundai Excel Front Wiper Blade Passenger Side ACDelco 8-417 |
| 2011-2012 | Infiniti | EX35 | Infiniti EX35 Front Wiper Blade Passenger Side ACDelco 8-417 |
| 2013 | Infiniti | EX37 | Infiniti EX37 Front Wiper Blade Passenger Side ACDelco 8-417 |
| 2013 | Infiniti | JX35 | Infiniti JX35 Front Wiper Blade Passenger Side ACDelco 8-417 |
| 2014 | Infiniti | QX50 | Infiniti QX50 Front Wiper Blade Passenger Side ACDelco 8-417 |
| 2014 | Infiniti | QX60 | Infiniti QX60 Front Wiper Blade Passenger Side ACDelco 8-417 |
| 1981-1984 | Isuzu | I-Mark | Isuzu I-Mark Front Wiper Blade Passenger Side ACDelco 8-417 |
| 1984 | Isuzu | Trooper | Isuzu Trooper Front Wiper Blade Passenger Side ACDelco 8-417 |
| 1984-1991 | Isuzu | Trooper II | Isuzu Trooper II Front Wiper Blade Passenger Side ACDelco 8-417 |
| 1999-2001 | Isuzu | VehiCROSS | Isuzu VehiCROSS Front Wiper Blade Passenger Side ACDelco 8-417 |
| 1979-1985 | Mazda | 626 | Mazda 626 Front Wiper Blade Passenger Side ACDelco 8-417 |
| 1986-1987 | Mazda | B2000 Truck | Mazda B2000 Truck Front Wiper Blade Passenger Side ACDelco 8-417 |
| 1987 | Mazda | B2200 Truck | Mazda B2200 Truck Front Wiper Blade Passenger Side ACDelco 8-417 |
| 1987 | Mazda | B2600 Truck | Mazda B2600 Truck Front Wiper Blade Passenger Side ACDelco 8-417 |
| 2007-2014 | Mazda | CX-9 | Mazda CX-9 Front Wiper Blade Passenger Side ACDelco 8-417 |
| 1976-1978 | Mazda | Cosmo | Mazda Cosmo Front Wiper Blade Passenger Side ACDelco 8-417 |
| 1981-1985 | Mazda | GLC | Mazda GLC Front Wiper Blade Passenger Side ACDelco 8-417 |
| 1997-1998 | Mazda | MPV | Mazda MPV Front Wiper Blade Passenger Side ACDelco 8-417 |
| 1977-1978 | Mazda | RX-4 | Mazda RX-4 Front Wiper Blade Passenger Side ACDelco 8-417 |
| 1979-1985 | Mazda | RX-7 | Mazda RX-7 Front Wiper Blade Passenger Side ACDelco 8-417 |
| 1983-1988 | Mitsubishi | Cordia | Mitsubishi Cordia Front Wiper Blade Passenger Side ACDelco 8-417 |
| 1985-1989 | Mitsubishi | Galant | Mitsubishi Galant Front Wiper Blade Passenger Side ACDelco 8-417 |
| 1985-1992 | Mitsubishi | Mirage | Mitsubishi Mirage Front Wiper Blade Passenger Side ACDelco 8-417 |
| 1987-1989 | Mitsubishi | Precis | Mitsubishi Precis Front Wiper Blade Passenger Side ACDelco 8-417 |
| 1988 | Mitsubishi | Sigma | Mitsubishi Sigma Front Wiper Blade Passenger Side ACDelco 8-417 |
| 1980-1988 | Nissan | 200SX | Nissan 200SX Front Wiper Blade Passenger Side ACDelco 8-417 |
| 1983-1991 | Plymouth | Colt | Plymouth Colt Front Wiper Blade Passenger Side ACDelco 8-417 |
| 1984-1986 | Plymouth | Conquest | Plymouth Conquest Front Wiper Blade Passenger Side ACDelco 8-417 |
| 1990-1993 | Plymouth | Laser | Plymouth Laser Front Wiper Blade Passenger Side ACDelco 8-417 |
| 1997 | Plymouth | Prowler | Plymouth Prowler Front Wiper Blade Passenger Side ACDelco 8-417 |
| 1999-2001 | Plymouth | Prowler | Plymouth Prowler Front Wiper Blade Passenger Side ACDelco 8-417 |
| 1978-1983 | Plymouth | Sapporo | Plymouth Sapporo Front Wiper Blade Passenger Side ACDelco 8-417 |
| 1982-1987 | Subaru | Brat | Subaru Brat Front Wiper Blade Passenger Side ACDelco 8-417 |
| 2014 | Subaru | Forester | Subaru Forester Front Wiper Blade Passenger Side ACDelco 8-417 |
| 2002-2007 | Subaru | Impreza | Subaru Impreza Front Wiper Blade Passenger Side ACDelco 8-417 |
| 1987-1995 | Subaru | Justy | Subaru Justy Front Wiper Blade Passenger Side ACDelco 8-417 |
| 1990-1994 | Subaru | Loyale | Subaru Loyale Front Wiper Blade Passenger Side ACDelco 8-417 |
| 1989-1998 | Suzuki | Sidekick | Suzuki Sidekick Front Wiper Blade Passenger Side ACDelco 8-417 |
| 1990-1993 | Volvo | 240 | Volvo 240 Front Wiper Blade Passenger Side ACDelco 8-417 |
| 1994-1997 | Volvo | 850 | Volvo 850 Front Wiper Blade Passenger Side ACDelco 8-417 |
| 1998-2000 | Volvo | V70 | Volvo V70 Front Wiper Blade Passenger Side ACDelco 8-417 |

Brand #: 8-417