1AZCC00007-Chevy GMC Cadillac Windshield Wiper Switch
Replaces
Chevy GMC Cadillac Windshield Wiper Switch - 1AZCC00007
1AZCC00007
Frequently bought together
Specifications:
For vehicles with tilt column
Includes Cruise Control features
Has delay wipers
Dark Gray finish on handle
Direct replacement
Design improved for more durability
Detailed graphics
Built to strict quality control standards
Our electrical and electronic parts are subject to strict quality testing.
Parts cannot be returned after they have been installed. Contact us with any questions before installing the parts.
Item Condition: New

Attention California Customers:
WARNING: This product can expose you to chemicals including Lead and Lead Compounds, which are known to the State of California to cause cancer, and birth defects or other reproductive harm. For more information, go to www.P65Warnings.ca.gov.
Lifetime Warranty
This item is backed by a Limited Lifetime Warranty. In the event this item should fail due to manufacturing defects during intended use, we will exchange the part free of charge (excludes shipping charges) for the original purchaser.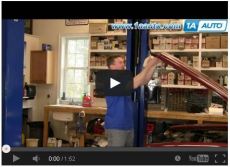 Tools needed for replacement:
Ratchets & Related

Ratchet
Socket Extensions

Screwdrivers & Related

Flat Blade Screwdriver

Sockets - Metric

10mm Socket
4mm Socket
8mm Socket

Sockets - SAE

5/16 Inch Socket

Star Drivers & Sockets

T25 Torx Driver

Wrenches - SAE

1/4 Inch Wrench
Good looking and money saving item
Works great!
The switch works as expected and fixed some problems that I was having with the old multi-function switch. The Tools list on the product page isnt quite right. It mentions an 8mm socket but mine needed 7mm (the video says 7mm). It also doesnt mention the steering wheel puller (the video does.) I replaced this switch without removing the steering wheel. In hindsight, it probably would have been easier and maybe faster to have just removed the steering wheel as shown in the video. But it is possible to replace the switch without removing the steering wheel. It took me about 3 hours to replace the switch. Most of this time was spent working around the steering wheel and making sure I routed and reconnected the wiring harness correctly.
Perfect replacement
I am not one to do reviews very often but this purchase not only solved my issue, but I found my vendor of choice for all future parts needs. For some background info on my situation, I use my 2000 Chevy Express 1500 for occasionally towing a small construction trailer as well as a 30 travel trailer. Several years ago, the hazard lights stopped working. I never thought much about it and didnt really see the need to fix it since I can rarely remember a time when I had to use hazard lights. What I did NOT realize was that whatever short had occurred in the turn signal switch that knocked out the hazard light function had also knocked out the circuit that carries the brake light signal to the female 7-way trailer connector attached to back of the van. The turn signals, running lights, and brake lights still worked on the van. The turn signals and running lights still worked on any attached trailer, but not the brake lights. I only discovered this years later when someone who had been following me noticed the brake lights were not working and waved me down to tell me so, thinking maybe I had forgotten to plug in the trailer wiring plug into the van receptacle. I started tracing the wiring trying to find out why the brake light signal was not coming to the trailering harness and couldnt locate the problem. I ended up calling in an independent automotive electrical tech to find it and it even stumped him. We looked for burnt out diodes and failed relays to no avail. It was only after I remembered the hazard light malfunction from years prior that I mentioned it and he thought that could be the culprit. I then spoke with a Chevy tech and described the issue and he said he was quite certain the turn signal assembly was the problem for both the hazard lights and the brake light signal. He said that this switch controls almost all the critical lighting functions and when one circuit fails, others circuits are usually always affected. A few days prior to ordering this part, a family member had opened to front door to get out of the van, touched the screw that holds on the rubberized door handle, and received a nasty shock! This happened every time he exited the vehicle after the vehicle was turned off. So, whatever had failed in the turn signal switch was causing a shorted / open / non-grounded circuit condition that was grounding out in an exiting passenger. So, in the off chance anyone reading this post has a similar condition(s) on their vehicle, I hope this review sheds some light on what may be your simple solution. I purchased this part from 1A Auto after a thorough search online. Prices ranged from $28 for the aftermarket knock offs to $180 for a GM certified replacement. While this part from 1A Auto was not a GM certified part, they obviously have faith in whomever is manufacturing it for them; theirs was not the least expensive aftermarket product I found, but they were the ONLY VENDOR that offered a limited lifetime warranty on the part. Thank you 1A Auto for an outstanding experience! Excellent company, dependable products, and great installation advice has made them my go-to supplier from now on.
Awesome Product
Ive looked everywhere for this part and everywhere I checked it was to expensive. So, I checked 1aauto.com and there it was the part I needed and way cheaper. It bolts all the same like the factory one. Its just an all around great part for the lowest price possible. I highly recommend buying your auto parts from 1aauto.com
Excellent
Went out on a limb being skeptical at first about this part because of the price. After I opened the box I was amazed. Fits perfectly, easily connected to my existing harness plug. Great quality and the price is unmatchable. Already recommended the website to those I know.
Tc
Switch works very good and installation was easy after watching your video. Thanks guys.
Replacement for gmc c1500 1997 serria
Just a note to anyone concerned about removing their steering wheel as noted in 1aauto video. I replaced mine without removing the steering wheel! Purchased a short torx bit same size as the torx screw on top. Top screw is easy to remove there is a second screw directly behind the steering wheel, insert the (SHORT) torx bit in by hand then use a small long nose pair of vise grips to remove the screw. This method worked fine for me. Note I did remove the air bag fuse just for safety. Would recommend product.
Headlight switch
. Part was pretty much original and it fit perfect the shipping was great very fast shipping .
The part worked out great and I will buy more parts at 1 A auto parts and I will let my friends know about it to
Blinkers work
The part was relatively easy to install. My flashers work now, my blinkers work now, hi and low beams work, and I even have cruise control working. The only thing that doesnt work is the horn. It worked before I changed it and now it doesnt. The horn is controlled in this part. The only reason I didnt pull it back off and send it back is because I dont want to go without blinkers waiting for it to come back and I dont want to pull my dash apart again. Other than that, my blinkers work.
Works as it should quality looks and feels good and the fit was absolutely perfect
It broke the first time I turned the wipers on.
This product did not fix my turn signal problem and the switch for the windshield wipers broke the first time I used it. I am not going to the trouble of taking it off as I am getting another vehicle to drive. The shipping was fast and the turn signal problem must be elsewhere.
Great product for the right price. Fit my 1998 Chevrolet Silverado. It was much cheaper than other places.
The switch was perfect.
This is the first place I look for parts. Ordered multiple times and never had a problem. Trust me, I leave recommended to so many people. You can not go wrong with these prices.thanks
Good product - installation pretty easy
This product was as described and shipped quickly. The online installation video was a HUGE help. I would have given 5 stars but one of the wiring harness connectors (cheap compared to the OEM ones) was not sized properly so I had to do some filing/cutting to get it to fit. Got it installed and all lights, wipers, signals, etc. are working again. Overall very satisfied with 1 A Auto. Will definitely order from them again.
multi switch
price was good , exactly like the picture showed , easy installation
The part was exactly what I ordered and the fit was perfect. Good part at a good price.
Multi function switch
Great Product BUT the only difference between the original and this one is that when you turn the switch to intermittent wipers it does not wipe first then go into intermittent mode you have to switch it to wipe first then set your intermittent mode.
The product seems to be fine
The instructional did not match up with a 1997 Chevy 1500 express van you videos should be more vehicle specific
Worth the work
The only tool I had to rent was a steering wheel puller. There is a lot of stuff to take out but it saved me probably $400 doing it myself. Worth the work the new one works so much better. The video helped out a lot Thanks 1 A Auto
Turn signal Cruise switch
Part was like OEM and fit perfectly. The best part was the online video of how to install it....absolutely top notch detailed video. Made a tough job almost easy.
Great so far!
Put it in a week ago, works great so far. The video is very helpful, found it wasnt necessary to remove the steering wheel and airbag. Took about 2 hrs, saved about $250 vs. taking to a shop, money in my pocket!
Doesnt work properly
The hazard button sticks and the wipers dont work properly. I cant afford to pay to have it replaced again so Im just dealing it.
Multi-function switch fits perfectly
After looking at the over the counter shops, I found the same manufacture part at 1AAuto for a fraction of the other guys price. The part was a direct fit, and works as advertised. Every feature worked the first time and continues to run without any issues. The how to install video was spot on. I have and will continue to recommend 1AAuto.
Works perfect
Not only does the product fit and work perfectly , and the video of how to change it was a tremendous help . Best sight I've found yet
turn signal switch
I would recommend 1Aauto the product was the right fit at a reasonable price it was also received in 3 days
Thanks for the instructive video
Works great. Could not have done it without your video.
Thanks so much for the U-tube.
1A-Auto really helped me fix my truck. When I met a big problem I would return to the U-tube and then go back to work. It took a full day to carefully take everything apart and only 2 hours to put it back together. Thanks so much.
Windshield wipers switch
It works great thanks for being there for our needs
same replacement
I have had this wiper/cruse control switch in for several months without a problem. My emergency flashers were not working that is why I changed it. Happy with the purchase.
Awesome parts and service
The part was well described on the site 1aauto shipped it fast. Part came in good working order and the install videos were a big help on the site. I would definitely recommend 1aauto and use them again.
Turn Signal Switch
After trying to order this part on-line ( my computer didnt want to work for me) I called it in on a Saturday and the Lady that helped me ( how by the way was super nice) got it ordered and it was sent out by Monday and I received it early than expected. I was very happy with the service I received.Your video was a BIG help. Thank you for what you do. Kenny.
GREAT phone support, part selection & delivery
After much research on the internet, I called 1A-Auto sales and customer support to confirm what I was about to buy as being the correct part for my 1999 GMC Suburban. With little time spent on the phone with their agent, I placed the order for the part, less than a week later the part arrived. Using their YouTube video, I discovered the tools needed to make the install, and I proceeded to successfully make the repair. I will be back to 1A-Auto for more parts and support.
overall good product
the wiper switch or multi switch works great ,just recently installed it ,and thanks to the very helpful videos fro 1A auto ,which are also great .It was a piece of cake.I would certainly recommend it.
GREAT PART
The part came , it matched perfect, and went in the way it should. The installation video was a great help in this project.
Dimmer switch
Product was priced was great. Delivery was fast and peiduct fit perfect.
windshild wiper comment
Good part come to house ready to go. Put part in right away works and fix the problem WILL BUY MORE PARTS DOWN THE ROAD THANKS ( M.P) P.S WILL TELL ALL MY FRENDS
Perfect
Perfect fit and the video on installation was great installation was fast and easy will definetly continue to do business with 1aauto if youre looking for this part this is where to buy it
Great place
I really like the service and its very convenient because of it being online and the products are shipped straight to my house without having to wait in lines at AutoZone forever just to ask a question.
Perfect!
Found a video by 1A Auto to preform the repair on my 1999 GMC with this part. Video was easy to follow and very helpful. Order the part and it was shipped very quickly. Thanks 1A Auto.
Cruise Control works again!
Wiper switch fits perfect, had to watch the install video 2x to get it in Ok. Took me longer to do than video shows, I dont have the same puller tool. Overall, good to go now. I shop 1A Auto regularly, will shop here again. Thank you for good products at good prices and helpful videos.
Very good service
Yes i will and did recommend to someone great service and was delivered in times frame they said and also sent me a video on how to install part i ordered that was good help thanks for help and wil be ordering again
K2500 multiswitch
Purchase showed up 4 days later than expected but other than that... it was perfect condition ,as advertised and worked perfectly. The on-site instructional video was very helpful and informative ,well done!
Excellent instructional video
Part arrived on time and was a perfect match; installed as advertised. Video was very helpful and easy to follow for a novice willing to follow step-by-step instructions. While the video incorporated some extra steps not required to install this part, comments from viewer community were helpful.
Great fit
Worked perfectly and fast shipping. No modification needed. A+
perfect
was a big pain pulling all the dash loose just to get the old one out. followed there installation YouTube video and it was a snap. A+!
Great
Works perfect but unfortunately it was not the part that was causing the problem. But at least now I have cruise control
Part was perfect
Part fit perfect! Installation video was perfect ast well!! Will be getting ALL my fart thru 1A!
Great deal not that hard to replace, signal lights work again.
Good part good price, all but Cruise control work now
Great Value ~ Turn signal cluster assembly
Perfect replacement part for old workhorse Chevrolet C-1500 pickup. Associated video for repair was extremely helpful.
Love 1aauto and the EASY videos they have!!! Top notch for ANY dyi-selfer!!!
Customer Q&A
Ask a question to 1A Auto customers who purchased the product
My wipers when off has the indicator on mid delay and when on only go as fast as mid delay. Is there a way to adjust it to get full range of use? As the picture above shows, that is off for my cruise/wiper control
Not that Im a are of youll have to replace whole switch
no adjustments on these units. Usually it just requires an entire switch replacement to remedy this issue.
My kids pulled on mine and broke the turn signal function. It has been a while since I had it in my hand, but I don/t think that there are any adjustments that can be made. The replacement switch that I purchased has been working well since I put it in.
I only have high beams. I changed the light switch will fix my problem?
can you use this switch on a vehicle without cruise control?
The wiring will be different if you do not have cruise control.
I need a part for 99 escalade . Wipers r not working?
Hello, The most common culprit on this style of w/s wiper is the wiper module, which is the control circuit board that is mounted on the motor. Sometimes you can remove it, clean the contacts, reinstall it and be successful. But it is only around $30 online so it is the cheapest link as well as the weakest link. Good luck. Circle L
1a has the exact part for your car or truck. Mine fit and works exactly as it should and much better price than through a parts store or service department.
Lisa, is it only the wipers? Do cruise control and turn signals still work? The reason I ask is because there is a wiper motor logic board on your Escalade that is notorious for failing because of weak soldering. Its a much much cheaper part and way easier to replace.
Michael L
August 18, 2017
We recommend getting a formal diagnosis before purchasing any parts. This will ensure that your first repair is the last repair to have operational wipers.
If the switch is the problem and not the wiper motor, the switch has worked perfectly for me for over a year and didnt cost as much as the dealer wanted which was about $500.00.
Hi Lisa, Before purchasing and installing the switch, have a mechanic verify that the wiper circuit board under the hood is working properly. I replaced the switch on my 1998 Safari some time ago only to find that the real problem was the circuit board.
This fixed my problem and the price was great also.Hope this helps Lisa c.
I would like to ask about the brand please and is it made in USA?
We have a few different aftermarket companies build these parts specifically for us, as our 1A Auto house brand. They are manufactured to the same OEM specifications as the original part that came with your vehicle. If you have any further questions, please dont hesitate to ask.
The unit I got from A-1 was good and is still working---about 2 years now. I dont believe it was made in the U.S.
I expect this switch is made overseas; at this price point, its pretty much a sure bet. I also expect the OEM switch was likely made overseas anyway, as a majority of OEM switch components usually are. However, whomever 1A Auto has contracted with to make this switch has done a stellar job as far as quality, fit, and function. I researched extensively before I bought one here and I couldnt be happier. Its been installed now for 2+ years and works as well if not better than the OEM switch, and at a fraction of the OEM part cost. Best of all, 1A Auto guarantees this part for LIFE; if it breaks due to a manufacturers defect, they replace it free of charge (except for shipping charges). I know of no other parts supplier with a warranty that strong.
Will this fit 97 Silverado K1500? I dont see a part number on my old part.
Yes, according to the information you supplied, the part youre looking at will be correct for your vehicle as long as it has Cruise Control & Tilt Steering. If you have any other questions, please let us know.
Man brother really couldn't tell you. I tried going the cheap route on my 95 blazer by going to junk yards but found out there's several different types for my model but when I got this one from 1A it fit and worked perfectly. Count the wires on your then the one in the picture?
This fit my 98. It has tilt wheel, cruise control, and only front wipers
All I have one speed on the windshield fast what should I do?
replace the switch, the same thing happened to me on my fan switch
Harold B
November 23, 2018
You may want to get it diagnosed but the switch would be the most common reason for it to fail.
Corey M
November 23, 2018
Windshield wiper switch...!!
| Year | Make | Model | Description |
| --- | --- | --- | --- |
| 1999-2000 | Cadillac | Escalade | Cadillac Escalade Windshield Wiper Switch for Models with Cruise Control & Tilt Steering |
| 1996-1999 | Chevy | Astro | Chevy Astro Windshield Wiper Switch for Models with Cruise Control & Tilt Steering |
| 1995-1997 | Chevy | Blazer S10 | Chevy Blazer S10 Windshield Wiper Switch for Models with Cruise Control & Tilt Steering |
| 1995-1999 | Chevy | C1500 Truck | Chevy C1500 Truck Windshield Wiper Switch for Models with Cruise Control & Tilt Steering |
| 1995-2000 | Chevy | C2500 Truck | Chevy C2500 Truck Windshield Wiper Switch for Models with Cruise Control & Tilt Steering |
| 1995-2002 | Chevy | C3500 Truck | Chevy C3500 Truck Windshield Wiper Switch for Models with Cruise Control & Tilt Steering |
| 1996-2000 | Chevy | Express 1500 Van | Chevy Express 1500 Van Windshield Wiper Switch for Models with Cruise Control & Tilt Steering |
| 1996-2000 | Chevy | Express 2500 Van | Chevy Express 2500 Van Windshield Wiper Switch for Models with Cruise Control & Tilt Steering |
| 1996-2000 | Chevy | Express 3500 Van | Chevy Express 3500 Van Windshield Wiper Switch for Models with Cruise Control & Tilt Steering |
| 1995-1999 | Chevy | K1500 Truck | Chevy K1500 Truck Windshield Wiper Switch for Models with Cruise Control & Tilt Steering |
| 1995-2000 | Chevy | K2500 Truck | Chevy K2500 Truck Windshield Wiper Switch for Models with Cruise Control & Tilt Steering |
| 1995-2000 | Chevy | K3500 Truck | Chevy K3500 Truck Windshield Wiper Switch for Models with Cruise Control & Tilt Steering |
| 1995-1997 | Chevy | S10 Pickup | Chevy S10 Pickup Windshield Wiper Switch for Models with Cruise Control & Tilt Steering |
| 1995-1999 | Chevy | Suburban C1500 | Chevy Suburban C1500 Windshield Wiper Switch for Models with Cruise Control & Tilt Steering |
| 1995-1999 | Chevy | Suburban C2500 | Chevy Suburban C2500 Windshield Wiper Switch for Models with Cruise Control & Tilt Steering |
| 1995-1999 | Chevy | Suburban K1500 | Chevy Suburban K1500 Windshield Wiper Switch for Models with Cruise Control & Tilt Steering |
| 1995-1999 | Chevy | Suburban K2500 | Chevy Suburban K2500 Windshield Wiper Switch for Models with Cruise Control & Tilt Steering |
| 1995-1999 | Chevy | Tahoe | Chevy Tahoe Windshield Wiper Switch for Models with Cruise Control & Tilt Steering |
| 2000 | Chevy | Tahoe | Chevy Tahoe Windshield Wiper Switch V8 5.7L Models with Cruise Control & Tilt Steering |
| 1995-1999 | GMC | C1500 Truck | GMC C1500 Truck Windshield Wiper Switch for Models with Cruise Control & Tilt Steering |
| 1995-2000 | GMC | C2500 Truck | GMC C2500 Truck Windshield Wiper Switch for Models with Cruise Control & Tilt Steering |
| 1995-2002 | GMC | C3500 Truck | GMC C3500 Truck Windshield Wiper Switch for Models with Cruise Control & Tilt Steering |
| 1995-1997 | GMC | Jimmy S-15 | GMC Jimmy S-15 Windshield Wiper Switch for Models with Cruise Control & Tilt Steering |
| 1995-1999 | GMC | K1500 Truck | GMC K1500 Truck Windshield Wiper Switch for Models with Cruise Control & Tilt Steering |
| 1995-2000 | GMC | K2500 Truck | GMC K2500 Truck Windshield Wiper Switch for Models with Cruise Control & Tilt Steering |
| 1995-2000 | GMC | K3500 Truck | GMC K3500 Truck Windshield Wiper Switch for Models with Cruise Control & Tilt Steering |
| 1995-1997 | GMC | S-15 Sonoma | GMC S-15 Sonoma Windshield Wiper Switch for Models with Cruise Control & Tilt Steering |
| 1996-1999 | GMC | Safari | GMC Safari Windshield Wiper Switch for Models with Cruise Control & Tilt Steering |
| 1996-2000 | GMC | Savana 1500 Van | GMC Savana 1500 Van Windshield Wiper Switch for Models with Cruise Control & Tilt Steering |
| 1996-2000 | GMC | Savana 2500 Van | GMC Savana 2500 Van Windshield Wiper Switch for Models with Cruise Control & Tilt Steering |
| 1996-2000 | GMC | Savana 3500 Van | GMC Savana 3500 Van Windshield Wiper Switch for Models with Cruise Control & Tilt Steering |
| 1995-1999 | GMC | Suburban C1500 | GMC Suburban C1500 Windshield Wiper Switch for Models with Cruise Control & Tilt Steering |
| 1995-1999 | GMC | Suburban C2500 | GMC Suburban C2500 Windshield Wiper Switch for Models with Cruise Control & Tilt Steering |
| 1995-1999 | GMC | Suburban K1500 | GMC Suburban K1500 Windshield Wiper Switch for Models with Cruise Control & Tilt Steering |
| 1995-1999 | GMC | Suburban K2500 | GMC Suburban K2500 Windshield Wiper Switch for Models with Cruise Control & Tilt Steering |
| 1995-1999 | GMC | Yukon | GMC Yukon Windshield Wiper Switch for Models with Cruise Control & Tilt Steering |
| 2000 | GMC | Yukon | GMC Yukon Windshield Wiper Switch V8 5.7L Models with Cruise Control & Tilt Steering |
Part 1AZCC00007
In Stock
Order must be placed by 4pm ET
Get it in: 2 - 4 Business Days
Want it sooner? Choose Next Day Air at Checkout