VWWHK00011-Wheel Bolt
Replaces
Wheel Bolt Volkswagen WHT-002-437 - VWWHK00011
VWWHK00011
Specifications:
Brand New Volkswagen Lug Nut Caps
Comes as a Set of 20

Fits LH (Driver Side) & RH (Passenger Side) Front & Rear

Original equipment parts
Built to strict quality control standards
Wear and Tear
This item is backed by a 60-day warranty against defects in materials and workmanship under its intended use. The warranty does not cover normal wear and tear. Please keep your invoice for proof of this warranty.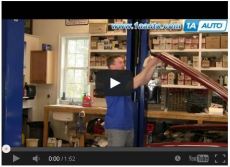 step : Removing the Wheel (0:36)

Insert the wheel removal tool into the cap's slot
Push the tool into the cap
Pull the cap off
Loosen the lug nut covers with a 17mm socket
Loosen the lug nuts with the vehicle on the ground
Raise the vehicle with a floor jack
Secure the vehicle on jack stands
Remove the lug nuts
Pull off the wheel

step : Reattaching the Wheel (1:59)

Slide the wheel into place
Start the lug nuts by hand
Tighten the lug nuts preliminarily
Lower the vehicle to the ground
Tighten the lug nuts to 90 foot-pounds in a crossing or star pattern
Line up the slots on the wheel with the slots on the back of the cap
Push the cap into place
Tools needed for replacement:
Ratchets & Related

Ratchet
Torque Wrench

Sockets - Metric

17mm Socket

Specialty Tools

Audi Wheel Cap Removal Tool
Vehicle Fit
1989-1994 Audi 100 M14 x 1.5 26mm Wheel Bolt 20 Piece Set Volkswagen WHT-002-437
1989-1994 Audi 100 Quattro M14 x 1.5 26mm Wheel Bolt 20 Piece Set Volkswagen WHT-002-437
1989-1991 Audi 200 M14 x 1.5 26mm Wheel Bolt 20 Piece Set Volkswagen WHT-002-437
1989-1991 Audi 200 Quattro M14 x 1.5 26mm Wheel Bolt 20 Piece Set Volkswagen WHT-002-437
1984-1987 Audi 4000 M14 x 1.5 26mm Wheel Bolt 20 Piece Set Volkswagen WHT-002-437
1984-1987 Audi 4000 Quattro M14 x 1.5 26mm Wheel Bolt 20 Piece Set Volkswagen WHT-002-437
1987-1988 Audi 5000 M14 x 1.5 26mm Wheel Bolt 20 Piece Set Volkswagen WHT-002-437
1987-1988 Audi 5000 Quattro M14 x 1.5 26mm Wheel Bolt 20 Piece Set Volkswagen WHT-002-437
1988-1992 Audi 80 M14 x 1.5 26mm Wheel Bolt 20 Piece Set Volkswagen WHT-002-437
1988-1992 Audi 80 Quattro M14 x 1.5 26mm Wheel Bolt 20 Piece Set Volkswagen WHT-002-437
1988-1995 Audi 90 M14 x 1.5 26mm Wheel Bolt 20 Piece Set Volkswagen WHT-002-437
1988-1995 Audi 90 Quattro M14 x 1.5 26mm Wheel Bolt 20 Piece Set Volkswagen WHT-002-437
2006-2013 Audi A3 M14 x 1.5 26mm Wheel Bolt 20 Piece Set Volkswagen WHT-002-437
2006-2013 Audi A3 Quattro M14 x 1.5 26mm Wheel Bolt 20 Piece Set Volkswagen WHT-002-437
1996-2014 Audi A4 M14 x 1.5 26mm Wheel Bolt 20 Piece Set Volkswagen WHT-002-437
1996-2014 Audi A4 Quattro M14 x 1.5 26mm Wheel Bolt 20 Piece Set Volkswagen WHT-002-437
2010-2017 Audi A5 M14 x 1.5 26mm Wheel Bolt 20 Piece Set Volkswagen WHT-002-437
2010-2017 Audi A5 Quattro M14 x 1.5 26mm Wheel Bolt 20 Piece Set Volkswagen WHT-002-437
1995-2014 Audi A6 M14 x 1.5 26mm Wheel Bolt 20 Piece Set Volkswagen WHT-002-437
1995-2014 Audi A6 Quattro M14 x 1.5 26mm Wheel Bolt 20 Piece Set Volkswagen WHT-002-437
2012-2014 Audi A7 Quattro M14 x 1.5 26mm Wheel Bolt 20 Piece Set Volkswagen WHT-002-437
1997-2000 Audi A8 M14 x 1.5 26mm Wheel Bolt 20 Piece Set Volkswagen WHT-002-437
1997-2000 Audi A8 Quattro M14 x 1.5 26mm Wheel Bolt 20 Piece Set Volkswagen WHT-002-437
2013-2016 Audi Allroad M14 x 1.5 26mm Wheel Bolt 20 Piece Set Volkswagen WHT-002-437
1994-1998 Audi Cabriolet M14 x 1.5 26mm Wheel Bolt 20 Piece Set Volkswagen WHT-002-437
1985-1987 Audi Coupe M14 x 1.5 26mm Wheel Bolt 20 Piece Set Volkswagen WHT-002-437
1983-1985 Audi Quattro M14 x 1.5 26mm Wheel Bolt 20 Piece Set Volkswagen WHT-002-437
2008-2014 Audi R8 M14 x 1.5 26mm Wheel Bolt 20 Piece Set Volkswagen WHT-002-437
2013-2014 Audi RS5 M14 x 1.5 26mm Wheel Bolt 20 Piece Set Volkswagen WHT-002-437
1992-1994 Audi S4 M14 x 1.5 26mm Wheel Bolt 20 Piece Set Volkswagen WHT-002-437
2000-2002 Audi S4 M14 x 1.5 26mm Wheel Bolt 20 Piece Set Volkswagen WHT-002-437
2004-2016 Audi S4 M14 x 1.5 26mm Wheel Bolt 20 Piece Set Volkswagen WHT-002-437
1995-2014 Audi S6 M14 x 1.5 26mm Wheel Bolt 20 Piece Set Volkswagen WHT-002-437
2001-2014 Audi S8 M14 x 1.5 26mm Wheel Bolt 20 Piece Set Volkswagen WHT-002-437
2000-2015 Audi TT M14 x 1.5 26mm Wheel Bolt 20 Piece Set Volkswagen WHT-002-437
2000-2015 Audi TT Quattro M14 x 1.5 26mm Wheel Bolt 20 Piece Set Volkswagen WHT-002-437
1990-1994 Audi V8 M14 x 1.5 26mm Wheel Bolt 20 Piece Set Volkswagen WHT-002-437
1977-1982 Porsche 924 M14 x 1.5 26mm Wheel Bolt 20 Piece Set Volkswagen WHT-002-437
1998-2010 VW Beetle M14 x 1.5 26mm Wheel Bolt 20 Piece Set Volkswagen WHT-002-437
2012-2017 VW Beetle M14 x 1.5 26mm Wheel Bolt 20 Piece Set Volkswagen WHT-002-437
2009-2014 VW CC M14 x 1.5 26mm Wheel Bolt 20 Piece Set Volkswagen WHT-002-437
1992-1994 VW Corrado M14 x 1.5 26mm Wheel Bolt 20 Piece Set Volkswagen WHT-002-437
2007-2014 VW Eos M14 x 1.5 26mm Wheel Bolt 20 Piece Set Volkswagen WHT-002-437
2006-2014 VW GTI M14 x 1.5 26mm Wheel Bolt 20 Piece Set Volkswagen WHT-002-437
1993-2006 VW Golf M14 x 1.5 26mm Wheel Bolt 20 Piece Set Volkswagen WHT-002-437
2010-2014 VW Golf M14 x 1.5 26mm Wheel Bolt 20 Piece Set Volkswagen WHT-002-437
1993-2014 VW Jetta M14 x 1.5 26mm Wheel Bolt 20 Piece Set Volkswagen WHT-002-437
1990-2010 VW Passat M14 x 1.5 26mm Wheel Bolt 20 Piece Set Volkswagen WHT-002-437
2012-2014 VW Passat M14 x 1.5 26mm Wheel Bolt 20 Piece Set Volkswagen WHT-002-437
2008 VW R32 M14 x 1.5 26mm Wheel Bolt 20 Piece Set Volkswagen WHT-002-437
2006-2009 VW Rabbit M14 x 1.5 26mm Wheel Bolt 20 Piece Set Volkswagen WHT-002-437
2009-2014 VW Tiguan M14 x 1.5 26mm Wheel Bolt 20 Piece Set Volkswagen WHT-002-437
This part replaces:
Volkswagen WHT-002-437
OE # WHT002437
Part #: VWWHK00011


Ships Same Day for orders placed by 4 P.M. ET
Brand #: WHT-002-437