1ATRS00142-Vehicle Speed Sensor
Replaces
Vehicle Speed Sensor - 1ATRS00142
1ATRS00142
This replacement vehicle speed sensor is just what you need to get your vehicle in good running condition again! A bad or malfunctioning speed sensor will often cause a service engine light error code, shifting problems, or rough running due to inaccurate computer or ECM readings.
Specifications:
Output Vehicle Speed Sensor
Built to strict quality control standards
Replaces dealer part numbers: 89413-08010, 89413-08020, 8941308010, 8941308020
Direct replacement
100% factory tested
Tells vehicle's computer how fast vehicle is moving
Our electrical and electronic parts are subject to strict quality control testing. Please ensure proper diagnosis of this item before purchasing as the item cannot be returned once installed or plugged in.
WARNING: This product can expose you to chemicals including Lead and Lead Compounds, which are known to the State of California to cause cancer, and birth defects or other reproductive harm. For more information, go to www.P65Warnings.ca.gov.
Lifetime Warranty
This item is backed by a Limited Lifetime Warranty. In the event this item should fail due to manufacturing defects during intended use, we will exchange the part free of charge (excludes shipping charges) for the original purchaser.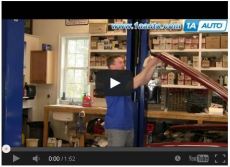 Tools needed for replacement:
Materials, Fluids, and Supplies

Paper Towels

Ratchets & Related

Socket Extensions
Ratchet

Sockets - Metric

12mm Socket
10mm Socket
Works great! Fixed my problem, much cheaper than other sites
Not Sure
Great prices, Great Customer Service, Installed speed sensors as videos instructed. These speed sensors worked for about 5 miles. Then a bunch of codes were thrown saying the speed sensors will not communicate with any of the 4 wheel speed sensors. Disappointed for sure. Expected quality parts.
The benz guy
Order this part for girlfriends car saved over 60 bucks over parts store. Shipping was free and fast. The part fit just right just like oem. Happy customer. I will order from you again. Benz guy
Customer Q&A
Ask a question to 1A Auto customers who purchased the product
This will be located somewhere on the transmission, and usually on the top.
Is this an input output speed sensor?
Our 2008 Sienna has 2 speed sensors. One like this one and a green one. This will work for the black one but I had to use an OEM from Toyota to get the other one to work. They have slightly different lengths.
Yes, it is one of the 2 found on most Toyotas
| Year | Make | Model | Description |
| --- | --- | --- | --- |
| 1994-1998 | Lexus | ES300 | Lexus ES300 V6 3.0L Output Single Revolution Vehicle Speed Sensor |
| 1999-2003 | Lexus | ES300 | Lexus ES300 V6 3.0L No.2 Revolution Output Vehicle Speed Sensor |
| 1999-2003 | Lexus | ES300 | Lexus ES300 V6 3.0L No.1 Revolution Output Vehicle Speed Sensor |
| 2004-2006 | Lexus | ES330 | Lexus ES330 V6 3.3L No.2 Revolution Output Vehicle Speed Sensor |
| 2004-2006 | Lexus | ES330 | Lexus ES330 V6 3.3L No.1 Revolution Output Vehicle Speed Sensor |
| 1999-2003 | Lexus | RX300 | Lexus RX300 V6 3.0L No.1 Revolution Output Vehicle Speed Sensor |
| 1999-2003 | Lexus | RX300 | Lexus RX300 V6 3.0L No.2 Revolution Output Vehicle Speed Sensor |
| 2004-2006 | Lexus | RX330 | Lexus RX330 V6 3.3L (US Built Models) No.1 Revolution Output Vehicle Speed Sensor |
| 2004-2006 | Lexus | RX330 | Lexus RX330 V6 3.3L Aisin Brand Transmission (Japan Built Models (1st VIN Digit J)) No.1 Revolution Output Vehicle Speed Sensor |
| 2004-2006 | Lexus | RX330 | Lexus RX330 V6 3.3L Toyota Built Transmission (Japan Built Models (1st VIN Digit J)) No.1 Revolution Output Vehicle Speed Sensor |
| 2004-2006 | Lexus | RX330 | Lexus RX330 V6 3.3L (US Built Models) No.2 Revolution Output Vehicle Speed Sensor |
| 2004-2006 | Lexus | RX330 | Lexus RX330 V6 3.3L (Japan Built Models (1st VIN Digit J)) No.2 Revolution Output Vehicle Speed Sensor |
| 2007-2008 | Lexus | RX350 | Lexus RX350 V6 3.5L (Japan Built Models (1st VIN Digit J)) No.1 Revolution Output Vehicle Speed Sensor |
| 2007-2008 | Lexus | RX350 | Lexus RX350 V6 3.5L (Japan Built Models (1st VIN Digit J)) No.2 Revolution Output Vehicle Speed Sensor |
| 2007-2009 | Lexus | RX350 | Lexus RX350 V6 3.5L (US Built Models) No.1 Revolution Output Vehicle Speed Sensor |
| 2007-2008 | Lexus | RX350 | Lexus RX350 V6 3.5L (US Built Models) No.2 Revolution Output Vehicle Speed Sensor |
| 1992-1997 | Lexus | SC300 | Lexus SC300 L6 3.0L Output Single Revolution Vehicle Speed Sensor |
| 2005-2008 | Scion | tC | Scion tC L4 2.4L No.2 Revolution Output Vehicle Speed Sensor |
| 2005-2008 | Scion | tC | Scion tC L4 2.4L No.1 Revolution Output Vehicle Speed Sensor |
| 2008-2009 | Scion | xB | Scion xB L4 2.4L No.2 Revolution Output Vehicle Speed Sensor |
| 2008-2009 | Scion | xB | Scion xB L4 2.4L No.1 Revolution Output Vehicle Speed Sensor |
| 2003-2004 | Toyota | 4Runner | Toyota 4Runner V6 4.0L Rear Wheel Drive Output Single Revolution Vehicle Speed Sensor |
| 2000-2004 | Toyota | Avalon | Toyota Avalon V6 3.0L Output Single Revolution Vehicle Speed Sensor |
| 2008-2009 | Toyota | Avalon | Toyota Avalon Output Single Revolution Vehicle Speed Sensor |
| 1994-2003 | Toyota | Camry | Toyota Camry V6 3.0L Output Single Revolution Vehicle Speed Sensor |
| 1994-2001 | Toyota | Camry | Toyota Camry L4 2.2L Output Single Revolution Vehicle Speed Sensor |
| 2002-2006 | Toyota | Camry | Toyota Camry L4 2.4L Output Single Revolution Vehicle Speed Sensor |
| 2004-2006 | Toyota | Camry | Toyota Camry V6 3.0L No.1 Revolution Output Vehicle Speed Sensor |
| 2004-2006 | Toyota | Camry | Toyota Camry V6 3.3L No.1 Revolution Output Vehicle Speed Sensor |
| 2004-2006 | Toyota | Camry | Toyota Camry V6 3.0L No.2 Revolution Output Vehicle Speed Sensor |
| 2004-2006 | Toyota | Camry | Toyota Camry V6 3.3L No.2 Revolution Output Vehicle Speed Sensor |
| 2007-2009 | Toyota | Camry | Toyota Camry L4 2.4L (Japan Built Models (1st VIN Digit J)) No.1 Revolution Output Vehicle Speed Sensor |
| 2007-2009 | Toyota | Camry | Toyota Camry L4 2.4L (Japan Built Models (1st VIN Digit J)) No.2 Revolution Output Vehicle Speed Sensor |
| 2007-2009 | Toyota | Camry | Toyota Camry L4 2.4L (US Built Models) Output Single Revolution Vehicle Speed Sensor |
| 2000-2005 | Toyota | Celica | Toyota Celica GTS L4 1.8L No.1 Revolution Output Vehicle Speed Sensor |
| 2000-2005 | Toyota | Celica | Toyota Celica GTS L4 1.8L No.2 Revolution Output Vehicle Speed Sensor |
| 2007-2008 | Toyota | FJ Cruiser | Toyota FJ Cruiser V6 4.0L No.2 Revolution Output Vehicle Speed Sensor |
| 2007-2008 | Toyota | FJ Cruiser | Toyota FJ Cruiser V6 4.0L No.1 Revolution Output Vehicle Speed Sensor |
| 2001-2003 | Toyota | Highlander | Toyota Highlander L4 2.4L No.1 Revolution Output Vehicle Speed Sensor |
| 2001-2007 | Toyota | Highlander | Toyota Highlander L4 2.4L No.2 Revolution Output Vehicle Speed Sensor |
| 2001-2003 | Toyota | Highlander | Toyota Highlander V6 3.0L No.1 Revolution Output Vehicle Speed Sensor |
| 2001-2003 | Toyota | Highlander | Toyota Highlander V6 3.0L No.2 Revolution Output Vehicle Speed Sensor |
| 2004-2007 | Toyota | Highlander | Toyota Highlander V6 3.3L No.2 Revolution Output Vehicle Speed Sensor |
| 2004-2007 | Toyota | Highlander | Toyota Highlander V6 3.3L Aisin Brand Transmission No.1 Revolution Output Vehicle Speed Sensor |
| 2004-2007 | Toyota | Highlander | Toyota Highlander V6 3.3L Toyota Built Transmission No.1 Revolution Output Vehicle Speed Sensor |
| 2004-2007 | Toyota | Highlander | Toyota Highlander L4 2.4L Aisin Brand Transmission No.1 Revolution Output Vehicle Speed Sensor |
| 2004-2007 | Toyota | Highlander | Toyota Highlander L4 2.4L Toyota Built Transmission No.1 Revolution Output Vehicle Speed Sensor |
| 2008 | Toyota | Highlander | Toyota Highlander V6 3.5L No.2 Revolution Output Vehicle Speed Sensor |
| 2008-2009 | Toyota | Highlander | Toyota Highlander V6 3.5L No.1 Revolution Output Vehicle Speed Sensor |
| 2003-2004 | Toyota | Matrix | Toyota Matrix L4 1.8L Front Wheel Drive No.1 Revolution Output Vehicle Speed Sensor |
| 2003-2004 | Toyota | Matrix | Toyota Matrix L4 1.8L Front Wheel Drive No.2 Revolution Output Vehicle Speed Sensor |
| 2009 | Toyota | Matrix | Toyota Matrix L4 2.4L Output Single Revolution Vehicle Speed Sensor |
| 2006-2008 | Toyota | Rav4 | Toyota Rav4 V6 3.5L No.2 Revolution Output Vehicle Speed Sensor |
| 2006-2009 | Toyota | Rav4 | Toyota Rav4 V6 3.5L No.1 Revolution Output Vehicle Speed Sensor |
| 2006-2008 | Toyota | Rav4 | Toyota Rav4 L4 2.4L No.2 Revolution Output Vehicle Speed Sensor |
| 2006-2008 | Toyota | Rav4 | Toyota Rav4 L4 2.4L No.1 Revolution Output Vehicle Speed Sensor |
| 2009 | Toyota | Rav4 | Toyota Rav4 L4 2.5L No.2 Revolution Output Vehicle Speed Sensor |
| 2009 | Toyota | Rav4 | Toyota Rav4 L4 2.5L No.1 Revolution Output Vehicle Speed Sensor |
| 2001-2003 | Toyota | Sienna | Toyota Sienna V6 3.0L Output Single Revolution Vehicle Speed Sensor |
| 2004-2006 | Toyota | Sienna | Toyota Sienna V6 3.3L No.2 Revolution Output Vehicle Speed Sensor |
| 2004-2006 | Toyota | Sienna | Toyota Sienna V6 3.3L No.1 Revolution Output Vehicle Speed Sensor |
| 2007-2009 | Toyota | Sienna | Toyota Sienna V6 3.5L No.2 Revolution Output Vehicle Speed Sensor |
| 2007-2008 | Toyota | Sienna | Toyota Sienna V6 3.5L No.1 Revolution Output Vehicle Speed Sensor |
| 1999-2003 | Toyota | Solara | Toyota Solara V6 3.0L Toyota Built Transmission Output Single Revolution Vehicle Speed Sensor |
| 1999-2003 | Toyota | Solara | Toyota Solara V6 3.0L Aisin Brand Transmission Output Single Revolution Vehicle Speed Sensor |
| 2002-2003 | Toyota | Solara | Toyota Solara L4 2.4L Aisin Brand Transmission No.2 Revolution Output Vehicle Speed Sensor |
| 2002-2003 | Toyota | Solara | Toyota Solara L4 2.4L Aisin Brand Transmission No.1 Revolution Output Vehicle Speed Sensor |
| 2004-2008 | Toyota | Solara | Toyota Solara L4 2.4L No.2 Revolution Output Vehicle Speed Sensor |
| 2004-2008 | Toyota | Solara | Toyota Solara V6 3.3L Output Single Revolution Vehicle Speed Sensor |
| 2004-2008 | Toyota | Solara | Toyota Solara L4 2.4L No.1 Revolution Output Vehicle Speed Sensor |
| 1993-1997 | Toyota | Supra | Toyota Supra L6 3.0L Output Single Revolution Vehicle Speed Sensor |
| 1995-2004 | Toyota | Tacoma | Toyota Tacoma V6 3.4L Rear Wheel Drive Output Single Revolution Vehicle Speed Sensor |
| 1995-2004 | Toyota | Tacoma | Toyota Tacoma L4 2.7L Rear Wheel Drive Output Single Revolution Vehicle Speed Sensor |
| 2000-2004 | Toyota | Tundra | Toyota Tundra V8 4.7L Output Single Revolution Vehicle Speed Sensor |
| 2000-2004 | Toyota | Tundra | Toyota Tundra V6 3.4L Output Single Revolution Vehicle Speed Sensor |
| 2005-2006 | Toyota | Tundra | Toyota Tundra V6 4.0L No.2 Revolution Output Vehicle Speed Sensor |
| 2005-2006 | Toyota | Tundra | Toyota Tundra V6 4.0L No.1 Revolution Output Vehicle Speed Sensor |
| 2007-2008 | Toyota | Yaris | Toyota Yaris L4 1.5L Output Single Revolution Vehicle Speed Sensor |
Part #: 1ATRS00142
Order must be placed by 4pm ET
Get it in: 2 - 4 Business Days
Want it sooner? Choose Next Day Air at Checkout