1AEMX00329-Vapor Canister Purge Valve
Replaces
Vapor Canister Purge Valve Dorman 911-032 - 1AEMX00329
1AEMX00329
Specifications:
Brand new component
Engine mounted
Direct replacement
Built to strict quality control standards
Over time and daily use the valve can wear out causing the check engine light to set. If the valve is the problem, replace it now with this part.
Item Condition: New

Attention California Customers:
WARNING: This product can expose you to chemicals including Lead and Lead Compounds, which are known to the State of California to cause cancer, and birth defects or other reproductive harm. For more information, go to www.P65Warnings.ca.gov.
Lifetime Warranty
This item is backed by a Limited Lifetime Warranty. In the event this item should fail due to manufacturing defects during intended use, we will exchange the part free of charge (excludes shipping charges) for the original purchaser.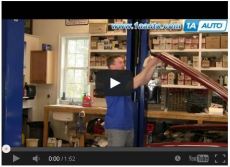 step : Removing the Evap Purge Solenoid (0:19)

Pry up the engine cover
Push down on the white spring tab
Disconnect the electrical connector
Pry off the connector
Disconnect the hose
Press the tab and disconnect the breather hose
Gently pry the lock with a flat blade screwdriver
Remove the purge solenoid

step : Installing the Evap Purge Solenoid (3:39)

Connect the breather hose to the solenoid
Slide the solenoid onto its locking clip
Connect the wiring harness
Connect the hose
Press on the engine cover
Tools needed for replacement:
Screwdrivers & Related

Flat Blade Screwdriver
Exact replacement
This is the quick fix for the EVAP however if you have a leak somewhere a visual inspection of everything from to back to the canister. Is required. Some shops let you use there lift for a lift fee here in my town. A lift is nice for this inspection.
Good product fast delivery
The valve came fast and 100% compatible very competitive price I am looking forward to get more parts from 1aauto.com
Customer Q&A
Ask a question to 1A Auto customers who purchased the product
I sure do understand why it is difficult to find if you try to to follow all of the evap stuff in that trailblazer youll get lost. It is located on the driver side bank mounted to the engine. If you look under the hood you will see a capped valve. In my case it was green cap which looked like a an ac access or fuel line access. Follow the vacuum lines down from there to the valve. Its a nightmare to reach. You have to hang over the fender and go deep. The connector should be gently removed. You dont want to go back there again especially if you have a bad back
ON the charcoal canister under rear of car behind thhe gas tank... very easy to see, some what difficult to remove... just turn clip counterclockwise and remove clip then pull out valve... disconnect lines from valve and move to new valve.... reinstall in reverse order...
Richard K
October 13, 2015
| Year | Make | Model | Description |
| --- | --- | --- | --- |
| 2008-2009 | Buick | LaCrosse | Buick LaCrosse Vapor Canister Purge Valve V8 5.3L (excluding Supercharged Models) Dorman 911-032 |
| 2010-2012 | Buick | LaCrosse | Buick LaCrosse Vapor Canister Purge Valve L4 2.4L Dorman 911-032 |
| 2005-2007 | Buick | Rainier | Buick Rainier Vapor Canister Purge Valve Dorman 911-032 |
| 2011-2012 | Buick | Regal | Buick Regal Vapor Canister Purge Valve L4 2.4L Dorman 911-032 |
| 2012 | Buick | Verano | Buick Verano Vapor Canister Purge Valve Dorman 911-032 |
| 2006-2007 | Cadillac | CTS | Cadillac CTS Vapor Canister Purge Valve V8 6.0L Dorman 911-032 |
| 2007-2012 | Cadillac | Escalade | Cadillac Escalade Vapor Canister Purge Valve Dorman 911-032 |
| 2007-2012 | Cadillac | Escalade ESV | Cadillac Escalade ESV Vapor Canister Purge Valve Dorman 911-032 |
| 2007-2012 | Cadillac | Escalade EXT | Cadillac Escalade EXT Vapor Canister Purge Valve Dorman 911-032 |
| 2007-2012 | Chevy | Avalanche | Chevy Avalanche Vapor Canister Purge Valve Dorman 911-032 |
| 2010-2012 | Chevy | Camaro | Chevy Camaro Vapor Canister Purge Valve V8 6.2L (excluding Supercharged Models) Dorman 911-032 |
| 2011-2012 | Chevy | Caprice | Chevy Caprice Vapor Canister Purge Valve V8 6.0L Dorman 911-032 |
| 2005-2007 | Chevy | Cobalt | Chevy Cobalt Vapor Canister Purge Valve Dorman 911-032 |
| 2008-2010 | Chevy | Cobalt | Chevy Cobalt Vapor Canister Purge Valve Dorman 911-032 |
| 2004-2012 | Chevy | Colorado | Chevy Colorado Vapor Canister Purge Valve Dorman 911-032 |
| 2005-2008 | Chevy | Corvette | Chevy Corvette Vapor Canister Purge Valve Dorman 911-032 |
| 2009-2012 | Chevy | Corvette | Chevy Corvette Vapor Canister Purge Valve (excluding ZR1 Models) Dorman 911-032 |
| 2010-2012 | Chevy | Equinox | Chevy Equinox Vapor Canister Purge Valve L4 2.4L Dorman 911-032 |
| 2008-2012 | Chevy | Express 1500 Van | Chevy Express 1500 Van Vapor Canister Purge Valve V8 5.3L Dorman 911-032 |
| 2008-2012 | Chevy | Express 2500 Van | Chevy Express 2500 Van Vapor Canister Purge Valve V8 6.0L Dorman 911-032 |
| 2008-2012 | Chevy | Express 3500 Van | Chevy Express 3500 Van Vapor Canister Purge Valve V8 6.0L Dorman 911-032 |
| 2006-2011 | Chevy | HHR | Chevy HHR Vapor Canister Purge Valve L4 2.4L Dorman 911-032 |
| 2006-2011 | Chevy | HHR | Chevy HHR Vapor Canister Purge Valve L4 2.2L Dorman 911-032 |
| 2006-2009 | Chevy | Impala | Chevy Impala Vapor Canister Purge Valve V8 5.3L Dorman 911-032 |
| 2004-2008 | Chevy | Malibu | Chevy Malibu Vapor Canister Purge Valve L4 2.2L Dorman 911-032 |
| 2008-2012 | Chevy | Malibu | Chevy Malibu Vapor Canister Purge Valve L4 2.4L Dorman 911-032 |
| 2006-2007 | Chevy | Monte Carlo | Chevy Monte Carlo Vapor Canister Purge Valve V8 5.3L Dorman 911-032 |
| 2005-2006 | Chevy | SSR | Chevy SSR Vapor Canister Purge Valve V8 6.0L Dorman 911-032 |
| 2007 | Chevy | Silverado 1500 | Chevy Silverado 1500 New Body Style Vapor Canister Purge Valve V8 4.8L Dorman 911-032 |
| 2007 | Chevy | Silverado 1500 | Chevy Silverado 1500 New Body Style Vapor Canister Purge Valve V8 5.3L Dorman 911-032 |
| 2007 | Chevy | Silverado 1500 | Chevy Silverado 1500 New Body Style Vapor Canister Purge Valve V8 6.0L Dorman 911-032 |
| 2008-2012 | Chevy | Silverado 1500 | Chevy Silverado 1500 Vapor Canister Purge Valve V8 4.8L Dorman 911-032 |
| 2008-2012 | Chevy | Silverado 1500 | Chevy Silverado 1500 Vapor Canister Purge Valve V8 5.3L Dorman 911-032 |
| 2008-2012 | Chevy | Silverado 1500 | Chevy Silverado 1500 Vapor Canister Purge Valve V8 6.0L Dorman 911-032 |
| 2009-2012 | Chevy | Silverado 1500 | Chevy Silverado 1500 Vapor Canister Purge Valve V8 6.2L Dorman 911-032 |
| 2007 | Chevy | Silverado 2500 HD | Chevy Silverado 2500 HD New Body Style Vapor Canister Purge Valve V8 6.0L Dorman 911-032 |
| 2008-2012 | Chevy | Silverado 2500 HD | Chevy Silverado 2500 HD Vapor Canister Purge Valve V8 6.0L Dorman 911-032 |
| 2007-2012 | Chevy | Silverado 3500 HD | Chevy Silverado 3500 HD Vapor Canister Purge Valve V8 6.0L Dorman 911-032 |
| 2007-2012 | Chevy | Suburban 1500 | Chevy Suburban 1500 Vapor Canister Purge Valve Dorman 911-032 |
| 2007-2012 | Chevy | Suburban 2500 | Chevy Suburban 2500 Vapor Canister Purge Valve Dorman 911-032 |
| 2007-2012 | Chevy | Tahoe | Chevy Tahoe Vapor Canister Purge Valve Dorman 911-032 |
| 2005-2009 | Chevy | Trailblazer | Chevy Trailblazer Vapor Canister Purge Valve Dorman 911-032 |
| 2005-2006 | Chevy | Trailblazer EXT | Chevy Trailblazer EXT Vapor Canister Purge Valve Dorman 911-032 |
| 2004-2012 | GMC | Canyon | GMC Canyon Vapor Canister Purge Valve Dorman 911-032 |
| 2005-2009 | GMC | Envoy | GMC Envoy Vapor Canister Purge Valve Dorman 911-032 |
| 2005-2006 | GMC | Envoy XL | GMC Envoy XL Vapor Canister Purge Valve Dorman 911-032 |
| 2005 | GMC | Envoy XUV | GMC Envoy XUV Vapor Canister Purge Valve Dorman 911-032 |
| 2008-2012 | GMC | Savana 1500 Van | GMC Savana 1500 Van Vapor Canister Purge Valve V8 5.3L Dorman 911-032 |
| 2008-2012 | GMC | Savana 2500 Van | GMC Savana 2500 Van Vapor Canister Purge Valve V8 4.8L Dorman 911-032 |
| 2008-2012 | GMC | Savana 2500 Van | GMC Savana 2500 Van Vapor Canister Purge Valve V8 6.0L Dorman 911-032 |
| 2008-2012 | GMC | Savana 3500 Van | GMC Savana 3500 Van Vapor Canister Purge Valve V8 4.8L Dorman 911-032 |
| 2008-2012 | GMC | Savana 3500 Van | GMC Savana 3500 Van Vapor Canister Purge Valve V8 6.0L Dorman 911-032 |
| 2007 | GMC | Sierra 1500 | GMC Sierra 1500 New Body Style Vapor Canister Purge Valve V8 4.8L Dorman 911-032 |
| 2007 | GMC | Sierra 1500 | GMC Sierra 1500 New Body Style Vapor Canister Purge Valve V8 5.3L Dorman 911-032 |
| 2007 | GMC | Sierra 1500 | GMC Sierra 1500 New Body Style Vapor Canister Purge Valve V8 6.0L Dorman 911-032 |
| 2008-2012 | GMC | Sierra 1500 | GMC Sierra 1500 Vapor Canister Purge Valve V8 4.8L Dorman 911-032 |
| 2008-2012 | GMC | Sierra 1500 | GMC Sierra 1500 Vapor Canister Purge Valve V8 5.3L Dorman 911-032 |
| 2008-2012 | GMC | Sierra 1500 | GMC Sierra 1500 Vapor Canister Purge Valve V8 6.0L Dorman 911-032 |
| 2008-2012 | GMC | Sierra 1500 | GMC Sierra 1500 Vapor Canister Purge Valve V8 6.2L Dorman 911-032 |
| 2007 | GMC | Sierra 2500 HD | GMC Sierra 2500 HD New Body Style Vapor Canister Purge Valve V8 6.0L Dorman 911-032 |
| 2008-2012 | GMC | Sierra 2500 HD | GMC Sierra 2500 HD Vapor Canister Purge Valve V8 6.0L Dorman 911-032 |
| 2007-2012 | GMC | Sierra 3500 HD | GMC Sierra 3500 HD Vapor Canister Purge Valve V8 6.0L Dorman 911-032 |
| 2010-2012 | GMC | Terrain | GMC Terrain Vapor Canister Purge Valve L4 2.4L Dorman 911-032 |
| 2007-2012 | GMC | Yukon | GMC Yukon Vapor Canister Purge Valve Dorman 911-032 |
| 2007-2012 | GMC | Yukon XL 1500 | GMC Yukon XL 1500 Vapor Canister Purge Valve Dorman 911-032 |
| 2007-2012 | GMC | Yukon XL 2500 | GMC Yukon XL 2500 Vapor Canister Purge Valve Dorman 911-032 |
| 2008-2009 | Hummer | H2 | Hummer H2 Vapor Canister Purge Valve Dorman 911-032 |
| 2006-2009 | Hummer | H3 | Hummer H3 Vapor Canister Purge Valve Dorman 911-032 |
| 2009-2010 | Hummer | H3T | Hummer H3T Vapor Canister Purge Valve Dorman 911-032 |
| 2007-2010 | Pontiac | G5 | Pontiac G5 Vapor Canister Purge Valve Dorman 911-032 |
| 2006-2010 | Pontiac | G6 | Pontiac G6 Vapor Canister Purge Valve L4 2.4L Dorman 911-032 |
| 2008-2009 | Pontiac | G8 | Pontiac G8 Vapor Canister Purge Valve V8 6.0L Dorman 911-032 |
| 2009 | Pontiac | G8 | Pontiac G8 Vapor Canister Purge Valve V8 6.2L Dorman 911-032 |
| 2005-2006 | Pontiac | GTO | Pontiac GTO Vapor Canister Purge Valve Dorman 911-032 |
| 2005-2008 | Pontiac | Grand Prix | Pontiac Grand Prix Vapor Canister Purge Valve V8 5.3L Dorman 911-032 |
| 2006-2009 | Pontiac | Solstice | Pontiac Solstice Vapor Canister Purge Valve L4 2.4L Dorman 911-032 |
| 2005-2009 | Saab | 9-7X | Saab 9-7X Vapor Canister Purge Valve Dorman 911-032 |
| 2007-2009 | Saturn | Aura | Saturn Aura Vapor Canister Purge Valve L4 2.4L Dorman 911-032 |
| 2004-2007 | Saturn | Ion | Saturn Ion Vapor Canister Purge Valve Dorman 911-032 |
| 2007-2010 | Saturn | Sky | Saturn Sky Vapor Canister Purge Valve Dorman 911-032 |
| 2004-2010 | Saturn | Vue | Saturn Vue Vapor Canister Purge Valve L4 2.4L Dorman 911-032 |
Part #: 1AEMX00329
Order must be placed by 4pm ET
Get it in: 2 - 4 Business Days
Want it sooner? Choose Next Day Air at Checkout

Brand #: 911-032