1AZMX00096-Vapor Canister Purge Solenoid
Replaces
Vapor Canister Purge Solenoid Dorman 911-800 - 1AZMX00096
1AZMX00096
This Vapor Canister Purge Valve is a new part. It mounts on the engine and is used to control the flow of vapors from the EVAPORATIVE system to the intake manifold. It is controlled by the vehicles main computer or ECM. When the ECM sends the activation signal, a plunger in the valve will move to seal the vent. The ability to seal the vent is necessary for the on board diagnosis of other evaporative loss system components. This valve is used only for diagnosis, and usually remains opened. When the vent is closed, under normal purge conditions, the evaporative loss system is depressurized and allows "EVAP Control System (Small Leak)" diagnosis. If this valve is defective, the Check Engine Light will illuminate to Set with Small Leak Diagnosis. Some of the trouble codes associated with this part being defective are: P1456, P1448, P0449, and P0455.
Specifications:
Brand new component
Replaces dealer part numbers: 28910-22040, 2891022040, 06E906517A, 91354
Engine mounted
Direct replacement
Built to strict quality control standards
Over time and daily use the valve can wear out causing the check engine light to set. If the valve is the problem, replace it now with this part.
Our electrical and electronic parts are subject to strict quality control testing. Please ensure proper diagnosis of this item before purchasing as the item cannot be returned once installed or plugged in.
Item Condition: New

WARNING: This product can expose you to chemicals including Lead and Lead Compounds, which are known to the State of California to cause cancer, and birth defects or other reproductive harm. For more information, go to www.P65Warnings.ca.gov.
Lifetime Warranty
This item is backed by a Limited Lifetime Warranty. In the event this item should fail due to manufacturing defects during intended use, we will exchange the part free of charge (excludes shipping charges) for the original purchaser.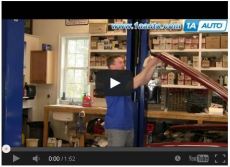 step : Removing the Vapor Canister Purge Solenoid (0:38)

Remove the engine cover
Push the wiring harness foreword, press the tab, and disconnect the wiring harness
Pry off the clamp with hose clamp pliers or a flat blade screwdriver and pliers
Pry and twist the hose off
Remove the vapor canister purge solenoid
Remove the adaptor

step : Installing the Vapor Canister Purge Solenoid (2:30)

Insert the adaptor to the new vapor canister purge solenoid
Slide the new clamp onto the hoses
Insert the vapor canister purge solenoid into place
Slide the clamp up into place and tighten it
Reconnect the wiring harness
Use a wire tie to resecure it and keep it in place if it feels loose
Tools needed for replacement:
Materials, Fluids, and Supplies

1 Inch Hose Clamps
Wire Ties

Screwdrivers & Related

Flat Blade Screwdriver
Browse 1 question
Browse 1 question and 1 answer
Will this fit Audi Q7 v6 3.6?
Vehicle Fit
| Year | Make | Model | Description |
| --- | --- | --- | --- |
| 2006-2008 | Audi | A3 | Audi A3 Vapor Canister Purge Solenoid L4 2.0L Turbo Dorman 911-800 |
| 2006-2008 | Audi | A3 Quattro | Audi A3 Quattro Vapor Canister Purge Solenoid L4 2.0L Turbo Dorman 911-800 |
| 2005-2009 | Audi | A4 | Audi A4 Vapor Canister Purge Solenoid L4 2.0L Turbo Dorman 911-800 |
| 2006-2007 | Audi | A4 | Audi A4 Vapor Canister Purge Solenoid V6 3.1L Dorman 911-800 |
| 2005-2009 | Audi | A4 Quattro | Audi A4 Quattro Vapor Canister Purge Solenoid L4 2.0L Turbo Dorman 911-800 |
| 2005-2009 | Audi | A4 Quattro | Audi A4 Quattro Quattro Vapor Canister Purge Solenoid L4 2.0L Turbo Dorman 911-800 |
| 2006-2007 | Audi | A4 Quattro | Audi A4 Quattro Vapor Canister Purge Solenoid V6 3.1L Dorman 911-800 |
| 2006-2008 | Audi | A4 Quattro | Audi A4 Quattro Quattro Vapor Canister Purge Solenoid V6 3.1L Dorman 911-800 |
| 2006-2009 | Audi | A6 | Audi A6 Vapor Canister Purge Solenoid V6 3.1L Dorman 911-800 |
| 2005-2010 | Audi | A6 Quattro | Audi A6 Quattro Quattro Vapor Canister Purge Solenoid V8 4.2L Dorman 911-800 |
| 2005-2008 | Audi | A6 Quattro | Audi A6 Quattro Quattro Vapor Canister Purge Solenoid V6 3.1L Dorman 911-800 |
| 2006-2009 | Audi | A6 Quattro | Audi A6 Quattro Vapor Canister Purge Solenoid V6 3.1L Dorman 911-800 |
| 2007-2010 | Audi | A8 Quattro | Audi A8 Quattro Quattro Vapor Canister Purge Solenoid V8 4.2L Dorman 911-800 |
| 2007-2010 | Audi | Q7 | Audi Q7 Vapor Canister Purge Solenoid V8 4.2L Dorman 911-800 |
| 2008-2010 | Audi | R8 | Audi R8 Vapor Canister Purge Solenoid V8 4.2L Dorman 911-800 |
| 2007-2008 | Audi | RS4 | Audi RS4 Vapor Canister Purge Solenoid V8 4.2L Dorman 911-800 |
| 2008-2010 | Audi | S5 | Audi S5 Vapor Canister Purge Solenoid V8 4.2L Dorman 911-800 |
| 2007-2010 | Audi | S6 | Audi S6 Vapor Canister Purge Solenoid V10 5.2L Dorman 911-800 |
| 2007-2009 | Audi | S8 | Audi S8 Vapor Canister Purge Solenoid V10 5.2L Dorman 911-800 |
| 2009-2010 | Audi | TT Quattro | Audi TT Quattro Quattro Vapor Canister Purge Solenoid L4 2.0L Turbo Dorman 911-800 |
| 1996-2001 | Hyundai | Accent | Hyundai Accent Vapor Canister Purge Solenoid L4 1.5L SOHC Dorman 911-800 |
| 2001 | Hyundai | Accent | Hyundai Accent Vapor Canister Purge Solenoid L4 1.6L (8th Vin Digit N) Dorman 911-800 |
| 1996-1998 | Hyundai | Elantra | Hyundai Elantra Vapor Canister Purge Solenoid L4 1.8L Dorman 911-800 |
| 1999-2005 | Hyundai | Elantra | Hyundai Elantra Vapor Canister Purge Solenoid L4 2.0L Dorman 911-800 |
| 2006 | Hyundai | Elantra | Hyundai Elantra Vapor Canister Purge Solenoid L4 2.0L (8th Vin Digit D) Dorman 911-800 |
| 2001-2005 | Hyundai | Santa Fe | Hyundai Santa Fe Vapor Canister Purge Solenoid V6 2.7L Dorman 911-800 |
| 2006 | Hyundai | Santa Fe | Hyundai Santa Fe Vapor Canister Purge Solenoid V6 2.7L (8th Vin Digit D) Dorman 911-800 |
| 1999-2001 | Hyundai | Sonata | Hyundai Sonata Vapor Canister Purge Solenoid V6 2.5L (8th Vin Digit V) Dorman 911-800 |
| 1999-2001 | Hyundai | Sonata | Hyundai Sonata Vapor Canister Purge Solenoid L4 2.4L (8th Vin Digit S) Dorman 911-800 |
| 2002-2005 | Hyundai | Sonata | Hyundai Sonata Vapor Canister Purge Solenoid V6 2.7L Dorman 911-800 |
| 1997 | Hyundai | Tiburon | Hyundai Tiburon Vapor Canister Purge Solenoid L4 2.0L (8th Vin Digit F) Dorman 911-800 |
| 1997 | Hyundai | Tiburon | Hyundai Tiburon Vapor Canister Purge Solenoid L4 1.8L (8th Vin Digit M) Dorman 911-800 |
| 1998-2005 | Hyundai | Tiburon | Hyundai Tiburon Vapor Canister Purge Solenoid L4 2.0L Dorman 911-800 |
| 2003-2005 | Hyundai | Tiburon | Hyundai Tiburon Vapor Canister Purge Solenoid V6 2.7L Dorman 911-800 |
| 2006-2008 | Hyundai | Tiburon | Hyundai Tiburon Vapor Canister Purge Solenoid L4 2.0L (8th Vin Digit D) Dorman 911-800 |
| 2006-2008 | Hyundai | Tiburon | Hyundai Tiburon Vapor Canister Purge Solenoid V6 2.7L (8th Vin Digit F) Dorman 911-800 |
| 2005 | Hyundai | Tucson | Hyundai Tucson Vapor Canister Purge Solenoid L4 2.0L Dorman 911-800 |
| 2005 | Hyundai | Tucson | Hyundai Tucson Vapor Canister Purge Solenoid V6 2.7L Dorman 911-800 |
| 2006-2009 | Hyundai | Tucson | Hyundai Tucson Vapor Canister Purge Solenoid L4 2.0L (8th Vin Digit B) Dorman 911-800 |
| 2006-2009 | Hyundai | Tucson | Hyundai Tucson Vapor Canister Purge Solenoid V6 2.7L (8th Vin Digit D) Dorman 911-800 |
| 2001 | Kia | Optima | Kia Optima Vapor Canister Purge Solenoid V6 2.5L Dorman 911-800 |
| 2002-2005 | Kia | Optima | Kia Optima Vapor Canister Purge Solenoid V6 2.7L (8th Vin Digit 8) Dorman 911-800 |
| 2003-2005 | Kia | Rio | Kia Rio Vapor Canister Purge Solenoid L4 1.6L Dorman 911-800 |
| 2004-2007 | Kia | Spectra | Kia Spectra Vapor Canister Purge Solenoid L4 2.0L Dorman 911-800 |
| 2004 | Kia | Spectra | Kia Spectra Vapor Canister Purge Solenoid L4 1.8L Dorman 911-800 |
| 2008 | Kia | Spectra | Kia Spectra Vapor Canister Purge Solenoid L4 2.0L (8th Vin Digit 1) Dorman 911-800 |
| 2008 | Kia | Spectra | Kia Spectra Vapor Canister Purge Solenoid L4 2.0L (8th Vin Digit 2) Dorman 911-800 |
| 2005-2007 | Kia | Spectra 5 | Kia Spectra 5 Vapor Canister Purge Solenoid L4 2.0L Dorman 911-800 |
| 2008 | Kia | Spectra 5 | Kia Spectra 5 Vapor Canister Purge Solenoid L4 2.0L (8th Vin Digit 1) Dorman 911-800 |
| 2008 | Kia | Spectra 5 | Kia Spectra 5 Vapor Canister Purge Solenoid L4 2.0L (8th Vin Digit 2) Dorman 911-800 |
| 2005-2008 | Kia | Sportage | Kia Sportage Vapor Canister Purge Solenoid V6 2.7L Dorman 911-800 |
| 2005-2008 | Kia | Sportage | Kia Sportage Vapor Canister Purge Solenoid L4 2.0L Dorman 911-800 |
| 2006-2010 | Volkswagen | Beetle | VW Beetle Vapor Canister Purge Solenoid L5 2.5L Dorman 911-800 |
| 2007-2010 | Volkswagen | Eos | VW Eos Vapor Canister Purge Solenoid L4 2.0L Turbo Dorman 911-800 |
| 2008 | Volkswagen | GTI | VW GTI Vapor Canister Purge Solenoid L4 2.0L Turbo Dorman 911-800 |
| 2006-2007 | Volkswagen | Golf | VW Golf Vapor Canister Purge Solenoid L4 2.0L Turbo Dorman 911-800 |
| 2008 | Volkswagen | Golf | VW Golf GTI Vapor Canister Purge Solenoid L4 2.0L Turbo Dorman 911-800 |
| 2010 | Volkswagen | Golf | VW Golf Vapor Canister Purge Solenoid L5 2.5L Dorman 911-800 |
| 2005-2010 | Volkswagen | Jetta | VW Jetta Vapor Canister Purge Solenoid L5 2.5L Dorman 911-800 |
| 2006-2008 | Volkswagen | Jetta | VW Jetta Vapor Canister Purge Solenoid L4 2.0L Turbo Dorman 911-800 |
| 2006-2008 | Volkswagen | Passat | VW Passat Vapor Canister Purge Solenoid L4 2.0L Turbo Dorman 911-800 |
| 2006-2009 | Volkswagen | Rabbit | VW Rabbit Vapor Canister Purge Solenoid L5 2.5L Dorman 911-800 |
| 2007-2009 | Volkswagen | Touareg | VW Touareg Vapor Canister Purge Solenoid V8 4.2L Dorman 911-800 |
This part replaces:
Dorman 911-800
OE # 2891022040
Part #: 1AZMX00096
Order must be placed by 4pm ET
Get it in: 2 - 4 Business Days
Want it sooner? Choose Next Day Air at Checkout

Brand #: 911-800