1ABTG00028-Tailgate Striker Kit
Replaces
Tailgate Striker Kit Dorman 38432 - 1ABTG00028
1ABTG00028
This replacement tailgate striker kit is just what you need to get your door in good working order again!
Specifications:
Comes as a PAIR

Fits both LH (Driver Side) & RH (Passenger Side)

Replaces dealer part numbers: 15724161, 15724162
Direct replacements
Built to strict quality control standards
Replace your worn or broken tailgate strikers with these great fitting parts!
Lifetime Warranty
This item is backed by a Limited Lifetime Warranty. In the event this item should fail due to manufacturing defects during intended use, we will exchange the part free of charge (excludes shipping charges) for the original purchaser.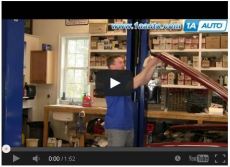 step : Removing the Tail Gate Latch (0:53)

Open the tail gate
Push the end of the tail gate label up and out, allowing it to hang
Remove the two T40 Torx bolts from the latch
Remove the latch

step : Installing the Tail Gate Latch (2:23)

Insert the latch to the bed
Tighten the two T40 Torx bolts to it
Snap in the cable
Tools needed for replacement:
Ratchets & Related

Ratchet

Torx Drivers & Sockets

T40 Torx Socket
Vehicle Fit
| Year | Make | Model | Description |
| --- | --- | --- | --- |
| 1988-1995 | Chevy | C1500 Truck | Chevy C1500 Truck Tailgate Striker Kit V8 5.0L (8th Vin Digit H) Dorman 38432 |
| 1988-1995 | Chevy | C1500 Truck | Chevy C1500 Truck Tailgate Striker Kit V6 4.3L (8th Vin Digit Z) Dorman 38432 |
| 1988-1993 | Chevy | C1500 Truck | Chevy C1500 Truck Tailgate Striker Kit V8 6.2L Diesel (8th Vin Digit C) Dorman 38432 |
| 1988-1995 | Chevy | C1500 Truck | Chevy C1500 Truck Tailgate Striker Kit V8 5.7L (8th Vin Digit K) Dorman 38432 |
| 1991-1993 | Chevy | C1500 Truck | Chevy C1500 Truck SS Tailgate Striker Kit V8 7.4L (8th Vin Digit N) Dorman 38432 |
| 1994-1995 | Chevy | C1500 Truck | Chevy C1500 Truck Tailgate Striker Kit V8 6.5L Diesel (8th Vin Digit P) Dorman 38432 |
| 1994-1996 | Chevy | C1500 Truck | Chevy C1500 Truck Tailgate Striker Kit V8 6.5L Turbo Diesel (8th Vin Digit S) Dorman 38432 |
| 1996-1999 | Chevy | C1500 Truck | Chevy C1500 Truck Tailgate Striker Kit V8 5.0L (8th Vin Digit M) Dorman 38432 |
| 1996-1999 | Chevy | C1500 Truck | Chevy C1500 Truck Tailgate Striker Kit V8 5.7L (8th Vin Digit R) Dorman 38432 |
| 1996-1999 | Chevy | C1500 Truck | Chevy C1500 Truck Tailgate Striker Kit V6 4.3L (8th Vin Digit W) Dorman 38432 |
| 1997-1998 | Chevy | C1500 Truck | Chevy C1500 Truck Tailgate Striker Kit V8 6.5L Turbo Diesel (8th Vin Digit F) Dorman 38432 |
| 1988-1993 | Chevy | C2500 Truck | Chevy C2500 Truck Tailgate Striker Kit V8 6.2L Diesel (8th Vin Digit C) Dorman 38432 |
| 1988-1995 | Chevy | C2500 Truck | Chevy C2500 Truck Tailgate Striker Kit V8 5.7L (8th Vin Digit K) Dorman 38432 |
| 1988-1995 | Chevy | C2500 Truck | Chevy C2500 Truck Tailgate Striker Kit V8 5.0L (8th Vin Digit H) Dorman 38432 |
| 1988-1995 | Chevy | C2500 Truck | Chevy C2500 Truck Tailgate Striker Kit V6 4.3L (8th Vin Digit Z) Dorman 38432 |
| 1989-1992 | Chevy | C2500 Truck | Chevy C2500 Truck Tailgate Striker Kit V8 6.2L Diesel (8th Vin Digit J) Dorman 38432 |
| 1991-1995 | Chevy | C2500 Truck | Chevy C2500 Truck Tailgate Striker Kit V8 7.4L (8th Vin Digit N) Dorman 38432 |
| 1992-2000 | Chevy | C2500 Truck | Chevy C2500 Truck Tailgate Striker Kit V8 6.5L Turbo Diesel (8th Vin Digit F) Dorman 38432 |
| 1994-1998 | Chevy | C2500 Truck | Chevy C2500 Truck Tailgate Striker Kit V8 6.5L Turbo Diesel (8th Vin Digit S) Dorman 38432 |
| 1994-1995 | Chevy | C2500 Truck | Chevy C2500 Truck Tailgate Striker Kit V8 6.5L Diesel (8th Vin Digit P) Dorman 38432 |
| 1996-2000 | Chevy | C2500 Truck | Chevy C2500 Truck Tailgate Striker Kit V8 5.7L (8th Vin Digit R) Dorman 38432 |
| 1996-1998 | Chevy | C2500 Truck | Chevy C2500 Truck Tailgate Striker Kit V8 5.0L (8th Vin Digit M) Dorman 38432 |
| 1996-2000 | Chevy | C2500 Truck | Chevy C2500 Truck Tailgate Striker Kit V8 7.4L (8th Vin Digit J) Dorman 38432 |
| 1988-1995 | Chevy | C3500 Truck | Chevy C3500 Truck Tailgate Striker Kit V8 7.4L (8th Vin Digit N) Dorman 38432 |
| 1988-1995 | Chevy | C3500 Truck | Chevy C3500 Truck Tailgate Striker Kit V8 5.7L (8th Vin Digit K) Dorman 38432 |
| 1988-1993 | Chevy | C3500 Truck | Chevy C3500 Truck Tailgate Striker Kit V8 6.2L Diesel (8th Vin Digit J) Dorman 38432 |
| 1992-2000 | Chevy | C3500 Truck | Chevy C3500 Truck Tailgate Striker Kit V8 6.5L Turbo Diesel (8th Vin Digit F) Dorman 38432 |
| 1996-2000 | Chevy | C3500 Truck | Chevy C3500 Truck Tailgate Striker Kit V8 7.4L (8th Vin Digit J) Dorman 38432 |
| 1996-2000 | Chevy | C3500 Truck | Chevy C3500 Truck Tailgate Striker Kit V8 5.7L (8th Vin Digit R) Dorman 38432 |
| 1988-1993 | Chevy | K1500 Truck | Chevy K1500 Truck Tailgate Striker Kit V8 6.2L Diesel (8th Vin Digit C) Dorman 38432 |
| 1988-1995 | Chevy | K1500 Truck | Chevy K1500 Truck Tailgate Striker Kit V8 5.0L (8th Vin Digit H) Dorman 38432 |
| 1988-1995 | Chevy | K1500 Truck | Chevy K1500 Truck Tailgate Striker Kit V8 5.7L (8th Vin Digit K) Dorman 38432 |
| 1988-1995 | Chevy | K1500 Truck | Chevy K1500 Truck Tailgate Striker Kit V6 4.3L (8th Vin Digit Z) Dorman 38432 |
| 1994-1998 | Chevy | K1500 Truck | Chevy K1500 Truck Tailgate Striker Kit V8 6.5L Turbo Diesel (8th Vin Digit S) Dorman 38432 |
| 1994-1995 | Chevy | K1500 Truck | Chevy K1500 Truck Tailgate Striker Kit V8 6.5L Diesel (8th Vin Digit P) Dorman 38432 |
| 1996-1999 | Chevy | K1500 Truck | Chevy K1500 Truck Tailgate Striker Kit V8 5.0L (8th Vin Digit M) Dorman 38432 |
| 1996-1999 | Chevy | K1500 Truck | Chevy K1500 Truck Tailgate Striker Kit V8 5.7L (8th Vin Digit R) Dorman 38432 |
| 1996-1998 | Chevy | K1500 Truck | Chevy K1500 Truck Tailgate Striker Kit V6 4.3L (8th Vin Digit W) Dorman 38432 |
| 1997-1998 | Chevy | K1500 Truck | Chevy K1500 Truck Tailgate Striker Kit V8 6.5L Turbo Diesel (8th Vin Digit F) Dorman 38432 |
| 1988-1995 | Chevy | K2500 Truck | Chevy K2500 Truck Tailgate Striker Kit V8 5.7L (8th Vin Digit K) Dorman 38432 |
| 1988-1993 | Chevy | K2500 Truck | Chevy K2500 Truck Tailgate Striker Kit V8 6.2L Diesel (8th Vin Digit C) Dorman 38432 |
| 1988-1995 | Chevy | K2500 Truck | Chevy K2500 Truck Tailgate Striker Kit V6 4.3L (8th Vin Digit Z) Dorman 38432 |
| 1988-1995 | Chevy | K2500 Truck | Chevy K2500 Truck Tailgate Striker Kit V8 5.0L (8th Vin Digit H) Dorman 38432 |
| 1989-1993 | Chevy | K2500 Truck | Chevy K2500 Truck Tailgate Striker Kit V8 6.2L Diesel (8th Vin Digit J) Dorman 38432 |
| 1991-1995 | Chevy | K2500 Truck | Chevy K2500 Truck Tailgate Striker Kit V8 7.4L (8th Vin Digit N) Dorman 38432 |
| 1992-2000 | Chevy | K2500 Truck | Chevy K2500 Truck Tailgate Striker Kit V8 6.5L Turbo Diesel (8th Vin Digit F) Dorman 38432 |
| 1994-1995 | Chevy | K2500 Truck | Chevy K2500 Truck Tailgate Striker Kit V8 6.5L Diesel (8th Vin Digit P) Dorman 38432 |
| 1994-1998 | Chevy | K2500 Truck | Chevy K2500 Truck Tailgate Striker Kit V8 6.5L Turbo Diesel (8th Vin Digit S) Dorman 38432 |
| 1996-2000 | Chevy | K2500 Truck | Chevy K2500 Truck Tailgate Striker Kit V8 7.4L (8th Vin Digit J) Dorman 38432 |
| 1996-2000 | Chevy | K2500 Truck | Chevy K2500 Truck Tailgate Striker Kit V8 5.7L (8th Vin Digit R) Dorman 38432 |
| 1996-1998 | Chevy | K2500 Truck | Chevy K2500 Truck Tailgate Striker Kit V8 5.0L (8th Vin Digit M) Dorman 38432 |
| 1988-1993 | Chevy | K3500 Truck | Chevy K3500 Truck Tailgate Striker Kit V8 6.2L Diesel (8th Vin Digit J) Dorman 38432 |
| 1988-1995 | Chevy | K3500 Truck | Chevy K3500 Truck Tailgate Striker Kit V8 5.7L (8th Vin Digit K) Dorman 38432 |
| 1988-1995 | Chevy | K3500 Truck | Chevy K3500 Truck Tailgate Striker Kit V8 7.4L (8th Vin Digit N) Dorman 38432 |
| 1992-2000 | Chevy | K3500 Truck | Chevy K3500 Truck Tailgate Striker Kit V8 6.5L Turbo Diesel (8th Vin Digit F) Dorman 38432 |
| 1996-2000 | Chevy | K3500 Truck | Chevy K3500 Truck Tailgate Striker Kit V8 5.7L (8th Vin Digit R) Dorman 38432 |
| 1988-1995 | GMC | C1500 Truck | GMC C1500 Truck Tailgate Striker Kit V8 5.7L (8th Vin Digit K) Dorman 38432 |
| 1988-1995 | GMC | C1500 Truck | GMC C1500 Truck Tailgate Striker Kit V8 5.0L (8th Vin Digit H) Dorman 38432 |
| 1988-1993 | GMC | C1500 Truck | GMC C1500 Truck Tailgate Striker Kit V8 6.2L Diesel (8th Vin Digit C) Dorman 38432 |
| 1988-1995 | GMC | C1500 Truck | GMC C1500 Truck Tailgate Striker Kit V6 4.3L (8th Vin Digit Z) Dorman 38432 |
| 1994-1995 | GMC | C1500 Truck | GMC C1500 Truck Tailgate Striker Kit V8 6.5L Diesel (8th Vin Digit P) Dorman 38432 |
| 1994-1996 | GMC | C1500 Truck | GMC C1500 Truck Tailgate Striker Kit V8 6.5L Turbo Diesel (8th Vin Digit S) Dorman 38432 |
| 1996-1998 | GMC | C1500 Truck | GMC C1500 Truck Tailgate Striker Kit V6 4.3L (8th Vin Digit W) Dorman 38432 |
| 1996-1999 | GMC | C1500 Truck | GMC C1500 Truck Tailgate Striker Kit V8 5.7L (8th Vin Digit R) Dorman 38432 |
| 1996-1999 | GMC | C1500 Truck | GMC C1500 Truck Tailgate Striker Kit V8 5.0L (8th Vin Digit M) Dorman 38432 |
| 1997 | GMC | C1500 Truck | GMC C1500 Truck Tailgate Striker Kit V8 6.5L Turbo Diesel (8th Vin Digit F) Dorman 38432 |
| 1988-1995 | GMC | C2500 Truck | GMC C2500 Truck Tailgate Striker Kit V8 5.0L (8th Vin Digit H) Dorman 38432 |
| 1988-1995 | GMC | C2500 Truck | GMC C2500 Truck Tailgate Striker Kit V6 4.3L (8th Vin Digit Z) Dorman 38432 |
| 1988-1995 | GMC | C2500 Truck | GMC C2500 Truck Tailgate Striker Kit V8 5.7L (8th Vin Digit K) Dorman 38432 |
| 1988-1993 | GMC | C2500 Truck | GMC C2500 Truck Tailgate Striker Kit V8 6.2L Diesel (8th Vin Digit C) Dorman 38432 |
| 1989-1993 | GMC | C2500 Truck | GMC C2500 Truck Tailgate Striker Kit V8 6.2L Diesel (8th Vin Digit J) Dorman 38432 |
| 1991-1995 | GMC | C2500 Truck | GMC C2500 Truck Tailgate Striker Kit V8 7.4L (8th Vin Digit N) Dorman 38432 |
| 1992-2000 | GMC | C2500 Truck | GMC C2500 Truck Tailgate Striker Kit V8 6.5L Turbo Diesel (8th Vin Digit F) Dorman 38432 |
| 1994 | GMC | C2500 Truck | GMC C2500 Truck Tailgate Striker Kit V8 6.5L Diesel (8th Vin Digit P) Dorman 38432 |
| 1994-1998 | GMC | C2500 Truck | GMC C2500 Truck Tailgate Striker Kit V8 6.5L Turbo Diesel (8th Vin Digit S) Dorman 38432 |
| 1996-2000 | GMC | C2500 Truck | GMC C2500 Truck Tailgate Striker Kit V8 7.4L (8th Vin Digit J) Dorman 38432 |
| 1996-2000 | GMC | C2500 Truck | GMC C2500 Truck Tailgate Striker Kit V8 5.7L (8th Vin Digit R) Dorman 38432 |
| 1996-1998 | GMC | C2500 Truck | GMC C2500 Truck Tailgate Striker Kit V8 5.0L (8th Vin Digit M) Dorman 38432 |
| 1988-1995 | GMC | C3500 Truck | GMC C3500 Truck Tailgate Striker Kit V8 7.4L (8th Vin Digit N) Dorman 38432 |
| 1988-1993 | GMC | C3500 Truck | GMC C3500 Truck Tailgate Striker Kit V8 6.2L Diesel (8th Vin Digit J) Dorman 38432 |
| 1988-1995 | GMC | C3500 Truck | GMC C3500 Truck Tailgate Striker Kit V8 5.7L (8th Vin Digit K) Dorman 38432 |
| 1992-2000 | GMC | C3500 Truck | GMC C3500 Truck Tailgate Striker Kit V8 6.5L Turbo Diesel (8th Vin Digit F) Dorman 38432 |
| 1996-2000 | GMC | C3500 Truck | GMC C3500 Truck Tailgate Striker Kit V8 5.7L (8th Vin Digit R) Dorman 38432 |
| 1996-2000 | GMC | C3500 Truck | GMC C3500 Truck Tailgate Striker Kit V8 7.4L (8th Vin Digit J) Dorman 38432 |
| 1988-1995 | GMC | K1500 Truck | GMC K1500 Truck Tailgate Striker Kit V6 4.3L (8th Vin Digit Z) Dorman 38432 |
| 1988-1993 | GMC | K1500 Truck | GMC K1500 Truck Tailgate Striker Kit V8 6.2L Diesel (8th Vin Digit C) Dorman 38432 |
| 1988-1995 | GMC | K1500 Truck | GMC K1500 Truck Tailgate Striker Kit V8 5.7L (8th Vin Digit K) Dorman 38432 |
| 1988-1995 | GMC | K1500 Truck | GMC K1500 Truck Tailgate Striker Kit V8 5.0L (8th Vin Digit H) Dorman 38432 |
| 1994 | GMC | K1500 Truck | GMC K1500 Truck Tailgate Striker Kit V8 6.5L Diesel (8th Vin Digit P) Dorman 38432 |
| 1994-1998 | GMC | K1500 Truck | GMC K1500 Truck Tailgate Striker Kit V8 6.5L Turbo Diesel (8th Vin Digit S) Dorman 38432 |
| 1996-1999 | GMC | K1500 Truck | GMC K1500 Truck Tailgate Striker Kit V8 5.7L (8th Vin Digit R) Dorman 38432 |
| 1996-1999 | GMC | K1500 Truck | GMC K1500 Truck Tailgate Striker Kit V8 5.0L (8th Vin Digit M) Dorman 38432 |
| 1996-1998 | GMC | K1500 Truck | GMC K1500 Truck Tailgate Striker Kit V6 4.3L (8th Vin Digit W) Dorman 38432 |
| 1997 | GMC | K1500 Truck | GMC K1500 Truck Tailgate Striker Kit V8 6.5L Turbo Diesel (8th Vin Digit F) Dorman 38432 |
| 1988-1995 | GMC | K2500 Truck | GMC K2500 Truck Tailgate Striker Kit V6 4.3L (8th Vin Digit Z) Dorman 38432 |
| 1988-1995 | GMC | K2500 Truck | GMC K2500 Truck Tailgate Striker Kit V8 5.0L (8th Vin Digit H) Dorman 38432 |
| 1988-1993 | GMC | K2500 Truck | GMC K2500 Truck Tailgate Striker Kit V8 6.2L Diesel (8th Vin Digit C) Dorman 38432 |
| 1988-1995 | GMC | K2500 Truck | GMC K2500 Truck Tailgate Striker Kit V8 5.7L (8th Vin Digit K) Dorman 38432 |
| 1989-1993 | GMC | K2500 Truck | GMC K2500 Truck Tailgate Striker Kit V8 6.2L Diesel (8th Vin Digit J) Dorman 38432 |
| 1991-1995 | GMC | K2500 Truck | GMC K2500 Truck Tailgate Striker Kit V8 7.4L (8th Vin Digit N) Dorman 38432 |
| 1992-2000 | GMC | K2500 Truck | GMC K2500 Truck Tailgate Striker Kit V8 6.5L Turbo Diesel (8th Vin Digit F) Dorman 38432 |
| 1994 | GMC | K2500 Truck | GMC K2500 Truck Tailgate Striker Kit V8 6.5L Diesel (8th Vin Digit P) Dorman 38432 |
| 1994-1998 | GMC | K2500 Truck | GMC K2500 Truck Tailgate Striker Kit V8 6.5L Turbo Diesel (8th Vin Digit S) Dorman 38432 |
| 1996-2000 | GMC | K2500 Truck | GMC K2500 Truck Tailgate Striker Kit V8 7.4L (8th Vin Digit J) Dorman 38432 |
| 1996-2000 | GMC | K2500 Truck | GMC K2500 Truck Tailgate Striker Kit V8 5.7L (8th Vin Digit R) Dorman 38432 |
| 1996-1998 | GMC | K2500 Truck | GMC K2500 Truck Tailgate Striker Kit V8 5.0L (8th Vin Digit M) Dorman 38432 |
| 1988-1993 | GMC | K3500 Truck | GMC K3500 Truck Tailgate Striker Kit V8 6.2L Diesel (8th Vin Digit J) Dorman 38432 |
| 1988-1995 | GMC | K3500 Truck | GMC K3500 Truck Tailgate Striker Kit V8 5.7L (8th Vin Digit K) Dorman 38432 |
| 1988-1995 | GMC | K3500 Truck | GMC K3500 Truck Tailgate Striker Kit V8 7.4L (8th Vin Digit N) Dorman 38432 |
| 1992-2000 | GMC | K3500 Truck | GMC K3500 Truck Tailgate Striker Kit V8 6.5L Turbo Diesel (8th Vin Digit F) Dorman 38432 |
| 1996-2000 | GMC | K3500 Truck | GMC K3500 Truck Tailgate Striker Kit V8 7.4L (8th Vin Digit J) Dorman 38432 |
| 1996-2000 | GMC | K3500 Truck | GMC K3500 Truck Tailgate Striker Kit V8 5.7L (8th Vin Digit R) Dorman 38432 |
This part replaces:
OE # 15724161
OE # 15724162
Dorman 38432
Part #: 1ABTG00028
Order must be placed by 4pm ET
Get it in: 2 - 4 Business Days
Want it sooner? Choose Next Day Air at Checkout

Brand #: 38432