MGSFK00042-Sway Bar Link Pair
Replaces
Sway Bar Link Pair MOOG K6630 - MGSFK00042
MGSFK00042
Specifications:
Brand New Moog Heavy Duty Sway Bar End Link Set
Comes as a Pair

Fits LH (Driver Side) & RH (Passenger Side) Front

Heavy duty design
Direct replacements
Built to strict quality control standards
Item Condition: New

Lifetime Warranty
This item is backed by a Limited Lifetime Warranty. In the event this item should fail due to manufacturing defects during intended use, we will exchange the part free of charge (excludes shipping charges) for the original purchaser.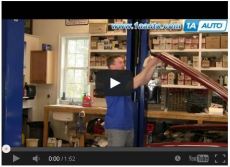 step : Raise and secure the vehicle (1:23)

Lift and secure your vehicle with its model specific safe support points.
Make sure your jack stands are set and the correct height on an even surface and your e brake is on if all four wheels aren't off the ground.

step : Remove the stabilizer link (2:45)

Use a wrench to secure the top of the link and a socket and breaker bar on the bottom.
Remove the stabilizer link.

step : install the new stabilizer link (3:16)

Thread the stabilizer link, bushings and washers into the control arm and sway bar.
Use your wrench to secure the link and a socket and ratchet to tighten it up.
The torque spec is 13 foot lbs.
Tools needed for replacement:
Ratchets & Related

Torque Wrench

Sockets - Metric

Complete Metric Socket Set

Wrenches - Metric

Complete Metric Wrench Set
There are no reviews for this item.
Customer Q&A
Ask a question to 1A Auto customers who purchased the product
No questions have been asked about this item.
| Year | Make | Model | Description |
| --- | --- | --- | --- |
| 1973-1975 | Buick | Apollo | Buick Apollo Front Heavy Duty Sway Bar Link Pair MOOG K6630 |
| 1971-1973 | Buick | Centurion | Buick Centurion Front Heavy Duty Sway Bar Link Pair MOOG K6630 |
| 1973-1977 | Buick | Century | Buick Century Front Heavy Duty Sway Bar Link Pair MOOG K6630 |
| 1971-1984 | Buick | Electra | Buick Electra Front Heavy Duty Sway Bar Link Pair MOOG K6630 |
| 1971-1975 | Buick | Estate Wagon | Buick Estate Wagon Front Heavy Duty Sway Bar Link Pair MOOG K6630 |
| 1971-1990 | Buick | LeSabre | Buick LeSabre Front Heavy Duty Sway Bar Link Pair MOOG K6630 |
| 1974-1977 | Buick | Regal | Buick Regal Front Heavy Duty Sway Bar Link Pair MOOG K6630 |
| 1971-1978 | Buick | Riviera | Buick Riviera Front Heavy Duty Sway Bar Link Pair MOOG K6630 |
| 1991-1996 | Buick | Roadmaster | Buick Roadmaster Front Heavy Duty Sway Bar Link Pair MOOG K6630 |
| 1975-1989 | Buick | Skyhawk | Buick Skyhawk Front Heavy Duty Sway Bar Link Pair MOOG K6630 |
| 1975-1997 | Buick | Skylark | Buick Skylark Front Heavy Duty Sway Bar Link Pair MOOG K6630 |
| 1985-1987 | Buick | Somerset | Buick Somerset Front Heavy Duty Sway Bar Link Pair MOOG K6630 |
| 1987-1992 | Cadillac | Brougham | Cadillac Brougham Front Heavy Duty Sway Bar Link Pair Rear Wheel Drive MOOG K6630 |
| 1982-1988 | Cadillac | Cimarron | Cadillac Cimarron Front Heavy Duty Sway Bar Link Pair MOOG K6630 |
| 1977-1984 | Cadillac | Deville | Cadillac Deville Front Heavy Duty Sway Bar Link Pair MOOG K6630 |
| 1977-1996 | Cadillac | Fleetwood | Cadillac Fleetwood Front Heavy Duty Sway Bar Link Pair Rear Wheel Drive MOOG K6630 |
| 1976-1979 | Cadillac | Seville | Cadillac Seville Front Heavy Duty Sway Bar Link Pair MOOG K6630 |
| 1985-2005 | Chevy | Astro | Chevy Astro Rear Wheel Drive Front Heavy Duty Sway Bar Link Pair MOOG K6630 |
| 1971-1975 | Chevy | Bel-Air | Chevy Bel-Air Front Heavy Duty Sway Bar Link Pair MOOG K6630 |
| 1987-1996 | Chevy | Beretta | Chevy Beretta Front Heavy Duty Sway Bar Link Pair MOOG K6630 |
| 1971-1972 | Chevy | Biscayne | Chevy Biscayne Front Heavy Duty Sway Bar Link Pair MOOG K6630 |
| 1988-1999 | Chevy | C1500 Truck | Chevy C1500 Truck Front Heavy Duty Sway Bar Link Pair MOOG K6630 |
| 1988-2000 | Chevy | C2500 Truck | Chevy C2500 Truck Front Heavy Duty Sway Bar Link Pair MOOG K6630 |
| 1988-2000 | Chevy | C3500 Truck | Chevy C3500 Truck Front Heavy Duty Sway Bar Link Pair for Models with Independent Front Suspension MOOG K6630 |
| 1970-2002 | Chevy | Camaro | Chevy Camaro Front Heavy Duty Sway Bar Link Pair MOOG K6630 |
| 1971-1996 | Chevy | Caprice | Chevy Caprice Front Heavy Duty Sway Bar Link Pair MOOG K6630 |
| 1982-1994 | Chevy | Cavalier | Chevy Cavalier Front Heavy Duty Sway Bar Link Pair MOOG K6630 |
| 1973 | Chevy | Chevelle | Chevy Chevelle Front Heavy Duty Sway Bar Link Pair MOOG K6630 |
| 1968 | Chevy | Chevy II | Chevy Chevy II Front Heavy Duty Sway Bar Link Pair MOOG K6630 |
| 1987-1996 | Chevy | Corsica | Chevy Corsica Front Heavy Duty Sway Bar Link Pair MOOG K6630 |
| 1973-1977 | Chevy | El Camino | Chevy El Camino Front Heavy Duty Sway Bar Link Pair MOOG K6630 |
| 1971-1985 | Chevy | Impala | Chevy Impala Front Heavy Duty Sway Bar Link Pair MOOG K6630 |
| 1973-1977 | Chevy | Malibu | Chevy Malibu Front Heavy Duty Sway Bar Link Pair MOOG K6630 |
| 1973-1977 | Chevy | Monte Carlo | Chevy Monte Carlo Front Heavy Duty Sway Bar Link Pair MOOG K6630 |
| 1975-1980 | Chevy | Monza | Chevy Monza Front Heavy Duty Sway Bar Link Pair MOOG K6630 |
| 1970-1979 | Chevy | Nova | Chevy Nova Front Heavy Duty Sway Bar Link Pair MOOG K6630 |
| 1992-1999 | Chevy | Suburban C1500 | Chevy Suburban C1500 Front Heavy Duty Sway Bar Link Pair MOOG K6630 |
| 1992-1999 | Chevy | Suburban C2500 | Chevy Suburban C2500 Front Heavy Duty Sway Bar Link Pair MOOG K6630 |
| 1992-1999 | Chevy | Suburban K2500 | Chevy Suburban K2500 Front Heavy Duty Sway Bar Link Pair MOOG K6630 |
| 1995-1999 | Chevy | Tahoe | Chevy Tahoe Heavy Duty Rear Wheel Drive Sway Bar Link Pair Front MOOG K6630 |
| 2000 | Chevy | Tahoe | Chevy Tahoe Rear Wheel Drive Front Heavy Duty Sway Bar Link Pair V8 5.7L MOOG K6630 |
| 1971-1977 | Chevy | Vega | Chevy Vega Front Heavy Duty Sway Bar Link Pair MOOG K6630 |
| 1988-1999 | GMC | C1500 Truck | GMC C1500 Truck Front Heavy Duty Sway Bar Link Pair MOOG K6630 |
| 1988-2000 | GMC | C2500 Truck | GMC C2500 Truck Front Heavy Duty Sway Bar Link Pair MOOG K6630 |
| 1988-2000 | GMC | C3500 Truck | GMC C3500 Truck Front Heavy Duty Sway Bar Link Pair for Models with Independent Front Suspension MOOG K6630 |
| 1985-2005 | GMC | Safari | GMC Safari Rear Wheel Drive Front Heavy Duty Sway Bar Link Pair MOOG K6630 |
| 1973-1977 | GMC | Sprint | GMC Sprint Front Heavy Duty Sway Bar Link Pair MOOG K6630 |
| 1992-1999 | GMC | Suburban C1500 | GMC Suburban C1500 Front Heavy Duty Sway Bar Link Pair MOOG K6630 |
| 1992-1999 | GMC | Suburban C2500 | GMC Suburban C2500 Front Heavy Duty Sway Bar Link Pair MOOG K6630 |
| 1992-1993 | GMC | Yukon | GMC Yukon Front Heavy Duty Sway Bar Link Pair MOOG K6630 |
| 1994-1999 | GMC | Yukon | GMC Yukon Front Heavy Duty Sway Bar Link Pair MOOG K6630 |
| 2000 | GMC | Yukon | GMC Yukon Front Heavy Duty Sway Bar Link Pair V8 5.7L MOOG K6630 |
| 1975-1984 | Oldsmobile | 98 | Olds 98 Front Heavy Duty Sway Bar Link Pair MOOG K6630 |
| 1992-1998 | Oldsmobile | Achieva | Olds Achieva Front Heavy Duty Sway Bar Link Pair MOOG K6630 |
| 1985-1987 | Oldsmobile | Calais | Olds Calais Front Heavy Duty Sway Bar Link Pair MOOG K6630 |
| 1975-1992 | Oldsmobile | Custom Cruiser | Olds Custom Cruiser Front Heavy Duty Sway Bar Link Pair MOOG K6630 |
| 1975-1977 | Oldsmobile | Cutlass | Olds Cutlass Front Heavy Duty Sway Bar Link Pair MOOG K6630 |
| 1985-1991 | Oldsmobile | Cutlass Calais | Olds Cutlass Calais Front Heavy Duty Sway Bar Link Pair MOOG K6630 |
| 1975-1977 | Oldsmobile | Cutlass Salon | Olds Cutlass Salon Front Heavy Duty Sway Bar Link Pair MOOG K6630 |
| 1975-1977 | Oldsmobile | Cutlass Supreme | Olds Cutlass Supreme Front Heavy Duty Sway Bar Link Pair MOOG K6630 |
| 1975-1985 | Oldsmobile | Delta 88 | Olds Delta 88 Front Heavy Duty Sway Bar Link Pair MOOG K6630 |
| 1982-1988 | Oldsmobile | Firenza | Olds Firenza Front Heavy Duty Sway Bar Link Pair MOOG K6630 |
| 1975-1979 | Oldsmobile | Omega | Olds Omega Front Heavy Duty Sway Bar Link Pair MOOG K6630 |
| 1975-1980 | Oldsmobile | Starfire | Olds Starfire Front Heavy Duty Sway Bar Link Pair MOOG K6630 |
| 1975-1977 | Oldsmobile | Vista Cruiser | Olds Vista Cruiser Front Heavy Duty Sway Bar Link Pair MOOG K6630 |
| 1975-1977 | Pontiac | Astre | Pontiac Astre Front Heavy Duty Sway Bar Link Pair MOOG K6630 |
| 1971-1981 | Pontiac | Bonneville | Pontiac Bonneville Front Heavy Duty Sway Bar Link Pair MOOG K6630 |
| 1971-1981 | Pontiac | Catalina | Pontiac Catalina Front Heavy Duty Sway Bar Link Pair MOOG K6630 |
| 1970-2002 | Pontiac | Firebird | Pontiac Firebird Front Heavy Duty Sway Bar Link Pair MOOG K6630 |
| 1986-1998 | Pontiac | Grand Am | Pontiac Grand Am Front Heavy Duty Sway Bar Link Pair MOOG K6630 |
| 1973-1977 | Pontiac | Grand Prix | Pontiac Grand Prix Front Heavy Duty Sway Bar Link Pair MOOG K6630 |
| 1971-1975 | Pontiac | Grandville | Pontiac Grandville Front Heavy Duty Sway Bar Link Pair MOOG K6630 |
| 1982-1984 | Pontiac | J2000 | Pontiac J2000 Front Heavy Duty Sway Bar Link Pair MOOG K6630 |
| 1973-1977 | Pontiac | LeMans | Pontiac LeMans Front Heavy Duty Sway Bar Link Pair MOOG K6630 |
| 1983-1986 | Pontiac | Parisienne | Pontiac Parisienne Front Heavy Duty Sway Bar Link Pair MOOG K6630 |
| 1977-1979 | Pontiac | Phoenix | Pontiac Phoenix Front Heavy Duty Sway Bar Link Pair MOOG K6630 |
| 1987-1989 | Pontiac | Safari | Pontiac Safari Front Heavy Duty Sway Bar Link Pair MOOG K6630 |
| 1976-1994 | Pontiac | Sunbird | Pontiac Sunbird Front Heavy Duty Sway Bar Link Pair MOOG K6630 |
| 1987-1991 | Pontiac | Tempest | Pontiac Tempest Front Heavy Duty Sway Bar Link Pair MOOG K6630 |
| 1973-1977 | Pontiac | Ventura | Pontiac Ventura Front Heavy Duty Sway Bar Link Pair MOOG K6630 |
Part #: MGSFK00042
Order must be placed by 4pm ET
Get it in: 2 - 4 Business Days
Want it sooner? Choose Next Day Air at Checkout

Brand #: K6630