ACEEK00007-Spark Plug
Replaces
Spark Plug ACDelco R43TS - ACEEK00007
ACEEK00007
AC DELCO R43TS [Spark Plug
Set of 8]
These spark plugs are brand new AC DELCO parts! They are the same pieces that you would receive if you purchased it from your local GM dealer.
Specifications:
Brand new AC DELCO Spark Plugs
Comes as a Set of 8

Replaces dealer part numbers: 5744019, ASF32C, ASF32P, ASF42, ASF42C, ASF42P, AWSF32C, AWSF32EE, 05613325, 19157983, 5613325, 5613831, 5613934, 5613995, 8056141680, 83500411
Built to strict quality control standards
100% factory tested
Our electrical and electronic parts are subject to strict quality control testing. Please ensure proper diagnosis of this item before purchasing as the item cannot be returned once installed or plugged in.
Item Condition: New

Lifetime Warranty
This item is backed by a Limited Lifetime Warranty. In the event this item should fail due to manufacturing defects during intended use, we will exchange the part free of charge (excludes shipping charges) for the original purchaser.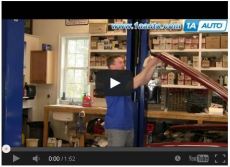 Tools needed for replacement:
General Tools

Jack Stands
Floor Jack

Ratchets & Related

Ratchet

Sockets - SAE

5/8 Inch Spark Plug Socket

Specialty Tools

Spark Plug Gapping Tool

Wrenches - Metric

8mm Wrench
There are no reviews for this item.
Customer Q&A
Ask a question to 1A Auto customers who purchased the product
No questions have been asked about this item.
| Year | Make | Model | Description |
| --- | --- | --- | --- |
| 1971 | Chevy | Bel-Air | Chevy Bel-Air Spark Plug 8 Piece Set V8 7.4L 454ci ACDelco R43TS |
| 1971 | Chevy | Biscayne | Chevy Biscayne Spark Plug 8 Piece Set V8 7.4L 454ci ACDelco R43TS |
| 1984-1986 | Chevy | Blazer Full Size | Chevy Blazer Full Size Spark Plug 8 Piece Set V8 5.7L ACDelco R43TS |
| 1984-1986 | Chevy | C10 Truck | Chevy C10 Truck Spark Plug 8 Piece Set V8 5.7L ACDelco R43TS |
| 1984-1986 | Chevy | C10 Truck | Chevy C10 Truck Spark Plug 8 Piece Set V8 5.0L ACDelco R43TS |
| 1984-1986 | Chevy | C20 Truck | Chevy C20 Truck Spark Plug 8 Piece Set V8 5.7L ACDelco R43TS |
| 1985-1987 | Chevy | Camaro | Chevy Camaro Spark Plug 8 Piece Set V8 5.0L (8th Vin Digit F) ACDelco R43TS |
| 1987 | Chevy | Camaro | Chevy Camaro Spark Plug 8 Piece Set V8 5.7L ACDelco R43TS |
| 1971 | Chevy | Caprice | Chevy Caprice Spark Plug 8 Piece Set V8 7.4L 454ci ACDelco R43TS |
| 1986 | Chevy | Caprice | Chevy Caprice Spark Plug 8 Piece Set V8 5.0L ACDelco R43TS |
| 1971 | Chevy | Chevelle | Chevy Chevelle Spark Plug 8 Piece Set V8 7.4L 454ci ACDelco R43TS |
| 1971 | Chevy | Corvette | Chevy Corvette Spark Plug 8 Piece Set V8 7.4L 454ci ACDelco R43TS |
| 1985-1986 | Chevy | Corvette | Chevy Corvette Spark Plug 8 Piece Set V8 5.7L ACDelco R43TS |
| 1971 | Chevy | El Camino | Chevy El Camino Spark Plug 8 Piece Set V8 7.4L 454ci ACDelco R43TS |
| 1971 | Chevy | Impala | Chevy Impala Spark Plug 8 Piece Set V8 7.4L 454ci ACDelco R43TS |
| 1984-1986 | Chevy | K10 Truck | Chevy K10 Truck Spark Plug 8 Piece Set V8 5.7L ACDelco R43TS |
| 1984-1986 | Chevy | K20 Truck | Chevy K20 Truck Spark Plug 8 Piece Set V8 5.7L ACDelco R43TS |
| 1985 | Chevy | K30 Truck | Chevy K30 Truck Spark Plug 8 Piece Set V8 5.7L ACDelco R43TS |
| 1971 | Chevy | Monte Carlo | Chevy Monte Carlo Spark Plug 8 Piece Set V8 7.4L 454ci ACDelco R43TS |
| 1986 | Chevy | Monte Carlo | Chevy Monte Carlo Spark Plug 8 Piece Set V8 5.0L ACDelco R43TS |
| 1987 | Chevy | P20 | Chevy P20 Spark Plug 8 Piece Set V8 5.7L ACDelco R43TS |
| 1987 | Chevy | P30 | Chevy P30 Spark Plug 8 Piece Set V8 5.7L ACDelco R43TS |
| 1984-1986 | Chevy | Suburban C10 | Chevy Suburban C10 Spark Plug 8 Piece Set V8 5.0L ACDelco R43TS |
| 1984-1986 | Chevy | Suburban C10 | Chevy Suburban C10 Spark Plug 8 Piece Set V8 5.7L ACDelco R43TS |
| 1984-1986 | Chevy | Suburban C20 | Chevy Suburban C20 Spark Plug 8 Piece Set V8 5.0L ACDelco R43TS |
| 1984-1986 | Chevy | Suburban C20 | Chevy Suburban C20 Spark Plug 8 Piece Set V8 5.7L ACDelco R43TS |
| 1984-1986 | Chevy | Suburban K10 | Chevy Suburban K10 Spark Plug 8 Piece Set V8 5.0L ACDelco R43TS |
| 1984-1986 | Chevy | Suburban K10 | Chevy Suburban K10 Spark Plug 8 Piece Set V8 5.7L ACDelco R43TS |
| 1984-1986 | Chevy | Suburban K20 | Chevy Suburban K20 Spark Plug 8 Piece Set V8 5.0L ACDelco R43TS |
| 1984-1986 | Chevy | Suburban K20 | Chevy Suburban K20 Spark Plug 8 Piece Set V8 5.7L ACDelco R43TS |
| 1984-1996 | Ford | Bronco | Ford Bronco Spark Plug 8 Piece Set V8 5.8L ACDelco R43TS |
| 1985-1986 | Ford | Bronco | Ford Bronco Spark Plug 8 Piece Set V8 5.0L ACDelco R43TS |
| 1976 | Ford | E100 Van | Ford E100 Van Spark Plug 8 Piece Set V8 5.8L ACDelco R43TS |
| 1976 | Ford | E150 Van | Ford E150 Van Spark Plug 8 Piece Set V8 5.8L ACDelco R43TS |
| 1980 | Ford | E150 Van | Ford E150 Van Spark Plug 8 Piece Set V8 7.5L ACDelco R43TS |
| 1984-1996 | Ford | E150 Van | Ford E150 Van Spark Plug 8 Piece Set V8 5.8L ACDelco R43TS |
| 1986 | Ford | E150 Van | Ford E150 Van Spark Plug 8 Piece Set V8 5.0L ACDelco R43TS |
| 1976 | Ford | E250 Van | Ford E250 Van Spark Plug 8 Piece Set V8 5.8L ACDelco R43TS |
| 1980-1981 | Ford | E250 Van | Ford E250 Van Spark Plug 8 Piece Set V8 7.5L ACDelco R43TS |
| 1984-1996 | Ford | E250 Van | Ford E250 Van Spark Plug 8 Piece Set V8 5.8L ACDelco R43TS |
| 1976 | Ford | E350 Van | Ford E350 Van Spark Plug 8 Piece Set V8 5.8L ACDelco R43TS |
| 1980-1981 | Ford | E350 Van | Ford E350 Van Spark Plug 8 Piece Set V8 7.5L ACDelco R43TS |
| 1985-1996 | Ford | E350 Van | Ford E350 Van Spark Plug 8 Piece Set V8 5.8L ACDelco R43TS |
| 1984-1996 | Ford | F150 Truck | Ford F150 Truck Spark Plug 8 Piece Set V8 5.8L ACDelco R43TS |
| 1985-1986 | Ford | F150 Truck | Ford F150 Truck Spark Plug 8 Piece Set V8 5.0L ACDelco R43TS |
| 1984-1997 | Ford | F250 Truck | Ford F250 Truck Spark Plug 8 Piece Set V8 5.8L ACDelco R43TS |
| 1985-1986 | Ford | F250 Truck | Ford F250 Truck Spark Plug 8 Piece Set V8 5.0L ACDelco R43TS |
| 1984-1997 | Ford | F350 Truck | Ford F350 Truck Spark Plug 8 Piece Set V8 5.8L ACDelco R43TS |
| 1970-1972 | Ford | Mustang | Ford Mustang Spark Plug 8 Piece Set V8 5.0L ACDelco R43TS |
| 1971 | Ford | Mustang | Ford Mustang Spark Plug 8 Piece Set V8 5.8L ACDelco R43TS |
| 1984-1986 | GMC | C1500 Truck | GMC C1500 Truck Spark Plug 8 Piece Set V8 5.7L ACDelco R43TS |
| 1984-1986 | GMC | C1500 Truck | GMC C1500 Truck Spark Plug 8 Piece Set V8 5.0L ACDelco R43TS |
| 1984-1986 | GMC | C2500 Truck | GMC C2500 Truck Spark Plug 8 Piece Set V8 5.7L ACDelco R43TS |
| 1986 | GMC | Caballero | GMC Caballero Spark Plug 8 Piece Set V8 5.0L ACDelco R43TS |
| 1984-1986 | GMC | G1500 | GMC G1500 Spark Plug 8 Piece Set V8 5.0L ACDelco R43TS |
| 1985-1986 | GMC | G1500 | GMC G1500 Spark Plug 8 Piece Set V8 5.7L ACDelco R43TS |
| 1984-1986 | GMC | G2500 | GMC G2500 Spark Plug 8 Piece Set V8 5.0L ACDelco R43TS |
| 1985-1986 | GMC | G2500 | GMC G2500 Spark Plug 8 Piece Set V8 5.7L ACDelco R43TS |
| 1985-1986 | GMC | G3500 | GMC G3500 Spark Plug 8 Piece Set V8 5.7L ACDelco R43TS |
| 1988 | GMC | G3500 | GMC G3500 Spark Plug 8 Piece Set V8 7.4L 454ci ACDelco R43TS |
| 1984-1986 | GMC | Jimmy Full Size | GMC Jimmy Full Size Spark Plug 8 Piece Set V8 5.7L ACDelco R43TS |
| 1984-1986 | GMC | K1500 Truck | GMC K1500 Truck Spark Plug 8 Piece Set V8 5.7L ACDelco R43TS |
| 1984-1986 | GMC | K2500 Truck | GMC K2500 Truck Spark Plug 8 Piece Set V8 5.7L ACDelco R43TS |
| 1987 | GMC | P2500 | GMC P2500 Spark Plug 8 Piece Set V8 5.7L ACDelco R43TS |
| 1987 | GMC | P3500 | GMC P3500 Spark Plug 8 Piece Set V8 5.7L ACDelco R43TS |
| 1984-1986 | GMC | Suburban C1500 | GMC Suburban C1500 Spark Plug 8 Piece Set V8 5.0L ACDelco R43TS |
| 1984-1986 | GMC | Suburban C1500 | GMC Suburban C1500 Spark Plug 8 Piece Set V8 5.7L ACDelco R43TS |
| 1984-1986 | GMC | Suburban C2500 | GMC Suburban C2500 Spark Plug 8 Piece Set V8 5.7L ACDelco R43TS |
| 1984-1986 | GMC | Suburban K1500 | GMC Suburban K1500 Spark Plug 8 Piece Set V8 5.0L ACDelco R43TS |
| 1984-1986 | GMC | Suburban K1500 | GMC Suburban K1500 Spark Plug 8 Piece Set V8 5.7L ACDelco R43TS |
| 1984-1986 | GMC | Suburban K2500 | GMC Suburban K2500 Spark Plug 8 Piece Set V8 5.7L ACDelco R43TS |
| 1986 | Pontiac | Bonneville | Pontiac Bonneville Spark Plug 8 Piece Set V8 5.0L ACDelco R43TS |
| 1985-1987 | Pontiac | Firebird | Pontiac Firebird Spark Plug V8 5.0L (8th Vin Digit F) 8 Piece Set ACDelco R43TS |
| 1987 | Pontiac | Firebird | Pontiac Firebird Spark Plug 8 Piece Set V8 5.7L ACDelco R43TS |
| 1986 | Pontiac | Grand Prix | Pontiac Grand Prix Spark Plug 8 Piece Set V8 5.0L ACDelco R43TS |
| 1986 | Pontiac | Parisienne | Pontiac Parisienne Spark Plug 8 Piece Set V8 5.0L ACDelco R43TS |

Brand #: R43TS