1AESB00065-Serpentine Belt
Replaces
Serpentine Belt - 1AESB00065
1AESB00065
Specifications:
Brand New
Replaces dealer part numbers: 3239132, 3241096, 4854259, 6PK2322, 1W7Z8620AA, E0AE8620AB, E2ZZ8620A, E4DE8620DA, E4DZ8620D, F1TZ8620A, XF7E8620AA, XF7Z8620AA, 12569531, 12575216, 12580826, 12588407, 12593774, 12593776, 12611636, 13600002, 14102593, 24506524, 6PK2318, 6PK2320, 6PK2322, 6PK2325, 6PK2326, 915K6
Built to strict quality control standards
Direct replacement

Rib Number: 6
Top Width: 0.807 Inches
Effective Length: 91.56 Inches (232.6 cm)

Item Condition: New

Wear and Tear
This item is backed by a 60-day warranty against defects in materials and workmanship under its intended use. The warranty does not cover normal wear and tear.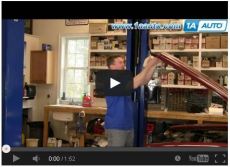 step : Removing the Serpentine Belt (0:40)

Attach a 3/8" drive ratchet to the serpentine belt tensioner
Turn the tensioner clockwise to loosen the belt
Pull the belt off the alternator
Release the tensioner
Pull the belt off by hand

step : Reinstalling the Serpentine Belt (2:55)

Familiarize yourself with the route of the serpentine belt
Loop the belt around the crank pulley
Bring it around the fan pulley
Bring it around the A/C Pulley
Bring it around the idler pulley
Bring it around the alternator
Check that the belt is routed correctly
Pull the tensioner clockwise with the 3/8 inch ratchet
Pull the belt over the tensioner
Release the tensioner
Tools needed for replacement:
Ratchets & Related

Swivel
3/8 Inch Drive Ratchet
A Piece of Pipe (for leverage)
It was the wrong belt
The local repair shop told me the belt was too large. It looked like it was a bit too wide compared to the old one. I had to buy another belt from the auto repair shop.
Worked as advertised.
With a order of radiatior, fan shroud, fan clutch and serpentine belt this was the only part of the order that was "Plug and Play" and no problems with. Read previous reviews and proceed with caution and notes. 1A auto parts isnt the problem but the vendors that supply the inferior designed products. Maybe 1A might get the customer feedback to approach vendors with for positive redesign. Order arrived within delivery window and positive professional service and delivery by UPS.
Customer Q&A
Ask a question to 1A Auto customers who purchased the product
No questions have been asked about this item.
| Year | Make | Model | Description |
| --- | --- | --- | --- |
| 1981-1982 | American Motors | Concord | American Motors Concord Serpentine Belt L6 4.2L (8th Vin Digit C) with with Air Conditioning and 63 Amp Alternator |
| 1981-1982 | American Motors | Eagle | American Motors Eagle Serpentine Belt L6 4.2L (8th Vin Digit C) with with Air Conditioning and 63 Amp Alternator |
| 1981-1982 | American Motors | Spirit | American Motors Spirit Serpentine Belt L6 4.2L (8th Vin Digit C) with with Air Conditioning and 63 Amp Alternator |
| 2006-2008 | Buick | Lucerne | Buick Lucerne Serpentine Belt V6 3.8L (8th Vin Digit 2) |
| 2004-2006 | Buick | Rainier | Buick Rainier Serpentine Belt L6 4.2L (8th Vin Digit S) with 150 Amp Alternator |
| 2007 | Buick | Rainier | Buick Rainier Serpentine Belt L6 4.2L (8th Vin Digit S) |
| 1999-2002 | Buick | Regal | Buick Regal Main Serpentine Belt V6 3.8L Supercharged (8th Vin Digit 1) |
| 1999-2002 | Buick | Regal | Buick Regal Serpentine Belt V6 3.8L (8th Vin Digit K) |
| 1987 | Chevy | Camaro | Chevy Camaro Serpentine Belt V6 2.8L (8th Vin Digit S) with with Air Conditioning without Air Pump |
| 2004-2006 | Chevy | Colorado | Chevy Colorado Serpentine Belt L4 2.8L (8th Vin Digit 8) with with Air Conditioning |
| 2004-2006 | Chevy | Colorado | Chevy Colorado Serpentine Belt L5 3.5L (8th Vin Digit 6) with with Air Conditioning |
| 2007-2012 | Chevy | Colorado | Chevy Colorado Serpentine Belt L4 2.9L (8th Vin Digit 9) |
| 2007-2012 | Chevy | Colorado | Chevy Colorado Serpentine Belt L5 3.7L (8th Vin Digit E) |
| 2000-2002 | Chevy | Impala | Chevy Impala Serpentine Belt V6 3.8L (8th Vin Digit K) |
| 2000-2002 | Chevy | Monte Carlo | Chevy Monte Carlo Serpentine Belt V6 3.8L (8th Vin Digit K) |
| 2002-2006 | Chevy | Trailblazer | Chevy Trailblazer Serpentine Belt L6 4.2L (8th Vin Digit S) with 150 Amp Alternator |
| 2007-2009 | Chevy | Trailblazer | Chevy Trailblazer Serpentine Belt L6 4.2L (8th Vin Digit S) |
| 1998-2002 | Dodge | Dakota | Dodge Dakota Serpentine Belt L4 2.5L (8th Vin Digit P) with with Air Conditioning |
| 2000-2002 | Ford | Crown Victoria | Ford Crown Victoria Serpentine Belt V8 4.6L CNG (8th Vin Digit 9) |
| 2000-2002 | Ford | Crown Victoria | Ford Crown Victoria Serpentine Belt V8 4.6L (8th Vin Digit W) |
| 1985 | Ford | LTD | Ford LTD Serpentine Belt V8 5.0L Carbureted (8th Vin Digit M) with with Air Conditioning and Police Package |
| 1986 | Ford | LTD | Ford LTD Serpentine Belt V6 3.8L (8th Vin Digit 3) with Dealer Installed Air Conditioning |
| 1986 | Ford | Mustang | Ford Mustang Serpentine Belt V6 3.8L (8th Vin Digit 3) with Dealer Installed Air Conditioning |
| 1986 | Ford | Thunderbird | Ford Thunderbird Serpentine Belt V6 3.8L (8th Vin Digit 3) with Dealer Installed Air Conditioning |
| 2004-2006 | GMC | Canyon | GMC Canyon Serpentine Belt L4 2.8L (8th Vin Digit 8) with with Air Conditioning |
| 2004-2006 | GMC | Canyon | GMC Canyon Serpentine Belt L5 3.5L (8th Vin Digit 6) with with Air Conditioning |
| 2007-2012 | GMC | Canyon | GMC Canyon Serpentine Belt L4 2.9L (8th Vin Digit 9) |
| 2007-2012 | GMC | Canyon | GMC Canyon Serpentine Belt L5 3.7L (8th Vin Digit E) |
| 2002-2006 | GMC | Envoy | GMC Envoy Serpentine Belt L6 4.2L (8th Vin Digit S) with 150 Amp Alternator |
| 2007-2009 | GMC | Envoy | GMC Envoy Serpentine Belt L6 4.2L (8th Vin Digit S) |
| 2006 | Hummer | H3 | Hummer H3 Serpentine Belt L5 3.5L (8th Vin Digit 6) |
| 2007-2010 | Hummer | H3 | Hummer H3 Serpentine Belt L5 3.7L (8th Vin Digit E) |
| 2009-2010 | Hummer | H3T | Hummer H3T Serpentine Belt L5 3.7L (8th Vin Digit E) |
| 2003-2005 | Isuzu | Ascender | Isuzu Ascender Serpentine Belt L6 4.2L (8th Vin Digit S) with 150 Amp Alternator |
| 2006-2008 | Isuzu | Ascender | Isuzu Ascender Serpentine Belt L6 4.2L (8th Vin Digit S) |
| 2006 | Isuzu | i-280 | Isuzu i-280 Serpentine Belt L4 2.8L (8th Vin Digit 8) with with Air Conditioning |
| 2007-2008 | Isuzu | i-290 | Isuzu i-290 Serpentine Belt L4 2.9L (8th Vin Digit 9) |
| 2006 | Isuzu | i-350 | Isuzu i-350 Serpentine Belt L5 3.5L (8th Vin Digit 6) with with Air Conditioning |
| 2007-2008 | Isuzu | i-370 | Isuzu i-370 Serpentine Belt L5 3.7L (8th Vin Digit E) |
| 1981-1982 | Jeep | CJ5 | Jeep CJ5 Serpentine Belt L6 4.2L (8th Vin Digit C) with with Air Conditioning and 63 Amp Alternator |
| 1981-1982 | Jeep | CJ7 | Jeep CJ7 Serpentine Belt L6 4.2L (8th Vin Digit C) with with Air Conditioning and 63 Amp Alternator |
| 1981-1982 | Jeep | CJ8 Scrambler | Jeep CJ8 Scrambler Serpentine Belt L6 4.2L (8th Vin Digit C) with with Air Conditioning and 63 Amp Alternator |
| 1981-1982 | Jeep | Cherokee | Jeep Cherokee Serpentine Belt L6 4.2L (8th Vin Digit C) with with Air Conditioning and 63 Amp Alternator |
| 1981-1982 | Jeep | J Series Pickup (SJ) | Jeep J Series Pickup (SJ) Serpentine Belt L6 4.2L (8th Vin Digit C) with with Air Conditioning and 63 Amp Alternator |
| 1981-1982 | Jeep | Wagoneer | Jeep Wagoneer Serpentine Belt L6 4.2L (8th Vin Digit C) with with Air Conditioning and 63 Amp Alternator |
| 2000-2001 | Lincoln | Town Car | Lincoln Town Car Serpentine Belt V8 4.6L (8th Vin Digit W) |
| 1986 | Mercury | Capri | Mercury Capri Serpentine Belt V6 3.8L (8th Vin Digit 3) with Dealer Installed Air Conditioning |
| 1986 | Mercury | Cougar | Mercury Cougar Serpentine Belt V6 3.8L (8th Vin Digit 3) with Dealer Installed Air Conditioning |
| 2000-2002 | Mercury | Grand Marquis | Mercury Grand Marquis Serpentine Belt V8 4.6L (8th Vin Digit W) |
| 1985 | Mercury | Marquis | Mercury Marquis Serpentine Belt V8 5.0L (8th Vin Digit M) with with Air Conditioning and Police Package |
| 1986 | Mercury | Marquis | Mercury Marquis Serpentine Belt V6 3.8L (8th Vin Digit 3) with Dealer Installed Air Conditioning |
| 2002-2004 | Oldsmobile | Bravada | Olds Bravada Serpentine Belt L6 4.2L (8th Vin Digit S) with 150 Amp Alternator |
| 1987 | Pontiac | Firebird | Pontiac Firebird Serpentine Belt V6 2.8L (8th Vin Digit S) with with Air Conditioning without Air Pump |
| 1999-2002 | Pontiac | Grand Prix | Pontiac Grand Prix Main Serpentine Belt V6 3.8L Supercharged (8th Vin Digit 1) |
| 1999-2002 | Pontiac | Grand Prix | Pontiac Grand Prix Serpentine Belt V6 3.8L (8th Vin Digit K) |
| 2005-2008 | Saab | 9-7X | Saab 9-7X Serpentine Belt L6 4.2L (8th Vin Digit S) with 150 Amp Alternator |
| 2009 | Saab | 9-7X | Saab 9-7X Serpentine Belt L6 4.2L (8th Vin Digit S) |