1AESB00058-Serpentine Belt
Replaces
Serpentine Belt - 1AESB00058
1AESB00058
This serpentine belt is a new aftermarket part. It is built to strict quality control standards and makes a great replacement.
Specifications:
Number of Ribs: 6
Effective length: 99.08 inches(2517 mm)

Replaces dealer part numbers: 0FB86990, 4612274, 4612411, 4612411A, 4612411B, 4612460, 4612830, 4798386, 4798388, 5281111, 2L3E8620DA, 2L3E 8620 DA, 2L3E8620DB, 2L3E 8620 DB, 2L3E8620DC, 2L3E 8620 DC, 2L3Z8620DB, 2L3Z 8620 DB, 2LE8620DC, 2LE8 620 DC, 5C3E8620EA, 5C3E 8620 EA, 9L3E8620BA, 9L3E 8620 BA, E7TA8620AMA, E7TA 8620 AMA, E7TA8620AMB, E7TA 8620 AMB, E7TA8620MA, E7TA 8620 MA, E7TA8620MB, E7TA 8620 MB, E7TE8620AMA, E7TE 8620 AMA, E7TZ8620A, E7TZ 8620 A, E7TZ8620D, E7TZ 8620 D, E7UA8620AJA, E7UA 8620 AJA, E8TZ8620J, E8TZ 8620 J, E8TZ8620S, E8TZ 8620 S, E9SE8620JB, E9SE 8620 JB, E9SZ8620H, E9SZ 8620 H, F0TA8620PA, F0TA 8620 PA, F1TS 8620 BA, F3TA8620FA, F3TA 8620 FA, F3TZ8620J, F3TZ 8620 J, F4TA8620AFA, F4TA 8620 AFA, F4TA8620APA, F4TA 8620 APA, F5UE8620CA, F5UE 8620 CA, F6TE8620EA, F6TE 8620 EA, F6UE8620CA, F6UE 8620 CA, F6UZ8620CA, F6UZ 8620 CA, F6TE8620EA, F6TE 8620 EA, F6UE8620CA, F6UE 8620 CA, F6UZ8620CA, F6UZ 8620 CA, WR2T8620AA, WR2T 8620 AA, GT4060990, GT40 60990, 10051597, 10069294, 10069963, 14097664, 22514557, 810069290, 8100692940, 81006 92940, 0119970992, 01 19 970 992, 0119974592, 01 19 974 592, 1199970192, 11 99 970 192, 1199979192, 11 99 979 192, 8653617
Built to strict quality control standards
Direct replacement
Wear and Tear
This item is backed by a 60-day warranty against defects in materials and workmanship under its intended use. The warranty does not cover normal wear and tear. Please keep your invoice for proof of this warranty.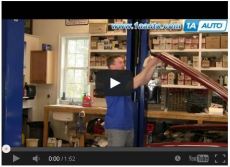 step : Removing the Serpentine Belt (0:41)

Familiarize yourself with the route of the serpentine belt
Insert the 1/2 inch ratchet into the tensioner
Turn the tensioner clockwise to loosen the belt
Pull the belt off the alternator
Release the tensioner
Pull the belt off by hand

step : Reinstalling the Serpentine Belt (2:05)

Thread the belt between the tesnioner and the idler pulley
Loop the belt around the A/C Pulley
Bring it around the crank pulley
Bring it around the water pump
Bring it around the power steering pulley
Pull the tensioner clockwise with the 1/2 inch ratchet and a pipe for leverage
Pull the belt over the alternator
Release the tensioner
Tools needed for replacement:
Ratchets & Related

1/2 Inch Ratchet
1/2 Inch Breaker Bar
A Piece of Pipe (for leverage)
Browse 1 question
Browse 1 question and 1 answer
Does this belt fit 6.7 powerstroke?
BEST ANSWER:
We do not currently carry this part for your vehicle. You can try searching a website called Partfinder.com, which you can find here: http://www.partfinder.com. If you have any questions about other parts we carry, please feel free to give us a call or send us an email.
Vehicle Fit
1990-1993 Chevy Astro Serpentine Belt V6 4.3L with with Air Conditioning
1990-1992 Chevy Camaro Serpentine Belt V6 3.1L with with Air Conditioning
1989-1990 Chevy Caprice Serpentine Belt V8 5.0L with 120 Amp Alternator
1989-1990 Chevy Caprice Police Package Serpentine Belt V8 5.7L
1992-1994 Chevy Van G-Series Serpentine Belt V6 4.3L with with Air Conditioning
1992-1994 Chevy Van G-Series Serpentine Belt V8 5.0L with with Air Conditioning
1992-1994 Chevy Van G-Series Serpentine Belt V8 5.7L with with Air Conditioning
1990-1993 Chrysler Town & Country Serpentine Belt V6 3.3L with with Air Conditioning
1994-1995 Chrysler Town & Country Serpentine Belt V6 3.8L with with Air Conditioning
1990-1995 Dodge Caravan Serpentine Belt V6 3.3L with with Air Conditioning
1990-1995 Dodge Grand Caravan Serpentine Belt V6 3.3L with with Air Conditioning
1994-1995 Dodge Grand Caravan Serpentine Belt V6 3.8L with with Air Conditioning
1988-1990 Ford Bronco Serpentine Belt L6 4.9L with with Air Conditioning & Manual Transmission
1993-1996 Ford Bronco Serpentine Belt V8 5.0L
1987-1993 Ford E150 Van Serpentine Belt L6 4.9L without Air Conditioning
1996 Ford E150 Van Serpentine Belt L6 4.9L with 130 Amp Alternator without Air Conditioning
1987-1993 Ford E250 Van Serpentine Belt L6 4.9L without Air Conditioning
1996 Ford E250 Van Serpentine Belt L6 4.9L with 130 Amp Alternator without Air Conditioning
1987-1993 Ford E350 Van Serpentine Belt L6 4.9L without Air Conditioning
1996 Ford E350 Van Serpentine Belt L6 4.9L with 130 Amp Alternator without Air Conditioning
2002-2005 Ford Excursion Serpentine Belt V10 6.8L
2002 Ford Excursion Serpentine Belt V8 5.4L
2005 Ford Excursion Serpentine Belt V8 5.4L
2004 Ford F150 Heritage Truck Serpentine Belt V8 4.6L with with Air Conditioning
1987-1990 Ford F150 Truck Serpentine Belt L6 4.9L with with Air Conditioning & Manual Transmission
1993-1996 Ford F150 Truck Serpentine Belt V8 5.0L
2002-2003 Ford F150 Truck Serpentine Belt V8 5.4L V10 6.8L with with Air Conditioning
2002-2003 Ford F150 Truck Serpentine Belt V8 4.6L with with Air Conditioning
2003 Ford F250 Super Duty Truck Serpentine Belt V8 5.4L with with Air Conditioning
2007-2011 Ford F250 Super Duty Truck Serpentine Belt V8 5.4L with with Air Conditioning (excluding Cold Weather Package)
2007-2011 Ford F250 Super Duty Truck Serpentine Belt V10 6.8L with with Air Conditioning (excluding Cold Weather Package)
1987-1990 Ford F250 Truck Serpentine Belt L6 4.9L & Manual Transmission
1993-1996 Ford F250 Truck Serpentine Belt V8 5.0L
2003 Ford F350 Super Duty Truck Serpentine Belt V8 5.4L with with Air Conditioning
2005-2011 Ford F350 Super Duty Truck Serpentine Belt V10 6.8L V6 4.3L with with Air Conditioning (excluding Cold Weather Package)
2007-2011 Ford F350 Super Duty Truck Serpentine Belt V8 5.4L with with Air Conditioning (excluding Cold Weather Package)
1987-1990 Ford F350 Truck Serpentine Belt L6 4.9L with with Air Conditioning & Manual Transmission
2005-2008 Ford F450 Truck Serpentine Belt V10 6.8L with with Air Conditioning (excluding Cold Weather Package)
2005-2007 Ford F550 Truck Serpentine Belt V10 6.8L with with Air Conditioning (excluding Cold Weather Package)
1987-1993 GMC Safari Serpentine Belt V6 4.3L with with Air Conditioning
1992-1994 GMC Van Serpentine Belt V8 5.0L with with Air Conditioning
1992-1994 GMC Van Serpentine Belt V6 4.3L with with Air Conditioning
1992-1994 GMC Van Serpentine Belt V8 5.7L with with Air Conditioning
1989-1991 Isuzu Trooper II Serpentine Belt V6 2.8L
1990-1992 Mercedes Benz 500SL Serpentine Belt
1997 Mercedes Benz E420 Serpentine Belt
1996-1999 Mercedes Benz S420 Serpentine Belt
1996-1999 Mercedes Benz S500 Serpentine Belt
1996-1998 Mercedes Benz SL500 Serpentine Belt
1990-1995 Plymouth Grand Voyager Serpentine Belt V6 3.3L with with Air Conditioning
1994-1995 Plymouth Grand Voyager Serpentine Belt V6 3.8L with with Air Conditioning
1990-1995 Plymouth Voyager Serpentine Belt V6 3.3L with with Air Conditioning
2007-2009 Volvo S80 Serpentine Belt V8 4.4L
2005-2009 Volvo XC90 Serpentine Belt V8 4.4L
Part #: 1AESB00058


Ships Same Day for orders placed by 4 P.M. ET