1AEBT00027-Serpentine Belt Tensioner with Pulley
Replaces
Serpentine Belt Tensioner with Pulley - 1AEBT00027
1AEBT00027
This replacement serpentine belt tensioner is just what you need to get your vehicle in good working order again! If you are hearing a whirring noise from the front of your engine or if your belt often screeches you may be in need of a new belt tensioner. This part commonly wears out between 60,000 and 70,000 Miles. If it fails suddenly it can leave you stranded.
Specifications:
Replaces one of many dealer part numbers including: 1L3Z 6B209 AA, 1L3Z6B209AA, 1L3Z 6B209 BA, 1L3Z6B209BA
Brand new, not rebuilt or remanufactured
Bolts to front of engine
Built to strict quality control standards
Direct replacement for the following engines

as listed

:

V8 4.6L (8th Vin Digit 6 or W)
V8 5.4L (8th Vin Digit 3, 5, A, L, M, R, or Z)
V10 6.8L (8th Vin Digit S)

Fits vehicles with factory installed A/C (Air Conditioning)
Note: To ensure fit please match the 8th digit of your VIN number to the VIN code in the title. Your vehicles VIN number can be found in the lower left corner of the windshield or on your registration.
Item Condition: New

Lifetime Warranty
This item is backed by a Limited Lifetime Warranty. In the event this item should fail due to manufacturing defects during intended use, we will exchange the part free of charge (excludes shipping charges) for the original purchaser.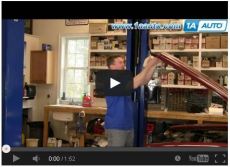 step : Disconnect the battery (1:14)

Use an 8 mm wrench to disconnect the negative battery cable.

step : Remove the serpentine belt. (1:25)

Locate your serpentine belt routing diagram or draw yourself one.
Use a 1/2 inch ratchet bar on the belt tensioner to loosen the tension on the serpentine belt.
Remove the serpentine belt and check the belt for cracks, frays or flaws.
Remove the 10 mm bolts mounting the serpentine belt tensioner.

step : Install the new tensioner (4:10)

Bolt the tensioner in using your 10 mm socket and ratchet.
Use a 1/2 inch ratchet to install the serpentine belt.
Use your diagram to route the belt properly.
Reconnect your battery using your 8 mm wrench.
Tools needed for replacement:
Ratchets & Related

Ratchet
1/2 Inch Ratchet

Sockets - Metric

10mm Socket

Wrenches - Metric

8mm Wrench
belt tensioner
I am very satisfied with 1A Auto and their parts. I did have a problem with the belt tensioner of being incorrect for my truck. Had to buy from a local auto parts store. I will continue to use and recommend you to others for their auto needs. Satisfied customer, Walter Ingram
Customer Q&A
Ask a question to 1A Auto customers who purchased the product
No questions have been asked about this item.
| Year | Make | Model | Description |
| --- | --- | --- | --- |
| 1997-1999 | Ford | E150 Van | Ford E150 Van Serpentine Belt Tensioner with Pulley V8 4.6L (8th Vin Digit 6) with Air Conditioning |
| 1997-2004 | Ford | E150 Van | Ford E150 Van Serpentine Belt Tensioner with Pulley V8 5.4L (8th Vin Digit M) with Air Conditioning |
| 1997-2004 | Ford | E150 Van | Ford E150 Van Serpentine Belt Tensioner with Pulley V10 6.8L (8th Vin Digit 3) with Air Conditioning |
| 1997-2004 | Ford | E150 Van | Ford E150 Van Serpentine Belt Tensioner with Pulley V8 5.4L (8th Vin Digit L) with Air Conditioning |
| 1998-1999 | Ford | E150 Van | Ford E150 Van Serpentine Belt Tensioner with Pulley V8 5.4L (8th Vin Digit Z) with Air Conditioning |
| 1999-2002 | Ford | E150 Van | Ford E150 Van Serpentine Belt Tensioner with Pulley V8 4.6L (8th Vin Digit W) with Air Conditioning |
| 1997-1999 | Ford | E250 Van | Ford E250 Van Serpentine Belt Tensioner with Pulley V8 4.6L (8th Vin Digit 6) with Air Conditioning |
| 1997-2004 | Ford | E250 Van | Ford E250 Van Serpentine Belt Tensioner with Pulley V10 6.8L (8th Vin Digit 3) with Air Conditioning |
| 1997-2004 | Ford | E250 Van | Ford E250 Van Serpentine Belt Tensioner with Pulley V8 5.4L (8th Vin Digit M) with Air Conditioning |
| 1997-2004 | Ford | E250 Van | Ford E250 Van Serpentine Belt Tensioner with Pulley V8 5.4L (8th Vin Digit L) with Air Conditioning |
| 1998-1999 | Ford | E250 Van | Ford E250 Van Serpentine Belt Tensioner with Pulley V8 5.4L (8th Vin Digit Z) with Air Conditioning |
| 1999-2002 | Ford | E250 Van | Ford E250 Van Serpentine Belt Tensioner with Pulley V8 4.6L (8th Vin Digit W) with Air Conditioning |
| 1997-1999 | Ford | E350 Van | Ford E350 Van Serpentine Belt Tensioner with Pulley V8 4.6L (8th Vin Digit 6) with Air Conditioning |
| 1997-2004 | Ford | E350 Van | Ford E350 Van Serpentine Belt Tensioner with Pulley V8 5.4L (8th Vin Digit M) with Air Conditioning |
| 1997-2004 | Ford | E350 Van | Ford E350 Van Serpentine Belt Tensioner with Pulley V10 6.8L (8th Vin Digit 3) with Air Conditioning |
| 1997-2004 | Ford | E350 Van | Ford E350 Van Serpentine Belt Tensioner with Pulley V8 5.4L (8th Vin Digit L) with Air Conditioning |
| 1998-1999 | Ford | E350 Van | Ford E350 Van Serpentine Belt Tensioner with Pulley V8 5.4L (8th Vin Digit Z) with Air Conditioning |
| 1999-2002 | Ford | E350 Van | Ford E350 Van Serpentine Belt Tensioner with Pulley V8 4.6L (8th Vin Digit W) with Air Conditioning |
| 1999-2004 | Ford | E350 Van Super Duty | Ford E350 Van Super Duty Serpentine Belt Tensioner with Pulley V8 5.4L (8th Vin Digit M) with Air Conditioning |
| 1999-2004 | Ford | E350 Van Super Duty | Ford E350 Van Super Duty Serpentine Belt Tensioner with Pulley V10 6.8L (8th Vin Digit 3) with Air Conditioning |
| 1999-2004 | Ford | E350 Van Super Duty | Ford E350 Van Super Duty Serpentine Belt Tensioner with Pulley V8 5.4L (8th Vin Digit L) with Air Conditioning |
| 1999 | Ford | E350 Van Super Duty | Ford E350 Van Super Duty Serpentine Belt Tensioner with Pulley V8 5.4L (8th Vin Digit Z) with Air Conditioning |
| 2000-2005 | Ford | Excursion | Ford Excursion Serpentine Belt Tensioner with Pulley V8 5.4L (8th Vin Digit L) |
| 2000-2005 | Ford | Excursion | Ford Excursion Serpentine Belt Tensioner with Pulley V8 6.0L (8th Vin Digit S) |
| 1997-2002 | Ford | Expedition | Ford Expedition Serpentine Belt Tensioner with Pulley V8 5.4L (8th Vin Digit L) |
| 1997-2002 | Ford | Expedition | Ford Expedition Serpentine Belt Tensioner with Pulley V8 4.6L (8th Vin Digit W) |
| 1997-2000 | Ford | Expedition | Ford Expedition Serpentine Belt Tensioner with Pulley V8 4.6L (8th Vin Digit 6) |
| 2004 | Ford | F150 Heritage Truck | Ford F150 Heritage Truck Serpentine Belt Tensioner with Pulley V8 5.4L (8th Vin Digit L) with Air Conditioning |
| 2004 | Ford | F150 Heritage Truck | Ford F150 Heritage Truck Serpentine Belt Tensioner with Pulley V8 5.4L (8th Vin Digit M) with Air Conditioning |
| 2004 | Ford | F150 Heritage Truck | Ford F150 Heritage Truck Serpentine Belt Tensioner with Pulley V8 5.4L (8th Vin Digit Z) with Air Conditioning |
| 2004 | Ford | F150 Heritage Truck | Ford F150 Heritage Truck Serpentine Belt Tensioner with Pulley V8 4.6L (8th Vin Digit W) with Air Conditioning |
| 2004 | Ford | F150 Heritage Truck | Ford F150 Heritage Truck Serpentine Belt Tensioner with Pulley V8 5.4L (8th Vin Digit 3) with Air Conditioning |
| 1997-1999 | Ford | F150 Truck | Ford F150 Truck Serpentine Belt Tensioner with Pulley V8 4.6L (8th Vin Digit 6) with Air Conditioning |
| 1997-2004 | Ford | F150 Truck | Ford F150 Truck Serpentine Belt Tensioner with Pulley V8 5.4L (8th Vin Digit M) with Air Conditioning |
| 1997-2004 | Ford | F150 Truck | Ford F150 Truck Serpentine Belt Tensioner with Pulley V8 5.4L (8th Vin Digit L) with Air Conditioning |
| 1997-2004 | Ford | F150 Truck | Ford F150 Truck Serpentine Belt Tensioner with Pulley V8 4.6L (8th Vin Digit W) with Air Conditioning |
| 1998-2004 | Ford | F150 Truck | Ford F150 Truck Serpentine Belt Tensioner with Pulley V8 5.4L (8th Vin Digit Z) with Air Conditioning |
| 1999-2004 | Ford | F150 Truck | Ford F150 Truck Serpentine Belt Tensioner with Pulley V8 5.4L (8th Vin Digit 3) with Air Conditioning |
| 2002-2003 | Ford | F150 Truck | Ford F150 Truck Serpentine Belt Tensioner with Pulley V8 4.6L (8th Vin Digit 6) with Air Conditioning |
| 1997-1999 | Ford | F250 Light Duty Truck | Ford F250 Light Duty Truck Serpentine Belt Tensioner with Pulley V8 5.4L (8th Vin Digit L) with Air Conditioning |
| 1997-1999 | Ford | F250 Light Duty Truck | Ford F250 Light Duty Truck Serpentine Belt Tensioner with Pulley V8 5.4L (8th Vin Digit M) with Air Conditioning |
| 1997-1999 | Ford | F250 Light Duty Truck | Ford F250 Light Duty Truck Serpentine Belt Tensioner with Pulley V8 4.6L (8th Vin Digit W) with Air Conditioning |
| 1997-1999 | Ford | F250 Light Duty Truck | Ford F250 Light Duty Truck Serpentine Belt Tensioner with Pulley V8 4.6L (8th Vin Digit 6) with Air Conditioning |
| 1998-1999 | Ford | F250 Light Duty Truck | Ford F250 Light Duty Truck Serpentine Belt Tensioner with Pulley V8 5.4L (8th Vin Digit Z) with Air Conditioning |
| 1999-2004 | Ford | F250 Super Duty Truck | Ford F250 Super Duty Truck Serpentine Belt Tensioner with Pulley V8 5.4L (8th Vin Digit L) with Air Conditioning |
| 1999-2004 | Ford | F250 Super Duty Truck | Ford F250 Super Duty Truck Serpentine Belt Tensioner with Pulley V8 5.4L (8th Vin Digit M) with Air Conditioning |
| 1999-2004 | Ford | F250 Super Duty Truck | Ford F250 Super Duty Truck Serpentine Belt Tensioner with Pulley V8 5.4L (8th Vin Digit Z) with Air Conditioning |
| 1999-2004 | Ford | F250 Super Duty Truck | Ford F250 Super Duty Truck Serpentine Belt Tensioner with Pulley V8 5.4L (8th Vin Digit 3) with Air Conditioning |
| 1999-2004 | Ford | F250 Super Duty Truck | Ford F250 Super Duty Truck Serpentine Belt Tensioner with Pulley V10 6.8L (8th Vin Digit 3) with Air Conditioning |
| 1999-2004 | Ford | F350 Super Duty Truck | Ford F350 Super Duty Truck Serpentine Belt Tensioner with Pulley V8 5.4L (8th Vin Digit L) with Air Conditioning |
| 1999-2004 | Ford | F350 Super Duty Truck | Ford F350 Super Duty Truck Serpentine Belt Tensioner with Pulley V8 5.4L (8th Vin Digit M) with Air Conditioning |
| 1999-2004 | Ford | F350 Super Duty Truck | Ford F350 Super Duty Truck Serpentine Belt Tensioner with Pulley V8 5.4L (8th Vin Digit Z) with Air Conditioning |
| 2002 | Lincoln | Blackwood | Lincoln Blackwood Serpentine Belt Tensioner with Pulley V8 5.4L (8th Vin Digit A) |
| 1998-1999 | Lincoln | Navigator | Lincoln Navigator Serpentine Belt Tensioner with Pulley V8 5.4L (8th Vin Digit L) |
| 1999-2001 | Lincoln | Navigator | Lincoln Navigator Serpentine Belt Tensioner with Pulley V8 5.4L (8th Vin Digit A) |
| 2001-2002 | Lincoln | Navigator | Lincoln Navigator Serpentine Belt Tensioner with Pulley V8 5.4L (8th Vin Digit R) |
Part #: 1AEBT00027
Order must be placed by 4pm ET
Get it in: 2 - 4 Business Days
Want it sooner? Choose Next Day Air at Checkout