1AEBT00001-Serpentine Belt Tensioner with Pulley
Replaces
Serpentine Belt Tensioner with Pulley - 1AEBT00001
1AEBT00001
This replacement serpentine belt tensioner is just what you need to get your vehicle in good working order again! If you are hearing a whirring noise from the front of your engine or if your belt often screeches you may be in need of a new belt tensioner. This part commonly wears out between 60,000 and 70,000 Miles. If it fails suddenly it can leave you stranded.
Specifications:
Direct replacement
Brand new not rebuilt
Replaces dealer part numbers: 10239670, 12456152, 89017309
To ensure fit please match the 8th digit of your VIN number to the VIN code in the title. Your vehicles VIN number can be found in the lower left corner of the windshield or on your registration.
Item Condition: New

Attention California Customers:
WARNING: Cancer and Reproductive Harm - www.P65Warnings.ca.gov.
Lifetime Warranty
This item is backed by a Limited Lifetime Warranty. In the event this item should fail due to manufacturing defects during intended use, we will exchange the part free of charge (excludes shipping charges) for the original purchaser.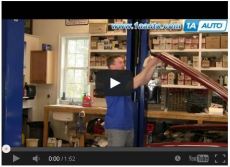 Tools needed for replacement:
Ratchets & Related

Ratchet

Screwdrivers & Related

Flat Blade Screwdriver

Wrenches - Metric

13mm Wrench
15mm Wrench
Fit great included new bolt.
I do not like required text reviews.with a minimum length da dadadadadadada
Worked Flawlessly
The belt tensioner arrived quickly and fit perfectly. It appears to be of better quality than the original equipment.
Belt Tensioner
Thanks now I can ride better wt my new Belt Tensioner
1A auto is the Best
Like always, my parts were exactly what I needed, the video was exceptionally helpful. and the whole process of selecting the part I needed and ordering it was as easy as could be. Thanks 1Aauto!
Customer Q&A
Ask a question to 1A Auto customers who purchased the product
No questions have been asked about this item.
| Year | Make | Model | Description |
| --- | --- | --- | --- |
| 1999-2000 | Cadillac | Escalade | Cadillac Escalade Serpentine Belt Tensioner with Pulley V8 5.7L (8th Vin Digit R) |
| 1996-2001 | Chevy | Astro | Chevy Astro Serpentine Belt Tensioner with Pulley V6 4.3L (8th Vin Digit W) |
| 2002-2005 | Chevy | Astro | Chevy Astro Serpentine Belt Tensioner with Pulley V6 4.3L (8th Vin Digit X) |
| 1996-2002 | Chevy | Blazer S10 | Chevy Blazer S10 Serpentine Belt Tensioner with Pulley V6 4.3L (8th Vin Digit W) |
| 2003-2005 | Chevy | Blazer S10 | Chevy Blazer S10 Serpentine Belt Tensioner with Pulley V6 4.3L (8th Vin Digit X) |
| 1996-1999 | Chevy | C1500 Truck | Chevy C1500 Truck Serpentine Belt Tensioner with Pulley V6 4.3L |
| 1996-1999 | Chevy | C1500 Truck | Chevy C1500 Truck Serpentine Belt Tensioner with Pulley V8 5.7L (8th Vin Digit R) |
| 1996-1999 | Chevy | C1500 Truck | Chevy C1500 Truck Serpentine Belt Tensioner with Pulley V8 5.0L (8th Vin Digit M) |
| 1996-2000 | Chevy | C2500 Truck | Chevy C2500 Truck Serpentine Belt Tensioner with Pulley V8 7.4L (8th Vin Digit J) |
| 1996-2000 | Chevy | C2500 Truck | Chevy C2500 Truck Serpentine Belt Tensioner with Pulley V8 5.7L (8th Vin Digit R) |
| 1996-2000 | Chevy | C2500 Truck | Chevy C2500 Truck Serpentine Belt Tensioner with Pulley V8 5.0L (8th Vin Digit M) |
| 1996-1997 | Chevy | C3500 Truck | Chevy C3500 Truck Serpentine Belt Tensioner with Pulley V8 5.7L (8th Vin Digit K) |
| 1996-2000 | Chevy | C3500 Truck | Chevy C3500 Truck Serpentine Belt Tensioner with Pulley V8 5.7L (8th Vin Digit R) |
| 1996-2000 | Chevy | C3500 Truck | Chevy C3500 Truck Serpentine Belt Tensioner with Pulley V8 7.4L (8th Vin Digit J) |
| 1996-2002 | Chevy | Express 1500 Van | Chevy Express 1500 Van Serpentine Belt Tensioner with Pulley V8 5.0L (8th Vin Digit M) |
| 1996-2002 | Chevy | Express 1500 Van | Chevy Express 1500 Van Serpentine Belt Tensioner with Pulley (8th Vin Digit K) V8 5.7L |
| 1996-2013 | Chevy | Express 1500 Van | Chevy Express 1500 Van Serpentine Belt Tensioner with Pulley V6 4.3L |
| 1996-2002 | Chevy | Express 1500 Van | Chevy Express 1500 Van Serpentine Belt Tensioner with Pulley V8 5.7L (8th Vin Digit R) |
| 1996-2002 | Chevy | Express 2500 Van | Chevy Express 2500 Van Serpentine Belt Tensioner with Pulley V8 5.0L (8th Vin Digit M) |
| 1996-2002 | Chevy | Express 2500 Van | Chevy Express 2500 Van Serpentine Belt Tensioner with Pulley (8th Vin Digit K) V8 5.7L |
| 1996-2002 | Chevy | Express 2500 Van | Chevy Express 2500 Van Serpentine Belt Tensioner with Pulley V8 5.7L (8th Vin Digit R) |
| 1996-2000 | Chevy | Express 3500 Van | Chevy Express 3500 Van Serpentine Belt Tensioner with Pulley (8th Vin Digit J) V8 7.4L |
| 1996-2002 | Chevy | Express 3500 Van | Chevy Express 3500 Van Serpentine Belt Tensioner with Pulley (8th Vin Digit K) V8 5.7L |
| 1996-2000 | Chevy | Express 3500 Van | Chevy Express 3500 Van Serpentine Belt Tensioner with Pulley V8 7.4L (8th Vin Digit N) |
| 1996-2002 | Chevy | Express 3500 Van | Chevy Express 3500 Van Serpentine Belt Tensioner with Pulley V8 5.7L (8th Vin Digit R) |
| 1996-1999 | Chevy | K1500 Truck | Chevy K1500 Truck Serpentine Belt Tensioner with Pulley V6 4.3L |
| 1996-1999 | Chevy | K1500 Truck | Chevy K1500 Truck Serpentine Belt Tensioner with Pulley V8 5.7L (8th Vin Digit R) |
| 1996-1999 | Chevy | K1500 Truck | Chevy K1500 Truck Serpentine Belt Tensioner with Pulley V8 5.0L (8th Vin Digit M) |
| 1996-2000 | Chevy | K2500 Truck | Chevy K2500 Truck Serpentine Belt Tensioner with Pulley V8 5.0L (8th Vin Digit M) |
| 1996-2000 | Chevy | K2500 Truck | Chevy K2500 Truck Serpentine Belt Tensioner with Pulley V8 5.7L (8th Vin Digit R) |
| 1996-2000 | Chevy | K2500 Truck | Chevy K2500 Truck Serpentine Belt Tensioner with Pulley V8 7.4L (8th Vin Digit J) |
| 1996-2000 | Chevy | K3500 Truck | Chevy K3500 Truck Serpentine Belt Tensioner with Pulley V8 7.4L (8th Vin Digit J) |
| 1996-2000 | Chevy | K3500 Truck | Chevy K3500 Truck Serpentine Belt Tensioner with Pulley V8 5.7L (8th Vin Digit R) |
| 1996-1997 | Chevy | K3500 Truck | Chevy K3500 Truck Serpentine Belt Tensioner with Pulley V8 5.7L (8th Vin Digit K) |
| 1996-1999 | Chevy | P30 | Chevy P30 Serpentine Belt Tensioner with Pulley V6 4.3L (8th Vin Digit W) |
| 1996-1999 | Chevy | P30 | Chevy P30 Serpentine Belt Tensioner with Pulley V8 7.4L (8th Vin Digit B) |
| 1996-1999 | Chevy | P30 | Chevy P30 Serpentine Belt Tensioner with Pulley V8 5.7L (8th Vin Digit R) |
| 1996-1999 | Chevy | P30 | Chevy P30 Serpentine Belt Tensioner with Pulley V8 7.4L (8th Vin Digit N) |
| 1996-1999 | Chevy | P30 | Chevy P30 Serpentine Belt Tensioner with Pulley V8 7.4L (8th Vin Digit J) |
| 1996-2004 | Chevy | S10 Pickup | Chevy S10 Pickup Serpentine Belt Tensioner with Pulley V6 4.3L |
| 1999-2013 | Chevy | Silverado 1500 | Chevy Silverado 1500 Serpentine Belt Tensioner with Pulley V6 4.3L |
| 2007 | Chevy | Silverado 1500 Classic | Chevy Silverado 1500 Classic Serpentine Belt Tensioner with Pulley V6 4.3L |
| 1996-1999 | Chevy | Suburban C1500 | Chevy Suburban C1500 Serpentine Belt Tensioner with Pulley V8 5.7L (8th Vin Digit R) |
| 1996-1999 | Chevy | Suburban C2500 | Chevy Suburban C2500 Serpentine Belt Tensioner with Pulley V8 5.7L (8th Vin Digit R) |
| 1996-1999 | Chevy | Suburban C2500 | Chevy Suburban C2500 Serpentine Belt Tensioner with Pulley (8th Vin Digit J) V8 7.4L |
| 1996-1999 | Chevy | Suburban K1500 | Chevy Suburban K1500 Serpentine Belt Tensioner with Pulley V8 5.7L (8th Vin Digit R) |
| 1996-1999 | Chevy | Suburban K2500 | Chevy Suburban K2500 Serpentine Belt Tensioner with Pulley V8 5.7L (8th Vin Digit R) |
| 1996-1999 | Chevy | Suburban K2500 | Chevy Suburban K2500 Serpentine Belt Tensioner with Pulley (8th Vin Digit J) V8 7.4L |
| 1996-2000 | Chevy | Tahoe | Chevy Tahoe Serpentine Belt Tensioner with Pulley V8 5.7L (8th Vin Digit R) |
| 1996-1999 | GMC | C1500 Truck | GMC C1500 Truck Serpentine Belt Tensioner with Pulley V6 4.3L |
| 1996-1999 | GMC | C1500 Truck | GMC C1500 Truck Serpentine Belt Tensioner with Pulley V8 5.7L (8th Vin Digit R) |
| 1996-1999 | GMC | C1500 Truck | GMC C1500 Truck Serpentine Belt Tensioner with Pulley V8 7.4L (8th Vin Digit J) |
| 1996-1999 | GMC | C1500 Truck | GMC C1500 Truck Serpentine Belt Tensioner with Pulley V8 5.0L (8th Vin Digit M) |
| 1996-2000 | GMC | C2500 Truck | GMC C2500 Truck Serpentine Belt Tensioner with Pulley V8 5.7L (8th Vin Digit R) |
| 1996-2000 | GMC | C2500 Truck | GMC C2500 Truck Serpentine Belt Tensioner with Pulley V8 5.0L (8th Vin Digit M) |
| 1996-2000 | GMC | C2500 Truck | GMC C2500 Truck Serpentine Belt Tensioner with Pulley V8 7.4L (8th Vin Digit J) |
| 1996-2000 | GMC | C3500 Truck | GMC C3500 Truck Serpentine Belt Tensioner with Pulley V8 5.7L (8th Vin Digit R) |
| 1996-2000 | GMC | C3500 Truck | GMC C3500 Truck Serpentine Belt Tensioner with Pulley V8 7.4L (8th Vin Digit J) |
| 1996 | GMC | G3500 | GMC G3500 Serpentine Belt Tensioner with Pulley V8 7.4L (8th Vin Digit J) |
| 1996 | GMC | G3500 | GMC G3500 Serpentine Belt Tensioner with Pulley V8 5.0L (8th Vin Digit M) |
| 1996 | GMC | G3500 | GMC G3500 Serpentine Belt Tensioner with Pulley V8 5.7L (8th Vin Digit K) |
| 1996 | GMC | G3500 | GMC G3500 Serpentine Belt Tensioner with Pulley V6 4.3L |
| 1996 | GMC | G3500 | GMC G3500 Serpentine Belt Tensioner with Pulley V8 5.7L (8th Vin Digit R) |
| 1996 | GMC | G3500 | GMC G3500 Serpentine Belt Tensioner with Pulley V8 7.4L (8th Vin Digit N) |
| 1996-2001 | GMC | Jimmy S-15 | GMC Jimmy S-15 Serpentine Belt Tensioner with Pulley V6 4.3L (8th Vin Digit W) |
| 1996-1999 | GMC | K1500 Truck | GMC K1500 Truck Serpentine Belt Tensioner with Pulley V6 4.3L |
| 1996-1999 | GMC | K1500 Truck | GMC K1500 Truck Serpentine Belt Tensioner with Pulley V8 5.7L (8th Vin Digit R) |
| 1996-1999 | GMC | K1500 Truck | GMC K1500 Truck Serpentine Belt Tensioner with Pulley V8 5.0L (8th Vin Digit M) |
| 1996-2000 | GMC | K2500 Truck | GMC K2500 Truck Serpentine Belt Tensioner with Pulley V8 5.7L (8th Vin Digit R) |
| 1996-2000 | GMC | K2500 Truck | GMC K2500 Truck Serpentine Belt Tensioner with Pulley V8 7.4L (8th Vin Digit J) |
| 1996-2000 | GMC | K2500 Truck | GMC K2500 Truck Serpentine Belt Tensioner with Pulley V8 5.0L (8th Vin Digit M) |
| 1996-2000 | GMC | K3500 Truck | GMC K3500 Truck Serpentine Belt Tensioner with Pulley V8 5.7L (8th Vin Digit R) |
| 1996-2000 | GMC | K3500 Truck | GMC K3500 Truck Serpentine Belt Tensioner with Pulley V8 7.4L (8th Vin Digit J) |
| 1996-1999 | GMC | P3500 | GMC P3500 Serpentine Belt Tensioner with Pulley V8 7.4L (8th Vin Digit N) |
| 1996-1999 | GMC | P3500 | GMC P3500 Serpentine Belt Tensioner with Pulley V8 7.4L (8th Vin Digit J) |
| 1996-1999 | GMC | P3500 | GMC P3500 Serpentine Belt Tensioner with Pulley V6 4.3L (8th Vin Digit W) |
| 1996-1999 | GMC | P3500 | GMC P3500 Serpentine Belt Tensioner with Pulley V8 7.4L (8th Vin Digit B) |
| 1996-1999 | GMC | P3500 | GMC P3500 Serpentine Belt Tensioner with Pulley V8 5.7L (8th Vin Digit R) |
| 1996-2004 | GMC | S-15 Sonoma | GMC S-15 Sonoma Serpentine Belt Tensioner with Pulley V6 4.3L |
| 1996-2001 | GMC | Safari | GMC Safari Serpentine Belt Tensioner with Pulley V6 4.3L (8th Vin Digit W) |
| 2002-2005 | GMC | Safari | GMC Safari Serpentine Belt Tensioner with Pulley V6 4.3L (8th Vin Digit X) |
| 1996-2002 | GMC | Savana 1500 Van | GMC Savana 1500 Van Serpentine Belt Tensioner with Pulley V8 5.0L (8th Vin Digit M) |
| 1996-2002 | GMC | Savana 1500 Van | GMC Savana 1500 Van Serpentine Belt Tensioner with Pulley (8th Vin Digit K) V8 5.7L |
| 1996-2013 | GMC | Savana 1500 Van | GMC Savana 1500 Van Serpentine Belt Tensioner with Pulley V6 4.3L |
| 1996-2002 | GMC | Savana 1500 Van | GMC Savana 1500 Van Serpentine Belt Tensioner with Pulley V8 5.7L (8th Vin Digit R) |
| 1996-2005 | GMC | Savana 2500 Van | GMC Savana 2500 Van Serpentine Belt Tensioner with Pulley V6 4.3L |
| 1996-2002 | GMC | Savana 2500 Van | GMC Savana 2500 Van Serpentine Belt Tensioner with Pulley V8 5.0L (8th Vin Digit M) |
| 1996-2002 | GMC | Savana 2500 Van | GMC Savana 2500 Van Serpentine Belt Tensioner with Pulley (8th Vin Digit K) V8 5.7L |
| 1996-2002 | GMC | Savana 2500 Van | GMC Savana 2500 Van Serpentine Belt Tensioner with Pulley V8 5.7L (8th Vin Digit R) |
| 1996-2000 | GMC | Savana 3500 Van | GMC Savana 3500 Van Serpentine Belt Tensioner with Pulley (8th Vin Digit J) V8 7.4L |
| 1996-2002 | GMC | Savana 3500 Van | GMC Savana 3500 Van Serpentine Belt Tensioner with Pulley (8th Vin Digit K) V8 5.7L |
| 1996-2002 | GMC | Savana 3500 Van | GMC Savana 3500 Van Serpentine Belt Tensioner with Pulley V8 5.7L (8th Vin Digit R) |
| 1996-2000 | GMC | Savana 3500 Van | GMC Savana 3500 Van Serpentine Belt Tensioner with Pulley V8 7.4L (8th Vin Digit N) |
| 1999-2013 | GMC | Sierra 1500 | GMC Sierra 1500 Serpentine Belt Tensioner with Pulley V6 4.3L |
| 2007 | GMC | Sierra 1500 Classic | GMC Sierra 1500 Classic Serpentine Belt Tensioner with Pulley V6 4.3L |
| 1996-1999 | GMC | Suburban C1500 | GMC Suburban C1500 Serpentine Belt Tensioner with Pulley V8 5.7L (8th Vin Digit R) |
| 1996-1999 | GMC | Suburban C2500 | GMC Suburban C2500 Serpentine Belt Tensioner with Pulley V8 5.7L (8th Vin Digit R) |
| 1996-1999 | GMC | Suburban C2500 | GMC Suburban C2500 Serpentine Belt Tensioner with Pulley (8th Vin Digit J) V8 7.4L |
| 1996-1999 | GMC | Suburban K1500 | GMC Suburban K1500 Serpentine Belt Tensioner with Pulley V8 5.7L (8th Vin Digit R) |
| 1996-1999 | GMC | Suburban K2500 | GMC Suburban K2500 Serpentine Belt Tensioner with Pulley V8 5.7L (8th Vin Digit R) |
| 1996-1999 | GMC | Suburban K2500 | GMC Suburban K2500 Serpentine Belt Tensioner with Pulley (8th Vin Digit J) V8 7.4L |
| 1996-2000 | GMC | Yukon | GMC Yukon Serpentine Belt Tensioner with Pulley V8 5.7L (8th Vin Digit R) |
| 1997-2000 | Isuzu | Hombre | Isuzu Hombre Serpentine Belt Tensioner with Pulley V6 4.3L (8th Vin Digit X) |
| 1996-2001 | Oldsmobile | Bravada | Olds Bravada Serpentine Belt Tensioner with Pulley V6 4.3L (8th Vin Digit W) |
Part #: 1AEBT00001
Order must be placed by 4pm ET
Get it in: 2 - 4 Business Days
Want it sooner? Choose Next Day Air at Checkout