1AEIP00012-Serpentine Belt Idler Pulley
Replaces
Serpentine Belt Idler Pulley - 1AEIP00012
1AEIP00012
This replacement Serpentine Belt Idler Pulley is just what you need to get your vehicle in good working order again!
Specifications:
Steel Construction
Outside Diameter: 90mm
Width: 40mm
Smooth (not grooved)

Direct replacement
Includes bearing
If you are hearing a whirring noise from the front of your engine or if your belt often screeches you may be in need of a new belt tensioner pulley or idler pulley. The idler pulley is typically used to redirect the serpentine belt, or help to apply tension against the belt tensioner.
Item Condition: New

Lifetime Warranty
This item is backed by a Limited Lifetime Warranty. In the event this item should fail due to manufacturing defects during intended use, we will exchange the part free of charge (excludes shipping charges) for the original purchaser.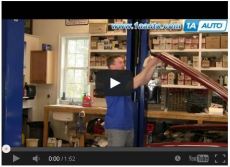 Tools needed for replacement:
Materials, Fluids, and Supplies

Rust Penetrant

Ratchets & Related

Socket Extensions
Torque Wrench
Ratchet
1/2 Inch Breaker Bar

Screwdrivers & Related

Flat Blade Screwdriver
Phillips Head Screwdriver

Sockets - Metric

13mm Socket
8mm Socket
10mm Socket
There are no reviews for this item.
Customer Q&A
Ask a question to 1A Auto customers who purchased the product
Does this work for 2000 v6?
No this part will not fit your vehicle.
| Year | Make | Model | Description |
| --- | --- | --- | --- |
| 1992-1994 | Dodge | B150 | Dodge B150 Serpentine Belt Idler Pulley V6 3.9L (8th Vin Digit X) |
| 1992-1994 | Dodge | B150 | Dodge B150 Serpentine Belt Idler Pulley V8 5.2L (8th Vin Digit Y) |
| 1995-1998 | Dodge | B1500 | Dodge B1500 Serpentine Belt Idler Pulley V8 5.2L (8th Vin Digit Y) |
| 1995-1998 | Dodge | B1500 | Dodge B1500 Serpentine Belt Idler Pulley V6 3.9L (8th Vin Digit X) |
| 1998 | Dodge | B1500 | Dodge B1500 Serpentine Belt Idler Pulley V8 5.9L (8th Vin Digit Z) |
| 1992-1994 | Dodge | B250 | Dodge B250 Serpentine Belt Idler Pulley V8 5.2L (8th Vin Digit Y) |
| 1992-1994 | Dodge | B250 | Dodge B250 Serpentine Belt Idler Pulley V8 5.9L (8th Vin Digit Z) |
| 1992-1994 | Dodge | B250 | Dodge B250 Serpentine Belt Idler Pulley V6 3.9L (8th Vin Digit X) |
| 1993-1994 | Dodge | B250 | Dodge B250 Serpentine Belt Idler Pulley V8 5.2L (8th Vin Digit T) |
| 1995-1997 | Dodge | B2500 | Dodge B2500 Serpentine Belt Idler Pulley V6 3.9L (8th Vin Digit X) |
| 1995-1996 | Dodge | B2500 | Dodge B2500 Serpentine Belt Idler Pulley V8 5.2L (8th Vin Digit T) |
| 1995-1998 | Dodge | B2500 | Dodge B2500 Serpentine Belt Idler Pulley V8 5.9L (8th Vin Digit Z) |
| 1995-1998 | Dodge | B2500 | Dodge B2500 Serpentine Belt Idler Pulley V8 5.2L (8th Vin Digit Y) |
| 1998 | Dodge | B2500 | Dodge B2500 Serpentine Belt Idler Pulley V8 5.2L (8th Vin Digit 2) |
| 1992-1994 | Dodge | B350 | Dodge B350 Serpentine Belt Idler Pulley V8 5.2L (8th Vin Digit Y) |
| 1992-1994 | Dodge | B350 | Dodge B350 Serpentine Belt Idler Pulley V8 5.9L (8th Vin Digit Z) |
| 1993-1994 | Dodge | B350 | Dodge B350 Serpentine Belt Idler Pulley V8 5.2L (8th Vin Digit T) |
| 1995-1997 | Dodge | B3500 | Dodge B3500 Serpentine Belt Idler Pulley V8 5.2L (8th Vin Digit T) |
| 1995-1998 | Dodge | B3500 | Dodge B3500 Serpentine Belt Idler Pulley V8 5.9L (8th Vin Digit Z) |
| 1995-1998 | Dodge | B3500 | Dodge B3500 Serpentine Belt Idler Pulley V8 5.2L (8th Vin Digit Y) |
| 1998 | Dodge | B3500 | Dodge B3500 Serpentine Belt Idler Pulley V8 5.2L (8th Vin Digit 2) |
| 1992-1993 | Dodge | D150 Truck | Dodge D150 Truck Serpentine Belt Idler Pulley V8 5.2L (8th Vin Digit Y) |
| 1992-1993 | Dodge | D150 Truck | Dodge D150 Truck Serpentine Belt Idler Pulley V6 3.9L (8th Vin Digit X) |
| 1993 | Dodge | D150 Truck | Dodge D150 Truck Serpentine Belt Idler Pulley V8 5.9L (8th Vin Digit Z) |
| 1992-1993 | Dodge | D250 Truck | Dodge D250 Truck Serpentine Belt Idler Pulley V6 3.9L (8th Vin Digit X) |
| 1992-1993 | Dodge | D250 Truck | Dodge D250 Truck Serpentine Belt Idler Pulley V8 5.2L (8th Vin Digit Y) |
| 1992-1993 | Dodge | D250 Truck | Dodge D250 Truck Serpentine Belt Idler Pulley V8 5.9L (8th Vin Digit Z) |
| 1993 | Dodge | D250 Truck | Dodge D250 Truck Serpentine Belt Idler Pulley V8 5.9L (8th Vin Digit 5) |
| 1992-1993 | Dodge | D350 Truck | Dodge D350 Truck Serpentine Belt Idler Pulley V8 5.9L (8th Vin Digit Z) |
| 1993 | Dodge | D350 Truck | Dodge D350 Truck Serpentine Belt Idler Pulley V8 5.9L (8th Vin Digit 5) |
| 1992-2003 | Dodge | Dakota | Dodge Dakota Serpentine Belt Idler Pulley V6 3.9L (8th Vin Digit X) |
| 1992-1999 | Dodge | Dakota | Dodge Dakota Serpentine Belt Idler Pulley V8 5.2L (8th Vin Digit Y) |
| 1995-1996 | Dodge | Dakota | Dodge Dakota Serpentine Belt Idler Pulley V8 5.2L (8th Vin Digit T) |
| 1998-2003 | Dodge | Dakota | Dodge Dakota Serpentine Belt Idler Pulley V8 5.9L (8th Vin Digit Z) |
| 1998-1999 | Dodge | Durango | Dodge Durango Serpentine Belt Idler Pulley V6 3.9L (8th Vin Digit X) |
| 1998-2000 | Dodge | Durango | Dodge Durango Serpentine Belt Idler Pulley V8 5.2L (8th Vin Digit Y) |
| 1998-2003 | Dodge | Durango | Dodge Durango Serpentine Belt Idler Pulley V8 5.9L (8th Vin Digit Z) |
| 1994-2001 | Dodge | Ram 1500 Truck | Dodge Ram 1500 Truck Serpentine Belt Idler Pulley V6 3.9L (8th Vin Digit X) |
| 1994-2001 | Dodge | Ram 1500 Truck | Dodge Ram 1500 Truck Serpentine Belt Idler Pulley V8 5.2L (8th Vin Digit Y) |
| 1994-2002 | Dodge | Ram 1500 Truck | Dodge Ram 1500 Truck Serpentine Belt Idler Pulley V8 5.9L (8th Vin Digit Z) |
| 1995-1997 | Dodge | Ram 1500 Truck | Dodge Ram 1500 Truck Serpentine Belt Idler Pulley V8 5.2L (8th Vin Digit T) |
| 1999-2003 | Dodge | Ram 1500 Van | Dodge Ram 1500 Van Serpentine Belt Idler Pulley V6 3.9L (8th Vin Digit X) |
| 1999-2003 | Dodge | Ram 1500 Van | Dodge Ram 1500 Van Serpentine Belt Idler Pulley V8 5.2L (8th Vin Digit Y) |
| 1999-2003 | Dodge | Ram 1500 Van | Dodge Ram 1500 Van Serpentine Belt Idler Pulley V8 5.9L (8th Vin Digit Z) |
| 1994-2003 | Dodge | Ram 2500 Truck | Dodge Ram 2500 Truck Serpentine Belt Idler Pulley V10 8.0L (8th Vin Digit W) |
| 1994-2001 | Dodge | Ram 2500 Truck | Dodge Ram 2500 Truck Serpentine Belt Idler Pulley V8 5.9L (8th Vin Digit Z) |
| 1994-1995 | Dodge | Ram 2500 Truck | Dodge Ram 2500 Truck Serpentine Belt Idler Pulley V8 5.2L (8th Vin Digit Y) |
| 1995-1996 | Dodge | Ram 2500 Truck | Dodge Ram 2500 Truck Serpentine Belt Idler Pulley V8 5.2L (8th Vin Digit T) |
| 1999-2000 | Dodge | Ram 2500 Van | Dodge Ram 2500 Van Serpentine Belt Idler Pulley V8 5.2L (8th Vin Digit 2) |
| 1999-2003 | Dodge | Ram 2500 Van | Dodge Ram 2500 Van Serpentine Belt Idler Pulley V8 5.2L (8th Vin Digit T) |
| 1999-2003 | Dodge | Ram 2500 Van | Dodge Ram 2500 Van Serpentine Belt Idler Pulley V8 5.2L (8th Vin Digit Y) |
| 1999-2003 | Dodge | Ram 2500 Van | Dodge Ram 2500 Van Serpentine Belt Idler Pulley V8 5.9L (8th Vin Digit Z) |
| 2001 | Dodge | Ram 2500 Van | Dodge Ram 2500 Van Serpentine Belt Idler Pulley V6 3.9L (8th Vin Digit X) |
| 1994-2003 | Dodge | Ram 3500 Truck | Dodge Ram 3500 Truck Serpentine Belt Idler Pulley V10 8.0L (8th Vin Digit W) |
| 1994-2001 | Dodge | Ram 3500 Truck | Dodge Ram 3500 Truck Serpentine Belt Idler Pulley V8 5.9L (8th Vin Digit Z) |
| 1999-2000 | Dodge | Ram 3500 Van | Dodge Ram 3500 Van Serpentine Belt Idler Pulley V8 5.2L (8th Vin Digit 2) |
| 1999-2003 | Dodge | Ram 3500 Van | Dodge Ram 3500 Van Serpentine Belt Idler Pulley V8 5.2L (8th Vin Digit T) |
| 1999-2003 | Dodge | Ram 3500 Van | Dodge Ram 3500 Van Serpentine Belt Idler Pulley V8 5.2L (8th Vin Digit Y) |
| 1999-2003 | Dodge | Ram 3500 Van | Dodge Ram 3500 Van Serpentine Belt Idler Pulley V8 5.9L (8th Vin Digit Z) |
| 1992-1993 | Dodge | Ramcharger | Dodge Ramcharger Serpentine Belt Idler Pulley V8 5.2L (8th Vin Digit Y) |
| 1992-1993 | Dodge | Ramcharger | Dodge Ramcharger Serpentine Belt Idler Pulley V8 5.9L (8th Vin Digit Z) |
| 1992-2002 | Dodge | Viper | Dodge Viper Serpentine Belt Idler Pulley V10 8.0L (8th Vin Digit E) |
| 1992-1993 | Dodge | W150 Truck | Dodge W150 Truck Serpentine Belt Idler Pulley V6 3.9L (8th Vin Digit X) |
| 1992-1993 | Dodge | W150 Truck | Dodge W150 Truck Serpentine Belt Idler Pulley V8 5.2L (8th Vin Digit Y) |
| 1993 | Dodge | W150 Truck | Dodge W150 Truck Serpentine Belt Idler Pulley V8 5.9L (8th Vin Digit Z) |
| 1992-1993 | Dodge | W250 Truck | Dodge W250 Truck Serpentine Belt Idler Pulley V8 5.9L (8th Vin Digit Z) |
| 1992-1993 | Dodge | W250 Truck | Dodge W250 Truck Serpentine Belt Idler Pulley V8 5.2L (8th Vin Digit Y) |
| 1993 | Dodge | W250 Truck | Dodge W250 Truck Serpentine Belt Idler Pulley V8 5.9L (8th Vin Digit 5) |
| 1992-1993 | Dodge | W350 Truck | Dodge W350 Truck Serpentine Belt Idler Pulley V8 5.9L (8th Vin Digit Z) |
| 1993 | Dodge | W350 Truck | Dodge W350 Truck Serpentine Belt Idler Pulley V8 5.9L (8th Vin Digit 5) |
| 1997-1999 | Ford | E150 Van | Ford E150 Van Serpentine Belt Idler Pulley V8 4.6L (8th Vin Digit 6) |
| 1997-2001 | Ford | E150 Van | Ford E150 Van Serpentine Belt Idler Pulley V8 5.4L (8th Vin Digit L) |
| 1998 | Ford | E150 Van | Ford E150 Van Serpentine Belt Idler Pulley V8 5.4L (8th Vin Digit Z) |
| 1999-2001 | Ford | E150 Van | Ford E150 Van Serpentine Belt Idler Pulley V8 4.6L (8th Vin Digit W) |
| 1997 | Ford | E250 Van | Ford E250 Van Serpentine Belt Idler Pulley V8 4.6L (8th Vin Digit 6) |
| 1997-2001 | Ford | E250 Van | Ford E250 Van Serpentine Belt Idler Pulley V8 5.4L (8th Vin Digit M) |
| 1997-2001 | Ford | E250 Van | Ford E250 Van Serpentine Belt Idler Pulley V8 5.4L (8th Vin Digit L) |
| 1998-1999 | Ford | E250 Van | Ford E250 Van Serpentine Belt Idler Pulley V8 5.4L (8th Vin Digit Z) |
| 1996-2003 | Ford | E350 Van | Ford E350 Van Serpentine Belt Idler Pulley V8 7.3L Turbo Diesel (8th Vin Digit F) |
| 1997-2001 | Ford | E350 Van | Ford E350 Van Serpentine Belt Idler Pulley V10 6.8L (8th Vin Digit S) |
| 1997-2001 | Ford | E350 Van | Ford E350 Van Serpentine Belt Idler Pulley V8 5.4L (8th Vin Digit L) |
| 1997-2001 | Ford | E350 Van | Ford E350 Van Serpentine Belt Idler Pulley V8 5.4L (8th Vin Digit M) |
| 1998-1999 | Ford | E350 Van | Ford E350 Van Serpentine Belt Idler Pulley V8 5.4L (8th Vin Digit Z) |
| 1999-2003 | Ford | E350 Van Super Duty | Ford E350 Van Super Duty Serpentine Belt Idler Pulley V8 7.3L Turbo Diesel (8th Vin Digit F) |
| 1999 | Ford | E350 Van Super Duty | Ford E350 Van Super Duty Serpentine Belt Idler Pulley V8 5.4L (8th Vin Digit Z) |
| 1999-2001 | Ford | E350 Van Super Duty | Ford E350 Van Super Duty Serpentine Belt Idler Pulley V8 5.4L (8th Vin Digit M) |
| 1999-2001 | Ford | E350 Van Super Duty | Ford E350 Van Super Duty Serpentine Belt Idler Pulley V8 5.4L (8th Vin Digit L) |
| 1999-2001 | Ford | E350 Van Super Duty | Ford E350 Van Super Duty Serpentine Belt Idler Pulley V10 6.8L (8th Vin Digit S) |
| 2000-2005 | Ford | Excursion | Ford Excursion Serpentine Belt Idler Pulley V10 6.8L (8th Vin Digit S) |
| 2000-2003 | Ford | Excursion | Ford Excursion Serpentine Belt Idler Pulley V8 7.3L Turbo Diesel (8th Vin Digit F) |
| 2003-2005 | Ford | Excursion | Ford Excursion Serpentine Belt Idler Pulley V8 5.4L (8th Vin Digit L) |
| 1997-2001 | Ford | Expedition | Ford Expedition Serpentine Belt Idler Pulley V8 5.4L (8th Vin Digit L) |
| 1997-2000 | Ford | Expedition | Ford Expedition Serpentine Belt Idler Pulley V8 4.6L (8th Vin Digit 6) |
| 1997-2002 | Ford | Expedition | Ford Expedition Serpentine Belt Idler Pulley V8 4.6L (8th Vin Digit W) |
| 1997-1999 | Ford | F150 Truck | Ford F150 Truck Serpentine Belt Idler Pulley V8 4.6L (8th Vin Digit 6) |
| 1997-2001 | Ford | F150 Truck | Ford F150 Truck Serpentine Belt Idler Pulley V8 5.4L (8th Vin Digit L) |
| 1997-2001 | Ford | F150 Truck | Ford F150 Truck Serpentine Belt Idler Pulley V8 4.6L (8th Vin Digit W) |
| 1998-1999 | Ford | F150 Truck | Ford F150 Truck Serpentine Belt Idler Pulley V8 5.4L (8th Vin Digit Z) |
| 1998-2001 | Ford | F150 Truck | Ford F150 Truck Serpentine Belt Idler Pulley V8 5.4L (8th Vin Digit M) |
| 1999-2001 | Ford | F150 Truck | Ford F150 Truck Lightning Serpentine Belt Idler Pulley V8 5.4L (8th Vin Digit 3) |
| 1997-1999 | Ford | F250 Light Duty Truck | Ford F250 Light Duty Truck Serpentine Belt Idler Pulley V8 5.4L (8th Vin Digit L) |
| 1997-1999 | Ford | F250 Light Duty Truck | Ford F250 Light Duty Truck Serpentine Belt Idler Pulley V8 4.6L (8th Vin Digit 6) |
| 1997-1999 | Ford | F250 Light Duty Truck | Ford F250 Light Duty Truck Serpentine Belt Idler Pulley V8 5.4L (8th Vin Digit M) |
| 1997-1999 | Ford | F250 Light Duty Truck | Ford F250 Light Duty Truck Serpentine Belt Idler Pulley V8 4.6L (8th Vin Digit W) |
| 1998-1999 | Ford | F250 Light Duty Truck | Ford F250 Light Duty Truck Serpentine Belt Idler Pulley V8 5.4L (8th Vin Digit Z) |
| 1999-2003 | Ford | F250 Super Duty Truck | Ford F250 Super Duty Truck Serpentine Belt Idler Pulley V8 7.3L Turbo Diesel (8th Vin Digit F) |
| 1999-2001 | Ford | F250 Super Duty Truck | Ford F250 Super Duty Truck Serpentine Belt Idler Pulley V10 6.8L (8th Vin Digit S) |
| 1999-2001 | Ford | F250 Super Duty Truck | Ford F250 Super Duty Truck Serpentine Belt Idler Pulley V8 5.4L (8th Vin Digit L) |
| 1994-1997 | Ford | F250 Truck | Ford F250 Truck Serpentine Belt Idler Pulley V8 7.3L Turbo Diesel (8th Vin Digit F) |
| 1999-2003 | Ford | F350 Super Duty Truck | Ford F350 Super Duty Truck Serpentine Belt Idler Pulley V8 7.3L Turbo Diesel (8th Vin Digit F) |
| 1999-2001 | Ford | F350 Super Duty Truck | Ford F350 Super Duty Truck Serpentine Belt Idler Pulley V10 6.8L (8th Vin Digit S) |
| 1999-2001 | Ford | F350 Super Duty Truck | Ford F350 Super Duty Truck Serpentine Belt Idler Pulley V8 5.4L (8th Vin Digit L) |
| 1994-1997 | Ford | F350 Truck | Ford F350 Truck Serpentine Belt Idler Pulley V8 7.3L Turbo Diesel (8th Vin Digit F) |
| 1995-2003 | Ford | F450 Truck | Ford F450 Truck Serpentine Belt Idler Pulley V8 7.3L Turbo Diesel (8th Vin Digit F) |
| 1999-2001 | Ford | F450 Truck | Ford F450 Truck Serpentine Belt Idler Pulley V10 6.8L (8th Vin Digit S) |
| 1999-2001 | Ford | F550 Truck | Ford F550 Truck Serpentine Belt Idler Pulley V10 6.8L (8th Vin Digit S) |
| 1999-2003 | Ford | F550 Truck | Ford F550 Truck Serpentine Belt Idler Pulley V8 7.3L Turbo Diesel (8th Vin Digit F) |
| 1994 | Ford | F59 | Ford F59 Serpentine Belt Idler Pulley V8 7.3L Turbo Diesel (8th Vin Digit F) |
| 1994-1995 | Ford | Mustang | Ford Mustang Cobra Serpentine Belt Idler Pulley V8 5.0L (8th Vin Digit D) |
| 1994-1995 | Ford | Mustang | Ford Mustang GT Serpentine Belt Idler Pulley V8 5.0L (8th Vin Digit T) |
| 1994-1998 | Ford | Mustang | Ford Mustang Serpentine Belt Idler Pulley V6 3.8L (8th Vin Digit 4) |
| 1990-1997 | Ford | Thunderbird | Ford Thunderbird Serpentine Belt Idler Pulley V6 3.8L (8th Vin Digit 4) |
| 1993-1998 | Jeep | Grand Cherokee | Jeep Grand Cherokee Serpentine Belt Idler Pulley V8 5.2L (8th Vin Digit Y) |
| 1998 | Jeep | Grand Cherokee | Jeep Grand Cherokee Serpentine Belt Idler Pulley V8 5.9L (8th Vin Digit Z) |
| 1993 | Jeep | Grand Wagoneer | Jeep Grand Wagoneer Serpentine Belt Idler Pulley V8 5.2L (8th Vin Digit Y) |
| 2002 | Lincoln | Blackwood | Lincoln Blackwood Serpentine Belt Idler Pulley V8 5.4L (8th Vin Digit A) |
| 1998-1999 | Lincoln | Navigator | Lincoln Navigator Serpentine Belt Idler Pulley V8 5.4L (8th Vin Digit L) |
| 1999-2001 | Lincoln | Navigator | Lincoln Navigator Serpentine Belt Idler Pulley V8 5.4L (8th Vin Digit A) |
| 2001-2002 | Lincoln | Navigator | Lincoln Navigator Serpentine Belt Idler Pulley V8 5.4L (8th Vin Digit R) |
| 1994-1997 | Mercury | Cougar | Mercury Cougar XR-7 Serpentine Belt Idler Pulley V6 3.8L (8th Vin Digit 4) |
Part #: 1AEIP00012
Order must be placed by 4pm ET
Get it in: 2 - 4 Business Days
Want it sooner? Choose Next Day Air at Checkout