1AEIX00002-Serpentine Belt Idler Pulley (Grooved)
Replaces
Serpentine Belt Idler Pulley (Grooved) - 1AEIX00002
1AEIX00002
This replacement Serpentine Belt Idler Pulley is just what you need to get your vehicle in good working order again!
Specifications:
Plastic Construction
Outside Diameter: 69mm
Width: 23mm
Grooved (Ribbed)

Replaces dealer part numbers: YS4Z6A228AA, 97221943, YS4Z 6A228 AA
Direct replacement
Includes bearing
If you are hearing a whirring noise from the front of your engine or if your belt often screeches you may be in need of a new belt tensioner pulley or idler pulley.
Item Condition: New

Lifetime Warranty
This item is backed by a Limited Lifetime Warranty. In the event this item should fail due to manufacturing defects during intended use, we will exchange the part free of charge (excludes shipping charges) for the original purchaser.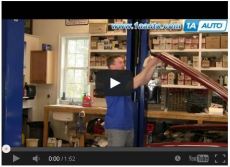 Tools needed for replacement:
General Tools

Floor Jack
Jack Stands

Ratchets & Related

Ratchet

Sockets - Metric

15mm Socket
17mm Socket
13mm Socket
10mm Socket

Wrenches - Metric

17mm Wrench
Browse 1 question
Browse 1 question and 1 answer
Will this fit a 1990 4.3 v6 engine ?
BEST ANSWER:
No this will not fit a 1990 model vehicle.
Tim K

Staff

on Aug 31, 2017
Vehicle Fit
| Year | Make | Model | Description |
| --- | --- | --- | --- |
| 1996-2005 | Chevy | Astro | Chevy Astro Serpentine Belt Idler Pulley (Grooved) V6 4.3L |
| 1996-2003 | Chevy | Blazer S10 | Chevy Blazer S10 Serpentine Belt Idler Pulley (Grooved) V6 4.3L without Air Conditioning |
| 1996-1999 | Chevy | C1500 Truck | Chevy C1500 Truck Serpentine Belt Idler Pulley (Grooved) V8 5.7L without Air Conditioning |
| 1996-1999 | Chevy | C1500 Truck | Chevy C1500 Truck Serpentine Belt Idler Pulley (Grooved) V6 4.3L without Air Conditioning |
| 1996-1999 | Chevy | C1500 Truck | Chevy C1500 Truck Serpentine Belt Idler Pulley (Grooved) V8 5.0L without Air Conditioning |
| 1996-1999 | Chevy | C2500 Truck | Chevy C2500 Truck Serpentine Belt Idler Pulley (Grooved) V8 7.4L without Air Conditioning |
| 1996-1999 | Chevy | C2500 Truck | Chevy C2500 Truck Serpentine Belt Idler Pulley (Grooved) V8 5.7L without Air Conditioning |
| 1996-1999 | Chevy | C2500 Truck | Chevy C2500 Truck Serpentine Belt Idler Pulley (Grooved) V8 5.0L without Air Conditioning |
| 1996-1999 | Chevy | C3500 Truck | Chevy C3500 Truck Serpentine Belt Idler Pulley (Grooved) V8 5.7L without Air Conditioning |
| 1996-1999 | Chevy | C3500 Truck | Chevy C3500 Truck Serpentine Belt Idler Pulley (Grooved) V8 7.4L without Air Conditioning |
| 2001-2002 | Chevy | C3500 Truck | Chevy C3500 Truck Serpentine Belt Idler Pulley (Grooved) V8 8.1L without Air Conditioning |
| 1996-2002 | Chevy | Express 1500 Van | Chevy Express 1500 Van Serpentine Belt Idler Pulley (Grooved) V8 5.0L without Air Conditioning |
| 1996-2002 | Chevy | Express 1500 Van | Chevy Express 1500 Van Serpentine Belt Idler Pulley (Grooved) V6 4.3L without Air Conditioning |
| 1996-2002 | Chevy | Express 2500 Van | Chevy Express 2500 Van Serpentine Belt Idler Pulley (Grooved) V8 5.7L without Air Conditioning |
| 1996-2002 | Chevy | Express 2500 Van | Chevy Express 2500 Van Serpentine Belt Idler Pulley (Grooved) V8 5.0L without Air Conditioning |
| 1996-2002 | Chevy | Express 2500 Van | Chevy Express 2500 Van Serpentine Belt Idler Pulley (Grooved) V6 4.3L without Air Conditioning |
| 1996-2000 | Chevy | Express 3500 Van | Chevy Express 3500 Van Serpentine Belt Idler Pulley (Grooved) V8 7.4L without Air Conditioning |
| 1997-2002 | Chevy | Express 3500 Van | Chevy Express 3500 Van Serpentine Belt Idler Pulley (Grooved) V8 5.7L without Air Conditioning |
| 1996-1999 | Chevy | K1500 Truck | Chevy K1500 Truck Serpentine Belt Idler Pulley (Grooved) V8 5.7L without Air Conditioning |
| 1996-1999 | Chevy | K1500 Truck | Chevy K1500 Truck Serpentine Belt Idler Pulley (Grooved) V6 4.3L without Air Conditioning |
| 1996-1999 | Chevy | K1500 Truck | Chevy K1500 Truck Serpentine Belt Idler Pulley (Grooved) V8 5.0L without Air Conditioning |
| 1996-1999 | Chevy | K2500 Truck | Chevy K2500 Truck Serpentine Belt Idler Pulley (Grooved) V8 5.7L without Air Conditioning |
| 1996-1998 | Chevy | K2500 Truck | Chevy K2500 Truck Serpentine Belt Idler Pulley (Grooved) V8 5.0L without Air Conditioning |
| 1996-1999 | Chevy | K2500 Truck | Chevy K2500 Truck Serpentine Belt Idler Pulley (Grooved) V8 7.4L without Air Conditioning |
| 1996-1999 | Chevy | K3500 Truck | Chevy K3500 Truck Serpentine Belt Idler Pulley (Grooved) V8 5.7L without Air Conditioning |
| 1996-1999 | Chevy | K3500 Truck | Chevy K3500 Truck Serpentine Belt Idler Pulley (Grooved) V8 7.4L without Air Conditioning |
| 1996-1999 | Chevy | P30 | Chevy P30 Serpentine Belt Idler Pulley (Grooved) V6 4.3L without Air Conditioning |
| 1996-1999 | Chevy | P30 | Chevy P30 Serpentine Belt Idler Pulley (Grooved) V8 5.7L without Air Conditioning |
| 1996-1999 | Chevy | P30 | Chevy P30 Serpentine Belt Idler Pulley (Grooved) V8 7.4L without Air Conditioning |
| 1996-2003 | Chevy | S10 Pickup | Chevy S10 Pickup Serpentine Belt Idler Pulley (Grooved) V6 4.3L without Air Conditioning |
| 1999-2008 | Chevy | Silverado 1500 | Chevy Silverado 1500 Serpentine Belt Idler Pulley (Grooved) V6 4.3L without Air Conditioning |
| 2007 | Chevy | Silverado 1500 Classic | Chevy Silverado 1500 Classic Serpentine Belt Idler Pulley (Grooved) V6 4.3L without Air Conditioning |
| 1996-1999 | Chevy | Suburban C1500 | Chevy Suburban C1500 Serpentine Belt Idler Pulley (Grooved) V8 5.7L without Air Conditioning |
| 1996-1999 | Chevy | Suburban C2500 | Chevy Suburban C2500 Serpentine Belt Idler Pulley (Grooved) V8 5.7L without Air Conditioning |
| 1996-1999 | Chevy | Suburban K1500 | Chevy Suburban K1500 Serpentine Belt Idler Pulley (Grooved) V8 5.7L without Air Conditioning |
| 1996-1999 | Chevy | Suburban K2500 | Chevy Suburban K2500 Serpentine Belt Idler Pulley (Grooved) V8 5.7L without Air Conditioning |
| 1996-1999 | Chevy | Tahoe | Chevy Tahoe Serpentine Belt Idler Pulley (Grooved) V8 5.7L without Air Conditioning |
| 1998-2000 | Ford | Contour | Ford Contour Serpentine Belt Idler Pulley (Grooved) V6 2.5L |
| 1998-2000 | Ford | Contour | Ford Contour Serpentine Belt Idler Pulley (Grooved) L4 2.0L |
| 2005-2007 | Ford | Escape | Ford Escape Serpentine Belt Idler Pulley (Grooved) L4 2.3L |
| 1998-2002 | Ford | Escort | Ford Escort ZX2 Coupe Serpentine Belt Idler Pulley (Grooved) L4 2.0L DOHC (8th Vin Digit 3) |
| 2000-2004 | Ford | Focus | Ford Focus Serpentine Belt Idler Pulley (Grooved) L4 2.0L (8th Vin Digit 3) |
| 2003-2007 | Ford | Focus | Ford Focus Serpentine Belt Idler Pulley (Grooved) L4 2.3L |
| 2005-2009 | Ford | Focus | Ford Focus Serpentine Belt Idler Pulley (Grooved) L4 2.0L |
| 2001-2005 | Ford | Ranger | Ford Ranger Serpentine Belt Idler Pulley (Grooved) L4 2.3L |
| 2006 | Ford | Ranger | Ford Ranger Serpentine Belt Idler Pulley (Grooved) L4 2.3L (Built Before 12/05/05 Production Date) |
| 1998-1999 | Ford | Windstar | Ford Windstar Serpentine Belt Idler Pulley (Grooved) V6 3.8L |
| 2003 | Ford | ZX2 | Ford ZX2 Serpentine Belt Idler Pulley (Grooved) L4 2.0L |
| 1996-1999 | GMC | C1500 Truck | GMC C1500 Truck Serpentine Belt Idler Pulley (Grooved) V8 5.7L without Air Conditioning |
| 1996-1999 | GMC | C1500 Truck | GMC C1500 Truck Serpentine Belt Idler Pulley (Grooved) V8 5.0L without Air Conditioning |
| 1996-1999 | GMC | C1500 Truck | GMC C1500 Truck Serpentine Belt Idler Pulley (Grooved) V6 4.3L without Air Conditioning |
| 1996-1999 | GMC | C2500 Truck | GMC C2500 Truck Serpentine Belt Idler Pulley (Grooved) V8 7.4L without Air Conditioning |
| 1996-1999 | GMC | C2500 Truck | GMC C2500 Truck Serpentine Belt Idler Pulley (Grooved) V8 5.0L without Air Conditioning |
| 1996-1999 | GMC | C2500 Truck | GMC C2500 Truck Serpentine Belt Idler Pulley (Grooved) V8 5.7L without Air Conditioning |
| 1996-1999 | GMC | C3500 Truck | GMC C3500 Truck Serpentine Belt Idler Pulley (Grooved) V8 7.4L without Air Conditioning |
| 1996-1999 | GMC | C3500 Truck | GMC C3500 Truck Serpentine Belt Idler Pulley (Grooved) V8 5.7L without Air Conditioning |
| 2001-2002 | GMC | C3500 Truck | GMC C3500 Truck Serpentine Belt Idler Pulley (Grooved) V8 8.1L without Air Conditioning |
| 1996 | GMC | G3500 | GMC G3500 Serpentine Belt Idler Pulley (Grooved) V8 7.4L without Air Conditioning |
| 1996 | GMC | G3500 | GMC G3500 Serpentine Belt Idler Pulley (Grooved) V8 5.7L without Air Conditioning |
| 1996-2001 | GMC | Jimmy S-15 | GMC Jimmy S-15 Serpentine Belt Idler Pulley (Grooved) V6 4.3L without Air Conditioning |
| 1996-1998 | GMC | K1500 Truck | GMC K1500 Truck Serpentine Belt Idler Pulley (Grooved) V6 4.3L without Air Conditioning |
| 1996-1999 | GMC | K1500 Truck | GMC K1500 Truck Serpentine Belt Idler Pulley (Grooved) V8 5.0L without Air Conditioning |
| 1996-1999 | GMC | K1500 Truck | GMC K1500 Truck Serpentine Belt Idler Pulley (Grooved) V8 5.7L without Air Conditioning |
| 1996-1999 | GMC | K2500 Truck | GMC K2500 Truck Serpentine Belt Idler Pulley (Grooved) V8 7.4L without Air Conditioning |
| 1996-1999 | GMC | K2500 Truck | GMC K2500 Truck Serpentine Belt Idler Pulley (Grooved) V8 5.7L without Air Conditioning |
| 1996-1999 | GMC | K2500 Truck | GMC K2500 Truck Serpentine Belt Idler Pulley (Grooved) V8 5.0L without Air Conditioning |
| 1996-1999 | GMC | K3500 Truck | GMC K3500 Truck Serpentine Belt Idler Pulley (Grooved) V8 5.7L without Air Conditioning |
| 1996-1999 | GMC | K3500 Truck | GMC K3500 Truck Serpentine Belt Idler Pulley (Grooved) V8 7.4L without Air Conditioning |
| 1996-1999 | GMC | P3500 | GMC P3500 Serpentine Belt Idler Pulley (Grooved) V6 4.3L without Air Conditioning |
| 1996-1999 | GMC | P3500 | GMC P3500 Serpentine Belt Idler Pulley (Grooved) V8 5.7L without Air Conditioning |
| 1996-1999 | GMC | P3500 | GMC P3500 Serpentine Belt Idler Pulley (Grooved) V8 7.4L without Air Conditioning |
| 1996-2003 | GMC | S-15 Sonoma | GMC S-15 Sonoma Serpentine Belt Idler Pulley (Grooved) V6 4.3L without Air Conditioning |
| 1996-2005 | GMC | Safari | GMC Safari Serpentine Belt Idler Pulley (Grooved) V6 4.3L |
| 1996-2002 | GMC | Savana 1500 Van | GMC Savana 1500 Van Serpentine Belt Idler Pulley (Grooved) V6 4.3L without Air Conditioning |
| 1996-2002 | GMC | Savana 1500 Van | GMC Savana 1500 Van Serpentine Belt Idler Pulley (Grooved) V8 5.7L without Air Conditioning |
| 1996-2002 | GMC | Savana 2500 Van | GMC Savana 2500 Van Serpentine Belt Idler Pulley (Grooved) V8 5.7L without Air Conditioning |
| 1996-2002 | GMC | Savana 2500 Van | GMC Savana 2500 Van Serpentine Belt Idler Pulley (Grooved) V6 4.3L without Air Conditioning |
| 1996-2002 | GMC | Savana 2500 Van | GMC Savana 2500 Van Serpentine Belt Idler Pulley (Grooved) V8 5.0L without Air Conditioning |
| 1996-2000 | GMC | Savana 3500 Van | GMC Savana 3500 Van Serpentine Belt Idler Pulley (Grooved) V8 7.4L without Air Conditioning |
| 1996-2002 | GMC | Savana 3500 Van | GMC Savana 3500 Van Serpentine Belt Idler Pulley (Grooved) V8 5.7L without Air Conditioning |
| 2001-2002 | GMC | Savana 3500 Van | GMC Savana 3500 Van Serpentine Belt Idler Pulley (Grooved) V8 8.1L without Air Conditioning |
| 1999-2008 | GMC | Sierra 1500 | GMC Sierra 1500 Serpentine Belt Idler Pulley (Grooved) V6 4.3L without Air Conditioning |
| 2007 | GMC | Sierra 1500 Classic | GMC Sierra 1500 Classic Serpentine Belt Idler Pulley (Grooved) V6 4.3L without Air Conditioning |
| 1996-1999 | GMC | Suburban C1500 | GMC Suburban C1500 Serpentine Belt Idler Pulley (Grooved) V8 5.7L without Air Conditioning |
| 1996-1999 | GMC | Suburban C2500 | GMC Suburban C2500 Serpentine Belt Idler Pulley (Grooved) V8 5.7L without Air Conditioning |
| 1996-1999 | GMC | Suburban K1500 | GMC Suburban K1500 Serpentine Belt Idler Pulley (Grooved) V8 5.7L without Air Conditioning |
| 1996-1999 | GMC | Suburban K2500 | GMC Suburban K2500 Serpentine Belt Idler Pulley (Grooved) V8 5.7L without Air Conditioning |
| 1996-1999 | GMC | Yukon | GMC Yukon Serpentine Belt Idler Pulley (Grooved) V8 5.7L without Air Conditioning |
| 1999-2002 | Mercury | Cougar | Mercury Cougar Serpentine Belt Idler Pulley (Grooved) V6 2.5L |
| 2005-2007 | Mercury | Mariner | Mercury Mariner Serpentine Belt Idler Pulley (Grooved) L4 2.3L |
| 1998-2000 | Mercury | Mystique | Mercury Mystique Serpentine Belt Idler Pulley (Grooved) V6 2.5L |
| 1996-2001 | Oldsmobile | Bravada | Olds Bravada Serpentine Belt Idler Pulley (Grooved) V6 4.3L without Air Conditioning |
Part #: 1AEIX00002
Order must be placed by 4pm ET
Get it in: 2 - 4 Business Days
Want it sooner? Choose Next Day Air at Checkout