1AESB00046-Serpentine Belt
Replaces
Serpentine Belt ACDelco 6K960 - 1AESB00046
1AESB00046
AC DELCO 6K960 [SERPENTINE BELT
]
This AC DELCO serpentine belt is a new part. It is the same part that you would receive if you purchased it from your local GM dealer.
This serpentine belt features the following specifications:
Brand New AC Delco part
Replaces dealer part numbers: XF2E 8620 CB, XF2E8620CB, E2DE 8620 AA, E2DE8620AA, E3ZE 8620 CA, E3ZE8620CA, E3ZZ 8620 A, E3ZZ8620A, E6AE 8620 JA, E6AE8620JA, F0DE 8620 EA, F0DE8620EA, MJK6966, XF2E 8620 CA, XF2E8620CA, 10243938, 12564763, 12569352, 12576455, 12590623, 14100675, 88932794, 0109976392, 0109978392, 077903137G
Built to strict quality control standards
Direct replacement

Rib Number: 6
Top Width: 0.807 Inches
Effective Length: 96.01 Inches
Wear and Tear
This item is backed by a 60-day warranty against defects in materials and workmanship under its intended use. The warranty does not cover normal wear and tear.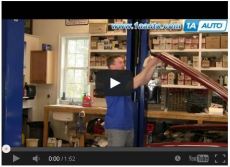 step : Removing the Serpentine Belt (0:37)

Familiarize yourself with the belt routing diagram
Insert a 3/8 inch drive ratchet into the belt tensioner
Pull the tensioner counterclockwise to loosen the belt
Pull the belt off the idler pulley
Release the tensioner
Pull the belt off and out

step : Installing the New Serpentine Belt (1:23)

Loop the belt around the crank pulley
Bring it around the water pump
Bring it around the power steering pulley
Bring it around the A/C Pulley
Bring it across the tensioner
Bring it around the alternator
Push the belt down toward the idler pulley
Insert a 3/8 inch drive ratchet into the belt tensioner
Pull the tensioner counterclockwise to loosen the belt
Pull the belt on to the idler pulley
Release the tensioner
Tools needed for replacement:
Ratchets & Related

3/8 Inch Drive Ratchet
Vehicle Fit
| Year | Make | Model | Description |
| --- | --- | --- | --- |
| 1990-1991 | Audi | V8 | Audi V8 Serpentine Belt V8 3.6L with Manual Transmission ACDelco 6K960 |
| 1987 | Chevy | Blazer S10 | Chevy Blazer S10 Serpentine Belt V6 2.8L with Power Steering Pump without Air Conditioning ACDelco 6K960 |
| 1996-1998 | Chevy | Blazer S10 | Chevy Blazer S10 Serpentine Belt V6 4.3L with Air Conditioning ACDelco 6K960 |
| 1996-1999 | Chevy | C1500 Truck | Chevy C1500 Truck Serpentine Belt V8 5.0L 100 Amp Alternator or 150 Amp Alternator A/C Compressor & Alternator ACDelco 6K960 |
| 1996-1999 | Chevy | C1500 Truck | Chevy C1500 Truck Serpentine Belt V6 4.3L 100 Amp Alternator or 150 Amp Alternator A/C Compressor & Alternator ACDelco 6K960 |
| 1996-1999 | Chevy | C1500 Truck | Chevy C1500 Truck Serpentine Belt V8 5.7L 100 Amp Alternator or 150 Amp Alternator A/C Compressor & Alternator ACDelco 6K960 |
| 1996-2000 | Chevy | C2500 Truck | Chevy C2500 Truck Serpentine Belt V8 5.7L 100 Amp Alternator or 150 Amp Alternator A/C Compressor & Alternator ACDelco 6K960 |
| 1996-2000 | Chevy | C2500 Truck | Chevy C2500 Truck Serpentine Belt V8 5.0L 100 Amp Alternator or 150 Amp Alternator A/C Compressor & Alternator ACDelco 6K960 |
| 1996-2000 | Chevy | C3500 Truck | Chevy C3500 Truck Serpentine Belt V8 5.7L 100 Amp Alternator or 150 Amp Alternator A/C Compressor & Alternator ACDelco 6K960 |
| 1996-2013 | Chevy | Express 1500 Van | Chevy Express 1500 Van Serpentine Belt V6 4.3L with 100 Amp Alternator or 150 Amp Alternator & with Air Conditioning ACDelco 6K960 |
| 1996-2002 | Chevy | Express 1500 Van | Chevy Express 1500 Van Serpentine Belt V8 5.0L with 100 Amp Alternator or 150 Amp Alternator & with Air Conditioning ACDelco 6K960 |
| 1996-2002 | Chevy | Express 1500 Van | Chevy Express 1500 Van Serpentine Belt V8 5.7L with 100 Amp Alternator or 150 Amp Alternator & with Air Conditioning ACDelco 6K960 |
| 1996-2013 | Chevy | Express 2500 Van | Chevy Express 2500 Van Serpentine Belt V6 4.3L with 100 Amp Alternator or 150 Amp Alternator & with Air Conditioning ACDelco 6K960 |
| 1996-2002 | Chevy | Express 2500 Van | Chevy Express 2500 Van Serpentine Belt V8 5.0L with 100 Amp Alternator or 150 Amp Alternator & with Air Conditioning ACDelco 6K960 |
| 1996-2002 | Chevy | Express 2500 Van | Chevy Express 2500 Van Serpentine Belt V8 5.7L with 100 Amp Alternator or 150 Amp Alternator & with Air Conditioning ACDelco 6K960 |
| 1996-2002 | Chevy | Express 3500 Van | Chevy Express 3500 Van Serpentine Belt V8 5.7L with 100 Amp Alternator or 150 Amp Alternator & with Air Conditioning ACDelco 6K960 |
| 1996-2002 | Chevy | Express 3500 Van | Chevy Express 3500 Van Serpentine Belt V8 5.0L with 100 Amp Alternator or 150 Amp Alternator & with Air Conditioning ACDelco 6K960 |
| 1996-1998 | Chevy | K1500 Truck | Chevy K1500 Truck Serpentine Belt V6 4.3L 100 Amp Alternator or 150 Amp Alternator A/C Compressor & Alternator ACDelco 6K960 |
| 1996-1999 | Chevy | K1500 Truck | Chevy K1500 Truck Serpentine Belt V8 5.7L 100 Amp Alternator or 150 Amp Alternator A/C Compressor & Alternator ACDelco 6K960 |
| 1996-1999 | Chevy | K1500 Truck | Chevy K1500 Truck Serpentine Belt V8 5.0L 100 Amp Alternator or 150 Amp Alternator A/C Compressor & Alternator ACDelco 6K960 |
| 1996-2000 | Chevy | K2500 Truck | Chevy K2500 Truck Serpentine Belt V8 5.7L 100 Amp Alternator or 150 Amp Alternator A/C Compressor & Alternator ACDelco 6K960 |
| 1996-1998 | Chevy | K2500 Truck | Chevy K2500 Truck Serpentine Belt V8 5.0L 100 Amp Alternator or 150 Amp Alternator A/C Compressor & Alternator ACDelco 6K960 |
| 1996-2000 | Chevy | K3500 Truck | Chevy K3500 Truck Serpentine Belt V8 5.7L 100 Amp Alternator or 150 Amp Alternator A/C Compressor & Alternator ACDelco 6K960 |
| 1987 | Chevy | S10 Pickup | Chevy S10 Pickup Serpentine Belt V6 2.8L with Power Steering Pump without Air Conditioning ACDelco 6K960 |
| 1996-1998 | Chevy | S10 Pickup | Chevy S10 Pickup Serpentine Belt V6 4.3L with Air Conditioning ACDelco 6K960 |
| 2005-2013 | Chevy | Silverado 1500 | Chevy Silverado 1500 Serpentine Belt V6 4.3L with Air Conditioning ACDelco 6K960 |
| 2007 | Chevy | Silverado 1500 Classic | Chevy Silverado 1500 Classic Serpentine Belt V6 4.3L with Air Conditioning ACDelco 6K960 |
| 1996-1999 | Chevy | Suburban C1500 | Chevy Suburban C1500 Serpentine Belt V8 5.7L 100 Amp Alternator or 150 Amp Alternator A/C Compressor & Alternator ACDelco 6K960 |
| 1996-1999 | Chevy | Suburban C2500 | Chevy Suburban C2500 Serpentine Belt V8 5.7L 100 Amp Alternator or 150 Amp Alternator A/C Compressor & Alternator ACDelco 6K960 |
| 1996-1999 | Chevy | Suburban K1500 | Chevy Suburban K1500 Serpentine Belt V8 5.7L 100 Amp Alternator or 150 Amp Alternator A/C Compressor & Alternator ACDelco 6K960 |
| 1996-1999 | Chevy | Suburban K2500 | Chevy Suburban K2500 Serpentine Belt V8 5.7L 100 Amp Alternator or 150 Amp Alternator A/C Compressor & Alternator ACDelco 6K960 |
| 1996-2000 | Chevy | Tahoe | Chevy Tahoe Serpentine Belt V8 5.7L 100 Amp Alternator or 150 Amp Alternator A/C Compressor & Alternator ACDelco 6K960 |
| 1996-1999 | Chevy | Van - P Series Forward Control | Chevy Van - P Series Forward Control Serpentine Belt V8 5.7L 100 Amp Alternator or 150 Amp Alternator A/C Compressor & Alternator ACDelco 6K960 |
| 1996-1999 | Chevy | Van - P Series Forward Control | Chevy Van - P Series Forward Control Serpentine Belt V6 4.3L 100 Amp Alternator or 150 Amp Alternator A/C Compressor & Alternator ACDelco 6K960 |
| 1983-1985 | Ford | LTD | Ford LTD Serpentine Belt V6 3.8L with Dealer Installed Air Conditioning ACDelco 6K960 |
| 1983-1986 | Ford | Mustang | Ford Mustang Serpentine Belt V6 3.8L with Air Conditioning ACDelco 6K960 |
| 2003-2004 | Ford | Mustang | Ford Mustang Cobra Serpentine Belt V8 4.6L Supercharged for A/C Compressor & Power Steering Pump ACDelco 6K960 |
| 1987-1991 | Ford | Taurus | Ford Taurus Serpentine Belt L4 2.5L with Air Conditioning ACDelco 6K960 |
| 1996-1999 | GMC | C1500 Truck | GMC C1500 Truck Serpentine Belt V6 4.3L 100 Amp Alternator or 150 Amp Alternator A/C Compressor & Alternator ACDelco 6K960 |
| 1996-1999 | GMC | C1500 Truck | GMC C1500 Truck Serpentine Belt V8 5.0L 100 Amp Alternator or 150 Amp Alternator A/C Compressor & Alternator ACDelco 6K960 |
| 1996-1999 | GMC | C1500 Truck | GMC C1500 Truck Serpentine Belt V8 5.7L 100 Amp Alternator or 150 Amp Alternator A/C Compressor & Alternator ACDelco 6K960 |
| 1996-2000 | GMC | C2500 Truck | GMC C2500 Truck Serpentine Belt V8 5.0L 100 Amp Alternator or 150 Amp Alternator A/C Compressor & Alternator ACDelco 6K960 |
| 1996-2000 | GMC | C2500 Truck | GMC C2500 Truck Serpentine Belt V8 5.7L 100 Amp Alternator or 150 Amp Alternator A/C Compressor & Alternator ACDelco 6K960 |
| 1996-2000 | GMC | C3500 Truck | GMC C3500 Truck Serpentine Belt V8 5.7L 100 Amp Alternator or 150 Amp Alternator A/C Compressor & Alternator ACDelco 6K960 |
| 1987 | GMC | Jimmy S-15 | GMC Jimmy S-15 Serpentine Belt V6 2.8L with Power Steering Pump without Air Conditioning ACDelco 6K960 |
| 1996-1998 | GMC | Jimmy S-15 | GMC Jimmy S-15 Serpentine Belt V6 4.3L with Air Conditioning ACDelco 6K960 |
| 1996-1999 | GMC | K1500 Truck | GMC K1500 Truck Serpentine Belt V6 4.3L 100 Amp Alternator or 150 Amp Alternator A/C Compressor & Alternator ACDelco 6K960 |
| 1996-1999 | GMC | K1500 Truck | GMC K1500 Truck Serpentine Belt V8 5.0L 100 Amp Alternator or 150 Amp Alternator A/C Compressor & Alternator ACDelco 6K960 |
| 1996-1999 | GMC | K1500 Truck | GMC K1500 Truck Serpentine Belt V8 5.7L 100 Amp Alternator or 150 Amp Alternator A/C Compressor & Alternator ACDelco 6K960 |
| 1996-2000 | GMC | K2500 Truck | GMC K2500 Truck Serpentine Belt V8 5.7L 100 Amp Alternator or 150 Amp Alternator A/C Compressor & Alternator ACDelco 6K960 |
| 1996-2000 | GMC | K2500 Truck | GMC K2500 Truck Serpentine Belt V8 5.0L 100 Amp Alternator or 150 Amp Alternator A/C Compressor & Alternator ACDelco 6K960 |
| 1996-2000 | GMC | K3500 Truck | GMC K3500 Truck Serpentine Belt V8 5.7L 100 Amp Alternator or 150 Amp Alternator A/C Compressor & Alternator ACDelco 6K960 |
| 1987 | GMC | S-15 Pickup | GMC S-15 Pickup Serpentine Belt V6 2.8L with Power Steering Pump without Air Conditioning ACDelco 6K960 |
| 1996-1998 | GMC | S-15 Sonoma | GMC S-15 Sonoma Serpentine Belt V6 4.3L with Air Conditioning ACDelco 6K960 |
| 1996-2005 | GMC | Savana 1500 Van | GMC Savana 1500 Van Serpentine Belt V8 5.7L 100 Amp Alternator or 150 Amp Alternator A/C Compressor & Alternator ACDelco 6K960 |
| 1996-2013 | GMC | Savana 1500 Van | GMC Savana 1500 Van Serpentine Belt V6 4.3L 100 Amp Alternator or 150 Amp Alternator A/C Compressor & Alternator ACDelco 6K960 |
| 1996-2005 | GMC | Savana 1500 Van | GMC Savana 1500 Van Serpentine Belt V8 5.0L 100 Amp Alternator or 150 Amp Alternator A/C Compressor & Alternator ACDelco 6K960 |
| 1996-2005 | GMC | Savana 2500 Van | GMC Savana 2500 Van Serpentine Belt V8 5.7L 100 Amp Alternator or 150 Amp Alternator A/C Compressor & Alternator ACDelco 6K960 |
| 1996-2005 | GMC | Savana 2500 Van | GMC Savana 2500 Van Serpentine Belt V8 5.0L 100 Amp Alternator or 150 Amp Alternator A/C Compressor & Alternator ACDelco 6K960 |
| 1996-2013 | GMC | Savana 2500 Van | GMC Savana 2500 Van Serpentine Belt V6 4.3L 100 Amp Alternator or 150 Amp Alternator A/C Compressor & Alternator ACDelco 6K960 |
| 1996-2005 | GMC | Savana 3500 Van | GMC Savana 3500 Van Serpentine Belt V8 5.7L 100 Amp Alternator or 150 Amp Alternator A/C Compressor & Alternator ACDelco 6K960 |
| 1996-2013 | GMC | Savana 3500 Van | GMC Savana 3500 Van Serpentine Belt V6 4.3L 100 Amp Alternator or 150 Amp Alternator A/C Compressor & Alternator ACDelco 6K960 |
| 2005-2013 | GMC | Sierra 1500 | GMC Sierra 1500 Serpentine Belt V6 4.3L with Air Conditioning ACDelco 6K960 |
| 2007 | GMC | Sierra 1500 Classic | GMC Sierra 1500 Classic Serpentine Belt V6 4.3L with Air Conditioning ACDelco 6K960 |
| 1996-1999 | GMC | Suburban C1500 | GMC Suburban C1500 Serpentine Belt V8 5.7L 100 Amp Alternator or 150 Amp Alternator A/C Compressor & Alternator ACDelco 6K960 |
| 1996-1999 | GMC | Suburban C2500 | GMC Suburban C2500 Serpentine Belt V8 5.7L 100 Amp Alternator or 150 Amp Alternator A/C Compressor & Alternator ACDelco 6K960 |
| 1996-1999 | GMC | Suburban K1500 | GMC Suburban K1500 Serpentine Belt V8 5.7L 100 Amp Alternator or 150 Amp Alternator A/C Compressor & Alternator ACDelco 6K960 |
| 1996-1999 | GMC | Suburban K2500 | GMC Suburban K2500 Serpentine Belt V8 5.7L 100 Amp Alternator or 150 Amp Alternator A/C Compressor & Alternator ACDelco 6K960 |
| 1996 | GMC | Van | GMC Van 3500 Serpentine Belt V8 5.7L 100 Amp Alternator or 150 Amp Alternator A/C Compressor & Alternator ACDelco 6K960 |
| 1996 | GMC | Van | GMC Van 1500 Serpentine Belt V8 5.0L 100 Amp Alternator or 150 Amp Alternator A/C Compressor & Alternator ACDelco 6K960 |
| 1996 | GMC | Van | GMC Van 1500 Serpentine Belt V6 4.3L 100 Amp Alternator or 150 Amp Alternator A/C Compressor & Alternator ACDelco 6K960 |
| 1996 | GMC | Van | GMC Van 2500 Serpentine Belt V6 4.3L 100 Amp Alternator or 150 Amp Alternator A/C Compressor & Alternator ACDelco 6K960 |
| 1996 | GMC | Van | GMC Van 1500 Serpentine Belt V8 5.7L 100 Amp Alternator or 150 Amp Alternator A/C Compressor & Alternator ACDelco 6K960 |
| 1996 | GMC | Van | GMC Van 2500 Serpentine Belt V8 5.7L 100 Amp Alternator or 150 Amp Alternator A/C Compressor & Alternator ACDelco 6K960 |
| 1996 | GMC | Van | GMC Van 2500 Serpentine Belt V8 5.0L 100 Amp Alternator or 150 Amp Alternator A/C Compressor & Alternator ACDelco 6K960 |
| 1996-1999 | GMC | Van - P Series Forward Control | GMC Van - P Series Forward Control Serpentine Belt V8 4.3L 100 Amp Alternator or 150 Amp Alternator A/C Compressor & Alternator ACDelco 6K960 |
| 1996-1999 | GMC | Van - P Series Forward Control | GMC Van - P Series Forward Control Serpentine Belt V8 5.7L 100 Amp Alternator or 150 Amp Alternator A/C Compressor & Alternator ACDelco 6K960 |
| 1996-2000 | GMC | Yukon | GMC Yukon Serpentine Belt V8 5.7L 100 Amp Alternator or 150 Amp Alternator A/C Compressor & Alternator ACDelco 6K960 |
| 1997-2000 | Isuzu | Hombre | Isuzu Hombre Serpentine Belt V6 4.3L with Air Conditioning ACDelco 6K960 |
| 1994 | Mercedes Benz | S320 | Mercedes Benz S320 Serpentine Belt V6 3.2L ACDelco 6K960 |
| 1983-1986 | Mercury | Capri | Mercury Capri Serpentine Belt V6 3.8L with Air Conditioning ACDelco 6K960 |
| 1984 | Mercury | Cougar | Mercury Cougar Serpentine Belt V6 3.8L with Air Conditioning ACDelco 6K960 |
| 1986 | Mercury | Cougar | Mercury Cougar Serpentine Belt V6 3.8L with Air Conditioning ACDelco 6K960 |
| 1983-1985 | Mercury | Marquis | Mercury Marquis Serpentine Belt V6 3.8L with Air Conditioning ACDelco 6K960 |
| 1996-1998 | Oldsmobile | Bravada | Olds Bravada Serpentine Belt V6 4.3L with Air Conditioning ACDelco 6K960 |
Part #: 1AESB00046
Order must be placed by 4pm ET
Get it in: 2 - 4 Business Days
Want it sooner? Choose Next Day Air at Checkout

Brand #: 6K960