1ARFC00039-Radiator Fan Clutch
Replaces
Radiator Fan Clutch - 1ARFC00039
1ARFC00039
Specifications:
Brand New Severe Duty* Fan Clutch

designed to replace the original design

Extra deep fins for improved heat dissipation
High quality long life bearings
Direct replacement
Built to strict quality control standards
Item Condition: New

Attention California Customers:
WARNING: Cancer and Reproductive Harm - www.P65Warnings.ca.gov.
Lifetime Warranty
This item is backed by a Limited Lifetime Warranty. In the event this item should fail due to manufacturing defects during intended use, we will exchange the part free of charge (excludes shipping charges) for the original purchaser.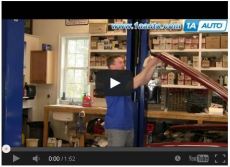 step : Removing the Radiator Fan Clutch (0:59)

Disconnect the negative battery cable.
Remove the four nuts on the radiator fan.
Pull the fan up and out.
Remove the four bolts securing the fan clutch to the radiator fan.
Pry the fan off.

step : Replacing the Radiator Fan Clutch (4:29)

Push the clutch into the fan.
Replace the four bolts.
Replace the fan.
Replace the four nuts that secure the fan.
Tools needed for replacement:
Wrenches - SAE

1/2 Inch Wrench
There are no reviews for this item.
Customer Q&A
Ask a question to 1A Auto customers who purchased the product
No questions have been asked about this item.
| Year | Make | Model | Description |
| --- | --- | --- | --- |
| 1991-1993 | Buick | Roadmaster | Buick Roadmaster Heavy Duty Radiator Fan Clutch for Models with Reverse Rotation |
| 1990-1992 | Cadillac | Brougham | Cadillac Brougham Heavy Duty Radiator Fan Clutch for Models with Reverse Rotation |
| 1991-1992 | Cadillac | Deville | Cadillac Deville Heavy Duty Radiator Fan Clutch for Models with Reverse Rotation |
| 1990-1993 | Cadillac | Fleetwood | Cadillac Fleetwood Heavy Duty Radiator Fan Clutch for Models with Reverse Rotation |
| 1987-1995 | Chevy | Astro | Chevy Astro V6 4.3L Heavy Duty Radiator Fan Clutch for Models with Reverse Rotation |
| 1988-1994 | Chevy | Blazer Full Size | Chevy Blazer Full Size (excluding Diesel Engines) Heavy Duty Radiator Fan Clutch for Models with Reverse Rotation |
| 1988-1994 | Chevy | Blazer S10 | Chevy Blazer S10 V6 4.3L Heavy Duty Radiator Fan Clutch for Models with Reverse Rotation |
| 1988-1995 | Chevy | C1500 Truck | Chevy C1500 Truck (excluding Diesel Engines) Heavy Duty Radiator Fan Clutch for Models with Reverse Rotation |
| 1988-1995 | Chevy | C2500 Truck | Chevy C2500 Truck (excluding Diesel Engines) Heavy Duty Radiator Fan Clutch for Models with Reverse Rotation |
| 1996-2000 | Chevy | C2500 Truck | Chevy C2500 Truck (excluding Diesel Engines) Heavy Duty Radiator Fan Clutch for Models with Reverse Rotation |
| 1988-1995 | Chevy | C3500 Truck | Chevy C3500 Truck (excluding Diesel Engines) Heavy Duty Radiator Fan Clutch for Models with Reverse Rotation |
| 1988-1995 | Chevy | C3500 Truck | Chevy C3500 Truck (excluding Diesel Engines) Heavy Duty Radiator Fan Clutch for Models with Reverse Rotation |
| 1996-2000 | Chevy | C3500 Truck | Chevy C3500 Truck (excluding Diesel Engines) Heavy Duty Radiator Fan Clutch for Models with Reverse Rotation |
| 1989-1993 | Chevy | Caprice | Chevy Caprice Heavy Duty Radiator Fan Clutch for Models with Reverse Rotation |
| 1991-1993 | Chevy | Caprice | Chevy Caprice Heavy Duty Reverse Rotation Radiator Fan Clutch for Models with |
| 1996-2000 | Chevy | Express 3500 Van | Chevy Express 3500 Van V8 7.4L Heavy Duty Radiator Fan Clutch for Models with Reverse Rotation |
| 1987-1995 | Chevy | G10 | Chevy G10 (excluding Diesel Engines) Heavy Duty Radiator Fan Clutch for Models with Reverse Rotation |
| 1987-1995 | Chevy | G20 | Chevy G20 (excluding Diesel Engines) Heavy Duty Radiator Fan Clutch for Models with Reverse Rotation |
| 1987-1995 | Chevy | G30 | Chevy G30 (excluding Diesel Engines) Heavy Duty Radiator Fan Clutch for Models with Reverse Rotation |
| 1988-1995 | Chevy | K1500 Truck | Chevy K1500 Truck (excluding Diesel Engines) Heavy Duty Radiator Fan Clutch for Models with Reverse Rotation |
| 1988-1995 | Chevy | K2500 Truck | Chevy K2500 Truck (excluding Diesel Engines) Heavy Duty Radiator Fan Clutch for Models with Reverse Rotation |
| 1988-1995 | Chevy | K2500 Truck | Chevy K2500 Truck (excluding Diesel Engines) Heavy Duty Radiator Fan Clutch for Models with Reverse Rotation |
| 1996 | Chevy | K2500 Truck | Chevy K2500 Truck (excluding Diesel Engines) Heavy Duty Radiator Fan Clutch for Models with Reverse Rotation |
| 1997-2000 | Chevy | K2500 Truck | Chevy K2500 Truck (excluding Diesel Engines) Heavy Duty Radiator Fan Clutch for Models with Reverse Rotation |
| 1988-1995 | Chevy | K3500 Truck | Chevy K3500 Truck (excluding Diesel Engines) Heavy Duty Radiator Fan Clutch for Models with Reverse Rotation |
| 1996-2000 | Chevy | K3500 Truck | Chevy K3500 Truck (excluding Diesel Engines) Heavy Duty Radiator Fan Clutch for Models with Reverse Rotation |
| 1998-1999 | Chevy | P30 | Chevy P30 (excluding Diesel Engines) Heavy Duty Radiator Fan Clutch for Models with Reverse Rotation |
| 1988-1995 | Chevy | S10 Pickup | Chevy S10 Pickup V6 4.3L Heavy Duty Radiator Fan Clutch for Models with Reverse Rotation |
| 1988 | Chevy | Suburban R10 | Chevy Suburban R10 (excluding Diesel Engines) Heavy Duty Radiator Fan Clutch for Models with Reverse Rotation |
| 1989-1991 | Chevy | Suburban R1500 | Chevy Suburban R1500 (excluding Diesel Engines) Heavy Duty Radiator Fan Clutch for Models with Reverse Rotation |
| 1988 | Chevy | Suburban R20 | Chevy Suburban R20 (excluding Diesel Engines) Heavy Duty Radiator Fan Clutch for Models with Reverse Rotation |
| 1989-1991 | Chevy | Suburban R2500 | Chevy Suburban R2500 (excluding Diesel Engines) Heavy Duty Radiator Fan Clutch for Models with Reverse Rotation |
| 1988 | Chevy | Suburban V10 | Chevy Suburban V10 (excluding Diesel Engines) Heavy Duty Radiator Fan Clutch for Models with Reverse Rotation |
| 1989-1991 | Chevy | Suburban V1500 | Chevy Suburban V1500 (excluding Diesel Engines) Heavy Duty Radiator Fan Clutch for Models with Reverse Rotation |
| 1988 | Chevy | Suburban V20 | Chevy Suburban V20 (excluding Diesel Engines) Heavy Duty Radiator Fan Clutch for Models with Reverse Rotation |
| 1989-1991 | Chevy | Suburban V2500 | Chevy Suburban V2500 (excluding Diesel Engines) Heavy Duty Radiator Fan Clutch for Models with Reverse Rotation |
| 1995 | Chevy | Tahoe | Chevy Tahoe (excluding Diesel Engines) Heavy Duty Radiator Fan Clutch for Models with Reverse Rotation |
| 1988-1995 | GMC | C1500 Truck | GMC C1500 Truck (excluding Diesel Engines) Heavy Duty Radiator Fan Clutch for Models with Reverse Rotation |
| 1988-1995 | GMC | C2500 Truck | GMC C2500 Truck (excluding Diesel Engines) Heavy Duty Radiator Fan Clutch for Models with Reverse Rotation |
| 1996-2000 | GMC | C2500 Truck | GMC C2500 Truck (excluding Diesel Engines) Heavy Duty Radiator Fan Clutch for Models with Reverse Rotation |
| 1988-1995 | GMC | C3500 Truck | GMC C3500 Truck (excluding Diesel Engines) Heavy Duty Radiator Fan Clutch for Models with Reverse Rotation |
| 1996-2000 | GMC | C3500 Truck | GMC C3500 Truck (excluding Diesel Engines) Heavy Duty Radiator Fan Clutch for Models with Reverse Rotation |
| 1987-1995 | GMC | G1500 | GMC G1500 (excluding Diesel Engines) Heavy Duty Radiator Fan Clutch for Models with Reverse Rotation |
| 1987-1995 | GMC | G2500 | GMC G2500 (excluding Diesel Engines) Heavy Duty Radiator Fan Clutch for Models with Reverse Rotation |
| 1987-1995 | GMC | G3500 | GMC G3500 (excluding Diesel Engines) Heavy Duty Radiator Fan Clutch for Models with Reverse Rotation |
| 1988-1995 | GMC | Jimmy S-15 | GMC Jimmy S-15 V6 4.3L Heavy Duty Radiator Fan Clutch for Models with Reverse Rotation |
| 1988-1995 | GMC | K1500 Truck | GMC K1500 Truck (excluding Diesel Engines) Heavy Duty Radiator Fan Clutch for Models with Reverse Rotation |
| 1988-1995 | GMC | K2500 Truck | GMC K2500 Truck (excluding Diesel Engines) Heavy Duty Radiator Fan Clutch for Models with Reverse Rotation |
| 1996-2000 | GMC | K2500 Truck | GMC K2500 Truck (excluding Diesel Engines) Heavy Duty Radiator Fan Clutch for Models with Reverse Rotation |
| 1988-1995 | GMC | K3500 Truck | GMC K3500 Truck (excluding Diesel Engines) Heavy Duty Radiator Fan Clutch for Models with Reverse Rotation |
| 1996-2000 | GMC | K3500 Truck | GMC K3500 Truck (excluding Diesel Engines) Heavy Duty Radiator Fan Clutch for Models with Reverse Rotation |
| 1996-1999 | GMC | P3500 | GMC P3500 Heavy Duty Radiator Fan Clutch for Models with Reverse Rotation |
| 1988-1990 | GMC | S-15 Pickup | GMC S-15 Pickup V6 4.3L Heavy Duty Radiator Fan Clutch for Models with Reverse Rotation |
| 1991-1995 | GMC | S-15 Sonoma | GMC S-15 Sonoma V6 4.3L Heavy Duty Radiator Fan Clutch for Models with Reverse Rotation |
| 1987-1994 | GMC | Safari | GMC Safari V6 4.3L Heavy Duty Radiator Fan Clutch for Models with Reverse Rotation |
| 1992-1995 | GMC | Safari | GMC Safari V6 4.3L Heavy Duty Radiator Fan Clutch for Models with Reverse Rotation |
| 1996-2000 | GMC | Savana 3500 Van | GMC Savana 3500 Van V8 7.4L Heavy Duty Radiator Fan Clutch for Models with Reverse Rotation |
| 1992-1995 | GMC | Suburban C1500 | GMC Suburban C1500 (excluding Diesel Engines) Heavy Duty Radiator Fan Clutch for Models with Reverse Rotation |
| 1996-1999 | GMC | Suburban C1500 | GMC Suburban C1500 (excluding Diesel Engines) Heavy Duty Radiator Fan Clutch for Models with Reverse Rotation |
| 1992-1995 | GMC | Suburban C2500 | GMC Suburban C2500 (excluding Diesel Engines) Heavy Duty Radiator Fan Clutch for Models with Reverse Rotation |
| 1996-1999 | GMC | Suburban C2500 | GMC Suburban C2500 (excluding Diesel Engines) Heavy Duty Radiator Fan Clutch for Models with Reverse Rotation |
| 1992-1995 | GMC | Suburban K1500 | GMC Suburban K1500 (excluding Diesel Engines) Heavy Duty Radiator Fan Clutch for Models with Reverse Rotation |
| 1996-1999 | GMC | Suburban K1500 | GMC Suburban K1500 (excluding Diesel Engines) Heavy Duty Radiator Fan Clutch for Models with Reverse Rotation |
| 1992-1995 | GMC | Suburban K2500 | GMC Suburban K2500 (excluding Diesel Engines) Heavy Duty Radiator Fan Clutch for Models with Reverse Rotation |
| 1996-1999 | GMC | Suburban K2500 | GMC Suburban K2500 (excluding Diesel Engines) Heavy Duty Radiator Fan Clutch for Models with Reverse Rotation |
| 1988-1991 | GMC | Suburban R1500 | GMC Suburban R1500 (excluding Diesel Engines) Heavy Duty Radiator Fan Clutch for Models with Reverse Rotation |
| 1988-1991 | GMC | Suburban R2500 | GMC Suburban R2500 (excluding Diesel Engines) Heavy Duty Radiator Fan Clutch for Models with Reverse Rotation |
| 1988-1991 | GMC | Suburban V1500 | GMC Suburban V1500 (excluding Diesel Engines) Heavy Duty Radiator Fan Clutch for Models with Reverse Rotation |
| 1988-1991 | GMC | Suburban V2500 | GMC Suburban V2500 (excluding Diesel Engines) Heavy Duty Radiator Fan Clutch for Models with Reverse Rotation |
| 1991 | GMC | Syclone | GMC Syclone Heavy Duty Radiator Fan Clutch for Models with Reverse Rotation |
| 1992-1993 | GMC | Typhoon | GMC Typhoon Heavy Duty Radiator Fan Clutch for Models with Reverse Rotation |
| 1992-1995 | GMC | Yukon | GMC Yukon (excluding Diesel Engines) Heavy Duty Radiator Fan Clutch for Models with Reverse Rotation |
| 1991-1994 | Oldsmobile | Bravada | Olds Bravada Heavy Duty Radiator Fan Clutch for Models with Reverse Rotation |
| 1991-1992 | Oldsmobile | Custom Cruiser | Olds Custom Cruiser Heavy Duty Radiator Fan Clutch for Models with Reverse Rotation |
Part #: 1ARFC00039
Order must be placed by 4pm ET
Get it in: 2 - 4 Business Days
Want it sooner? Choose Next Day Air at Checkout