1ASPP00046-Power Steering Pump Pulley
Replaces
Power Steering Pump Pulley - 1ASPP00046
1ASPP00046
This power steering pulley is a ready to bolt on, direct replacement part. If your original power steering pulley is cracked or warped then this replacement steering pulley could be your solution.

Specifications:
Brand new in the box!
Steel construction
Replaces dealer part numbers: 2L3Z-3A733-AA, F6AZ-3A733-AA, F6AZ-3A733-AB, 2L3Z3A733AA, F6AZ3A733AA, F6AZ3A733AB
Pulley Type: Serpentine
Inside Diameter - .626"
Outside Diameter - 5-5/8"
Width - 1-3/64"
Direct replacement
Built to strict quality control standards
Now you can buy a high quality power steering pulley that is built to strict quality control standards. This pulley makes a great replacement and has good cost savings over a factory power steering pump pulley.
Lifetime Warranty
This item is backed by a Limited Lifetime Warranty. In the event this item should fail due to manufacturing defects during intended use, we will exchange the part free of charge (excludes shipping charges) for the original purchaser.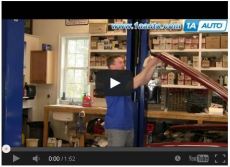 Tools needed for replacement:
General Tools

Funnel
Jack Stands
Pick
Drain Pan
Floor Jack

Materials, Fluids, and Supplies

Rust Penetrant
Safety Glasses
Gloves
Wire Ties
Cloth Rags

Pliers, Cutters & misc Wrenches

Channel-Lock Pliers

Ratchets & Related

Socket Extensions
Ratchet
1/2 Inch Breaker Bar

Screwdrivers & Related

Flat Blade Screwdriver

Sockets - Metric

8mm Socket
10mm Socket

Wrenches - Metric

10mm Wrench
Vehicle Fit
| Year | Make | Model | Description |
| --- | --- | --- | --- |
| 1993-2008 | Ford | Crown Victoria | Ford Crown Victoria Power Steering Pump Pulley V8 4.6L (8th Vin Digit W) |
| 1996 | Ford | Crown Victoria | Ford Crown Victoria Power Steering Pump Pulley V8 4.6L (8th Vin Digit 6) |
| 1996-2005 | Ford | Crown Victoria | Ford Crown Victoria Power Steering Pump Pulley V8 4.6L (8th Vin Digit 9) |
| 2006-2011 | Ford | Crown Victoria | Ford Crown Victoria Power Steering Pump Pulley V8 4.6L (8th Vin Digit V) |
| 1997-2003 | Ford | E150 Van | Ford E150 Van Power Steering Pump Pulley V6 4.2L (8th Vin Digit 2) |
| 2005-2014 | Ford | E150 Van | Ford E150 Van Power Steering Pump Pulley V8 5.4L (8th Vin Digit L) |
| 2005-2014 | Ford | E150 Van | Ford E150 Van Power Steering Pump Pulley V8 4.6L (8th Vin Digit W) |
| 1997-2003 | Ford | E250 Van | Ford E250 Van Power Steering Pump Pulley V6 4.2L (8th Vin Digit 2) |
| 2005-2014 | Ford | E250 Van | Ford E250 Van Power Steering Pump Pulley V8 5.4L (8th Vin Digit L) |
| 2005-2014 | Ford | E250 Van | Ford E250 Van Power Steering Pump Pulley V8 4.6L (8th Vin Digit W) |
| 2002-2008 | Ford | E350 Van | Ford E350 Van Power Steering Pump Pulley V10 6.8L (8th Vin Digit S) |
| 2002-2012 | Ford | E350 Van | Ford E350 Van Super Duty Power Steering Pump Pulley V10 6.8L (8th Vin Digit S) |
| 2005-2008 | Ford | E350 Van | Ford E350 Van Power Steering Pump Pulley V8 5.4L (8th Vin Digit L) |
| 2005 | Ford | E350 Van | Ford E350 Van Power Steering Pump Pulley V8 5.4L (8th Vin Digit M) |
| 2006-2016 | Ford | E350 Van | Ford E350 Van Super Duty Power Steering Pump Pulley V8 5.4L (8th Vin Digit L) |
| 2002-2012 | Ford | E450 Van | Ford E450 Van Power Steering Pump Pulley V10 6.8L (8th Vin Digit S) |
| 2006-2016 | Ford | E450 Van | Ford E450 Van Power Steering Pump Pulley V8 5.4L (8th Vin Digit L) |
| 2002-2005 | Ford | Excursion | Ford Excursion Power Steering Pump Pulley V8 5.4L (8th Vin Digit L) |
| 2002-2005 | Ford | Excursion | Ford Excursion Power Steering Pump Pulley V10 6.8L (8th Vin Digit S) |
| 2003-2004 | Ford | Expedition | Ford Expedition Power Steering Pump Pulley V8 5.4L (8th Vin Digit L) |
| 2003-2004 | Ford | Expedition | Ford Expedition Power Steering Pump Pulley V8 4.6L (8th Vin Digit W) |
| 2005-2014 | Ford | Expedition | Ford Expedition Power Steering Pump Pulley V8 5.4L (8th Vin Digit 5) |
| 2002-2005 | Ford | Explorer | Ford Explorer Power Steering Pump Pulley V8 4.6L (8th Vin Digit W) |
| 2006-2010 | Ford | Explorer | Ford Explorer Power Steering Pump Pulley V8 4.6L (8th Vin Digit 8) |
| 2007-2010 | Ford | Explorer Sport Trac | Ford Explorer Sport Trac Power Steering Pump Pulley V8 4.6L (8th Vin Digit 8) |
| 2004 | Ford | F150 Heritage Truck | Ford F150 Heritage Truck Lightning Power Steering Pump Pulley V8 5.4L (8th Vin Digit 3) |
| 2004 | Ford | F150 Heritage Truck | Ford F150 Heritage Truck Power Steering Pump Pulley V6 4.2L (8th Vin Digit 2) |
| 2004 | Ford | F150 Heritage Truck | Ford F150 Heritage Truck Power Steering Pump Pulley V8 5.4L (8th Vin Digit M) |
| 2004 | Ford | F150 Heritage Truck | Ford F150 Heritage Truck Power Steering Pump Pulley V8 5.4L (8th Vin Digit Z) |
| 2004 | Ford | F150 Heritage Truck | Ford F150 Heritage Truck Power Steering Pump Pulley V8 4.6L (8th Vin Digit W) |
| 1997-2004 | Ford | F150 Truck | Ford F150 Truck Power Steering Pump Pulley V6 4.2L (8th Vin Digit 2) |
| 2002-2003 | Ford | F150 Truck | Ford F150 Truck Power Steering Pump Pulley V8 5.4L (8th Vin Digit L) |
| 2002-2013 | Ford | F150 Truck | Ford F150 Truck Power Steering Pump Pulley V8 4.6L (8th Vin Digit W) |
| 2002-2004 | Ford | F150 Truck | Ford F150 Truck Power Steering Pump Pulley V8 5.4L (8th Vin Digit Z) |
| 2002-2003 | Ford | F150 Truck | Ford F150 Truck Power Steering Pump Pulley V8 4.6L (8th Vin Digit 6) |
| 2002-2003 | Ford | F150 Truck | Ford F150 Truck Lightning Power Steering Pump Pulley V8 5.4L (8th Vin Digit 3) |
| 2002-2003 | Ford | F150 Truck | Ford F150 Truck Power Steering Pump Pulley V8 5.4L (8th Vin Digit M) |
| 2004-2008 | Ford | F150 Truck | Ford F150 Truck Power Steering Pump Pulley V8 5.4L (8th Vin Digit 5) |
| 2006-2011 | Ford | F150 Truck | Ford F150 Truck Power Steering Pump Pulley V8 5.4L (8th Vin Digit V) |
| 2009-2011 | Ford | F150 Truck | Ford F150 Truck Power Steering Pump Pulley V8 4.6L (8th Vin Digit 8) |
| 2002-2004 | Ford | F250 Super Duty Truck | Ford F250 Super Duty Truck Power Steering Pump Pulley V8 5.4L (8th Vin Digit L) |
| 2005-2008 | Ford | F250 Super Duty Truck | Ford F250 Super Duty Truck Power Steering Pump Pulley V10 6.8L (8th Vin Digit Y) |
| 2005-2010 | Ford | F250 Super Duty Truck | Ford F250 Super Duty Truck Power Steering Pump Pulley V8 5.4L (8th Vin Digit 5) |
| 2002-2004 | Ford | F350 Super Duty Truck | Ford F350 Super Duty Truck Power Steering Pump Pulley V8 5.4L (8th Vin Digit L) |
| 2005-2010 | Ford | F350 Super Duty Truck | Ford F350 Super Duty Truck Power Steering Pump Pulley V10 6.8L (8th Vin Digit Y) |
| 2005-2010 | Ford | F350 Super Duty Truck | Ford F350 Super Duty Truck Power Steering Pump Pulley V8 5.4L (8th Vin Digit 5) |
| 2005-2008 | Ford | F450 Truck | Ford F450 Truck Power Steering Pump Pulley V10 6.8L (8th Vin Digit Y) |
| 2005-2007 | Ford | F550 Truck | Ford F550 Truck Power Steering Pump Pulley V10 6.8L (8th Vin Digit Y) |
| 1996-1997 | Ford | Mustang | Ford Mustang GT Power Steering Pump Pulley V8 4.6L (8th Vin Digit X) |
| 1996-1997 | Ford | Mustang | Ford Mustang Cobra Power Steering Pump Pulley V8 4.6L (8th Vin Digit V) |
| 2000-2004 | Ford | Mustang | Ford Mustang GT Power Steering Pump Pulley V8 4.6L (8th Vin Digit X) |
| 2001 | Ford | Mustang | Ford Mustang Cobra Power Steering Pump Pulley V8 4.6L (8th Vin Digit V) |
| 2003-2004 | Ford | Mustang | Ford Mustang Power Steering Pump Pulley V8 4.6L (8th Vin Digit R) |
| 2003-2004 | Ford | Mustang | Ford Mustang Power Steering Pump Pulley V8 4.6L (8th Vin Digit Y) |
| 2007-2010 | Ford | Mustang | Ford Mustang Power Steering Pump Pulley V8 5.4L (8th Vin Digit S) |
| 1994-1997 | Ford | Thunderbird | Ford Thunderbird Power Steering Pump Pulley V8 4.6L (8th Vin Digit W) |
| 2002 | Lincoln | Blackwood | Lincoln Blackwood Power Steering Pump Pulley V8 5.4L (8th Vin Digit A) |
| 1995-2002 | Lincoln | Continental | Lincoln Continental Power Steering Pump Pulley V8 4.6L (8th Vin Digit V) |
| 2006-2008 | Lincoln | Mark LT | Lincoln Mark LT Power Steering Pump Pulley V8 5.4L (8th Vin Digit 5) |
| 1993-1998 | Lincoln | Mark VIII | Lincoln Mark VIII Power Steering Pump Pulley V8 4.6L (8th Vin Digit V) |
| 2002-2004 | Lincoln | Navigator | Lincoln Navigator Power Steering Pump Pulley V8 5.4L (8th Vin Digit R) |
| 2005-2014 | Lincoln | Navigator | Lincoln Navigator Power Steering Pump Pulley V8 5.4L (8th Vin Digit 5) |
| 1993-2007 | Lincoln | Town Car | Lincoln Town Car Power Steering Pump Pulley V8 4.6L (8th Vin Digit W) |
| 2006-2011 | Lincoln | Town Car | Lincoln Town Car Power Steering Pump Pulley V8 4.6L (8th Vin Digit V) |
| 1994-1997 | Mercury | Cougar | Mercury Cougar XR-7 Power Steering Pump Pulley V8 4.6L (8th Vin Digit W) |
| 1993-2008 | Mercury | Grand Marquis | Mercury Grand Marquis Power Steering Pump Pulley V8 4.6L (8th Vin Digit W) |
| 1996 | Mercury | Grand Marquis | Mercury Grand Marquis Power Steering Pump Pulley V8 4.6L (8th Vin Digit 6) |
| 2006-2010 | Mercury | Grand Marquis | Mercury Grand Marquis Power Steering Pump Pulley V8 4.6L (8th Vin Digit V) |
| 2003-2004 | Mercury | Marauder | Mercury Marauder Power Steering Pump Pulley V8 4.6L (8th Vin Digit V) |
| 2002-2005 | Mercury | Mountaineer | Mercury Mountaineer Power Steering Pump Pulley V8 4.6L (8th Vin Digit W) |
| 2006-2010 | Mercury | Mountaineer | Mercury Mountaineer Power Steering Pump Pulley V8 4.6L (8th Vin Digit 8) |
This part replaces:
OE # 2L3Z3A733AA
OE # F6AZ3A733AA, F6AZ3A733AB
Dorman 300-010
Part #: 1ASPP00046
Order must be placed by 4pm ET
Get it in: 2 - 4 Business Days
Want it sooner? Choose Next Day Air at Checkout