1ASPP00043-Power Steering Pump Pulley
Replaces
Power Steering Pump Pulley - 1ASPP00043
1ASPP00043
This power steering pulley is a ready to bolt on, direct replacement part. If your original power steering pulley is cracked or warped then this replacement steering pulley could be your solution.

Specifications:
Brand new in the box!
Steel construction
Replaces dealer part numbers: 12604004, 14102096, 12573728, 10085755
Pulley Type: Serpentine
Inside Diameter - .748"
Outside Diameter - 6-15/32"
Width - 1-13/16"
Direct replacement
Built to strict quality control standards
Now you can buy a high quality power steering pulley that is built to strict quality control standards. This pulley makes a great replacement and has good cost savings over a factory power steering pump pulley.
Item Condition: New

Lifetime Warranty
This item is backed by a Limited Lifetime Warranty. In the event this item should fail due to manufacturing defects during intended use, we will exchange the part free of charge (excludes shipping charges) for the original purchaser.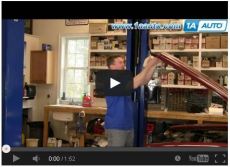 Tools needed for replacement:
Ratchets & Related

Ratchet
Socket Extensions

Sockets - Metric

21mm Socket
8mm Socket

Wrenches - Metric

21mm wrench
17mm Wrench
8mm Wrench
There are no reviews for this item.
Customer Q&A
Ask a question to 1A Auto customers who purchased the product
No questions have been asked about this item.
| Year | Make | Model | Description |
| --- | --- | --- | --- |
| 1991 | Buick | Roadmaster | Buick Roadmaster Power Steering Pump Pulley V8 5.0L (8th Vin Digit E) |
| 1992-1993 | Buick | Roadmaster | Buick Roadmaster Power Steering Pump Pulley V8 5.7L (8th Vin Digit 7) |
| 1990-1992 | Cadillac | Brougham | Cadillac Brougham Power Steering Pump Pulley V8 5.7L (8th Vin Digit 7) |
| 1991-1992 | Cadillac | Brougham | Cadillac Brougham Power Steering Pump Pulley V8 5.0L (8th Vin Digit E) |
| 1999-2000 | Cadillac | Escalade | Cadillac Escalade Power Steering Pump Pulley V8 5.7L (8th Vin Digit R) |
| 2002-2006 | Cadillac | Escalade | Cadillac Escalade Power Steering Pump Pulley V8 6.0L (8th Vin Digit N) |
| 2002-2005 | Cadillac | Escalade | Cadillac Escalade Power Steering Pump Pulley V8 5.3L (8th Vin Digit T) |
| 2007-2008 | Cadillac | Escalade | Cadillac Escalade Power Steering Pump Pulley V8 6.2L (8th Vin Digit 8) |
| 2009 | Cadillac | Escalade | Cadillac Escalade Power Steering Pump Pulley V8 6.2L (8th Vin Digit 2) |
| 2003-2006 | Cadillac | Escalade ESV | Cadillac Escalade ESV Power Steering Pump Pulley V8 6.0L (8th Vin Digit N) |
| 2007-2008 | Cadillac | Escalade ESV | Cadillac Escalade ESV Power Steering Pump Pulley V8 6.2L (8th Vin Digit 8) |
| 2009 | Cadillac | Escalade ESV | Cadillac Escalade ESV Power Steering Pump Pulley V8 6.2L (8th Vin Digit 2) |
| 2002-2006 | Cadillac | Escalade EXT | Cadillac Escalade EXT Power Steering Pump Pulley V8 6.0L (8th Vin Digit N) |
| 2007-2008 | Cadillac | Escalade EXT | Cadillac Escalade EXT Power Steering Pump Pulley V8 6.2L (8th Vin Digit 8) |
| 2009 | Cadillac | Escalade EXT | Cadillac Escalade EXT Power Steering Pump Pulley V8 6.2L (8th Vin Digit 2) |
| 1993 | Cadillac | Fleetwood | Cadillac Fleetwood Power Steering Pump Pulley V8 5.7L (8th Vin Digit 7) |
| 1987-1994 | Chevy | Astro | Chevy Astro Power Steering Pump Pulley V6 4.3L (8th Vin Digit Z) |
| 1990-1991 | Chevy | Astro | Chevy Astro Power Steering Pump Pulley V6 4.3L (8th Vin Digit B) |
| 1992-2001 | Chevy | Astro | Chevy Astro Power Steering Pump Pulley V6 4.3L (8th Vin Digit W) |
| 2002-2005 | Chevy | Astro | Chevy Astro Power Steering Pump Pulley V6 4.3L (8th Vin Digit X) |
| 2007-2009 | Chevy | Avalanche | Chevy Avalanche Power Steering Pump Pulley V8 6.0L (8th Vin Digit Y) |
| 2007-2009 | Chevy | Avalanche | Chevy Avalanche Power Steering Pump Pulley V8 5.3L (8th Vin Digit J) |
| 2007-2013 | Chevy | Avalanche | Chevy Avalanche Power Steering Pump Pulley V8 5.3L (8th Vin Digit 3) |
| 2007-2013 | Chevy | Avalanche | Chevy Avalanche Power Steering Pump Pulley V8 5.3L (8th Vin Digit 0) |
| 2002-2004 | Chevy | Avalanche 1500 | Chevy Avalanche 1500 Power Steering Pump Pulley V8 5.3L (8th Vin Digit T) |
| 2005-2006 | Chevy | Avalanche 1500 | Chevy Avalanche 1500 Power Steering Pump Pulley V8 5.3L (8th Vin Digit Z) |
| 1988-1994 | Chevy | Blazer Full Size | Chevy Blazer Full Size 4 Wheel Drive Power Steering Pump Pulley V8 5.7L (8th Vin Digit K) |
| 1988-1994 | Chevy | Blazer S10 | Chevy Blazer S10 Power Steering Pump Pulley V6 4.3L (8th Vin Digit Z) |
| 1992-2002 | Chevy | Blazer S10 | Chevy Blazer S10 Power Steering Pump Pulley V6 4.3L (8th Vin Digit W) |
| 2003-2005 | Chevy | Blazer S10 | Chevy Blazer S10 Power Steering Pump Pulley V6 4.3L (8th Vin Digit X) |
| 1988-1995 | Chevy | C1500 Truck | Chevy C1500 Truck Power Steering Pump Pulley V6 4.3L (8th Vin Digit Z) |
| 1988-1995 | Chevy | C1500 Truck | Chevy C1500 Truck Power Steering Pump Pulley V8 5.7L (8th Vin Digit K) |
| 1988-1995 | Chevy | C1500 Truck | Chevy C1500 Truck Power Steering Pump Pulley V8 5.0L (8th Vin Digit H) |
| 1996-1999 | Chevy | C1500 Truck | Chevy C1500 Truck Power Steering Pump Pulley V8 5.0L (8th Vin Digit M) |
| 1996-1998 | Chevy | C1500 Truck | Chevy C1500 Truck Power Steering Pump Pulley V6 4.3L (8th Vin Digit W) |
| 1996-1999 | Chevy | C1500 Truck | Chevy C1500 Truck Power Steering Pump Pulley V8 5.7L (8th Vin Digit R) |
| 1996 | Chevy | C1500 Truck | Chevy C1500 Truck Power Steering Pump Pulley V8 6.5L Turbo Diesel (8th Vin Digit S) |
| 1997-1998 | Chevy | C1500 Truck | Chevy C1500 Truck Power Steering Pump Pulley V8 6.5L Turbo Diesel (8th Vin Digit F) |
| 1988-1995 | Chevy | C2500 Truck | Chevy C2500 Truck Power Steering Pump Pulley V6 4.3L (8th Vin Digit Z) |
| 1988-1995 | Chevy | C2500 Truck | Chevy C2500 Truck Power Steering Pump Pulley V8 5.7L (8th Vin Digit K) |
| 1988-1995 | Chevy | C2500 Truck | Chevy C2500 Truck Power Steering Pump Pulley V8 5.0L (8th Vin Digit H) |
| 1988-1995 | Chevy | C2500 Truck | Chevy C2500 Truck Power Steering Pump Pulley V8 5.7L (8th Vin Digit K) |
| 1994-1995 | Chevy | C2500 Truck | Chevy C2500 Truck Power Steering Pump Pulley V8 7.4L (8th Vin Digit N) |
| 1996-2000 | Chevy | C2500 Truck | Chevy C2500 Truck Power Steering Pump Pulley V8 7.4L (8th Vin Digit J) |
| 1996-2000 | Chevy | C2500 Truck | Chevy C2500 Truck Power Steering Pump Pulley V8 5.7L (8th Vin Digit R) |
| 1996-2000 | Chevy | C2500 Truck | Chevy C2500 Truck Power Steering Pump Pulley V8 7.4L (8th Vin Digit J) |
| 1996-2000 | Chevy | C2500 Truck | Chevy C2500 Truck Power Steering Pump Pulley V8 6.5L Turbo Diesel (8th Vin Digit F) |
| 1996-1998 | Chevy | C2500 Truck | Chevy C2500 Truck Power Steering Pump Pulley V8 6.5L Turbo Diesel (8th Vin Digit S) |
| 1996-1998 | Chevy | C2500 Truck | Chevy C2500 Truck Power Steering Pump Pulley V8 5.0L (8th Vin Digit M) |
| 1988-1995 | Chevy | C3500 Truck | Chevy C3500 Truck Power Steering Pump Pulley V8 5.7L (8th Vin Digit K) |
| 1994-1995 | Chevy | C3500 Truck | Chevy C3500 Truck Power Steering Pump Pulley V8 7.4L (8th Vin Digit N) |
| 1996-2000 | Chevy | C3500 Truck | Chevy C3500 Truck Power Steering Pump Pulley V8 7.4L (8th Vin Digit J) |
| 1996-2000 | Chevy | C3500 Truck | Chevy C3500 Truck Power Steering Pump Pulley V8 5.7L (8th Vin Digit R) |
| 1996-2002 | Chevy | C3500 Truck | Chevy C3500 Truck Power Steering Pump Pulley V8 6.5L Turbo Diesel (8th Vin Digit F) |
| 2001-2002 | Chevy | C3500 Truck | Chevy C3500 Truck Power Steering Pump Pulley V8 8.1L (8th Vin Digit G) |
| 1988-1992 | Chevy | Camaro | Chevy Camaro Power Steering Pump Pulley V8 5.7L (8th Vin Digit 8) |
| 1988-1992 | Chevy | Camaro | Chevy Camaro Power Steering Pump Pulley V8 5.0L (8th Vin Digit E) |
| 1988-1992 | Chevy | Camaro | Chevy Camaro Power Steering Pump Pulley V8 5.0L (8th Vin Digit F) |
| 1989-1993 | Chevy | Caprice | Chevy Caprice Power Steering Pump Pulley V6 4.3L (8th Vin Digit Z) |
| 1989-1993 | Chevy | Caprice | Chevy Caprice Power Steering Pump Pulley V8 5.7L (8th Vin Digit 7) |
| 1989-1993 | Chevy | Caprice | Chevy Caprice Power Steering Pump Pulley V8 5.0L (8th Vin Digit E) |
| 1996-2002 | Chevy | Express 1500 Van | Chevy Express 1500 Van Power Steering Pump Pulley V8 5.7L (8th Vin Digit R) |
| 1996-2002 | Chevy | Express 1500 Van | Chevy Express 1500 Van Power Steering Pump Pulley V6 4.3L (8th Vin Digit W) |
| 1996-2002 | Chevy | Express 1500 Van | Chevy Express 1500 Van Power Steering Pump Pulley V8 5.0L (8th Vin Digit M) |
| 2003-2007 | Chevy | Express 1500 Van | Chevy Express 1500 Van Power Steering Pump Pulley V8 5.3L (8th Vin Digit T) |
| 2003-2014 | Chevy | Express 1500 Van | Chevy Express 1500 Van Power Steering Pump Pulley V6 4.3L (8th Vin Digit X) |
| 2007 | Chevy | Express 1500 Van | Chevy Express 1500 Van Power Steering Pump Pulley V8 5.3L (8th Vin Digit Z) |
| 2008-2014 | Chevy | Express 1500 Van | Chevy Express 1500 Van Power Steering Pump Pulley V8 5.3L (8th Vin Digit 4) |
| 1996-2002 | Chevy | Express 2500 Van | Chevy Express 2500 Van Power Steering Pump Pulley V8 6.5L Turbo Diesel (8th Vin Digit F) |
| 1996-2002 | Chevy | Express 2500 Van | Chevy Express 2500 Van Power Steering Pump Pulley V8 5.7L (8th Vin Digit R) |
| 1996-2002 | Chevy | Express 2500 Van | Chevy Express 2500 Van Power Steering Pump Pulley V8 5.0L (8th Vin Digit M) |
| 1996-2002 | Chevy | Express 2500 Van | Chevy Express 2500 Van Power Steering Pump Pulley V6 4.3L (8th Vin Digit W) |
| 2003-2007 | Chevy | Express 2500 Van | Chevy Express 2500 Van Power Steering Pump Pulley V8 4.8L (8th Vin Digit V) |
| 2003-2005 | Chevy | Express 2500 Van | Chevy Express 2500 Van Power Steering Pump Pulley V6 4.3L (8th Vin Digit X) |
| 2003-2005 | Chevy | Express 2500 Van | Chevy Express 2500 Van Power Steering Pump Pulley V8 5.3L (8th Vin Digit T) |
| 2003-2007 | Chevy | Express 2500 Van | Chevy Express 2500 Van Power Steering Pump Pulley V8 6.0L (8th Vin Digit U) |
| 2008-2009 | Chevy | Express 2500 Van | Chevy Express 2500 Van Power Steering Pump Pulley V8 4.8L (8th Vin Digit C) |
| 2008-2009 | Chevy | Express 2500 Van | Chevy Express 2500 Van Power Steering Pump Pulley V8 6.0L (8th Vin Digit K) |
| 2010-2013 | Chevy | Express 2500 Van | Chevy Express 2500 Van Power Steering Pump Pulley V8 4.8L (8th Vin Digit A) |
| 2010-2017 | Chevy | Express 2500 Van | Chevy Express 2500 Van Power Steering Pump Pulley V8 6.0L (8th Vin Digit G) |
| 2015-2017 | Chevy | Express 2500 Van | Chevy Express 2500 Van Power Steering Pump Pulley (8th Vin Digit F) V8 4.8L |
| 1996-2002 | Chevy | Express 3500 Van | Chevy Express 3500 Van Power Steering Pump Pulley V8 6.5L Turbo Diesel (8th Vin Digit F) |
| 1996-2002 | Chevy | Express 3500 Van | Chevy Express 3500 Van Power Steering Pump Pulley V8 5.7L (8th Vin Digit R) |
| 1997-2000 | Chevy | Express 3500 Van | Chevy Express 3500 Van Power Steering Pump Pulley V8 7.4L (8th Vin Digit J) |
| 2001-2002 | Chevy | Express 3500 Van | Chevy Express 3500 Van Power Steering Pump Pulley V8 8.1L (8th Vin Digit G) |
| 2003-2007 | Chevy | Express 3500 Van | Chevy Express 3500 Van Power Steering Pump Pulley V8 6.0L (8th Vin Digit U) |
| 2005-2007 | Chevy | Express 3500 Van | Chevy Express 3500 Van Power Steering Pump Pulley V8 4.8L (8th Vin Digit V) |
| 2008-2009 | Chevy | Express 3500 Van | Chevy Express 3500 Van Power Steering Pump Pulley V8 4.8L (8th Vin Digit C) |
| 2008-2009 | Chevy | Express 3500 Van | Chevy Express 3500 Van Power Steering Pump Pulley V8 6.0L (8th Vin Digit K) |
| 2010-2013 | Chevy | Express 3500 Van | Chevy Express 3500 Van Power Steering Pump Pulley V8 4.8L (8th Vin Digit A) |
| 2010-2017 | Chevy | Express 3500 Van | Chevy Express 3500 Van Power Steering Pump Pulley V8 6.0L (8th Vin Digit G) |
| 2015-2017 | Chevy | Express 3500 Van | Chevy Express 3500 Van Power Steering Pump Pulley V8 4.0L (8th Vin Digit F) |
| 1987-1995 | Chevy | G10 | Chevy G10 Power Steering Pump Pulley V6 4.3L (8th Vin Digit Z) |
| 1987-1993 | Chevy | G10 | Chevy G10 Power Steering Pump Pulley V8 5.7L (8th Vin Digit K) |
| 1987-1995 | Chevy | G10 | Chevy G10 Power Steering Pump Pulley V8 5.0L (8th Vin Digit H) |
| 1987-1995 | Chevy | G20 | Chevy G20 Power Steering Pump Pulley V6 4.3L (8th Vin Digit Z) |
| 1987-1995 | Chevy | G20 | Chevy G20 Power Steering Pump Pulley V8 5.7L (8th Vin Digit K) |
| 1987-1995 | Chevy | G20 | Chevy G20 Power Steering Pump Pulley V8 5.0L (8th Vin Digit E) |
| 1987-1995 | Chevy | G30 | Chevy G30 Power Steering Pump Pulley V6 4.3L (8th Vin Digit Z) |
| 1987-1996 | Chevy | G30 | Chevy G30 Power Steering Pump Pulley V8 5.7L (8th Vin Digit K) |
| 1992-1996 | Chevy | G30 | Chevy G30 Power Steering Pump Pulley V8 7.4L (8th Vin Digit N) |
| 1996 | Chevy | G30 | Chevy G30 Power Steering Pump Pulley V8 7.4L (8th Vin Digit J) |
| 1988-1995 | Chevy | K1500 Truck | Chevy K1500 Truck Power Steering Pump Pulley V8 5.7L (8th Vin Digit K) |
| 1988-1995 | Chevy | K1500 Truck | Chevy K1500 Truck Power Steering Pump Pulley V8 5.0L (8th Vin Digit H) |
| 1988-1995 | Chevy | K1500 Truck | Chevy K1500 Truck Power Steering Pump Pulley V6 4.3L (8th Vin Digit Z) |
| 1996-1999 | Chevy | K1500 Truck | Chevy K1500 Truck Power Steering Pump Pulley V8 5.0L (8th Vin Digit M) |
| 1996-1999 | Chevy | K1500 Truck | Chevy K1500 Truck Power Steering Pump Pulley V8 5.7L (8th Vin Digit R) |
| 1996-1998 | Chevy | K1500 Truck | Chevy K1500 Truck Power Steering Pump Pulley V6 4.3L (8th Vin Digit W) |
| 1996-1998 | Chevy | K1500 Truck | Chevy K1500 Truck Power Steering Pump Pulley V8 6.5L Turbo Diesel (8th Vin Digit S) |
| 1997-1998 | Chevy | K1500 Truck | Chevy K1500 Truck Power Steering Pump Pulley V8 6.5L Turbo Diesel (8th Vin Digit F) |
| 1988-1995 | Chevy | K2500 Truck | Chevy K2500 Truck Power Steering Pump Pulley V8 5.0L (8th Vin Digit H) |
| 1988-1995 | Chevy | K2500 Truck | Chevy K2500 Truck Power Steering Pump Pulley V8 5.7L (8th Vin Digit K) |
| 1988-1995 | Chevy | K2500 Truck | Chevy K2500 Truck Power Steering Pump Pulley V6 4.3L (8th Vin Digit Z) |
| 1996-2000 | Chevy | K2500 Truck | Chevy K2500 Truck Power Steering Pump Pulley V8 5.7L (8th Vin Digit R) |
| 1996-2000 | Chevy | K2500 Truck | Chevy K2500 Truck Power Steering Pump Pulley V8 7.4L (8th Vin Digit J) |
| 1996-2000 | Chevy | K2500 Truck | Chevy K2500 Truck Power Steering Pump Pulley V8 6.5L Turbo Diesel (8th Vin Digit F) |
| 1996-1998 | Chevy | K2500 Truck | Chevy K2500 Truck Power Steering Pump Pulley V8 6.5L Turbo Diesel (8th Vin Digit S) |
| 1996-1998 | Chevy | K2500 Truck | Chevy K2500 Truck Power Steering Pump Pulley V8 5.0L (8th Vin Digit M) |
| 1988-1995 | Chevy | K3500 Truck | Chevy K3500 Truck Power Steering Pump Pulley V8 5.7L (8th Vin Digit K) |
| 1994-1995 | Chevy | K3500 Truck | Chevy K3500 Truck Power Steering Pump Pulley V8 7.4L (8th Vin Digit N) |
| 1996-2000 | Chevy | K3500 Truck | Chevy K3500 Truck Power Steering Pump Pulley V8 5.7L (8th Vin Digit R) |
| 1996-2000 | Chevy | K3500 Truck | Chevy K3500 Truck Power Steering Pump Pulley V8 7.4L (8th Vin Digit J) |
| 1996-2000 | Chevy | K3500 Truck | Chevy K3500 Truck Power Steering Pump Pulley V8 6.5L Turbo Diesel (8th Vin Digit F) |
| 1996-1999 | Chevy | P30 | Chevy P30 Power Steering Pump Pulley V6 4.3L (8th Vin Digit W) |
| 1996-1999 | Chevy | P30 | Chevy P30 Power Steering Pump Pulley V8 6.5L Turbo Diesel (8th Vin Digit Y) |
| 1996-1999 | Chevy | P30 | Chevy P30 Power Steering Pump Pulley V8 5.7L (8th Vin Digit R) |
| 1996-1999 | Chevy | P30 | Chevy P30 Power Steering Pump Pulley V8 6.5L Turbo Diesel (8th Vin Digit F) |
| 1996-1999 | Chevy | P30 | Chevy P30 Power Steering Pump Pulley V8 7.4L (8th Vin Digit J) |
| 1996-1997 | Chevy | P30 | Chevy P30 Power Steering Pump Pulley V8 7.4L (8th Vin Digit N) |
| 1996 | Chevy | P30 | Chevy P30 Power Steering Pump Pulley V8 5.7L (8th Vin Digit K) |
| 1988-1994 | Chevy | S10 Pickup | Chevy S10 Pickup Power Steering Pump Pulley V6 4.3L (8th Vin Digit Z) |
| 1994-2002 | Chevy | S10 Pickup | Chevy S10 Pickup Power Steering Pump Pulley V6 4.3L (8th Vin Digit W) |
| 1996-2004 | Chevy | S10 Pickup | Chevy S10 Pickup Power Steering Pump Pulley V6 4.3L (8th Vin Digit X) |
| 1999-2002 | Chevy | Silverado 1500 | Chevy Silverado 1500 Power Steering Pump Pulley V6 4.3L (8th Vin Digit W) |
| 1999-2007 | Chevy | Silverado 1500 | Chevy Silverado 1500 Power Steering Pump Pulley V8 4.8L (8th Vin Digit V) |
| 1999-2007 | Chevy | Silverado 1500 | Chevy Silverado 1500 Power Steering Pump Pulley V8 5.3L (8th Vin Digit T) |
| 2002-2007 | Chevy | Silverado 1500 | Chevy Silverado 1500 Power Steering Pump Pulley V8 5.3L (8th Vin Digit Z) |
| 2003-2013 | Chevy | Silverado 1500 | Chevy Silverado 1500 Power Steering Pump Pulley V6 4.3L (8th Vin Digit X) |
| 2005-2006 | Chevy | Silverado 1500 | Chevy Silverado 1500 Power Steering Pump Pulley V8 5.3L (8th Vin Digit B) |
| 2006 | Chevy | Silverado 1500 | Chevy Silverado 1500 Power Steering Pump Pulley V8 6.0L (8th Vin Digit N) |
| 2007-2009 | Chevy | Silverado 1500 | Chevy Silverado 1500 Power Steering Pump Pulley V8 4.8L (8th Vin Digit C) |
| 2007-2013 | Chevy | Silverado 1500 | Chevy Silverado 1500 Power Steering Pump Pulley V8 5.3L (8th Vin Digit 0) |
| 2007-2009 | Chevy | Silverado 1500 | Chevy Silverado 1500 Power Steering Pump Pulley V8 5.3L (8th Vin Digit J) |
| 2007-2009 | Chevy | Silverado 1500 | Chevy Silverado 1500 Power Steering Pump Pulley V8 5.3L (8th Vin Digit M) |
| 2007-2013 | Chevy | Silverado 1500 | Chevy Silverado 1500 Power Steering Pump Pulley V8 5.3L (8th Vin Digit 3) |
| 2008-2009 | Chevy | Silverado 1500 | Chevy Silverado 1500 Power Steering Pump Pulley V8 6.0L (8th Vin Digit Y) |
| 2009 | Chevy | Silverado 1500 | Chevy Silverado 1500 Power Steering Pump Pulley V8 6.0L (8th Vin Digit 5) |
| 2009-2013 | Chevy | Silverado 1500 | Chevy Silverado 1500 Power Steering Pump Pulley V8 6.2L (8th Vin Digit 2) |
| 2014 | Chevy | Silverado 1500 | Chevy Silverado 1500 Power Steering Pump Pulley V8 6.2L (8th Vin Digit J) |
| 2014 | Chevy | Silverado 1500 | Chevy Silverado 1500 Power Steering Pump Pulley V8 5.3L (8th Vin Digit C) |
| 2014 | Chevy | Silverado 1500 | Chevy Silverado 1500 Power Steering Pump Pulley V6 4.3L (8th Vin Digit H) |
| 2007 | Chevy | Silverado 1500 Classic | Chevy Silverado 1500 Classic Power Steering Pump Pulley V8 5.3L (8th Vin Digit T) |
| 2007 | Chevy | Silverado 1500 Classic | Chevy Silverado 1500 Classic Power Steering Pump Pulley V8 5.3L (8th Vin Digit Z) |
| 2007 | Chevy | Silverado 1500 Classic | Chevy Silverado 1500 Classic Power Steering Pump Pulley V8 4.8L (8th Vin Digit V) |
| 2007 | Chevy | Silverado 1500 Classic | Chevy Silverado 1500 Classic Power Steering Pump Pulley V6 4.3L (8th Vin Digit X) |
| 2007 | Chevy | Silverado 1500 Classic | Chevy Silverado 1500 Classic Power Steering Pump Pulley V8 5.3L (8th Vin Digit B) |
| 2007 | Chevy | Silverado 1500 Classic | Chevy Silverado 1500 Classic Power Steering Pump Pulley V8 6.0L (8th Vin Digit N) |
| 2001-2003 | Chevy | Silverado 1500 HD | Chevy Silverado 1500 HD Power Steering Pump Pulley |
| 2005-2006 | Chevy | Silverado 1500 HD | Chevy Silverado 1500 HD Power Steering Pump Pulley |
| 2007 | Chevy | Silverado 1500 HD Classic | Chevy Silverado 1500 HD Classic Power Steering Pump Pulley |
| 1999-2000 | Chevy | Silverado 2500 | Chevy Silverado 2500 Power Steering Pump Pulley V8 5.3L (8th Vin Digit T) |
| 1999-2004 | Chevy | Silverado 2500 | Chevy Silverado 2500 Power Steering Pump Pulley V8 6.0L (8th Vin Digit U) |
| 2001-2006 | Chevy | Silverado 2500 HD | Chevy Silverado 2500 HD Power Steering Pump Pulley V8 8.1L (8th Vin Digit G) |
| 2001-2006 | Chevy | Silverado 2500 HD | Chevy Silverado 2500 HD Power Steering Pump Pulley V8 6.0L (8th Vin Digit U) |
| 2007-2009 | Chevy | Silverado 2500 HD | Chevy Silverado 2500 HD Power Steering Pump Pulley V8 6.0L (8th Vin Digit K) |
| 2007 | Chevy | Silverado 2500 HD Classic | Chevy Silverado 2500 HD Classic Power Steering Pump Pulley V8 8.1L (8th Vin Digit G) |
| 2007 | Chevy | Silverado 2500 HD Classic | Chevy Silverado 2500 HD Classic Power Steering Pump Pulley V8 6.0L (8th Vin Digit U) |
| 2001-2006 | Chevy | Silverado 3500 | Chevy Silverado 3500 Power Steering Pump Pulley V8 6.0L (8th Vin Digit U) |
| 2001-2006 | Chevy | Silverado 3500 | Chevy Silverado 3500 Power Steering Pump Pulley V8 8.1L (8th Vin Digit G) |
| 2007 | Chevy | Silverado 3500 Classic | Chevy Silverado 3500 Classic Power Steering Pump Pulley V8 6.0L (8th Vin Digit U) |
| 2007 | Chevy | Silverado 3500 Classic | Chevy Silverado 3500 Classic Power Steering Pump Pulley V8 8.1L (8th Vin Digit G) |
| 2007-2009 | Chevy | Silverado 3500 HD | Chevy Silverado 3500 HD Power Steering Pump Pulley V8 6.0L (8th Vin Digit K) |
| 2000-2005 | Chevy | Suburban 1500 | Chevy Suburban 1500 Power Steering Pump Pulley V8 5.3L (8th Vin Digit T) |
| 2002-2006 | Chevy | Suburban 1500 | Chevy Suburban 1500 Power Steering Pump Pulley V8 5.3L (8th Vin Digit Z) |
| 2006-2009 | Chevy | Suburban 1500 | Chevy Suburban 1500 Power Steering Pump Pulley V8 6.0L (8th Vin Digit Y) |
| 2007-2013 | Chevy | Suburban 1500 | Chevy Suburban 1500 Power Steering Pump Pulley V8 5.3L (8th Vin Digit 0) |
| 2007-2009 | Chevy | Suburban 1500 | Chevy Suburban 1500 Power Steering Pump Pulley V8 5.3L (8th Vin Digit J) |
| 2007-2013 | Chevy | Suburban 1500 | Chevy Suburban 1500 Power Steering Pump Pulley V8 5.3L (8th Vin Digit 3) |
| 1992-1995 | Chevy | Suburban C1500 | Chevy Suburban C1500 Power Steering Pump Pulley V8 5.7L (8th Vin Digit K) |
| 1996-1999 | Chevy | Suburban C1500 | Chevy Suburban C1500 Power Steering Pump Pulley V8 6.5L Turbo Diesel (8th Vin Digit F) |
| 1996-1999 | Chevy | Suburban C1500 | Chevy Suburban C1500 Power Steering Pump Pulley V8 5.7L (8th Vin Digit R) |
| 1992-1995 | Chevy | Suburban C2500 | Chevy Suburban C2500 Power Steering Pump Pulley V8 5.7L (8th Vin Digit K) |
| 1994-1995 | Chevy | Suburban C2500 | Chevy Suburban C2500 Power Steering Pump Pulley V8 7.4L (8th Vin Digit N) |
| 1996-1999 | Chevy | Suburban C2500 | Chevy Suburban C2500 Power Steering Pump Pulley V8 6.5L Turbo Diesel (8th Vin Digit F) |
| 1996-1999 | Chevy | Suburban C2500 | Chevy Suburban C2500 Power Steering Pump Pulley V8 5.7L (8th Vin Digit R) |
| 1996-1999 | Chevy | Suburban C2500 | Chevy Suburban C2500 Power Steering Pump Pulley V8 7.4L (8th Vin Digit J) |
| 1992-1995 | Chevy | Suburban K1500 | Chevy Suburban K1500 Power Steering Pump Pulley V8 5.7L (8th Vin Digit K) |
| 1996-1999 | Chevy | Suburban K1500 | Chevy Suburban K1500 Power Steering Pump Pulley V8 6.5L Turbo Diesel (8th Vin Digit F) |
| 1996-1999 | Chevy | Suburban K1500 | Chevy Suburban K1500 Power Steering Pump Pulley V8 5.7L (8th Vin Digit R) |
| 1992-1995 | Chevy | Suburban K2500 | Chevy Suburban K2500 Power Steering Pump Pulley V8 5.7L (8th Vin Digit K) |
| 1994-1995 | Chevy | Suburban K2500 | Chevy Suburban K2500 Power Steering Pump Pulley V8 7.4L (8th Vin Digit N) |
| 1996-1999 | Chevy | Suburban K2500 | Chevy Suburban K2500 Power Steering Pump Pulley V8 6.5L Turbo Diesel (8th Vin Digit F) |
| 1996-1999 | Chevy | Suburban K2500 | Chevy Suburban K2500 Power Steering Pump Pulley V8 5.7L (8th Vin Digit R) |
| 1996-1999 | Chevy | Suburban K2500 | Chevy Suburban K2500 Power Steering Pump Pulley V8 7.4L (8th Vin Digit J) |
| 1988 | Chevy | Suburban R10 | Chevy Suburban R10 Power Steering Pump Pulley V8 5.7L (8th Vin Digit K) |
| 1989-1991 | Chevy | Suburban R1500 | Chevy Suburban R1500 Power Steering Pump Pulley V8 5.7L (8th Vin Digit K) |
| 1988 | Chevy | Suburban R20 | Chevy Suburban R20 Power Steering Pump Pulley V8 5.7L (8th Vin Digit K) |
| 1988-1991 | Chevy | Suburban R2500 | Chevy Suburban R2500 Power Steering Pump Pulley V8 5.7L (8th Vin Digit K) |
| 1988 | Chevy | Suburban V10 | Chevy Suburban V10 Power Steering Pump Pulley V8 5.7L (8th Vin Digit K) |
| 1989-1991 | Chevy | Suburban V1500 | Chevy Suburban V1500 Power Steering Pump Pulley V8 5.7L (8th Vin Digit K) |
| 1988 | Chevy | Suburban V20 | Chevy Suburban V20 Power Steering Pump Pulley V8 5.7L (8th Vin Digit K) |
| 1989-1991 | Chevy | Suburban V2500 | Chevy Suburban V2500 Power Steering Pump Pulley V8 5.7L (8th Vin Digit K) |
| 1995 | Chevy | Tahoe | Chevy Tahoe Power Steering Pump Pulley V8 5.7L (8th Vin Digit K) |
| 1996-2000 | Chevy | Tahoe | Chevy Tahoe Power Steering Pump Pulley V8 5.7L (8th Vin Digit R) |
| 1996-1999 | Chevy | Tahoe | Chevy Tahoe Power Steering Pump Pulley V8 6.5L Turbo Diesel (8th Vin Digit S) |
| 2000-2006 | Chevy | Tahoe | Chevy Tahoe Power Steering Pump Pulley V8 5.3L (8th Vin Digit T) |
| 2000-2006 | Chevy | Tahoe | Chevy Tahoe Power Steering Pump Pulley V8 4.8L (8th Vin Digit V) |
| 2002-2006 | Chevy | Tahoe | Chevy Tahoe Power Steering Pump Pulley V8 5.3L (8th Vin Digit Z) |
| 2007-2009 | Chevy | Tahoe | Chevy Tahoe Power Steering Pump Pulley V8 4.8L (8th Vin Digit C) |
| 2007-2009 | Chevy | Tahoe | Chevy Tahoe Power Steering Pump Pulley V8 5.3L (8th Vin Digit J) |
| 2007-2014 | Chevy | Tahoe | Chevy Tahoe Power Steering Pump Pulley V8 5.3L (8th Vin Digit 0) |
| 2008-2009 | Chevy | Tahoe | Chevy Tahoe Power Steering Pump Pulley V8 6.0L (8th Vin Digit 5) |
| 2009-2010 | Chevy | Tahoe | Chevy Tahoe Power Steering Pump Pulley V8 5.3L (8th Vin Digit 3) |
| 2009 | Chevy | Tahoe | Chevy Tahoe Power Steering Pump Pulley V8 6.2L (8th Vin Digit 2) |
| 1988-1995 | GMC | C1500 Truck | GMC C1500 Truck Power Steering Pump Pulley V8 5.0L (8th Vin Digit H) |
| 1988-1995 | GMC | C1500 Truck | GMC C1500 Truck Power Steering Pump Pulley V8 5.7L (8th Vin Digit K) |
| 1988-1995 | GMC | C1500 Truck | GMC C1500 Truck Power Steering Pump Pulley V6 4.3L (8th Vin Digit Z) |
| 1996-1998 | GMC | C1500 Truck | GMC C1500 Truck Power Steering Pump Pulley V6 4.3L (8th Vin Digit W) |
| 1996-1999 | GMC | C1500 Truck | GMC C1500 Truck Power Steering Pump Pulley V8 5.0L (8th Vin Digit M) |
| 1996 | GMC | C1500 Truck | GMC C1500 Truck Power Steering Pump Pulley V8 6.5L Turbo Diesel (8th Vin Digit S) |
| 1996-1999 | GMC | C1500 Truck | GMC C1500 Truck Power Steering Pump Pulley V8 5.7L (8th Vin Digit R) |
| 1997 | GMC | C1500 Truck | GMC C1500 Truck Power Steering Pump Pulley V8 6.5L Turbo Diesel (8th Vin Digit F) |
| 1988-1995 | GMC | C2500 Truck | GMC C2500 Truck Power Steering Pump Pulley V8 5.0L (8th Vin Digit H) |
| 1988-1995 | GMC | C2500 Truck | GMC C2500 Truck Power Steering Pump Pulley V6 4.3L (8th Vin Digit Z) |
| 1988-1995 | GMC | C2500 Truck | GMC C2500 Truck Power Steering Pump Pulley V8 5.7L (8th Vin Digit K) |
| 1996-2000 | GMC | C2500 Truck | GMC C2500 Truck Power Steering Pump Pulley V8 7.4L (8th Vin Digit J) |
| 1996-1998 | GMC | C2500 Truck | GMC C2500 Truck Power Steering Pump Pulley V8 5.0L (8th Vin Digit M) |
| 1996-2000 | GMC | C2500 Truck | GMC C2500 Truck Power Steering Pump Pulley V8 5.7L (8th Vin Digit R) |
| 1996-2000 | GMC | C2500 Truck | GMC C2500 Truck Power Steering Pump Pulley V8 6.5L Turbo Diesel (8th Vin Digit F) |
| 1996-1998 | GMC | C2500 Truck | GMC C2500 Truck Power Steering Pump Pulley V8 6.5L Turbo Diesel (8th Vin Digit S) |
| 1988-1995 | GMC | C3500 Truck | GMC C3500 Truck Power Steering Pump Pulley V8 5.7L (8th Vin Digit K) |
| 1994-1995 | GMC | C3500 Truck | GMC C3500 Truck Power Steering Pump Pulley V8 7.4L (8th Vin Digit N) |
| 1996-2000 | GMC | C3500 Truck | GMC C3500 Truck Power Steering Pump Pulley V8 5.7L (8th Vin Digit R) |
| 1996-2002 | GMC | C3500 Truck | GMC C3500 Truck Power Steering Pump Pulley V8 6.5L Turbo Diesel (8th Vin Digit F) |
| 1996-2000 | GMC | C3500 Truck | GMC C3500 Truck Power Steering Pump Pulley V8 7.4L (8th Vin Digit J) |
| 1998 | GMC | C3500 Truck | GMC C3500 Truck Power Steering Pump Pulley V8 6.5L Turbo Diesel (8th Vin Digit S) |
| 2001-2002 | GMC | C3500 Truck | GMC C3500 Truck Power Steering Pump Pulley V8 8.1L (8th Vin Digit G) |
| 1987-1995 | GMC | G1500 | GMC G1500 Power Steering Pump Pulley V6 4.3L (8th Vin Digit Z) |
| 1987-1995 | GMC | G1500 | GMC G1500 Power Steering Pump Pulley V8 5.0L (8th Vin Digit H) |
| 1987-1993 | GMC | G1500 | GMC G1500 Power Steering Pump Pulley V8 5.7L (8th Vin Digit K) |
| 1987-1995 | GMC | G2500 | GMC G2500 Power Steering Pump Pulley V8 5.0L (8th Vin Digit H) |
| 1987-1995 | GMC | G2500 | GMC G2500 Power Steering Pump Pulley V8 5.7L (8th Vin Digit K) |
| 1987-1995 | GMC | G2500 | GMC G2500 Power Steering Pump Pulley V6 4.3L (8th Vin Digit Z) |
| 1987-1996 | GMC | G3500 | GMC G3500 Power Steering Pump Pulley V8 5.7L (8th Vin Digit K) |
| 1987-1995 | GMC | G3500 | GMC G3500 Power Steering Pump Pulley V6 4.3L (8th Vin Digit Z) |
| 1992-1996 | GMC | G3500 | GMC G3500 Power Steering Pump Pulley V8 7.4L (8th Vin Digit N) |
| 1988-1991 | GMC | Jimmy Full Size | GMC Jimmy Full Size Power Steering Pump Pulley V8 5.7L (8th Vin Digit K) |
| 1988-1994 | GMC | Jimmy S-15 | GMC Jimmy S-15 Power Steering Pump Pulley V6 4.3L (8th Vin Digit Z) |
| 1992-2001 | GMC | Jimmy S-15 | GMC Jimmy S-15 Power Steering Pump Pulley V6 4.3L (8th Vin Digit W) |
| 1988-1995 | GMC | K1500 Truck | GMC K1500 Truck Power Steering Pump Pulley V8 5.7L (8th Vin Digit K) |
| 1988-1995 | GMC | K1500 Truck | GMC K1500 Truck Power Steering Pump Pulley V6 4.3L (8th Vin Digit Z) |
| 1988-1995 | GMC | K1500 Truck | GMC K1500 Truck Power Steering Pump Pulley V8 5.0L (8th Vin Digit H) |
| 1996-1999 | GMC | K1500 Truck | GMC K1500 Truck Power Steering Pump Pulley V8 5.0L (8th Vin Digit M) |
| 1996-1998 | GMC | K1500 Truck | GMC K1500 Truck Power Steering Pump Pulley V6 4.3L (8th Vin Digit W) |
| 1996-1998 | GMC | K1500 Truck | GMC K1500 Truck Power Steering Pump Pulley V8 6.5L Turbo Diesel (8th Vin Digit S) |
| 1996-1999 | GMC | K1500 Truck | GMC K1500 Truck Power Steering Pump Pulley V8 5.7L (8th Vin Digit R) |
| 1997 | GMC | K1500 Truck | GMC K1500 Truck Power Steering Pump Pulley V8 6.5L Turbo Diesel (8th Vin Digit F) |
| 1988-1995 | GMC | K2500 Truck | GMC K2500 Truck Power Steering Pump Pulley V6 4.3L (8th Vin Digit Z) |
| 1988-1995 | GMC | K2500 Truck | GMC K2500 Truck Power Steering Pump Pulley V8 5.7L (8th Vin Digit K) |
| 1988-1995 | GMC | K2500 Truck | GMC K2500 Truck Power Steering Pump Pulley V8 5.0L (8th Vin Digit H) |
| 1996-2000 | GMC | K2500 Truck | GMC K2500 Truck Power Steering Pump Pulley V8 5.7L (8th Vin Digit R) |
| 1996-2000 | GMC | K2500 Truck | GMC K2500 Truck Power Steering Pump Pulley V8 6.5L Turbo Diesel (8th Vin Digit F) |
| 1996-1998 | GMC | K2500 Truck | GMC K2500 Truck Power Steering Pump Pulley V8 6.5L Turbo Diesel (8th Vin Digit S) |
| 1996-2000 | GMC | K2500 Truck | GMC K2500 Truck Power Steering Pump Pulley V8 7.4L (8th Vin Digit J) |
| 1996-1998 | GMC | K2500 Truck | GMC K2500 Truck Power Steering Pump Pulley V8 5.0L (8th Vin Digit M) |
| 1988-1995 | GMC | K3500 Truck | GMC K3500 Truck Power Steering Pump Pulley V8 5.7L (8th Vin Digit K) |
| 1994-1995 | GMC | K3500 Truck | GMC K3500 Truck Power Steering Pump Pulley V8 7.4L (8th Vin Digit N) |
| 1996-2000 | GMC | K3500 Truck | GMC K3500 Truck Power Steering Pump Pulley V8 6.5L Turbo Diesel (8th Vin Digit F) |
| 1996-2000 | GMC | K3500 Truck | GMC K3500 Truck Power Steering Pump Pulley V8 5.7L (8th Vin Digit R) |
| 1996-2000 | GMC | K3500 Truck | GMC K3500 Truck Power Steering Pump Pulley V8 7.4L (8th Vin Digit J) |
| 1996-1999 | GMC | P3500 | GMC P3500 Power Steering Pump Pulley V6 4.3L (8th Vin Digit W) |
| 1996-1999 | GMC | P3500 | GMC P3500 Power Steering Pump Pulley V8 5.7L (8th Vin Digit R) |
| 1996-1997 | GMC | P3500 | GMC P3500 Power Steering Pump Pulley V8 7.4L (8th Vin Digit N) |
| 1996-1999 | GMC | P3500 | GMC P3500 Power Steering Pump Pulley V8 6.5L Turbo Diesel (8th Vin Digit Y) |
| 1996-1999 | GMC | P3500 | GMC P3500 Power Steering Pump Pulley V8 7.4L (8th Vin Digit J) |
| 1996 | GMC | P3500 | GMC P3500 Power Steering Pump Pulley V8 5.7L (8th Vin Digit K) |
| 1997-1999 | GMC | P3500 | GMC P3500 Power Steering Pump Pulley V8 6.5L Turbo Diesel (8th Vin Digit F) |
| 1988-1990 | GMC | S-15 Pickup | GMC S-15 Pickup Power Steering Pump Pulley V6 4.3L (8th Vin Digit Z) |
| 1991-1995 | GMC | S-15 Sonoma | GMC S-15 Sonoma Power Steering Pump Pulley V6 4.3L (8th Vin Digit Z) |
| 1992-2002 | GMC | S-15 Sonoma | GMC S-15 Sonoma Power Steering Pump Pulley V6 4.3L (8th Vin Digit W) |
| 1996-2004 | GMC | S-15 Sonoma | GMC S-15 Sonoma Power Steering Pump Pulley V6 4.3L (8th Vin Digit X) |
| 1987-1994 | GMC | Safari | GMC Safari Power Steering Pump Pulley V6 4.3L (8th Vin Digit Z) |
| 1990-1991 | GMC | Safari | GMC Safari Power Steering Pump Pulley V6 4.3L (8th Vin Digit B) |
| 1992-2001 | GMC | Safari | GMC Safari Power Steering Pump Pulley V6 4.3L (8th Vin Digit W) |
| 2002-2005 | GMC | Safari | GMC Safari Power Steering Pump Pulley V6 4.3L (8th Vin Digit X) |
| 1996-2002 | GMC | Savana 1500 Van | GMC Savana 1500 Van Power Steering Pump Pulley V8 5.7L (8th Vin Digit R) |
| 1996-2002 | GMC | Savana 1500 Van | GMC Savana 1500 Van Power Steering Pump Pulley V8 5.0L (8th Vin Digit M) |
| 1996-2002 | GMC | Savana 1500 Van | GMC Savana 1500 Van Power Steering Pump Pulley V6 4.3L (8th Vin Digit W) |
| 2003-2007 | GMC | Savana 1500 Van | GMC Savana 1500 Van Power Steering Pump Pulley V8 5.3L (8th Vin Digit T) |
| 2003-2014 | GMC | Savana 1500 Van | GMC Savana 1500 Van Power Steering Pump Pulley V6 4.3L (8th Vin Digit X) |
| 2008-2014 | GMC | Savana 1500 Van | GMC Savana 1500 Van Power Steering Pump Pulley V8 5.3L (8th Vin Digit 4) |
| 1996-2002 | GMC | Savana 2500 Van | GMC Savana 2500 Van Power Steering Pump Pulley V8 5.7L (8th Vin Digit R) |
| 1996-2002 | GMC | Savana 2500 Van | GMC Savana 2500 Van Power Steering Pump Pulley V6 4.3L (8th Vin Digit W) |
| 1996-2002 | GMC | Savana 2500 Van | GMC Savana 2500 Van Power Steering Pump Pulley V8 5.0L (8th Vin Digit M) |
| 1996-2002 | GMC | Savana 2500 Van | GMC Savana 2500 Van Power Steering Pump Pulley V8 6.5L Turbo Diesel (8th Vin Digit F) |
| 2008-2009 | GMC | Savana 2500 Van | GMC Savana 2500 Van Power Steering Pump Pulley V8 6.0L (8th Vin Digit K) |
| 2008-2009 | GMC | Savana 2500 Van | GMC Savana 2500 Van Power Steering Pump Pulley V8 4.8L (8th Vin Digit C) |
| 2010-2013 | GMC | Savana 2500 Van | GMC Savana 2500 Van Power Steering Pump Pulley V8 4.8L (8th Vin Digit A) |
| 2010-2017 | GMC | Savana 2500 Van | GMC Savana 2500 Van Power Steering Pump Pulley V8 6.0L (8th Vin Digit G) |
| 2015-2017 | GMC | Savana 2500 Van | GMC Savana 2500 Van Power Steering Pump Pulley V8 4.8L (8th Vin Digit F) |
| 1996-2002 | GMC | Savana 3500 Van | GMC Savana 3500 Van Power Steering Pump Pulley V8 5.7L (8th Vin Digit R) |
| 1996-2000 | GMC | Savana 3500 Van | GMC Savana 3500 Van Power Steering Pump Pulley V8 7.4L (8th Vin Digit J) |
| 1996-2002 | GMC | Savana 3500 Van | GMC Savana 3500 Van Power Steering Pump Pulley V8 6.5L Turbo Diesel (8th Vin Digit F) |
| 2001-2002 | GMC | Savana 3500 Van | GMC Savana 3500 Van Power Steering Pump Pulley V8 8.1L (8th Vin Digit G) |
| 2003-2007 | GMC | Savana 3500 Van | GMC Savana 3500 Van Power Steering Pump Pulley V8 6.0L (8th Vin Digit U) |
| 2004-2007 | GMC | Savana 3500 Van | GMC Savana 3500 Van Power Steering Pump Pulley V8 4.8L (8th Vin Digit V) |
| 2008-2009 | GMC | Savana 3500 Van | GMC Savana 3500 Van Power Steering Pump Pulley V8 4.8L (8th Vin Digit C) |
| 2008-2009 | GMC | Savana 3500 Van | GMC Savana 3500 Van Power Steering Pump Pulley V8 6.0L (8th Vin Digit K) |
| 2010-2013 | GMC | Savana 3500 Van | GMC Savana 3500 Van Power Steering Pump Pulley V8 4.8L (8th Vin Digit A) |
| 2010-2017 | GMC | Savana 3500 Van | GMC Savana 3500 Van Power Steering Pump Pulley V8 6.0L (8th Vin Digit G) |
| 2015-2017 | GMC | Savana 3500 Van | GMC Savana 3500 Van Power Steering Pump Pulley V8 4.8L (8th Vin Digit F) |
| 1999-2002 | GMC | Sierra 1500 | GMC Sierra 1500 Power Steering Pump Pulley V6 4.3L (8th Vin Digit W) |
| 1999-2006 | GMC | Sierra 1500 | GMC Sierra 1500 Power Steering Pump Pulley V8 5.3L (8th Vin Digit T) |
| 1999-2006 | GMC | Sierra 1500 | GMC Sierra 1500 Power Steering Pump Pulley V8 4.8L (8th Vin Digit V) |
| 2002-2006 | GMC | Sierra 1500 | GMC Sierra 1500 Power Steering Pump Pulley V8 5.3L (8th Vin Digit Z) |
| 2003-2013 | GMC | Sierra 1500 | GMC Sierra 1500 Power Steering Pump Pulley V6 4.3L (8th Vin Digit X) |
| 2005-2006 | GMC | Sierra 1500 | GMC Sierra 1500 Power Steering Pump Pulley V8 5.3L (8th Vin Digit B) |
| 2006 | GMC | Sierra 1500 | GMC Sierra 1500 Power Steering Pump Pulley V8 6.0L (8th Vin Digit N) |
| 2007-2009 | GMC | Sierra 1500 | GMC Sierra 1500 Power Steering Pump Pulley V8 4.8L (8th Vin Digit C) |
| 2007-2013 | GMC | Sierra 1500 | GMC Sierra 1500 Power Steering Pump Pulley V8 5.3L (8th Vin Digit 0) |
| 2007-2009 | GMC | Sierra 1500 | GMC Sierra 1500 Power Steering Pump Pulley V8 6.0L (8th Vin Digit Y) |
| 2007-2013 | GMC | Sierra 1500 | GMC Sierra 1500 Power Steering Pump Pulley V8 5.3L (8th Vin Digit J) |
| 2007-2013 | GMC | Sierra 1500 | GMC Sierra 1500 Power Steering Pump Pulley V8 5.3L (8th Vin Digit 3) |
| 2007-2009 | GMC | Sierra 1500 | GMC Sierra 1500 Power Steering Pump Pulley V8 5.3L (8th Vin Digit M) |
| 2009 | GMC | Sierra 1500 | GMC Sierra 1500 Power Steering Pump Pulley V8 6.0L (8th Vin Digit 5) |
| 2009-2013 | GMC | Sierra 1500 | GMC Sierra 1500 Power Steering Pump Pulley V8 6.2L (8th Vin Digit 2) |
| 2014 | GMC | Sierra 1500 | GMC Sierra 1500 Power Steering Pump Pulley V8 6.2L (8th Vin Digit J) |
| 2014 | GMC | Sierra 1500 | GMC Sierra 1500 Power Steering Pump Pulley V8 5.3L (8th Vin Digit C) |
| 2014 | GMC | Sierra 1500 | GMC Sierra 1500 Power Steering Pump Pulley V6 4.3L (8th Vin Digit H) |
| 2007 | GMC | Sierra 1500 Classic | GMC Sierra 1500 Classic Power Steering Pump Pulley V8 4.8L (8th Vin Digit V) |
| 2007 | GMC | Sierra 1500 Classic | GMC Sierra 1500 Classic Power Steering Pump Pulley V8 5.3L (8th Vin Digit T) |
| 2007 | GMC | Sierra 1500 Classic | GMC Sierra 1500 Classic Power Steering Pump Pulley V8 6.0L (8th Vin Digit N) |
| 2007 | GMC | Sierra 1500 Classic | GMC Sierra 1500 Classic Power Steering Pump Pulley V6 4.3L (8th Vin Digit X) |
| 2007 | GMC | Sierra 1500 Classic | GMC Sierra 1500 Classic Power Steering Pump Pulley V8 5.3L (8th Vin Digit Z) |
| 2007 | GMC | Sierra 1500 Classic | GMC Sierra 1500 Classic Power Steering Pump Pulley V8 5.3L (8th Vin Digit B) |
| 2001-2003 | GMC | Sierra 1500 HD | GMC Sierra 1500 HD Power Steering Pump Pulley |
| 2006 | GMC | Sierra 1500 HD | GMC Sierra 1500 HD Power Steering Pump Pulley |
| 2007 | GMC | Sierra 1500 HD Classic | GMC Sierra 1500 HD Classic Power Steering Pump Pulley |
| 1999-2000 | GMC | Sierra 2500 | GMC Sierra 2500 Power Steering Pump Pulley V8 5.3L (8th Vin Digit T) |
| 1999-2004 | GMC | Sierra 2500 | GMC Sierra 2500 Power Steering Pump Pulley V8 6.0L (8th Vin Digit U) |
| 2001-2004 | GMC | Sierra 2500 | GMC Sierra 2500 Power Steering Pump Pulley V8 6.0L (8th Vin Digit U) |
| 2001-2004 | GMC | Sierra 2500 HD | GMC Sierra 2500 HD Power Steering Pump Pulley V8 6.0L (8th Vin Digit U) |
| 2001-2006 | GMC | Sierra 2500 HD | GMC Sierra 2500 HD Power Steering Pump Pulley V8 8.1L (8th Vin Digit G) |
| 2001-2006 | GMC | Sierra 2500 HD | GMC Sierra 2500 HD Power Steering Pump Pulley V8 6.0L (8th Vin Digit U) |
| 2007-2008 | GMC | Sierra 2500 HD | GMC Sierra 2500 HD Power Steering Pump Pulley V8 6.0L (8th Vin Digit K) |
| 2009 | GMC | Sierra 2500 HD | GMC Sierra 2500 HD Power Steering Pump Pulley V8 6.0L (8th Vin Digit K) |
| 2007 | GMC | Sierra 2500 HD Classic | GMC Sierra 2500 HD Classic Power Steering Pump Pulley V8 8.1L (8th Vin Digit G) |
| 2007 | GMC | Sierra 2500 HD Classic | GMC Sierra 2500 HD Classic Power Steering Pump Pulley V8 6.0L (8th Vin Digit U) |
| 2001-2006 | GMC | Sierra 3500 | GMC Sierra 3500 Power Steering Pump Pulley V8 6.0L (8th Vin Digit U) |
| 2001-2006 | GMC | Sierra 3500 | GMC Sierra 3500 Power Steering Pump Pulley V8 8.1L (8th Vin Digit G) |
| 2007 | GMC | Sierra 3500 Classic | GMC Sierra 3500 Classic Power Steering Pump Pulley V8 8.1L (8th Vin Digit G) |
| 2007 | GMC | Sierra 3500 Classic | GMC Sierra 3500 Classic Power Steering Pump Pulley V8 6.0L (8th Vin Digit U) |
| 2007-2009 | GMC | Sierra 3500 HD | GMC Sierra 3500 HD Power Steering Pump Pulley V8 6.0L (8th Vin Digit K) |
| 1992-1995 | GMC | Suburban C1500 | GMC Suburban C1500 Power Steering Pump Pulley V8 5.7L (8th Vin Digit K) |
| 1996-1999 | GMC | Suburban C1500 | GMC Suburban C1500 Power Steering Pump Pulley V8 6.5L Turbo Diesel (8th Vin Digit F) |
| 1996-1999 | GMC | Suburban C1500 | GMC Suburban C1500 Power Steering Pump Pulley V8 5.7L (8th Vin Digit R) |
| 1992-1995 | GMC | Suburban C2500 | GMC Suburban C2500 Power Steering Pump Pulley V8 5.7L (8th Vin Digit K) |
| 1992-1995 | GMC | Suburban C2500 | GMC Suburban C2500 Power Steering Pump Pulley V8 5.7L (8th Vin Digit K) |
| 1994-1995 | GMC | Suburban C2500 | GMC Suburban C2500 Power Steering Pump Pulley V8 7.4L (8th Vin Digit N) |
| 1996-1999 | GMC | Suburban C2500 | GMC Suburban C2500 Power Steering Pump Pulley V8 7.4L (8th Vin Digit J) |
| 1996-1999 | GMC | Suburban C2500 | GMC Suburban C2500 Power Steering Pump Pulley V8 6.5L Turbo Diesel (8th Vin Digit F) |
| 1996-1999 | GMC | Suburban C2500 | GMC Suburban C2500 Power Steering Pump Pulley V8 5.7L (8th Vin Digit R) |
| 1992-1995 | GMC | Suburban K1500 | GMC Suburban K1500 Power Steering Pump Pulley V8 5.7L (8th Vin Digit K) |
| 1996-1999 | GMC | Suburban K1500 | GMC Suburban K1500 Power Steering Pump Pulley V8 6.5L Turbo Diesel (8th Vin Digit F) |
| 1996-1999 | GMC | Suburban K1500 | GMC Suburban K1500 Power Steering Pump Pulley V8 5.7L (8th Vin Digit R) |
| 1992-1995 | GMC | Suburban K2500 | GMC Suburban K2500 Power Steering Pump Pulley V8 5.7L (8th Vin Digit K) |
| 1992-1995 | GMC | Suburban K2500 | GMC Suburban K2500 Power Steering Pump Pulley V8 5.7L (8th Vin Digit K) |
| 1994-1995 | GMC | Suburban K2500 | GMC Suburban K2500 Power Steering Pump Pulley V8 7.4L (8th Vin Digit N) |
| 1996-1999 | GMC | Suburban K2500 | GMC Suburban K2500 Power Steering Pump Pulley V8 7.4L (8th Vin Digit J) |
| 1996-1999 | GMC | Suburban K2500 | GMC Suburban K2500 Power Steering Pump Pulley V8 6.5L Turbo Diesel (8th Vin Digit F) |
| 1996-1999 | GMC | Suburban K2500 | GMC Suburban K2500 Power Steering Pump Pulley V8 5.7L (8th Vin Digit R) |
| 1988-1991 | GMC | Suburban R1500 | GMC Suburban R1500 Power Steering Pump Pulley V8 5.7L (8th Vin Digit K) |
| 1988-1991 | GMC | Suburban R2500 | GMC Suburban R2500 Power Steering Pump Pulley V8 5.7L (8th Vin Digit K) |
| 1988-1991 | GMC | Suburban R2500 | GMC Suburban R2500 Power Steering Pump Pulley V8 5.7L (8th Vin Digit K) |
| 1988-1991 | GMC | Suburban V1500 | GMC Suburban V1500 Power Steering Pump Pulley V8 5.7L (8th Vin Digit K) |
| 1988-1991 | GMC | Suburban V2500 | GMC Suburban V2500 Power Steering Pump Pulley V8 5.7L (8th Vin Digit K) |
| 1988-1991 | GMC | Suburban V2500 | GMC Suburban V2500 Power Steering Pump Pulley V8 5.7L (8th Vin Digit K) |
| 1991 | GMC | Syclone | GMC Syclone Power Steering Pump Pulley V6 4.3L Turbo (8th Vin Digit Z) |
| 1992-1993 | GMC | Typhoon | GMC Typhoon Power Steering Pump Pulley V6 4.3L Turbo (8th Vin Digit Z) |
| 1992-1995 | GMC | Yukon | GMC Yukon Power Steering Pump Pulley V8 5.7L (8th Vin Digit K) |
| 1996-1997 | GMC | Yukon | GMC Yukon Power Steering Pump Pulley V8 6.5L Turbo Diesel (8th Vin Digit S) |
| 1996-2000 | GMC | Yukon | GMC Yukon Power Steering Pump Pulley V8 5.7L (8th Vin Digit R) |
| 2000-2006 | GMC | Yukon | GMC Yukon Power Steering Pump Pulley V8 4.8L (8th Vin Digit V) |
| 2000-2006 | GMC | Yukon | GMC Yukon Power Steering Pump Pulley V8 5.3L (8th Vin Digit T) |
| 2002-2006 | GMC | Yukon | GMC Yukon Power Steering Pump Pulley V8 5.3L (8th Vin Digit Z) |
| 2007-2009 | GMC | Yukon | GMC Yukon Power Steering Pump Pulley V8 5.3L (8th Vin Digit J) |
| 2007-2009 | GMC | Yukon | GMC Yukon Power Steering Pump Pulley V8 4.8L (8th Vin Digit C) |
| 2007-2014 | GMC | Yukon | GMC Yukon Power Steering Pump Pulley V8 5.3L (8th Vin Digit 0) |
| 2008-2009 | GMC | Yukon | GMC Yukon Power Steering Pump Pulley V8 6.0L (8th Vin Digit 5) |
| 2014 | GMC | Yukon | GMC Yukon Power Steering Pump Pulley V8 6.2L (8th Vin Digit F) |
| 2002-2006 | GMC | Yukon XL 1500 | GMC Yukon XL 1500 Power Steering Pump Pulley V8 5.3L (8th Vin Digit Z) |
| 2007-2009 | GMC | Yukon XL 1500 | GMC Yukon XL 1500 Power Steering Pump Pulley V8 5.3L (8th Vin Digit J) |
| 2007-2013 | GMC | Yukon XL 1500 | GMC Yukon XL 1500 Power Steering Pump Pulley V8 5.3L (8th Vin Digit 3) |
| 2007-2014 | GMC | Yukon XL 1500 | GMC Yukon XL 1500 Power Steering Pump Pulley V8 5.3L (8th Vin Digit 0) |
| 2009-2014 | GMC | Yukon XL 1500 | GMC Yukon XL 1500 Power Steering Pump Pulley V8 6.2L (8th Vin Digit F) |
| 2000-2006 | GMC | Yukon XL 2500 | GMC Yukon XL 2500 Power Steering Pump Pulley V8 6.0L (8th Vin Digit U) |
| 2001-2006 | GMC | Yukon XL 2500 | GMC Yukon XL 2500 Power Steering Pump Pulley V8 8.1L (8th Vin Digit G) |
| 2007-2009 | GMC | Yukon XL 2500 | GMC Yukon XL 2500 Power Steering Pump Pulley V8 6.0L (8th Vin Digit K) |
| 2003-2007 | Hummer | H2 | Hummer H2 Power Steering Pump Pulley V8 6.0L (8th Vin Digit U) |
| 2008 | Hummer | H2 | Hummer H2 Power Steering Pump Pulley V8 6.2L (8th Vin Digit 8) |
| 2009 | Hummer | H2 | Hummer H2 Power Steering Pump Pulley V8 6.2L (8th Vin Digit 2) |
| 1991-1994 | Oldsmobile | Bravada | Olds Bravada Power Steering Pump Pulley V6 4.3L (8th Vin Digit Z) |
| 1996-2001 | Oldsmobile | Bravada | Olds Bravada Power Steering Pump Pulley V6 4.3L (8th Vin Digit W) |
| 1991-1992 | Oldsmobile | Custom Cruiser | Olds Custom Cruiser Power Steering Pump Pulley V8 5.0L (8th Vin Digit E) |
| 1992 | Oldsmobile | Custom Cruiser | Olds Custom Cruiser Power Steering Pump Pulley V8 5.7L (8th Vin Digit 7) |
| 1988-1992 | Pontiac | Firebird | Pontiac Firebird Power Steering Pump Pulley V8 5.0L (8th Vin Digit E) |
| 1988-1992 | Pontiac | Firebird | Pontiac Firebird Power Steering Pump Pulley V8 5.0L (8th Vin Digit F) |
| 1989-1991 | Pontiac | Firebird | Pontiac Firebird Power Steering Pump Pulley V8 5.7L (8th Vin Digit 8) |
Part #: 1ASPP00043
Order must be placed by 4pm ET
Get it in: 2 - 4 Business Days
Want it sooner? Choose Next Day Air at Checkout