NGETK00033-Platinum Spark Plug 8 Piece Set
Replaces
Platinum Spark Plug 8 Piece Set NGK 3186 - NGETK00033
NGETK00033
Frequently bought together
Part Details
Spark Plug Type:

  Platinum

Quantity:

  8 Piece Set
Specifications:
NGK G-Power Platinum Spark Plug
Set of 8

Stock #: 3186
Part #: TR5GP
Fine platinum tip reduces required voltage
Trivalent Metal Plating - superior anti-corrosion and anti-seizing properties
Best platinum spark plug at an economical cost
Our electrical and electronic parts are subject to strict quality testing.
Parts cannot be returned after they have been installed. Contact us with any questions before installing the parts.
Item Condition: New

Lifetime Warranty
This item is backed by a Limited Lifetime Warranty. In the event this item should fail due to manufacturing defects during intended use, we will exchange the part free of charge (excludes shipping charges) for the original purchaser.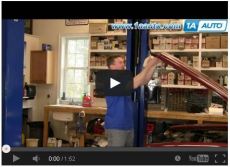 step : Removing the Spark Plug (0:55)

Make sure the engine is cold
Grab and work the boot off of the spark plug
Clean off any dirt on the end of the plug
Remove the spark plug with a 5/8 spark plug socket

step : Installing the Spark Plug (3:43)

Insert the spark plug into the spark plug socket
Tighten the spark plug without cross-threading it
Torque the spark plug to 11 foot-pounds
Press on the spark plug boot
Tools needed for replacement:
Ratchets & Related

Socket Extensions
Torque Wrench
Ratchet

Sockets - SAE

5/8 Inch Spark Plug Socket
Iridium sparkplugs.
After using NGK iridium plugs in my motorcycles and atvs the overall performance was appreciable. The complete burning of the gas made it cleaner and lasted much longer than conventional plugs with no fouling. So I found them for my truck and now it runs like a new one with plenty of people.
NGK plugs
Fast shipping, great packaging and work fine in my 5.3 Chevy. Also found easy way to remove plug wires using curved tractor Hose pliers.
the best store on the internet.
TThe customer service is best cant beat it...there helpful knowledge able staff gets you going in no time.
Spark plugs were awesome my truck runs very very very well thank you
Vehicles Fuel Economy and overall performance improved
The spark plugs in my truck had not been replaced in years. So when it was time to replace them I relied on 1A Auto as my auto parts supplier to get my parts from. They arrived within s few days and fit without issue. The truck ran better than ever before and my MPG greatly improved
Spark plugs
I did order the Spark plugs for my vehicle But have not installed them yet I'm still planning to use them
Customer Q&A
Ask a question to 1A Auto customers who purchased the product
Are they made especially for the 2007 model?
No a different vehicle. I placed an order for my mothers truck
| Year | Make | Model | Description |
| --- | --- | --- | --- |
| 2008-2009 | Buick | Allure | Buick Allure Platinum Spark Plug 8 Piece Set V8 5.3L |
| 2008-2009 | Buick | LaCrosse | Buick LaCrosse Platinum Spark Plug 8 Piece Set V8 5.3L |
| 2004-2007 | Buick | Rainier | Buick Rainier Platinum Spark Plug 8 Piece Set V8 5.3L |
| 2004-2005 | Cadillac | CTS | Cadillac CTS Platinum Spark Plug 8 Piece Set V8 5.7L |
| 2006-2007 | Cadillac | CTS | Cadillac CTS Platinum Spark Plug 8 Piece Set V8 6.0L |
| 2002-2006 | Cadillac | Escalade | Cadillac Escalade Platinum Spark Plug 8 Piece Set V8 6.0L |
| 2002-2005 | Cadillac | Escalade | Cadillac Escalade Platinum Spark Plug 8 Piece Set V8 5.3L |
| 2007-2014 | Cadillac | Escalade | Cadillac Escalade Platinum Spark Plug 8 Piece Set V8 6.2L |
| 2003-2006 | Cadillac | Escalade ESV | Cadillac Escalade ESV Platinum Spark Plug 8 Piece Set V8 6.0L |
| 2007-2014 | Cadillac | Escalade ESV | Cadillac Escalade ESV Platinum Spark Plug 8 Piece Set V8 6.2L |
| 2002-2006 | Cadillac | Escalade EXT | Cadillac Escalade EXT Platinum Spark Plug 8 Piece Set V8 6.0L |
| 2007-2013 | Cadillac | Escalade EXT | Cadillac Escalade EXT Platinum Spark Plug 8 Piece Set V8 6.2L |
| 2004-2006 | Cadillac | SRX | Cadillac SRX Platinum Spark Plug 8 Piece Set V8 4.6L |
| 2005-2006 | Cadillac | STS | Cadillac STS Platinum Spark Plug 8 Piece Set V8 4.6L |
| 2004-2006 | Cadillac | XLR | Cadillac XLR Platinum Spark Plug 8 Piece Set V8 4.6L |
| 2007-2009 | Chevy | Avalanche | Chevy Avalanche Platinum Spark Plug 8 Piece Set V8 6.0L |
| 2007-2013 | Chevy | Avalanche | Chevy Avalanche Platinum Spark Plug 8 Piece Set V8 5.3L |
| 2002-2006 | Chevy | Avalanche 1500 | Chevy Avalanche 1500 Platinum Spark Plug 8 Piece Set V8 5.3L |
| 1998-2002 | Chevy | Camaro | Chevy Camaro Platinum Spark Plug 8 Piece Set V8 5.7L |
| 2010-2014 | Chevy | Camaro | Chevy Camaro Platinum Spark Plug 8 Piece Set V8 6.2L (excluding Supercharged Models) |
| 2011-2013 | Chevy | Caprice | Chevy Caprice Platinum Spark Plug 8 Piece Set V8 6.0L |
| 2009-2012 | Chevy | Colorado | Chevy Colorado Platinum Spark Plug 8 Piece Set V8 5.3L |
| 1997-2004 | Chevy | Corvette | Chevy Corvette Platinum Spark Plug 8 Piece Set V8 5.7L |
| 2005-2007 | Chevy | Corvette | Chevy Corvette Platinum Spark Plug 8 Piece Set V8 6.0L |
| 2008-2013 | Chevy | Corvette | Chevy Corvette Platinum Spark Plug 8 Piece Set V8 6.2L (excluding Supercharged Models) |
| 2003-2014 | Chevy | Express 1500 Van | Chevy Express 1500 Van Platinum Spark Plug 8 Piece Set V8 5.3L |
| 2003-2014 | Chevy | Express 2500 Van | Chevy Express 2500 Van Platinum Spark Plug 8 Piece Set V8 6.0L |
| 2003-2005 | Chevy | Express 2500 Van | Chevy Express 2500 Van Platinum Spark Plug 8 Piece Set V8 5.3L |
| 2003-2014 | Chevy | Express 2500 Van | Chevy Express 2500 Van Platinum Spark Plug 8 Piece Set V8 4.8L |
| 2003-2014 | Chevy | Express 3500 Van | Chevy Express 3500 Van Platinum Spark Plug 8 Piece Set V8 6.0L |
| 2005-2014 | Chevy | Express 3500 Van | Chevy Express 3500 Van Platinum Spark Plug 8 Piece Set V8 4.8L |
| 2006-2009 | Chevy | Impala | Chevy Impala Platinum Spark Plug 8 Piece Set V8 5.3L |
| 2006-2007 | Chevy | Monte Carlo | Chevy Monte Carlo Platinum Spark Plug 8 Piece Set V8 5.3L |
| 2003-2004 | Chevy | SSR | Chevy SSR Platinum Spark Plug 8 Piece Set V8 5.3L |
| 2005-2006 | Chevy | SSR | Chevy SSR Platinum Spark Plug 8 Piece Set V8 6.0L |
| 1999-2013 | Chevy | Silverado 1500 | Chevy Silverado 1500 Platinum Spark Plug 8 Piece Set V8 4.8L |
| 1999-2013 | Chevy | Silverado 1500 | Chevy Silverado 1500 Platinum Spark Plug 8 Piece Set V8 5.3L |
| 2003-2009 | Chevy | Silverado 1500 | Chevy Silverado 1500 Platinum Spark Plug 8 Piece Set V8 6.0L |
| 2009-2013 | Chevy | Silverado 1500 | Chevy Silverado 1500 Platinum Spark Plug 8 Piece Set V8 6.2L |
| 2007 | Chevy | Silverado 1500 Classic | Chevy Silverado 1500 Classic Platinum Spark Plug 8 Piece Set V8 6.0L |
| 2007 | Chevy | Silverado 1500 Classic | Chevy Silverado 1500 Classic Platinum Spark Plug 8 Piece Set V8 4.8L |
| 2007 | Chevy | Silverado 1500 Classic | Chevy Silverado 1500 Classic Platinum Spark Plug 8 Piece Set V8 5.3L |
| 2001-2003 | Chevy | Silverado 1500 HD | Chevy Silverado 1500 HD Platinum Spark Plug 8 Piece Set V8 6.0L |
| 2005-2006 | Chevy | Silverado 1500 HD | Chevy Silverado 1500 HD Platinum Spark Plug 8 Piece Set V8 6.0L |
| 2007 | Chevy | Silverado 1500 HD Classic | Chevy Silverado 1500 HD Classic Platinum Spark Plug 8 Piece Set V8 6.0L |
| 1999-2000 | Chevy | Silverado 2500 | Chevy Silverado 2500 Platinum Spark Plug 8 Piece Set V8 5.3L |
| 1999-2004 | Chevy | Silverado 2500 | Chevy Silverado 2500 Platinum Spark Plug 8 Piece Set V8 6.0L |
| 2001-2014 | Chevy | Silverado 2500 HD | Chevy Silverado 2500 HD Platinum Spark Plug 8 Piece Set V8 6.0L |
| 2007 | Chevy | Silverado 2500 HD Classic | Chevy Silverado 2500 HD Classic Platinum Spark Plug 8 Piece Set V8 6.0L |
| 2001-2006 | Chevy | Silverado 3500 | Chevy Silverado 3500 Platinum Spark Plug 8 Piece Set V8 6.0L |
| 2007 | Chevy | Silverado 3500 Classic | Chevy Silverado 3500 Classic Platinum Spark Plug 8 Piece Set V8 6.0L |
| 2007-2014 | Chevy | Silverado 3500 HD | Chevy Silverado 3500 HD Platinum Spark Plug 8 Piece Set V8 6.0L |
| 2000-2014 | Chevy | Suburban 1500 | Chevy Suburban 1500 Platinum Spark Plug 8 Piece Set V8 5.3L |
| 2006-2009 | Chevy | Suburban 1500 | Chevy Suburban 1500 Platinum Spark Plug 8 Piece Set V8 6.0L |
| 2000-2013 | Chevy | Suburban 2500 | Chevy Suburban 2500 Platinum Spark Plug 8 Piece Set V8 6.0L |
| 2000-2009 | Chevy | Tahoe | Chevy Tahoe Platinum Spark Plug 8 Piece Set V8 4.8L |
| 2000-2014 | Chevy | Tahoe | Chevy Tahoe Platinum Spark Plug 8 Piece Set V8 5.3L |
| 2006-2008 | Chevy | Trailblazer | Chevy Trailblazer Platinum Spark Plug 8 Piece Set V8 5.3L |
| 2006-2009 | Chevy | Trailblazer | Chevy Trailblazer Platinum Spark Plug 8 Piece Set V8 6.0L |
| 2003-2005 | Chevy | Trailblazer EXT | Chevy Trailblazer EXT Platinum Spark Plug 8 Piece Set V8 5.3L |
| 2003-2007 | Hummer | H2 | Hummer H2 Platinum Spark Plug 8 Piece Set V8 6.0L |
| 2008-2009 | Hummer | H2 | Hummer H2 Platinum Spark Plug 8 Piece Set V8 6.2L |
| 2008-2010 | Hummer | H3 | Hummer H3 Platinum Spark Plug 8 Piece Set V8 5.3L |
| 2009-2010 | Hummer | H3T | Hummer H3T Platinum Spark Plug 8 Piece Set V8 5.3L |
| 2003-2006 | Isuzu | Ascender | Isuzu Ascender Platinum Spark Plug 8 Piece Set V8 5.3L |
| 1977-1988 | Jaguar | XJS | Jaguar XJS Platinum Spark Plug 8 Piece Set V8 5.3L |
| 1998-2002 | Pontiac | Firebird | Pontiac Firebird Platinum Spark Plug 8 Piece Set V8 5.7L |
| 2008-2009 | Pontiac | G8 | Pontiac G8 Platinum Spark Plug 8 Piece Set V8 6.0L |
| 2009 | Pontiac | G8 | Pontiac G8 Platinum Spark Plug 8 Piece Set V8 6.2L |
| 2004 | Pontiac | GTO | Pontiac GTO Platinum Spark Plug 8 Piece Set V8 5.7L |
| 2005-2006 | Pontiac | GTO | Pontiac GTO Platinum Spark Plug 8 Piece Set V8 6.0L |
| 2005-2008 | Pontiac | Grand Prix | Pontiac Grand Prix Platinum Spark Plug 8 Piece Set V8 5.3L |
| 2005-2009 | Saab | 9-7X | Saab 9-7X Platinum Spark Plug 8 Piece Set V8 5.3L |
| 2008-2009 | Saab | 9-7X | Saab 9-7X Platinum Spark Plug 8 Piece Set V8 6.0L |