1AEOS01201-O2 Oxygen Sensor
Replaces
O2 Oxygen Sensor - 1AEOS01201
1AEOS01201
Specifications:
Brand New Oxygen Sensor
Direct Fit

Correct Connector No cutting or splicing
Correct wire length (19.75 Inches)


Upstream or Downstream Sensor

as listed per application
used on some applications that do nor use a downstream sensor


4 wire configuration
Replaces dealer part numbers: 5L8Z9G444A, 5L8Z 9G444 A, 5L8Z9G444F, 5L8Z 9G444 F, 5L8Z9G444G, 5L8Z 9G444 G, 5L8Z9G444H, 5L8Z 9G444 H, 5L8Z9G444K, 5L8Z 9G444 KCX2Z9F472BA, CX2Z 9F472 BA, F07F9F472CA, F07F 9F472 CA, F07F9F472DA, F07F 9F472 DA, F09F9F472CA, F09F 9F472 CA, F09Z9F472C, F09Z 9F472 C, F0TZ9F472C, F0TZ 9F472 C, F0UF9F472CA, F0UF 9F472 CA, F0UZ9F472C, F0UZ 9F472 C, F1UF9F472CA, F1UF 9F472 CA, F1UZ9F472C, F1UZ 9F472 C, F2AF9F472CA, F2AF 9F472 CA, F2AZ9F472C, F2AZ 9F472 C, F39F9F472CA, F39F 9F472 CA, F39F9F472CB, F39F 9F472 CB, F39Z9F472AA, F39Z 9F472 AA, F39Z9F472C, F39Z 9F472 C, F3UF9F472C, F3UF 9F472 C, F3UF9F472CA, F3UF 9F472 CA, F3UF9F472CB, F3UF 9F472 CB, F3UZ9F472C, F3UZ 9F472 C, F47F9F472AA, F47F 9F472 AA, F47F9F472CA, F47F 9F472 CA, F47Z9F472C, F47Z 9F472 C, F48F9F472BA, F48F 9F472 BA, F48F9F472CA, F48F 9F472 CA, F48F9F472CB, F48F 9F472 CB, F48Z9F472C, F48Z 9F472 C, F4UF9F472CA, F4UF 9F472 CA, F4UZ9F472C, F4UZ 9F472 C, F4ZF9G444CB, F4ZF 9G444 CB, F4ZZ9G444C, F4ZZ 9G444 C, F57Z9G444C, F57Z 9G444 C, F5AF9G444CB, F5AF 9G444 CB, F5TF9F472CA, F5TF 9F472 CA, F5TF9G444CA, F5TF 9G444 CA, F5TZ9G444C, F5TZ 9G444 C, F5UF9F472CA, F5UF 9F472 CA, F65F9G444CA, F65F 9G444 CA, F65Z9G444CA, F65Z 9G444 CA, F68F9F472CA, F68F 9F472 CA, F68Z9F472CA, F68Z 9F472 CA, F6DF9G444CA, F6DF 9G444 CA, F6DZ9G444C, F6DZ 9G444 C, F6DZ9G444CA, F6DZ 9G444 CA, F6TF9G444CA, F6TF 9G444 CA, F85F9G444CA, F85F 9G444 CA, F85Z9G444CA, F85Z 9G444 CA, F88F9F472CA, F88F 9F472 CA, FO7F9F472CA, FO7F 9F472 CA, YL849G444AC, YL84 9G444 AC, AJ0518861B, AJ05 18861 B, AJ0718861A, AJ07 18861 A, AJD118861, AJD1 18861, EFT118861, EFT1 18861, ZZC018860, ZZC0 18860, ZZC018861, ZZC0 18861, ZZC218861, ZZC2 18861, ZZC318860, ZZC3 18860, ZZD118860, ZZD1 18860, ZZL018861, ZZL0 18861, ZZM018860, ZZM0 18860, ZZM218861A, ZZM2 18861 A, ZZM318860, ZZM3 18860, ZZM418861A, ZZM4 18861 A, ZZM718860, ZZM7 18860, ZZM718861, ZZM7 18861, ZZM818861, ZZM8 18861, ZZME18861, ZZME 18861, ZZP218861, ZZP2 18861, ZZTT18861, ZZTT 18861
Built and tested to strict quality control standards
Note: For clarification purposes:
Upstream location is between the catalytic converter and the engine
Downstream location is between the catalytic converter and the tailpipe
If you have a bad O2 sensor causing your vehicle to run poorly fail an emission test then this is the part for you.
Install note:
You may be required to reset the vehicle computer after installation of this part.
Our electrical and electronic parts are subject to strict quality control testing. Please ensure proper diagnosis of this item before purchasing as the item cannot be returned once installed or plugged in.
Item Condition: New

Attention California Customers:
WARNING: Cancer and Reproductive Harm - www.P65Warnings.ca.gov.
Lifetime Warranty
This item is backed by a Limited Lifetime Warranty. In the event this item should fail due to manufacturing defects during intended use, we will exchange the part free of charge (excludes shipping charges) for the original purchaser.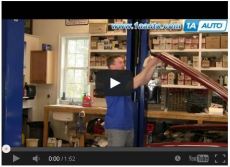 step : Identifying your Oxygen Sensors (0:57)

Upstream oxygen sensors are located in between the engine and the catalytic converter
Downstream oxygen sensors are located in the catalytic converter or farther away from the engine than the catalytic converter
Locate your vehicle's firing order diagram
The bank that contains cylinder one is bank one
The bank that does not contain cylinder one is bank two, even if it does not contain cylinder two
Tools needed for replacement:
1A - No Tools Needed

No Tools Needed
This was the right part for the right price. Man, after the rats chewed the wiring on my original sensor, my low-end rpm was really rough. Now my truck runs great - And Thank you 1A for the clear cross-references, etc., so I could make certain my order would fit.
Customer Q&A
Ask a question to 1A Auto customers who purchased the product
No questions have been asked about this item.
| Year | Make | Model | Description |
| --- | --- | --- | --- |
| 1990-1995 | Ford | Aerostar | Ford Aerostar V6 4.0L O2 Oxygen Sensor |
| 1996-1997 | Ford | Aerostar | Ford Aerostar V6 4.0L Downstream O2 Oxygen Sensor |
| 1996-1997 | Ford | Aerostar | Ford Aerostar V6 3.0L Downstream O2 Oxygen Sensor |
| 1996-1997 | Ford | Aerostar | Ford Aerostar V6 3.0L (8th Vin Digit U) 12.5 Inch Length Wire 4 Wire Sensor Upstream O2 Oxygen Sensor |
| 1996-1997 | Ford | Aerostar | Ford Aerostar V6 4.0L (8th Vin Digit X) 12.5 Inch Length Wire 4 Wire Sensor Upstream O2 Oxygen Sensor |
| 1990-1992 | Ford | Bronco | Ford Bronco L6 4.9L O2 Oxygen Sensor |
| 1996 | Ford | Bronco | Ford Bronco V8 5.0L Downstream O2 Oxygen Sensor |
| 1996 | Ford | Bronco | Ford Bronco V8 5.8L Downstream O2 Oxygen Sensor |
| 1990 | Ford | Bronco II | Ford Bronco II V6 2.9L 4 Wire Sensor O2 Oxygen Sensor |
| 1995-1997 | Ford | Crown Victoria | Ford Crown Victoria V8 4.6L (8th Vin Digit 6, 9, or W) 12.5 Inch Length Wire 4 Wire Sensor Upstream O2 Oxygen Sensor |
| 1990 | Ford | E150 Van | Ford E150 Van L6 4.9L O2 Oxygen Sensor |
| 1991 | Ford | E150 Van | Ford E150 Van V8 5.8L Upstream O2 Oxygen Sensor |
| 1994 | Ford | E150 Van | Ford E150 Van V8 5.8L Upstream O2 Oxygen Sensor |
| 1995 | Ford | E150 Van | Ford E150 Van V8 5.8L Upstream O2 Oxygen Sensor |
| 1996 | Ford | E150 Van | Ford E150 Van V8 5.8L Downstream O2 Oxygen Sensor |
| 1996 | Ford | E150 Van | Ford E150 Van V8 5.0L Downstream O2 Oxygen Sensor |
| 1996 | Ford | E150 Van | Ford E150 Van V8 7.5L (8th Vin Digit G) 12.5 Inch Length Wire 4 Wire Sensor Upstream O2 Oxygen Sensor |
| 1996 | Ford | E150 Van | Ford E150 Van L6 4.9L (8th Vin Digit Y or Z) 12.5 Inch Length Wire 4 Wire Sensor Downstream O2 Oxygen Sensor |
| 1996 | Ford | E150 Van | Ford E150 Van V8 7.5L (8th Vin Digit G) 12.5 Inch Length Wire 4 Wire Sensor Upstream O2 Oxygen Sensor |
| 1997 | Ford | E150 Van | Ford E150 Van V8 4.6L (8th Vin Digit 6) 12.5 Inch Length Wire 4 Wire Sensor Upstream O2 Oxygen Sensor |
| 1999 | Ford | E150 Van | Ford E150 Van V10 6.8L (8th Vin Digit S) 12.5 Inch Length Wire 4 Wire Sensor Upstream O2 Oxygen Sensor |
| 1999 | Ford | E150 Van | Ford E150 Van V10 6.8L (8th Vin Digit S) California Emissions 12.5 Inch Length Wire 4 Wire Sensor Upstream O2 Oxygen Sensor |
| 1999 | Ford | E150 Van | Ford E150 Van V8 5.4L (8th Vin Digit L, M, or Z) 12.5 Inch Length Wire 4 Wire Sensor Upstream O2 Oxygen Sensor |
| 1990 | Ford | E250 Van | Ford E250 Van V8 7.5L 4 Wire Sensor O2 Oxygen Sensor |
| 1990-1994 | Ford | E250 Van | Ford E250 Van V8 5.8L Over 8500LB GVW O2 Oxygen Sensor |
| 1990 | Ford | E250 Van | Ford E250 Van L6 4.9L O2 Oxygen Sensor |
| 1991 | Ford | E250 Van | Ford E250 Van V8 7.5L Upstream O2 Oxygen Sensor |
| 1994 | Ford | E250 Van | Ford E250 Van V8 7.5L Upstream O2 Oxygen Sensor |
| 1995 | Ford | E250 Van | Ford E250 Van V8 7.5L Upstream O2 Oxygen Sensor |
| 1996 | Ford | E250 Van | Ford E250 Van V8 5.8L Downstream O2 Oxygen Sensor |
| 1996 | Ford | E250 Van | Ford E250 Van L6 4.9L (8th Vin Digit Y or Z) 12.5 Inch Length Wire 4 Wire Sensor Downstream O2 Oxygen Sensor |
| 1996 | Ford | E250 Van | Ford E250 Van Super Duty V8 7.5L (8th Vin Digit G) 12.5 Inch Length Wire 4 Wire Sensor Upstream O2 Oxygen Sensor |
| 1996 | Ford | E250 Van | Ford E250 Van V8 7.5L (8th Vin Digit G) 12.5 Inch Length Wire 4 Wire Sensor Upstream O2 Oxygen Sensor |
| 1997 | Ford | E250 Van | Ford E250 Van V8 4.6L (8th Vin Digit 6) 12.5 Inch Length Wire 4 Wire Sensor Upstream O2 Oxygen Sensor |
| 1999 | Ford | E250 Van | Ford E250 Van Super Duty V8 5.4L (8th Vin Digit M) 12.5 Inch Length Wire 4 Wire Sensor Upstream O2 Oxygen Sensor |
| 1999 | Ford | E250 Van | Ford E250 Van V8 5.4L (8th Vin Digit L, M, or Z) 12.5 Inch Length Wire 4 Wire Sensor Upstream O2 Oxygen Sensor |
| 1999 | Ford | E250 Van | Ford E250 Van Super Duty V10 6.8L (8th Vin Digit S) 12.5 Inch Length Wire 4 Wire Sensor Upstream O2 Oxygen Sensor |
| 1999 | Ford | E250 Van | Ford E250 Van V10 6.8L (8th Vin Digit S) California Emissions 12.5 Inch Length Wire 4 Wire Sensor Upstream O2 Oxygen Sensor |
| 1990-1992 | Ford | E350 Van | Ford E350 Van V8 7.5L 4 Wire Sensor O2 Oxygen Sensor |
| 1990 | Ford | E350 Van | Ford E350 Van L6 4.9L O2 Oxygen Sensor |
| 1990-1995 | Ford | E350 Van | Ford E350 Van V8 5.8L O2 Oxygen Sensor |
| 1991 | Ford | E350 Van | Ford E350 Van V8 7.5L Upstream O2 Oxygen Sensor |
| 1993 | Ford | E350 Van | Ford E350 Van V8 7.5L O2 Oxygen Sensor |
| 1994 | Ford | E350 Van | Ford E350 Van V8 7.5L Upstream O2 Oxygen Sensor |
| 1995 | Ford | E350 Van | Ford E350 Van V8 7.5L Upstream O2 Oxygen Sensor |
| 1996 | Ford | E350 Van | Ford E350 Van L6 4.9L Downstream O2 Oxygen Sensor |
| 1996 | Ford | E350 Van | Ford E350 Van V8 7.5L Downstream O2 Oxygen Sensor |
| 1996 | Ford | E350 Van | Ford E350 Van V8 5.8L Downstream O2 Oxygen Sensor |
| 1996 | Ford | E350 Van | Ford E350 Van Super Duty V8 7.5L (8th Vin Digit G) 12.5 Inch Length Wire 4 Wire Sensor Upstream O2 Oxygen Sensor |
| 1996 | Ford | E350 Van | Ford E350 Van V8 7.5L (8th Vin Digit G) 12.5 Inch Length Wire 4 Wire Sensor Upstream O2 Oxygen Sensor |
| 1996 | Ford | E350 Van | Ford E350 Van L6 4.9L (8th Vin Digit Y or Z) 12.5 Inch Length Wire 4 Wire Sensor Downstream O2 Oxygen Sensor |
| 1997 | Ford | E350 Van | Ford E350 Van V8 4.6L (8th Vin Digit 6) 12.5 Inch Length Wire 4 Wire Sensor Upstream O2 Oxygen Sensor |
| 1999 | Ford | E350 Van | Ford E350 Van V10 6.8L (8th Vin Digit S) California Emissions 12.5 Inch Length Wire 4 Wire Sensor Upstream O2 Oxygen Sensor |
| 1999 | Ford | E350 Van | Ford E350 Van V8 5.4L (8th Vin Digit L, M, or Z) 12.5 Inch Length Wire 4 Wire Sensor Upstream O2 Oxygen Sensor |
| 1999 | Ford | E350 Van Super Duty | Ford E350 Van Super Duty V8 5.4L (8th Vin Digit M) 12.5 Inch Length Wire 4 Wire Sensor Upstream O2 Oxygen Sensor |
| 1999 | Ford | E350 Van Super Duty | Ford E350 Van Super Duty V10 6.8L (8th Vin Digit S) 12.5 Inch Length Wire 4 Wire Sensor Upstream O2 Oxygen Sensor |
| 1999 | Ford | E350 Van Super Duty | Ford E350 Van Super Duty V10 6.8L (8th Vin Digit S) California Emissions 12.5 Inch Length Wire 4 Wire Sensor Upstream O2 Oxygen Sensor |
| 1999 | Ford | E350 Van Super Duty | Ford E350 Van Super Duty V8 5.4L (8th Vin Digit L, M, or Z) 12.5 Inch Length Wire 4 Wire Sensor Upstream O2 Oxygen Sensor |
| 2001-2009 | Ford | Escape | Ford Escape V6 3.0L Downstream O2 Oxygen Sensor |
| 2009-2010 | Ford | Escape | Ford Escape L4 2.5L Downstream O2 Oxygen Sensor |
| 1991-1994 | Ford | Explorer | Ford Explorer V6 4.0L O2 Oxygen Sensor |
| 1994 | Ford | Explorer | Ford Explorer V8 7.5L Upstream O2 Oxygen Sensor |
| 1995 | Ford | Explorer | Ford Explorer V6 4.0L Upstream O2 Oxygen Sensor |
| 1996-1997 | Ford | Explorer | Ford Explorer V6 4.0L (8th Vin Digit X) 12.5 Inch Length Wire 4 Wire Sensor Upstream O2 Oxygen Sensor |
| 1997 | Ford | Explorer | Ford Explorer V6 4.0L (8th Vin Digit E) 12.5 Inch Length Wire 4 Wire Sensor Upstream O2 Oxygen Sensor Driver Side |
| 1998-2000 | Ford | Explorer | Ford Explorer V6 4.0L Automatic Transmission (8th Vin Digit X) Downstream O2 Oxygen Sensor |
| 1991-1995 | Ford | F150 Truck | Ford F150 Truck V8 5.0L O2 Oxygen Sensor |
| 1993 | Ford | F150 Truck | Ford F150 Truck V8 5.8L Upstream O2 Oxygen Sensor |
| 1994 | Ford | F150 Truck | Ford F150 Truck V8 5.8L Upstream O2 Oxygen Sensor |
| 1995 | Ford | F150 Truck | Ford F150 Truck L6 4.9L (excluding California Emissions) O2 Oxygen Sensor |
| 1996 | Ford | F150 Truck | Ford F150 Truck V8 5.0L Downstream O2 Oxygen Sensor |
| 1996 | Ford | F150 Truck | Ford F150 Truck L6 4.9L Downstream O2 Oxygen Sensor |
| 1996 | Ford | F150 Truck | Ford F150 Truck V8 5.8L Downstream O2 Oxygen Sensor |
| 1999 | Ford | F250 Super Duty Truck | Ford F250 Super Duty Truck V8 5.4L (8th Vin Digit L) 12.5 Inch Length Wire 4 Wire Sensor Upstream O2 Oxygen Sensor |
| 1999 | Ford | F250 Super Duty Truck | Ford F250 Super Duty Truck V10 6.8L with Multi-Port Fuel Injection (8th Vin Digit S) 12.5 Inch Length Wire 4 Wire Sensor Upstream O2 Oxygen Sensor |
| 1990-1994 | Ford | F250 Truck | Ford F250 Truck V8 5.8L O2 Oxygen Sensor |
| 1990-1993 | Ford | F250 Truck | Ford F250 Truck V8 7.5L 4 Wire Sensor O2 Oxygen Sensor |
| 1993-1997 | Ford | F250 Truck | Ford F250 Truck V8 5.8L Upstream O2 Oxygen Sensor |
| 1993-1997 | Ford | F250 Truck | Ford F250 Truck V8 5.8L Downstream O2 Oxygen Sensor |
| 1994-1995 | Ford | F250 Truck | Ford F250 Truck V8 5.8L Upstream O2 Oxygen Sensor |
| 1995 | Ford | F250 Truck | Ford F250 Truck V8 5.8L O2 Oxygen Sensor |
| 1995 | Ford | F250 Truck | Ford F250 Truck L6 4.9L (excluding California Emissions) O2 Oxygen Sensor |
| 1996-1997 | Ford | F250 Truck | Ford F250 Truck V8 7.5L California Emissions Upstream O2 Oxygen Sensor |
| 1996 | Ford | F250 Truck | Ford F250 Truck V8 5.0L Downstream O2 Oxygen Sensor |
| 1996-1997 | Ford | F250 Truck | Ford F250 Truck V8 7.5L Downstream O2 Oxygen Sensor |
| 1996 | Ford | F250 Truck | Ford F250 Truck L6 4.9L Downstream O2 Oxygen Sensor |
| 1996-1997 | Ford | F250 Truck | Ford F250 Truck V8 7.5L (8th Vin Digit G) 12.5 Inch Length Wire 4 Wire Sensor Upstream O2 Oxygen Sensor |
| 1999 | Ford | F350 Super Duty Truck | Ford F350 Super Duty Truck V10 6.8L with Multi-Port Fuel Injection (8th Vin Digit S) 12.5 Inch Length Wire 4 Wire Sensor Upstream O2 Oxygen Sensor |
| 1999 | Ford | F350 Super Duty Truck | Ford F350 Super Duty Truck V8 5.4L (8th Vin Digit L) 12.5 Inch Length Wire 4 Wire Sensor Upstream O2 Oxygen Sensor |
| 1990-1993 | Ford | F350 Truck | Ford F350 Truck V8 7.5L 4 Wire Sensor O2 Oxygen Sensor |
| 1990-1994 | Ford | F350 Truck | Ford F350 Truck V8 5.8L O2 Oxygen Sensor |
| 1991-1995 | Ford | F350 Truck | Ford F350 Truck L6 4.9L O2 Oxygen Sensor |
| 1994-1995 | Ford | F350 Truck | Ford F350 Truck V8 5.8L Upstream O2 Oxygen Sensor |
| 1995 | Ford | F350 Truck | Ford F350 Truck V8 5.8L California Emissions O2 Oxygen Sensor |
| 1996 | Ford | F350 Truck | Ford F350 Truck V8 5.8L (excluding California Emissions) Upstream O2 Oxygen Sensor |
| 1996 | Ford | F350 Truck | Ford F350 Truck L6 4.9L Downstream O2 Oxygen Sensor |
| 1996-1997 | Ford | F350 Truck | Ford F350 Truck V8 5.8L Downstream O2 Oxygen Sensor |
| 1996-1997 | Ford | F350 Truck | Ford F350 Truck V8 7.5L Downstream O2 Oxygen Sensor |
| 1996-1997 | Ford | F350 Truck | Ford F350 Truck V8 7.5L (8th Vin Digit G) 12.5 Inch Length Wire 4 Wire Sensor Upstream O2 Oxygen Sensor |
| 1990-1991 | Ford | F53 | Ford F53 V8 7.5L 4 Wire Sensor O2 Oxygen Sensor |
| 1996-1997 | Ford | F53 | Ford F53 V8 7.5L Upstream O2 Oxygen Sensor |
| 1996-1997 | Ford | F53 | Ford F53 V8 7.5L Downstream O2 Oxygen Sensor |
| 2010 | Ford | Flex | Ford Flex V6 3.5L (8th Vin Digit T) Rear Bank Downstream O2 Oxygen Sensor |
| 2008-2009 | Ford | Fusion | Ford Fusion V6 3.5L Front Wheel Drive Rear Bank Downstream O2 Oxygen Sensor |
| 2010 | Ford | Fusion | Ford Fusion V6 3.5L (Built Before 8/03/09 Production Date) Rear Bank Downstream O2 Oxygen Sensor |
| 1994-1995 | Ford | Motorhome M-400/450 | Ford Motorhome M-400/450 V8 5.8L Upstream O2 Oxygen Sensor |
| 1996-1997 | Ford | Motorhome M-400/450 | Ford Motorhome M-400/450 V8 7.5L (8th Vin Digit G) 12.5 Inch Length Wire 4 Wire Sensor Upstream O2 Oxygen Sensor |
| 1990-1994 | Ford | Ranger | Ford Ranger V6 4.0L O2 Oxygen Sensor |
| 1991-1994 | Ford | Ranger | Ford Ranger V6 3.0L O2 Oxygen Sensor |
| 1994 | Ford | Ranger | Ford Ranger V6 3.0L (8th Vin Digit U) 12.5 Inch Length Wire 4 Wire Sensor Upstream O2 Oxygen Sensor |
| 1995-1996 | Ford | Ranger | Ford Ranger L4 2.3L (8th Vin Digit A) 12.5 Inch Length Wire 4 Wire Sensor Upstream O2 Oxygen Sensor |
| 1995-1997 | Ford | Ranger | Ford Ranger V6 3.0L (8th Vin Digit U) 12.5 Inch Length Wire 4 Wire Sensor Upstream O2 Oxygen Sensor |
| 1995-1997 | Ford | Ranger | Ford Ranger V6 4.0L (8th Vin Digit X) 12.5 Inch Length Wire 4 Wire Sensor Upstream O2 Oxygen Sensor |
| 1997 | Ford | Ranger | Ford Ranger V6 4.0L (8th Vin Digit X) 12.5 Inch Length Wire 4 Wire Sensor Upstream O2 Oxygen Sensor Passenger Side |
| 1997 | Ford | Ranger | Ford Ranger L4 2.3L (8th Vin Digit A) 12.5 Inch Length Wire 4 Wire Sensor Upstream O2 Oxygen Sensor |
| 1998-2001 | Ford | Ranger | Ford Ranger L4 2.5L Downstream O2 Oxygen Sensor |
| 1998-2000 | Ford | Ranger | Ford Ranger V6 3.0L Automatic Transmission Downstream O2 Oxygen Sensor |
| 1998 | Ford | Ranger | Ford Ranger V6 4.0L (8th Vin Digit X) 12.5 Inch Length Wire 4 Wire Sensor Upstream O2 Oxygen Sensor Passenger Side |
| 1998 | Ford | Ranger | Ford Ranger L4 2.5L (8th Vin Digit C) 12.5 Inch Length Wire 4 Wire Sensor Upstream O2 Oxygen Sensor |
| 1998 | Ford | Ranger | Ford Ranger V6 3.0L (8th Vin Digit U) 12.5 Inch Length Wire 4 Wire Sensor Upstream O2 Oxygen Sensor Passenger Side |
| 1999-2000 | Ford | Ranger | Ford Ranger V6 4.0L (8th Vin Digit X) 12.5 Inch Length Wire 4 Wire Sensor Upstream O2 Oxygen Sensor |
| 1999 | Ford | Ranger | Ford Ranger L4 2.5L (8th Vin Digit C) 12.5 Inch Length Wire 4 Wire Sensor Upstream O2 Oxygen Sensor |
| 2000-2001 | Ford | Ranger | Ford Ranger L4 2.5L (8th Vin Digit C) 12.5 Inch Length Wire 4 Wire Sensor Upstream O2 Oxygen Sensor |
| 2000 | Ford | Ranger | Ford Ranger V6 3.0L (8th Vin Digit V) 12.5 Inch Length Wire 4 Wire Sensor Upstream O2 Oxygen Sensor |
| 2004-2005 | Ford | Ranger | Ford Ranger V6 3.0L Downstream O2 Oxygen Sensor |
| 2006 | Ford | Ranger | Ford Ranger V6 4.0L Downstream O2 Oxygen Sensor |
| 2006 | Ford | Ranger | Ford Ranger V6 3.0L Downstream O2 Oxygen Sensor Passenger Side |
| 2006-2010 | Ford | Ranger | Ford Ranger L4 2.3L Downstream O2 Oxygen Sensor |
| 1993-1995 | Ford | Taurus | Ford Taurus V6 3.0L Upstream O2 Oxygen Sensor |
| 1996-1997 | Ford | Taurus | Ford Taurus V6 3.0L (8th Vin Digit 1 or 2) 12.5 Inch Length Wire 4 Wire Sensor Downstream O2 Oxygen Sensor |
| 1996-2000 | Ford | Taurus | Ford Taurus V6 3.0L (8th Vin Digit 1, 2, U, or S) 12.5 Inch Length Wire 4 Wire Sensor Upstream O2 Oxygen Sensor |
| 1996-1999 | Ford | Taurus | Ford Taurus SHO L6 3.4L (8th Vin Digit N) 12.5 Inch Length Wire 4 Wire Sensor Upstream O2 Oxygen Sensor |
| 2010 | Ford | Taurus | Ford Taurus V6 3.5L (8th Vin Digit T) Downstream O2 Oxygen Sensor |
| 1996 | Ford | Thunderbird | Ford Thunderbird V6 3.8L (8th Vin Digit 4) 12.5 Inch Length Wire 4 Wire Sensor Upstream O2 Oxygen Sensor |
| 1995-1997 | Lincoln | Continental | Lincoln Continental V8 4.6L (8th Vin Digit V) 12.5 Inch Length Wire 4 Wire Sensor Upstream O2 Oxygen Sensor |
| 2010 | Lincoln | MKS | Lincoln MKS V6 3.5L Rear Bank Downstream O2 Oxygen Sensor |
| 2010-2011 | Lincoln | MKT | Lincoln MKT V6 3.5L Rear Bank Downstream O2 Oxygen Sensor |
| 1995-1997 | Lincoln | Town Car | Lincoln Town Car V8 4.6L (8th Vin Digit W) 12.5 Inch Length Wire 4 Wire Sensor Upstream O2 Oxygen Sensor |
| 1994-2003 | Mazda | B2300 Truck | Mazda B2300 Truck L4 2.3L Downstream O2 Oxygen Sensor |
| 1997 | Mazda | B2300 Truck | Mazda B2300 Truck L4 2.3L (8th Vin Digit A) 12.5 Inch Length Wire 4 Wire Sensor Upstream O2 Oxygen Sensor |
| 2008-2009 | Mazda | B2300 Truck | Mazda B2300 Truck L4 2.3L Downstream O2 Oxygen Sensor |
| 1998-2001 | Mazda | B2500 Truck | Mazda B2500 Truck L4 2.5L Downstream O2 Oxygen Sensor |
| 1998-2001 | Mazda | B2500 Truck | Mazda B2500 Truck L4 2.5L (8th Vin Digit C) 12.5 Inch Length Wire 4 Wire Sensor Upstream O2 Oxygen Sensor |
| 1994 | Mazda | B3000 Truck | Mazda B3000 Truck V6 3.0L O2 Oxygen Sensor |
| 1995-1996 | Mazda | B3000 Truck | Mazda B3000 Truck V6 3.0L Automatic Transmission Downstream O2 Oxygen Sensor |
| 1995-1996 | Mazda | B3000 Truck | Mazda B3000 Truck V6 3.0L (8th Vin Digit U) 12.5 Inch Length Wire 4 Wire Sensor Upstream O2 Oxygen Sensor |
| 1998 | Mazda | B3000 Truck | Mazda B3000 Truck V6 3.0L (8th Vin Digit U) 12.5 Inch Length Wire 4 Wire Sensor Upstream O2 Oxygen Sensor |
| 1999 | Mazda | B3000 Truck | Mazda B3000 Truck V6 3.0L (8th Vin Digit V) 12.5 Inch Length Wire 4 Wire Sensor Upstream O2 Oxygen Sensor |
| 2001-2003 | Mazda | B3000 Truck | Mazda B3000 Truck V6 3.0L Downstream O2 Oxygen Sensor |
| 2001 | Mazda | B3000 Truck | Mazda B3000 Truck V6 3.0L (8th Vin Digit U) 12.5 Inch Length Wire 4 Wire Sensor Upstream O2 Oxygen Sensor |
| 1994 | Mazda | B4000 Truck | Mazda B4000 Truck V6 4.0L O2 Oxygen Sensor |
| 1995 | Mazda | B4000 Truck | Mazda B4000 Truck V6 4.0L Downstream O2 Oxygen Sensor |
| 1995-2000 | Mazda | B4000 Truck | Mazda B4000 Truck V6 4.0L (8th Vin Digit X) 12.5 Inch Length Wire 4 Wire Sensor Upstream O2 Oxygen Sensor |
| 1996 | Mazda | B4000 Truck | Mazda B4000 Truck V6 4.0L Automatic Transmission Downstream O2 Oxygen Sensor |
| 1997 | Mazda | B4000 Truck | Mazda B4000 Truck V6 4.0L Downstream O2 Oxygen Sensor |
| 1991-1994 | Mazda | Navajo | Mazda Navajo V6 4.0L O2 Oxygen Sensor |
| 2001-2006 | Mazda | Tribute | Mazda Tribute V6 3.0L Downstream O2 Oxygen Sensor |
| 2008 | Mazda | Tribute | Mazda Tribute L4 2.3L Downstream O2 Oxygen Sensor |
| 2008-2009 | Mazda | Tribute | Mazda Tribute V6 3.0L Downstream O2 Oxygen Sensor |
| 1996 | Mercury | Cougar | Mercury Cougar XR-7 V6 3.8L (8th Vin Digit 4) 12.5 Inch Length Wire 4 Wire Sensor Upstream O2 Oxygen Sensor |
| 1996-1997 | Mercury | Grand Marquis | Mercury Grand Marquis V8 4.6L (8th Vin Digit W) 12.5 Inch Length Wire 4 Wire Sensor Upstream O2 Oxygen Sensor |
| 2005-2009 | Mercury | Mariner | Mercury Mariner V6 3.0L Downstream O2 Oxygen Sensor |
| 2005-2009 | Mercury | Mariner | Mercury Mariner V6 3.0L Downstream O2 Oxygen Sensor |
| 2009-2010 | Mercury | Mariner | Mercury Mariner (excluding Hybrid Models) L4 2.5L Downstream O2 Oxygen Sensor |
| 2007-2009 | Mercury | Milan | Mercury Milan V6 3.0L Front Wheel Drive Rear Bank Downstream O2 Oxygen Sensor |
| 2010 | Mercury | Milan | Mercury Milan L4 2.5L Manual Transmission Downstream O2 Oxygen Sensor |
| 1997-1999 | Mercury | Mountaineer | Mercury Mountaineer V8 5.0L (8th Vin Digit P) 12.5 Inch Length Wire 4 Wire Sensor Upstream O2 Oxygen Sensor Passenger Side |
| 1998 | Mercury | Mountaineer | Mercury Mountaineer V6 4.0L Upstream O2 Oxygen Sensor Driver Side |
| 1996-1999 | Mercury | Sable | Mercury Sable V6 3.0L (8th Vin Digit S or U) 12.5 Inch Length Wire 4 Wire Sensor Upstream O2 Oxygen Sensor |
Part #: 1AEOS01201
Order must be placed by 4pm ET
Get it in: 2 - 4 Business Days
Want it sooner? Choose Next Day Air at Checkout