1AEOS01025-O2 Oxygen Sensor
Replaces
O2 Oxygen Sensor - 1AEOS01025
1AEOS01025
Specifications:
Four pin, 4 wire configuration
Correct wire length (15.74 Inches)
Direct Fit
Correct Connector No cutting or splicing
Built and tested to strict quality control standards
Some applications use (2) of the same Oxygen Sensors Upstream and Downstream
Note: For clarification purposes:
Upstream location is between the catalytic converter and the engine
Downstream location is between the catalytic converter and the tailpipe
A direct replacement. If you have a bad O2 sensor causing your vehicle to idle poorly or fail an emission test then this is the part for you.
Our electrical and electronic parts are subject to strict quality control testing. Once the item has been installed or plugged in, it is no longer eligible for a refund. The item may be eligible for replacement, only if it is found to have a manufacturing defect. Before purchasing, please ensure proper diagnosis of the failed original part is performed
Note: You may be required to reset the vehicle's computer after installation of this part.
Lifetime Warranty
This item is backed by a Limited Lifetime Warranty. In the event this item should fail due to manufacturing defects during intended use, we will exchange the part free of charge (excludes shipping charges) for the original purchaser. Please keep your invoice for proof of this warranty.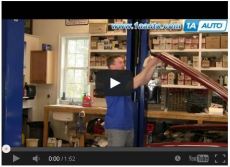 step : Removing the Oxygen (O2) Sensor (0:42)

Apply penetrating oil to the oxygen sensor
Disconnect the O2 sensor wiring harness
Remove the O2 sensor with an O2 sensor socket and a ratchet
If the O2 sensor socket does not work or one is not available, use a 7/8 inch wrench

step : Installing the New O2 Sensor (1:57)

Twist the new O2 sensor into place
Tighten the O2 sensor with an O2 sensor socket and a ratchet or a 7/8 inch wrench
Connect the O2 sensor wiring harness
Tools needed for replacement:
Materials, Fluids, and Supplies

Rust Penetrant

Ratchets & Related

Ratchet

Specialty Tools

O2 Sensor Socket

Wrenches - SAE

7/8 Inch Wrench
Timely delivery, worked as expected. Threads had pre-applied anti-seize which was a nice added touch.
July 30, 2017
Purchased
9 months ago
Vehicle Fit
1999-2004 Chrysler 300M V6 3.5L Downstream O2 Oxygen Sensor
1999-2001 Chrysler 300M V6 3.5L Upstream O2 Oxygen Sensor
1997 Chrysler Concorde V6 3.5L Upstream O2 Oxygen Sensor
1998-2001 Chrysler Concorde V6 2.7L Upstream O2 Oxygen Sensor
1998-2001 Chrysler Concorde V6 3.2L Downstream O2 Oxygen Sensor
1998-2004 Chrysler Concorde V6 2.7L Downstream O2 Oxygen Sensor
1998-2001 Chrysler Concorde V6 3.2L Upstream O2 Oxygen Sensor
2002-2004 Chrysler Concorde V6 3.5L Downstream O2 Oxygen Sensor
1997 Chrysler LHS V6 3.5L Upstream O2 Oxygen Sensor
1999-2001 Chrysler LHS V6 3.5L Upstream O2 Oxygen Sensor
1999-2001 Chrysler LHS V6 3.5L Downstream O2 Oxygen Sensor
2001-2002 Chrysler Prowler V6 3.5L Upstream O2 Oxygen Sensor
2001-2002 Chrysler Prowler V6 3.5L Downstream O2 Oxygen Sensor
1997-1998 Chrysler Sebring L4 2.4L Upstream O2 Oxygen Sensor
2001-2003 Chrysler Sebring V6 2.7L Downstream O2 Oxygen Sensor
2001-2003 Chrysler Sebring V6 2.7L Upstream O2 Oxygen Sensor
2004 Chrysler Sebring V6 2.7L Upstream Round Plug O2 Oxygen Sensor
2004 Chrysler Sebring V6 2.7L Downstream Round Plug O2 Oxygen Sensor
1995-1998 Chrysler Town & Country V6 3.8L Upstream O2 Oxygen Sensor
1996-1998 Chrysler Town & Country V6 3.3L Upstream O2 Oxygen Sensor
1995-1998 Dodge Caravan V6 3.0L Upstream O2 Oxygen Sensor
1995-1998 Dodge Caravan V6 3.3L Upstream O2 Oxygen Sensor
1996-1998 Dodge Caravan V6 3.8L Upstream O2 Oxygen Sensor
1998 Dodge Caravan L4 2.4L (excluding Transitional Low Emissions Vehicles (TLEV)) Upstream O2 Oxygen Sensor
1997 Dodge Dakota V6 3.9L Downstream O2 Oxygen Sensor
1997 Dodge Dakota V6 3.9L Upstream O2 Oxygen Sensor
1997-1999 Dodge Dakota V8 5.2L Upstream O2 Oxygen Sensor
1997 Dodge Dakota L4 2.5L Upstream O2 Oxygen Sensor
1997 Dodge Dakota L4 2.5L Downstream O2 Oxygen Sensor
1997-1999 Dodge Dakota V8 5.2L Downstream O2 Oxygen Sensor
1998-2000 Dodge Dakota V6 3.9L Upstream O2 Oxygen Sensor
1998-2000 Dodge Dakota L4 2.5L Upstream O2 Oxygen Sensor
1998-1999 Dodge Dakota V8 5.9L Downstream O2 Oxygen Sensor
1998-1999 Dodge Dakota V8 5.9L Upstream O2 Oxygen Sensor Driver Side
2000 Dodge Dakota V8 5.9L Upstream O2 Oxygen Sensor
2000 Dodge Dakota V8 5.9L Downstream O2 Oxygen Sensor
1998-1999 Dodge Durango V6 3.9L Downstream O2 Oxygen Sensor
1998-2000 Dodge Durango V8 5.9L Downstream O2 Oxygen Sensor
1998-2000 Dodge Durango V8 5.9L Upstream O2 Oxygen Sensor
1998-2000 Dodge Durango V8 5.2L Downstream O2 Oxygen Sensor
1998-2000 Dodge Durango V8 5.2L Upstream O2 Oxygen Sensor
1998-1999 Dodge Durango V6 3.9L Upstream O2 Oxygen Sensor
1995-1998 Dodge Grand Caravan V6 3.0L Upstream O2 Oxygen Sensor
1995-1998 Dodge Grand Caravan V6 3.3L Upstream O2 Oxygen Sensor
1995-1998 Dodge Grand Caravan V6 3.8L Upstream O2 Oxygen Sensor
1996 Dodge Intrepid V6 3.5L Upstream Round Plug O2 Oxygen Sensor
1996-1997 Dodge Intrepid V6 3.3L Upstream Round Plug O2 Oxygen Sensor
1997 Dodge Intrepid V6 3.5L Upstream O2 Oxygen Sensor
1998-2001 Dodge Intrepid V6 3.2L Downstream O2 Oxygen Sensor
1998-2001 Dodge Intrepid V6 3.2L Upstream O2 Oxygen Sensor
1998-2001 Dodge Intrepid V6 2.7L Upstream O2 Oxygen Sensor
1998-2004 Dodge Intrepid V6 2.7L Downstream O2 Oxygen Sensor
2000-2001 Dodge Intrepid V6 3.5L Upstream O2 Oxygen Sensor
2001-2004 Dodge Intrepid V6 3.5L Downstream O2 Oxygen Sensor
2001 Dodge Intrepid V6 3.5L Upstream O2 Oxygen Sensor
1997 Dodge Neon L4 2.0L Upstream O2 Oxygen Sensor
1994-1995 Dodge Ram 1500 Truck V6 3.9L Upstream O2 Oxygen Sensor
1996 Dodge Ram 1500 Truck V8 5.9L Upstream O2 Oxygen Sensor
1996 Dodge Ram 1500 Truck V8 5.2L Upstream O2 Oxygen Sensor
1997 Dodge Ram 1500 Truck V8 5.9L Upstream O2 Oxygen Sensor
1997-1999 Dodge Ram 1500 Truck V8 5.2L Upstream O2 Oxygen Sensor
1997 Dodge Ram 1500 Truck V6 3.9L Upstream O2 Oxygen Sensor
1998 Dodge Ram 1500 Truck V8 5.9L Upstream O2 Oxygen Sensor Driver Side
2000-2001 Dodge Ram 1500 Truck V8 5.2L Upstream 4 Wire Sensor O2 Oxygen Sensor
1996 Dodge Ram 2500 Truck V10 8.0L Upstream O2 Oxygen Sensor
1996 Dodge Ram 2500 Truck V8 5.2L Upstream O2 Oxygen Sensor
1996 Dodge Ram 2500 Truck V8 5.9L Upstream O2 Oxygen Sensor
1997-1999 Dodge Ram 2500 Truck V8 5.9L Upstream O2 Oxygen Sensor
1998 Dodge Ram 2500 Truck V8 5.9L Upstream O2 Oxygen Sensor Driver Side
1999-2001 Dodge Ram 2500 Truck V8 5.9L Upstream O2 Oxygen Sensor
1996 Dodge Ram 3500 Truck V8 5.9L Upstream O2 Oxygen Sensor
1996 Dodge Ram 3500 Truck V10 8.0L Upstream O2 Oxygen Sensor
1997 Dodge Ram 3500 Truck V8 5.9L 2 Wheel Drive Upstream O2 Oxygen Sensor
1997 Dodge Ram 3500 Truck V8 5.9L Upstream O2 Oxygen Sensor Driver Side
1997 Dodge Ram 3500 Truck V8 5.9L Upstream O2 Oxygen Sensor
1998 Dodge Ram 3500 Truck V8 5.9L 2 Wheel Drive Upstream 4 Wire Sensor O2 Oxygen Sensor
1998 Dodge Ram 3500 Truck V8 5.9L Upstream O2 Oxygen Sensor
1998 Dodge Ram 3500 Truck V8 5.9L Upstream O2 Oxygen Sensor Driver Side
1999 Dodge Ram 3500 Truck V8 5.9L Upstream O2 Oxygen Sensor
2000-2001 Dodge Ram 3500 Truck V8 5.9L Upstream O2 Oxygen Sensor
1997-2001 Dodge Stratus L4 2.4L Upstream O2 Oxygen Sensor
1997-2000 Dodge Stratus L4 2.0L Upstream O2 Oxygen Sensor
2001-2003 Dodge Stratus V6 2.7L Downstream O2 Oxygen Sensor
2001-2003 Dodge Stratus V6 2.7L Upstream O2 Oxygen Sensor
2004 Dodge Stratus V6 2.7L Upstream Round Plug O2 Oxygen Sensor
2004 Dodge Stratus V6 2.7L Downstream Round Plug O2 Oxygen Sensor
1996-1997 Dodge Van 1500 V6 3.9L Downstream O2 Oxygen Sensor
1996-1997 Dodge Van 1500 V8 5.2L Downstream O2 Oxygen Sensor
1996-1998 Dodge Van 1500 V6 3.9L Upstream O2 Oxygen Sensor
1996-1998 Dodge Van 1500 V8 5.2L Upstream O2 Oxygen Sensor
1996-1997 Dodge Van 1500 V8 5.9L Downstream O2 Oxygen Sensor
1996-1998 Dodge Van 1500 V8 5.9L Upstream O2 Oxygen Sensor
1999-2000 Dodge Van 2500 V8 5.2L Upstream O2 Oxygen Sensor
1999-2000 Dodge Van 2500 V8 5.9L Upstream O2 Oxygen Sensor
1999-2000 Dodge Van 3500 V8 5.9L Upstream O2 Oxygen Sensor
1999-2000 Dodge Van 3500 V8 5.2L Upstream O2 Oxygen Sensor
1999-2000 Dodge Van 1500 V8 5.9L Upstream O2 Oxygen Sensor
1999-2000 Dodge Van 1500 V8 5.2L Upstream O2 Oxygen Sensor
1999-2000 Dodge Van 1500 V6 3.9L Upstream O2 Oxygen Sensor
1997 Eagle Vision V6 3.5L Upstream O2 Oxygen Sensor
1996-2000 Jeep Cherokee L4 2.5L Downstream O2 Oxygen Sensor
1996-1999 Jeep Cherokee L6 4.0L Downstream O2 Oxygen Sensor
1997 Jeep Cherokee L4 2.5L Upstream O2 Oxygen Sensor
1999-2000 Jeep Cherokee L4 2.5L Upstream O2 Oxygen Sensor
2000-2001 Jeep Cherokee L6 4.0L Front Bank Downstream O2 Oxygen Sensor
2000-2001 Jeep Cherokee L6 4.0L Rear Bank Downstream O2 Oxygen Sensor
2000-2001 Jeep Cherokee L6 4.0L Rear Bank Upstream O2 Oxygen Sensor
1997-1998 Jeep Grand Cherokee V8 5.2L Upstream O2 Oxygen Sensor
1998 Jeep Grand Cherokee V8 5.9L Upstream O2 Oxygen Sensor
1999-2000 Jeep Grand Cherokee V8 4.7L California Emissions Downstream O2 Oxygen Sensor
1997-2000 Jeep Wrangler L6 4.0L Downstream O2 Oxygen Sensor
1997-2000 Jeep Wrangler L4 2.5L Downstream O2 Oxygen Sensor
1999-2000 Jeep Wrangler L4 2.5L Upstream O2 Oxygen Sensor
1997-2000 Plymouth Breeze L4 2.0L Upstream O2 Oxygen Sensor
1998-2000 Plymouth Breeze L4 2.4L Upstream O2 Oxygen Sensor
1995-1998 Plymouth Grand Voyager V6 3.0L Upstream O2 Oxygen Sensor
1995 Plymouth Grand Voyager V6 3.8L Upstream O2 Oxygen Sensor
1995-1998 Plymouth Grand Voyager V6 3.3L Upstream O2 Oxygen Sensor
1996 Plymouth Grand Voyager L4 2.4L Upstream O2 Oxygen Sensor
1996-1998 Plymouth Grand Voyager V6 3.8L Transitional Low Emissions Vehicles (TLEV) Upstream O2 Oxygen Sensor
1997 Plymouth Neon L4 2.0L Upstream O2 Oxygen Sensor
1997 Plymouth Prowler V6 3.5L Downstream O2 Oxygen Sensor
1997 Plymouth Prowler V6 3.5L Upstream O2 Oxygen Sensor
1999-2001 Plymouth Prowler V6 3.5L Downstream O2 Oxygen Sensor
1999-2001 Plymouth Prowler V6 3.5L Upstream O2 Oxygen Sensor
1995-1998 Plymouth Voyager L6 3.3L Upstream O2 Oxygen Sensor
1995-1998 Plymouth Voyager V6 3.0L Upstream O2 Oxygen Sensor
1996 Plymouth Voyager L4 2.4L Upstream O2 Oxygen Sensor
1998 Plymouth Voyager L4 2.4L Upstream O2 Oxygen Sensor
This part replaces:
OE # 4686154, 56027917, 4606133AC
Standard Motor Products SG1815
Part #: 1AEOS01025


Ships Same Day for orders placed by 4 P.M. ET