1AEOS00112-O2 Oxygen Sensor
Replaces
O2 Oxygen Sensor - 1AEOS00112
1AEOS00112
Specifications:
Brand New Oxygen Sensor
Direct Fit

Correct Connector No cutting or splicing
Correct wire length (23.6 Inches)


Upstream Sensor

as listed per application


4 wire configuration
Replaces dealer part numbers: 05269744, 4606421, 4606620, 5269744, 548018A23, 56027919, 56028603, 56041111, M05269744
Built and tested to strict quality control standards
Note: For clarification purposes:
Upstream location is between the catalytic converter and the engine
Downstream location is between the catalytic converter and the tailpipe
Install note:
You may be required to reset the vehicle computer after installation of this part.
Returns Note:
Our electrical and electronic parts are subject to strict quality control testing. Once the item has been installed or plugged in, it is no longer eligible for a refund. The item may be eligible for replacement, only if it is found to have a manufacturing defect. Before purchasing, please ensure proper diagnosis of the failed original part is performed.
Lifetime Warranty
This item is backed by a Limited Lifetime Warranty. In the event this item should fail due to manufacturing defects during intended use, we will exchange the part free of charge (excludes shipping charges) for the original purchaser.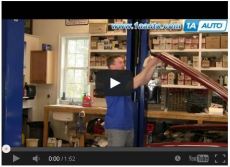 step : Identifying your Oxygen Sensors (0:57)

Upstream oxygen sensors are located in between the engine and the catalytic converter
Downstream oxygen sensors are located in the catalytic converter or farther away from the engine than the catalytic converter
Locate your vehicle's firing order diagram
The bank that contains cylinder one is bank one
The bank that does not contain cylinder one is bank two, even if it does not contain cylinder two
Tools needed for replacement:
1A - No Tools Needed

No Tools Needed
Vehicle Fit
| Year | Make | Model | Description |
| --- | --- | --- | --- |
| 2000 | Chrysler | Cirrus | Chrysler Cirrus L4 2.4L Downstream O2 Oxygen Sensor |
| 2000 | Chrysler | Cirrus | Chrysler Cirrus L4 2.0L Downstream O2 Oxygen Sensor |
| 1995 | Chrysler | Sebring | Chrysler Sebring L4 2.5L Upstream O2 Oxygen Sensor |
| 1996 | Chrysler | Sebring | Chrysler Sebring L4 2.0L Upstream O2 Oxygen Sensor |
| 1996 | Chrysler | Sebring | Chrysler Sebring Coupe L4 2.5L Upstream O2 Oxygen Sensor |
| 1997-1999 | Chrysler | Sebring | Chrysler Sebring L4 2.0L Upstream O2 Oxygen Sensor |
| 1997-1999 | Chrysler | Sebring | Chrysler Sebring Convertible L4 2.5L Upstream O2 Oxygen Sensor |
| 1998-2000 | Chrysler | Sebring | Chrysler Sebring Coupe V6 2.5L (excluding California Emissions) Upstream O2 Oxygen Sensor |
| 2000 | Chrysler | Sebring | Chrysler Sebring L4 2.5L Upstream O2 Oxygen Sensor |
| 2002-2004 | Chrysler | Sebring | Chrysler Sebring L4 2.4L Downstream O2 Oxygen Sensor |
| 2000-2001 | Chrysler | Voyager | Chrysler Voyager L4 2.4L Upstream O2 Oxygen Sensor |
| 1997-1999 | Dodge | Avenger | Dodge Avenger L4 2.0L Upstream O2 Oxygen Sensor |
| 1998-2000 | Dodge | Avenger | Dodge Avenger V6 2.5L (excluding California Emissions) Upstream O2 Oxygen Sensor |
| 1996-1997 | Dodge | Caravan | Dodge Caravan L4 2.4L Upstream O2 Oxygen Sensor |
| 1998 | Dodge | Caravan | Dodge Caravan L4 2.4L Transitional Low Emissions Vehicles (TLEV) Upstream O2 Oxygen Sensor |
| 1999-2000 | Dodge | Caravan | Dodge Caravan L4 2.4L Upstream O2 Oxygen Sensor |
| 1996 | Dodge | Dakota | Dodge Dakota L4 2.5L Downstream O2 Oxygen Sensor |
| 1996 | Dodge | Dakota | Dodge Dakota V8 5.2L Downstream O2 Oxygen Sensor |
| 1996 | Dodge | Dakota | Dodge Dakota V6 3.9L Downstream O2 Oxygen Sensor |
| 1996 | Dodge | Dakota | Dodge Dakota L4 2.5L Upstream O2 Oxygen Sensor |
| 1997-1999 | Dodge | Dakota | Dodge Dakota V8 5.2L 18 Inch Length Wire Downstream O2 Oxygen Sensor |
| 1997 | Dodge | Dakota | Dodge Dakota V6 3.9L 18 Inch Length Wire Downstream O2 Oxygen Sensor |
| 1997 | Dodge | Dakota | Dodge Dakota L4 2.5L 18 Inch Length Wire Downstream O2 Oxygen Sensor |
| 1998-1999 | Dodge | Dakota | Dodge Dakota V8 5.9L Upstream O2 Oxygen Sensor Passenger Side |
| 1998-1999 | Dodge | Dakota | Dodge Dakota V8 5.9L 18 Inch Length Wire Downstream O2 Oxygen Sensor |
| 1998-2000 | Dodge | Dakota | Dodge Dakota V6 3.9L Downstream O2 Oxygen Sensor |
| 1998-2000 | Dodge | Dakota | Dodge Dakota L4 2.5L Downstream O2 Oxygen Sensor |
| 1996-1997 | Dodge | Grand Caravan | Dodge Grand Caravan L4 2.4L Upstream O2 Oxygen Sensor |
| 1994-1995 | Dodge | Ram 1500 Truck | Dodge Ram 1500 Truck V8 5.2L 18 Inch Length Wire 4 Wire Sensor Upstream O2 Oxygen Sensor |
| 1994-1995 | Dodge | Ram 1500 Truck | Dodge Ram 1500 Truck V6 3.9L Upstream O2 Oxygen Sensor |
| 1996 | Dodge | Ram 1500 Truck | Dodge Ram 1500 Truck V8 5.2L Downstream O2 Oxygen Sensor |
| 1996 | Dodge | Ram 1500 Truck | Dodge Ram 1500 Truck V6 3.9L Downstream O2 Oxygen Sensor |
| 1996 | Dodge | Ram 1500 Truck | Dodge Ram 1500 Truck V8 5.9L Upstream O2 Oxygen Sensor |
| 1996 | Dodge | Ram 1500 Truck | Dodge Ram 1500 Truck V8 5.9L Downstream O2 Oxygen Sensor |
| 1997-1999 | Dodge | Ram 1500 Truck | Dodge Ram 1500 Truck V8 5.2L 18 Inch Length Wire Upstream O2 Oxygen Sensor |
| 1997-1998 | Dodge | Ram 1500 Truck | Dodge Ram 1500 Truck V8 5.9L 18 Inch Length Wire Upstream O2 Oxygen Sensor |
| 1997 | Dodge | Ram 1500 Truck | Dodge Ram 1500 Truck V8 3.9L 18 Inch Length Wire Upstream O2 Oxygen Sensor |
| 1998 | Dodge | Ram 1500 Truck | Dodge Ram 1500 Truck V8 5.9L Upstream O2 Oxygen Sensor Passenger Side |
| 2001 | Dodge | Ram 1500 Truck | Dodge Ram 1500 Truck V6 3.9L California Emissions Upstream O2 Oxygen Sensor |
| 1996 | Dodge | Ram 2500 Truck | Dodge Ram 2500 Truck V8 5.9L Downstream O2 Oxygen Sensor |
| 1996 | Dodge | Ram 2500 Truck | Dodge Ram 2500 Truck V8 5.2L Downstream O2 Oxygen Sensor |
| 1996 | Dodge | Ram 2500 Truck | Dodge Ram 2500 Truck V10 8.0L Upstream O2 Oxygen Sensor |
| 1996 | Dodge | Ram 2500 Truck | Dodge Ram 2500 Truck V10 8.0L Downstream O2 Oxygen Sensor |
| 1997-1999 | Dodge | Ram 2500 Truck | Dodge Ram 2500 Truck V8 5.9L 18 Inch Length Wire Upstream O2 Oxygen Sensor |
| 1998 | Dodge | Ram 2500 Truck | Dodge Ram 2500 Truck V8 5.9L Upstream O2 Oxygen Sensor Passenger Side |
| 2000-2001 | Dodge | Ram 2500 Truck | Dodge Ram 2500 Truck V8 5.9L (excluding California Emissions) Upstream O2 Oxygen Sensor |
| 1996 | Dodge | Ram 3500 Truck | Dodge Ram 3500 Truck V8 5.9L Downstream O2 Oxygen Sensor |
| 1996 | Dodge | Ram 3500 Truck | Dodge Ram 3500 Truck V10 8.0L Upstream O2 Oxygen Sensor |
| 1996 | Dodge | Ram 3500 Truck | Dodge Ram 3500 Truck V10 8.0L Downstream O2 Oxygen Sensor |
| 1997-1998 | Dodge | Ram 3500 Truck | Dodge Ram 3500 Truck V8 5.9L Upstream O2 Oxygen Sensor Passenger Side |
| 1997-1999 | Dodge | Ram 3500 Truck | Dodge Ram 3500 Truck V8 5.9L 4 Wheel Drive Upstream O2 Oxygen Sensor |
| 1997-1999 | Dodge | Ram 3500 Truck | Dodge Ram 3500 Truck V8 5.9L 18 Inch Length Wire Upstream O2 Oxygen Sensor |
| 1998 | Dodge | Ram 3500 Truck | Dodge Ram 3500 Truck V8 5.9L 2 Wheel Drive 18 Inch Length Wire 4 Wire Sensor Upstream O2 Oxygen Sensor |
| 2000-2001 | Dodge | Ram 3500 Truck | Dodge Ram 3500 Truck V8 5.9L (excluding California Emissions) Upstream O2 Oxygen Sensor |
| 1998-2000 | Dodge | Stratus | Dodge Stratus L4 2.5L Upstream O2 Oxygen Sensor |
| 1998-2000 | Dodge | Stratus | Dodge Stratus L4 2.5L Downstream O2 Oxygen Sensor |
| 1998-2000 | Dodge | Stratus | Dodge Stratus L4 2.4L Downstream O2 Oxygen Sensor |
| 1998-2000 | Dodge | Stratus | Dodge Stratus L4 2.0L Downstream O2 Oxygen Sensor |
| 2002-2003 | Dodge | Stratus | Dodge Stratus L4 2.4L Downstream O2 Oxygen Sensor |
| 1998 | Dodge | Van - Full Size | Dodge Van V8 5.2L Downstream O2 Oxygen Sensor |
| 1998 | Dodge | Van - Full Size | Dodge Van 1500 V8 5.9L Downstream O2 Oxygen Sensor |
| 1998 | Dodge | Van - Full Size | Dodge Van 1500 V6 3.9L Downstream O2 Oxygen Sensor |
| 1998 | Dodge | Van - Full Size | Dodge Van 3500 V8 5.9L Downstream O2 Oxygen Sensor |
| 1998 | Dodge | Van - Full Size | Dodge Van 3500 V8 5.2L Downstream O2 Oxygen Sensor |
| 1998 | Dodge | Van - Full Size | Dodge Van 2500 V8 5.9L Downstream O2 Oxygen Sensor |
| 1998 | Dodge | Van - Full Size | Dodge Van 2500 V8 5.2L Downstream O2 Oxygen Sensor |
| 1999-2000 | Dodge | Van - Full Size | Dodge Van 3500 V8 5.2L Downstream O2 Oxygen Sensor |
| 1999-2000 | Dodge | Van - Full Size | Dodge Van 2500 V8 5.9L Downstream O2 Oxygen Sensor |
| 1999-2000 | Dodge | Van - Full Size | Dodge Van 2500 V8 5.2L Downstream O2 Oxygen Sensor |
| 1999-2000 | Dodge | Van - Full Size | Dodge Van 1500 V8 5.9L Downstream O2 Oxygen Sensor |
| 1999-2000 | Dodge | Van - Full Size | Dodge Van 3500 V8 5.9L Downstream O2 Oxygen Sensor |
| 1999-2000 | Dodge | Van - Full Size | Dodge Van 1500 V8 5.2L Downstream O2 Oxygen Sensor |
| 1999-2000 | Dodge | Van - Full Size | Dodge Van 1500 V6 3.9L Downstream O2 Oxygen Sensor |
| 1996-1998 | Dodge | Viper | Dodge Viper V10 8.0L Downstream O2 Oxygen Sensor |
| 1996-2002 | Dodge | Viper | Dodge Viper V10 8.0L Upstream O2 Oxygen Sensor |
| 1997-1998 | Eagle | Talon | Eagle Talon L4 2.0L (excluding Turbo Models) Upstream O2 Oxygen Sensor |
| 1996-1999 | Jeep | Cherokee | Jeep Cherokee V6 4.0L Upstream O2 Oxygen Sensor |
| 1998 | Jeep | Cherokee | Jeep Cherokee L4 2.5L Upstream O2 Oxygen Sensor |
| 2000-2001 | Jeep | Cherokee | Jeep Cherokee V6 4.0L Front Bank Upstream O2 Oxygen Sensor |
| 1996-1998 | Jeep | Grand Cherokee | Jeep Grand Cherokee L6 4.0L Upstream O2 Oxygen Sensor |
| 1996 | Jeep | Grand Cherokee | Jeep Grand Cherokee V8 5.2L Round Plug Upstream O2 Oxygen Sensor |
| 1996 | Jeep | Grand Cherokee | Jeep Grand Cherokee V6 4.0L Round Plug Upstream O2 Oxygen Sensor |
| 2000 | Jeep | Grand Cherokee | Jeep Grand Cherokee V6 4.0L California Emissions 10 Inch Length Wire Downstream O2 Oxygen Sensor |
| 2000 | Jeep | Grand Cherokee | Jeep Grand Cherokee V6 4.0L California Emissions 18 Inch Length Wire Upstream O2 Oxygen Sensor |
| 1997-2000 | Jeep | Wrangler | Jeep Wrangler V6 4.0L Upstream O2 Oxygen Sensor |
| 1998 | Jeep | Wrangler | Jeep Wrangler L4 2.5L Upstream O2 Oxygen Sensor |
| 1997-1999 | Mitsubishi | Eclipse | Mitsubishi Eclipse L4 2.0L (excluding Turbo Models) Upstream O2 Oxygen Sensor |
| 1998-2000 | Plymouth | Breeze | Plymouth Breeze L4 2.0L Downstream O2 Oxygen Sensor |
| 1998-2000 | Plymouth | Breeze | Plymouth Breeze L4 2.4L Downstream O2 Oxygen Sensor |
| 1996 | Plymouth | Grand Voyager | Plymouth Grand Voyager L4 2.4L Downstream O2 Oxygen Sensor |
| 1997 | Plymouth | Grand Voyager | Plymouth Grand Voyager L4 2.4L Upstream O2 Oxygen Sensor |
| 1996 | Plymouth | Voyager | Plymouth Voyager L4 2.4L Downstream O2 Oxygen Sensor |
| 1997 | Plymouth | Voyager | Plymouth Voyager L4 2.4L Upstream O2 Oxygen Sensor |
| 1999-2000 | Plymouth | Voyager | Plymouth Voyager L4 2.4L Upstream O2 Oxygen Sensor |