1AEEK00526-O2 Oxygen Sensor with Install Tool
Replaces
O2 Oxygen Sensor with Install Tool - 1AEEK00526
1AEEK00526
This Oxygen O2 Sensor is a new, aftermarket replacement part that has the following specifications:
Four pin, 4 wire configuration
Replaces dealer part numbers: 4686222, 56027916, 56041212, 56041212AE, 56044214AA
Direct Fit
Correct Connector No cutting or splicing
Built and tested to strict quality control standards
Some applications use (2) of the same Oxygen Sensors Upstream and Downstream
Includes removal and installation tool
Note: For clarification purposes:
Upstream location is between the catalytic converter and the engine
Downstream location is between the catalytic converter and the tailpipe
A direct replacement. If you have a bad O2 sensor causing your vehicle to idle poorly or fail an emission test then this is the part for you.
Our electrical and electronic parts are subject to strict quality control testing. Please ensure proper diagnosis of this item before purchasing as the item cannot be returned once installed or plugged in.
Item Condition: New

WARNING: Cancer and Reproductive Harm - www.P65Warnings.ca.gov.
Lifetime Warranty
This item is backed by a Limited Lifetime Warranty. In the event this item should fail due to manufacturing defects during intended use, we will exchange the part free of charge (excludes shipping charges) for the original purchaser.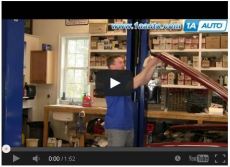 step : Identifying your Oxygen Sensors (0:57)

Upstream oxygen sensors are located in between the engine and the catalytic converter
Downstream oxygen sensors are located in the catalytic converter or farther away from the engine than the catalytic converter
Locate your vehicle's firing order diagram
The bank that contains cylinder one is bank one
The bank that does not contain cylinder one is bank two, even if it does not contain cylinder two
Tools needed for replacement:
1A - No Tools Needed

No Tools Needed
Vehicle Fit
| Year | Make | Model | Description |
| --- | --- | --- | --- |
| 2000 | Chrysler | Cirrus | Chrysler Cirrus L4 2.0L Downstream O2 Oxygen Sensor with Install Tool |
| 2000 | Chrysler | Cirrus | Chrysler Cirrus L4 2.4L Downstream O2 Oxygen Sensor with Install Tool |
| 1995 | Chrysler | Sebring | Chrysler Sebring L4 2.5L Upstream O2 Oxygen Sensor with Install Tool |
| 1996 | Chrysler | Sebring | Chrysler Sebring L4 2.0L Upstream O2 Oxygen Sensor with Install Tool |
| 1996 | Chrysler | Sebring | Chrysler Sebring Coupe L4 2.5L Upstream O2 Oxygen Sensor with Install Tool |
| 1997-1999 | Chrysler | Sebring | Chrysler Sebring L4 2.0L Upstream O2 Oxygen Sensor with Install Tool |
| 1997-1999 | Chrysler | Sebring | Chrysler Sebring Convertible L4 2.5L Upstream O2 Oxygen Sensor with Install Tool |
| 1998-2000 | Chrysler | Sebring | Chrysler Sebring Coupe V6 2.5L (excluding California Emissions) Upstream O2 Oxygen Sensor with Install Tool |
| 2000 | Chrysler | Sebring | Chrysler Sebring L4 2.5L Upstream O2 Oxygen Sensor with Install Tool |
| 2002-2004 | Chrysler | Sebring | Chrysler Sebring L4 2.4L Downstream O2 Oxygen Sensor with Install Tool |
| 2000-2001 | Chrysler | Voyager | Chrysler Voyager L4 2.4L Upstream O2 Oxygen Sensor with Install Tool |
| 1997-1999 | Dodge | Avenger | Dodge Avenger L4 2.0L Upstream O2 Oxygen Sensor with Install Tool |
| 1998-2000 | Dodge | Avenger | Dodge Avenger V6 2.5L (excluding California Emissions) Upstream O2 Oxygen Sensor with Install Tool |
| 1996-1997 | Dodge | Caravan | Dodge Caravan L4 2.4L Upstream O2 Oxygen Sensor with Install Tool |
| 1998 | Dodge | Caravan | Dodge Caravan L4 2.4L Transitional Low Emissions Vehicles (TLEV) Upstream O2 Oxygen Sensor with Install Tool |
| 1999-2000 | Dodge | Caravan | Dodge Caravan L4 2.4L Upstream O2 Oxygen Sensor with Install Tool |
| 1996 | Dodge | Dakota | Dodge Dakota L4 2.5L Upstream O2 Oxygen Sensor with Install Tool |
| 1996 | Dodge | Dakota | Dodge Dakota V6 3.9L Downstream O2 Oxygen Sensor with Install Tool |
| 1996 | Dodge | Dakota | Dodge Dakota V8 5.2L Downstream O2 Oxygen Sensor with Install Tool |
| 1996 | Dodge | Dakota | Dodge Dakota L4 2.5L Downstream O2 Oxygen Sensor with Install Tool |
| 1997 | Dodge | Dakota | Dodge Dakota V6 3.9L 18 Inch Length Wire Downstream O2 Oxygen Sensor with Install Tool |
| 1997-1999 | Dodge | Dakota | Dodge Dakota V8 5.2L 18 Inch Length Wire Downstream O2 Oxygen Sensor with Install Tool |
| 1997 | Dodge | Dakota | Dodge Dakota L4 2.5L 18 Inch Length Wire Downstream O2 Oxygen Sensor with Install Tool |
| 1998-2000 | Dodge | Dakota | Dodge Dakota V6 3.9L Downstream O2 Oxygen Sensor with Install Tool |
| 1998-1999 | Dodge | Dakota | Dodge Dakota V8 5.9L 18 Inch Length Wire Downstream O2 Oxygen Sensor with Install Tool |
| 1998-1999 | Dodge | Dakota | Dodge Dakota V8 5.9L Upstream O2 Oxygen Sensor with Install Tool Passenger Side |
| 1998-2000 | Dodge | Dakota | Dodge Dakota L4 2.5L Downstream O2 Oxygen Sensor with Install Tool |
| 1996-1997 | Dodge | Grand Caravan | Dodge Grand Caravan L4 2.4L Upstream O2 Oxygen Sensor with Install Tool |
| 1994-1995 | Dodge | Ram 1500 Truck | Dodge Ram 1500 Truck V6 3.9L Upstream O2 Oxygen Sensor with Install Tool |
| 1994-1995 | Dodge | Ram 1500 Truck | Dodge Ram 1500 Truck V8 5.2L 18 Inch Length Wire 4 Wire Sensor Upstream O2 Oxygen Sensor with Install Tool |
| 1996 | Dodge | Ram 1500 Truck | Dodge Ram 1500 Truck V8 5.9L Downstream O2 Oxygen Sensor with Install Tool |
| 1996 | Dodge | Ram 1500 Truck | Dodge Ram 1500 Truck V8 5.9L Upstream O2 Oxygen Sensor with Install Tool |
| 1996 | Dodge | Ram 1500 Truck | Dodge Ram 1500 Truck V6 3.9L Downstream O2 Oxygen Sensor with Install Tool |
| 1996 | Dodge | Ram 1500 Truck | Dodge Ram 1500 Truck V8 5.2L Downstream O2 Oxygen Sensor with Install Tool |
| 1997-1998 | Dodge | Ram 1500 Truck | Dodge Ram 1500 Truck V8 5.9L 18 Inch Length Wire Upstream O2 Oxygen Sensor with Install Tool |
| 1997-1999 | Dodge | Ram 1500 Truck | Dodge Ram 1500 Truck V8 5.2L 18 Inch Length Wire Upstream O2 Oxygen Sensor with Install Tool |
| 1997 | Dodge | Ram 1500 Truck | Dodge Ram 1500 Truck V8 3.9L 18 Inch Length Wire Upstream O2 Oxygen Sensor with Install Tool |
| 1998 | Dodge | Ram 1500 Truck | Dodge Ram 1500 Truck V8 5.9L Upstream O2 Oxygen Sensor with Install Tool Passenger Side |
| 2001 | Dodge | Ram 1500 Truck | Dodge Ram 1500 Truck V6 3.9L California Emissions Upstream O2 Oxygen Sensor with Install Tool |
| 1996 | Dodge | Ram 2500 Truck | Dodge Ram 2500 Truck V10 8.0L Downstream O2 Oxygen Sensor with Install Tool |
| 1996 | Dodge | Ram 2500 Truck | Dodge Ram 2500 Truck V10 8.0L Upstream O2 Oxygen Sensor with Install Tool |
| 1996 | Dodge | Ram 2500 Truck | Dodge Ram 2500 Truck V8 5.2L Downstream O2 Oxygen Sensor with Install Tool |
| 1996 | Dodge | Ram 2500 Truck | Dodge Ram 2500 Truck V8 5.9L Downstream O2 Oxygen Sensor with Install Tool |
| 1997-1999 | Dodge | Ram 2500 Truck | Dodge Ram 2500 Truck V8 5.9L 18 Inch Length Wire Upstream O2 Oxygen Sensor with Install Tool |
| 1998 | Dodge | Ram 2500 Truck | Dodge Ram 2500 Truck V8 5.9L Upstream O2 Oxygen Sensor with Install Tool Passenger Side |
| 2000-2001 | Dodge | Ram 2500 Truck | Dodge Ram 2500 Truck V8 5.9L (excluding California Emissions) Upstream O2 Oxygen Sensor with Install Tool |
| 1996 | Dodge | Ram 3500 Truck | Dodge Ram 3500 Truck V10 8.0L Downstream O2 Oxygen Sensor with Install Tool |
| 1996 | Dodge | Ram 3500 Truck | Dodge Ram 3500 Truck V10 8.0L Upstream O2 Oxygen Sensor with Install Tool |
| 1996 | Dodge | Ram 3500 Truck | Dodge Ram 3500 Truck V8 5.9L Downstream O2 Oxygen Sensor with Install Tool |
| 1997-1999 | Dodge | Ram 3500 Truck | Dodge Ram 3500 Truck V8 5.9L 18 Inch Length Wire Upstream O2 Oxygen Sensor with Install Tool |
| 1997-1999 | Dodge | Ram 3500 Truck | Dodge Ram 3500 Truck V8 5.9L 4 Wheel Drive Upstream O2 Oxygen Sensor with Install Tool |
| 1997-1998 | Dodge | Ram 3500 Truck | Dodge Ram 3500 Truck V8 5.9L Upstream O2 Oxygen Sensor with Install Tool Passenger Side |
| 1998 | Dodge | Ram 3500 Truck | Dodge Ram 3500 Truck V8 5.9L Rear Wheel Drive 18 Inch Length Wire 4 Wire Sensor Upstream O2 Oxygen Sensor with Install Tool |
| 2000-2001 | Dodge | Ram 3500 Truck | Dodge Ram 3500 Truck V8 5.9L (excluding California Emissions) Upstream O2 Oxygen Sensor with Install Tool |
| 1998-2000 | Dodge | Stratus | Dodge Stratus L4 2.5L Upstream O2 Oxygen Sensor with Install Tool |
| 1998-2000 | Dodge | Stratus | Dodge Stratus L4 2.0L Downstream O2 Oxygen Sensor with Install Tool |
| 1998-2000 | Dodge | Stratus | Dodge Stratus L4 2.4L Downstream O2 Oxygen Sensor with Install Tool |
| 1998-2000 | Dodge | Stratus | Dodge Stratus L4 2.5L Downstream O2 Oxygen Sensor with Install Tool |
| 2002-2003 | Dodge | Stratus | Dodge Stratus L4 2.4L Downstream O2 Oxygen Sensor with Install Tool |
| 1998 | Dodge | Van - Full Size | Dodge Van 3500 V8 5.9L Downstream O2 Oxygen Sensor with Install Tool |
| 1998 | Dodge | Van - Full Size | Dodge Van V8 5.2L Downstream O2 Oxygen Sensor with Install Tool |
| 1998 | Dodge | Van - Full Size | Dodge Van 2500 V8 5.2L Downstream O2 Oxygen Sensor with Install Tool |
| 1998 | Dodge | Van - Full Size | Dodge Van 2500 V8 5.9L Downstream O2 Oxygen Sensor with Install Tool |
| 1998 | Dodge | Van - Full Size | Dodge Van 3500 V8 5.2L Downstream O2 Oxygen Sensor with Install Tool |
| 1998 | Dodge | Van - Full Size | Dodge Van 1500 V6 3.9L Downstream O2 Oxygen Sensor with Install Tool |
| 1998 | Dodge | Van - Full Size | Dodge Van 1500 V8 5.9L Downstream O2 Oxygen Sensor with Install Tool |
| 1999-2000 | Dodge | Van - Full Size | Dodge Van 3500 V8 5.9L Downstream O2 Oxygen Sensor with Install Tool |
| 1999-2000 | Dodge | Van - Full Size | Dodge Van 1500 V8 5.9L Downstream O2 Oxygen Sensor with Install Tool |
| 1999-2000 | Dodge | Van - Full Size | Dodge Van 2500 V8 5.2L Downstream O2 Oxygen Sensor with Install Tool |
| 1999-2000 | Dodge | Van - Full Size | Dodge Van 2500 V8 5.9L Downstream O2 Oxygen Sensor with Install Tool |
| 1999-2000 | Dodge | Van - Full Size | Dodge Van 3500 V8 5.2L Downstream O2 Oxygen Sensor with Install Tool |
| 1999-2000 | Dodge | Van - Full Size | Dodge Van 1500 V6 3.9L Downstream O2 Oxygen Sensor with Install Tool |
| 1999-2000 | Dodge | Van - Full Size | Dodge Van 1500 V8 5.2L Downstream O2 Oxygen Sensor with Install Tool |
| 1996-2002 | Dodge | Viper | Dodge Viper V10 8.0L Upstream O2 Oxygen Sensor with Install Tool |
| 1996-1998 | Dodge | Viper | Dodge Viper V10 8.0L Downstream O2 Oxygen Sensor with Install Tool |
| 1997-1998 | Eagle | Talon | Eagle Talon L4 2.0L (excluding Turbo Models) Upstream O2 Oxygen Sensor with Install Tool |
| 1996-1999 | Jeep | Cherokee | Jeep Cherokee V6 4.0L Upstream O2 Oxygen Sensor with Install Tool |
| 1998 | Jeep | Cherokee | Jeep Cherokee L4 2.5L Upstream O2 Oxygen Sensor with Install Tool |
| 2000-2001 | Jeep | Cherokee | Jeep Cherokee V6 4.0L Front Bank Upstream O2 Oxygen Sensor with Install Tool |
| 1996 | Jeep | Grand Cherokee | Jeep Grand Cherokee V6 4.0L Round Plug Upstream O2 Oxygen Sensor with Install Tool |
| 1996 | Jeep | Grand Cherokee | Jeep Grand Cherokee V8 5.2L Round Plug Upstream O2 Oxygen Sensor with Install Tool |
| 1996-1998 | Jeep | Grand Cherokee | Jeep Grand Cherokee L6 4.0L Upstream O2 Oxygen Sensor with Install Tool |
| 2000 | Jeep | Grand Cherokee | Jeep Grand Cherokee V6 4.0L California Emissions 18 Inch Length Wire Upstream O2 Oxygen Sensor with Install Tool |
| 2000 | Jeep | Grand Cherokee | Jeep Grand Cherokee V6 4.0L California Emissions 10 Inch Length Wire Downstream O2 Oxygen Sensor with Install Tool |
| 1997-2000 | Jeep | Wrangler | Jeep Wrangler V6 4.0L Upstream O2 Oxygen Sensor with Install Tool |
| 1998 | Jeep | Wrangler | Jeep Wrangler L4 2.5L Upstream O2 Oxygen Sensor with Install Tool |
| 1997-1999 | Mitsubishi | Eclipse | Mitsubishi Eclipse L4 2.0L (excluding Turbo Models) Upstream O2 Oxygen Sensor with Install Tool |
| 1998-2000 | Plymouth | Breeze | Plymouth Breeze L4 2.0L Downstream O2 Oxygen Sensor with Install Tool |
| 1998-2000 | Plymouth | Breeze | Plymouth Breeze L4 2.4L Downstream O2 Oxygen Sensor with Install Tool |
| 1996 | Plymouth | Grand Voyager | Plymouth Grand Voyager L4 2.4L Downstream O2 Oxygen Sensor with Install Tool |
| 1997 | Plymouth | Grand Voyager | Plymouth Grand Voyager L4 2.4L Upstream O2 Oxygen Sensor with Install Tool |
| 1996 | Plymouth | Voyager | Plymouth Voyager L4 2.4L Downstream O2 Oxygen Sensor with Install Tool |
| 1997 | Plymouth | Voyager | Plymouth Voyager L4 2.4L Upstream O2 Oxygen Sensor with Install Tool |
| 1999-2000 | Plymouth | Voyager | Plymouth Voyager L4 2.4L Upstream O2 Oxygen Sensor with Install Tool |