1AEMP00010-MAP Sensor
Replaces
MAP Sensor - 1AEMP00010
1AEMP00010
This replacement Manifold Absolute Pressure Sensor (MAP) is a new aftermarket part. It is just what you need to get your vehicle in good running condition again!
Specifications:
Brand New MAP Sensor
Direct replacement
Built to strict quality control standards
100% factory tested
3 Pin Connector
Our electrical and electronic parts are subject to strict quality control testing. Once the item has been installed or plugged in, it is no longer eligible for a refund. The item may be eligible for replacement, only if it is found to have a manufacturing defect. Before purchasing, please ensure proper diagnosis of the failed original part is performed
Lifetime Warranty
This item is backed by a Limited Lifetime Warranty. In the event this item should fail due to manufacturing defects during intended use, we will exchange the part free of charge (excludes shipping charges) for the original purchaser.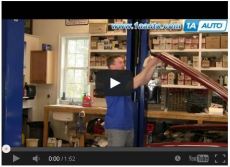 Tools needed for replacement:
Ratchets & Related

Ratchet

Sockets - Metric

10mm Socket
Browse 1 question
Browse 1 question and 2 answers
Id love to be able to see a step by step installation video or be able to read through the process. I've seen plenty but none for the H3. Any help?
BEST ANSWER:
Sorry we do not have any details on this installation at this time.
Vehicle Fit
1998-1999 Acura SLX MAP Sensor V6 3.5L
2004-2007 Buick Rainier MAP Sensor L6 4.2L (8th Vin Digit S)
2006-2007 Buick Rendezvous MAP Sensor V6 3.5L (8th Vin Digit L)
2005-2006 Buick Terraza MAP Sensor V6 3.5L (8th Vin Digit L)
2006-2007 Buick Terraza MAP Sensor V6 3.9L (8th Vin Digit 1)
2007 Buick Terraza MAP Sensor V6 3.9L (8th Vin Digit W)
2004-2005 Cadillac CTS-V MAP Sensor V8 5.7L
2006-2007 Cadillac CTS-V MAP Sensor V8 6.0L
1998-2002 Chevy Camaro MAP Sensor V8 5.7L (8th Vin Digit G)
1998-2002 Chevy Cavalier MAP Sensor L4 2.2L (8th Vin Digit 4)
2002-2005 Chevy Cavalier MAP Sensor L4 2.2L (8th Vin Digit F)
2004-2005 Chevy Classic MAP Sensor L4 2.2L (8th Vin Digit F)
2005-2006 Chevy Cobalt MAP Sensor L4 2.2L (8th Vin Digit F)
2006-2008 Chevy Cobalt MAP Sensor L4 2.4L (8th Vin Digit B)
2004-2006 Chevy Colorado MAP Sensor L5 3.5L (8th Vin Digit 6)
2004-2006 Chevy Colorado MAP Sensor L4 2.8L (8th Vin Digit 8)
2007 Chevy Colorado MAP Sensor L5 3.7L (8th Vin Digit E)
2007 Chevy Colorado MAP Sensor L4 2.9L (8th Vin Digit 9)
1999-2004 Chevy Corvette MAP Sensor V8 5.7L
2005-2007 Chevy Corvette MAP Sensor V8 6.0L
2006-2008 Chevy Corvette MAP Sensor V8 7.0L
2005-2009 Chevy Equinox MAP Sensor V6 3.4L (8th Vin Digit F)
2006-2008 Chevy HHR MAP Sensor L4 2.4L (8th Vin Digit P)
2006 Chevy HHR MAP Sensor L4 2.2L (8th Vin Digit D)
2006 Chevy Impala MAP Sensor V6 3.9L (8th Vin Digit 1)
2006-2007 Chevy Impala MAP Sensor V6 3.5L (8th Vin Digit K)
2006-2007 Chevy Impala MAP Sensor V6 3.5L (8th Vin Digit N)
2006 Chevy Impala MAP Sensor V8 5.3L (8th Vin Digit C)
2007 Chevy Impala MAP Sensor V6 3.9L (8th Vin Digit R)
2004-2006 Chevy Malibu MAP Sensor V6 3.5L (8th Vin Digit 8)
2004-2006 Chevy Malibu MAP Sensor L4 2.2L (8th Vin Digit F)
2006-2007 Chevy Malibu MAP Sensor V6 3.9L (8th Vin Digit 1)
2007 Chevy Malibu MAP Sensor V6 3.5L (8th Vin Digit N)
2004-2006 Chevy Malibu Maxx MAP Sensor V6 3.5L (8th Vin Digit 8)
2006-2007 Chevy Malibu Maxx MAP Sensor V6 3.9L (8th Vin Digit 1)
2007 Chevy Malibu Maxx MAP Sensor V6 3.5L (8th Vin Digit N)
2006 Chevy Monte Carlo MAP Sensor V8 5.3L (8th Vin Digit C)
2006 Chevy Monte Carlo MAP Sensor V6 3.9L (8th Vin Digit 1)
2006-2007 Chevy Monte Carlo MAP Sensor V6 3.5L (8th Vin Digit N)
2006-2007 Chevy Monte Carlo MAP Sensor V6 3.5L (8th Vin Digit K)
1998-2000 Chevy S10 Pickup MAP Sensor L4 2.2L (8th Vin Digit 4)
2000-2002 Chevy S10 Pickup MAP Sensor L4 2.2L (8th Vin Digit 5)
2003 Chevy S10 Pickup MAP Sensor L4 2.2L (8th Vin Digit H)
2002-2007 Chevy Trailblazer MAP Sensor L6 4.2L (8th Vin Digit S)
2005-2006 Chevy Uplander MAP Sensor V6 3.5L (8th Vin Digit L)
2006-2007 Chevy Uplander MAP Sensor V6 3.9L (8th Vin Digit 1)
2007 Chevy Uplander MAP Sensor V6 3.9L (8th Vin Digit W)
2004-2006 GMC Canyon MAP Sensor L5 3.5L (8th Vin Digit 6)
2004-2006 GMC Canyon MAP Sensor L4 2.8L (8th Vin Digit 8)
2007 GMC Canyon MAP Sensor L4 2.9L (8th Vin Digit 9)
2007 GMC Canyon MAP Sensor L5 3.7L (8th Vin Digit E)
2002-2007 GMC Envoy MAP Sensor L6 4.2L (8th Vin Digit S)
2004-2005 GMC Envoy XUV MAP Sensor L6 4.2L (8th Vin Digit S)
2004 GMC Envoy XUV MAP Sensor V8 5.3L (8th Vin Digit P)
1998-2000 GMC S-15 Sonoma MAP Sensor L4 2.2L (8th Vin Digit 4)
2000-2002 GMC S-15 Sonoma MAP Sensor L4 2.2L (8th Vin Digit 5)
2003 GMC S-15 Sonoma MAP Sensor L4 2.2L (8th Vin Digit H)
2006 Hummer H3 MAP Sensor L5 3.5L (8th Vin Digit 6)
2007 Hummer H3 MAP Sensor L5 3.7L (8th Vin Digit E)
1998-2000 Isuzu Amigo MAP Sensor L4 2.2L
1998-2000 Isuzu Amigo MAP Sensor V6 3.2L
2003-2007 Isuzu Ascender MAP Sensor L6 4.2L (8th Vin Digit S)
2002-2003 Isuzu Axiom MAP Sensor V6 3.5L
1998-2000 Isuzu Hombre MAP Sensor L4 2.2L (8th Vin Digit 4)
1998 Isuzu Rodeo MAP Sensor L4 2.2L
1998 Isuzu Rodeo MAP Sensor V6 3.2L
1998-2003 Isuzu Rodeo MAP Sensor L4 2.2L
1998-2004 Isuzu Rodeo MAP Sensor V6 3.2L
2001-2003 Isuzu Rodeo Sport MAP Sensor V6 3.2L
2001-2003 Isuzu Rodeo Sport MAP Sensor L4 2.2L
1998-2001 Isuzu Trooper MAP Sensor V6 3.5L
1998-2002 Isuzu Trooper MAP Sensor V6 3.5L
1999-2001 Isuzu VehiCROSS MAP Sensor V6 3.5L
2006 Isuzu i-280 MAP Sensor L4 2.8L (8th Vin Digit 8)
2007 Isuzu i-290 MAP Sensor L4 2.9L (8th Vin Digit 9)
2006 Isuzu i-350 MAP Sensor L5 3.5L (8th Vin Digit 6)
2007 Isuzu i-370 MAP Sensor L5 3.7L (8th Vin Digit E)
2002-2004 Olds Alero MAP Sensor L4 2.2L (8th Vin Digit F)
2002-2004 Olds Bravada MAP Sensor L6 4.2L (8th Vin Digit S)
1998-2002 Pontiac Firebird MAP Sensor V8 5.7L (8th Vin Digit G)
2007 Pontiac G5 MAP Sensor L4 2.4L (8th Vin Digit B)
2005-2006 Pontiac G6 MAP Sensor V6 3.5L (8th Vin Digit 8)
2006-2007 Pontiac G6 MAP Sensor V6 3.9L (8th Vin Digit 1)
2006-2007 Pontiac G6 MAP Sensor L4 2.4L (8th Vin Digit B)
2007 Pontiac G6 MAP Sensor V6 3.5L (8th Vin Digit N)
2004 Pontiac GTO MAP Sensor V8 5.7L
2005-2006 Pontiac GTO MAP Sensor V8 6.0L
2002-2005 Pontiac Grand Am MAP Sensor L4 2.2L (8th Vin Digit F)
2005-2006 Pontiac Grand Prix MAP Sensor V8 5.3L (8th Vin Digit C)
2005-2006 Pontiac Pursuit MAP Sensor L4 2.2L (8th Vin Digit F)
2006 Pontiac Pursuit MAP Sensor L4 2.4L (8th Vin Digit B)
2006-2007 Pontiac Solstice MAP Sensor L4 2.4L (8th Vin Digit B)
1998-2002 Pontiac Sunfire MAP Sensor L4 2.2L (8th Vin Digit 4)
2002-2005 Pontiac Sunfire MAP Sensor L4 2.2L (8th Vin Digit F)
2006-2009 Pontiac Torrent MAP Sensor V6 3.4L (8th Vin Digit F)
2005-2007 Saab 9-7X MAP Sensor L6 4.2L (8th Vin Digit S)
2007 Saturn Aura MAP Sensor V6 3.5L (8th Vin Digit N)
2003-2006 Saturn Ion MAP Sensor L4 2.2L (8th Vin Digit F)
2006-2007 Saturn Ion MAP Sensor L4 2.4L (8th Vin Digit B)
2000-2004 Saturn L Sedan MAP Sensor L4 2.2L (8th Vin Digit F)
2000-2004 Saturn L Wagon MAP Sensor L4 2.2L (8th Vin Digit F)
2005-2006 Saturn Relay MAP Sensor V6 3.5L (8th Vin Digit L)
2006-2007 Saturn Relay MAP Sensor V6 3.9L (8th Vin Digit 1)
2007 Saturn Relay MAP Sensor V6 3.9L (8th Vin Digit W)
2007 Saturn Sky MAP Sensor L4 2.4L (8th Vin Digit B)
2002-2005 Saturn Vue MAP Sensor L4 2.2L (8th Vin Digit F)
2006-2007 Saturn Vue MAP Sensor L4 2.2L (8th Vin Digit D)
This part replaces:
OE # 8126149700
OE # 8162124600