1AECI00073-Ignition Coil
Replaces
Ignition Coil - 1AECI00073
1AECI00073
The ignition coil is a crucial part of your ignition system. It's function is to convert the 12 volt power of your vehicle's electrical system in to 35,000 or more volts. This produces a high intensity spark at the spark plug which then ignites the fuel in the cylinder. Coils in general will wear out over time and cause a misfire condition. In engines like this that use a coil, the complete assembly needs to be replaced.
This Ignition Coil features the following specifications:
New not remanufactured
Replaces one of many dealer part numbers including: 12321405, 12336833, 19017194, 38541611, 89057144, 1694979C1, 1694979-C1, 3854161-1, DAE2070, DAE-2070, DG325, DG-325, DG-325A, DG325ADP, DG-325ADP, DG434, DG-434, DGE453, DGE-453, E1EF 12029 AA, E1EF12029AA, E2EF 12029 AA, E2EF12029AA, E2FZ12029A, E2FZ-12029A, E3EF 12029 AA, E3EF12029AA, E3FZ12029A, E3FZ-12029A, E73F 12029 AA, E73F 12029 AB, E73F12029AA, E73F12029AB, E73Z12029A, E73Z-12029A, F-1953, F32Z 12029 A, F32Z 12A127 B, F32Z12029A, F32Z12A127B, F3FU 12029 AA, F3FU12029AA, F503, F-503, F5151810X, F515-18-10X, F5FZ 12029 A, F5FZ12029A, F5PZ12029A, F5PZ-12029A, F7PJ 12029 AA, F7PJ12029AA, F7PZ12029A, F7PZ-12029A, F7PZ12029AA, F7PZ-12029AA, FD478, FD-478, FS151810X, FS15-18-10X, T2T53871, ZZM118100, ZZM1-18-100, ZZM418100, ZZM4-18-100
Built to strict quality control standards
Direct replacement
100% factory tested
Fits the following Ford 4, 6, & 8 cylinder engines as listed:

L4 1.6L , 1.9L, 2.0L, 2.3L, 2.5L
V6 2.8L, 2.9L, 3.0L, 3.8L
L6 4.9L
V8 5.0L, 5.8L, 7.3L, 7.5L
Returns Note:
Our electrical and electronic parts are subject to strict quality control testing. Once the item has been installed or plugged in, it is no longer eligible for a refund. The item may be eligible for replacement, only if it is found to have a manufacturing defect. Before purchasing, please ensure proper diagnosis of the failed original part is performed.
Direct Fit Replacement
Guaranteed to fit and function properly for your specific application.
Optimum Performance
Meets or exceeds requirements of the vehicle. Provides the correct primary and secondary resistance, voltage output, and spark energy needed to restore original operating condition.
Premium Quality
Manufactured with quality materials to meet highest quality control standards in the industry.
Lifetime Warranty
This item is backed by a Limited Lifetime Warranty. In the event this item should fail due to manufacturing defects during intended use, we will exchange the part free of charge (excludes shipping charges) for the original purchaser.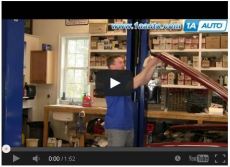 step : Removing the Ignition Coil (0:40)

Disconnect the ignition coil wire
Remove the four 7/32 inch bolts from the ignition coil
Pry off the ignition coil wiring connector with a flat blade screwdriver
Pull the ignition coil up and out

step : Installing the New Ignition Coil (2:02)

Put the new ignition coil into place
Connect the ignition coil wiring connector
Insert the four 7/32 inch bolts into the ignition coil
Connect the ignition coil wire
Tools needed for replacement:
Ratchets & Related

Ratchet

Screwdrivers & Related

Flat Blade Screwdriver

Sockets - SAE

7/32 Inch Socket

Wrenches - SAE

7/32 Inch Wrench
Vehicle Fit
| Year | Make | Model | Description |
| --- | --- | --- | --- |
| 1986 | Ford | Aerostar | Ford Aerostar Ignition Coil L4 2.3L (8th Vin Digit A) for Models with |
| 1986-1997 | Ford | Aerostar | Ford Aerostar Ignition Coil V6 3.0L (8th Vin Digit U) |
| 1986-1987 | Ford | Aerostar | Ford Aerostar Ignition Coil L4 2.3L (8th Vin Digit A) for Models with |
| 1984-1992 | Ford | Bronco | Ford Bronco Ignition Coil L6 4.9L (8th Vin Digit Y) |
| 1984-1996 | Ford | Bronco | Ford Bronco Ignition Coil (8th Vin Digit H) V8 5.8L |
| 1984-1985 | Ford | Bronco | Ford Bronco Ignition Coil V8 5.8L (8th Vin Digit G) for Models with |
| 1985 | Ford | Bronco | Ford Bronco Ignition Coil V8 5.0L (8th Vin Digit F) |
| 1985-1996 | Ford | Bronco | Ford Bronco Ignition Coil V8 5.0L (8th Vin Digit N) for Models with |
| 1984-1985 | Ford | Bronco II | Ford Bronco II Ignition Coil V6 2.8L (8th Vin Digit S) for Models with |
| 1986-1990 | Ford | Bronco II | Ford Bronco II Ignition Coil V6 2.9L (8th Vin Digit T) |
| 1984 | Ford | Crown Victoria | Ford Crown Victoria Ignition Coil V8 5.0L (8th Vin Digit F) |
| 1986-1991 | Ford | Crown Victoria | Ford Crown Victoria Ignition Coil V8 5.0L (8th Vin Digit F) |
| 1984-1996 | Ford | E150 Van | Ford E150 Van Ignition Coil (8th Vin Digit H) V8 5.8L |
| 1984-1996 | Ford | E150 Van | Ford E150 Van Ignition Coil L6 4.9L (8th Vin Digit Y) |
| 1984-1987 | Ford | E150 Van | Ford E150 Van Ignition Coil V8 7.5L (8th Vin Digit L) |
| 1984-1985 | Ford | E150 Van | Ford E150 Van Ignition Coil V8 5.8L (8th Vin Digit G) for Models with |
| 1984-1985 | Ford | E150 Van | Ford E150 Van Ignition Coil V8 5.0L (8th Vin Digit F) |
| 1984-1985 | Ford | E150 Van | Ford E150 Van Ignition Coil L6 4.9L LPG (8th Vin Digit 9) |
| 1986-1996 | Ford | E150 Van | Ford E150 Van Ignition Coil V8 5.0L (8th Vin Digit N) for Models with |
| 1987-1996 | Ford | E150 Van | Ford E150 Van Ignition Coil V8 7.5L (8th Vin Digit G) for Models with |
| 1988 | Ford | E150 Van | Ford E150 Van Ignition Coil L6 4.9L LPG (8th Vin Digit 9) |
| 1995-1996 | Ford | E150 Van | Ford E150 Van Ignition Coil L6 4.9L (8th Vin Digit Z) |
| 1984-1996 | Ford | E250 Van | Ford E250 Van Ignition Coil L6 4.9L (8th Vin Digit Y) |
| 1984-1996 | Ford | E250 Van | Ford E250 Van Ignition Coil (8th Vin Digit H) V8 5.8L |
| 1984-1987 | Ford | E250 Van | Ford E250 Van Ignition Coil V8 7.5L (8th Vin Digit L) |
| 1984-1985 | Ford | E250 Van | Ford E250 Van Ignition Coil V8 5.8L (8th Vin Digit G) for Models with |
| 1984-1985 | Ford | E250 Van | Ford E250 Van Ignition Coil L6 4.9L LPG (8th Vin Digit 9) |
| 1984-1985 | Ford | E250 Van | Ford E250 Van Ignition Coil V8 5.0L (8th Vin Digit F) |
| 1986-1996 | Ford | E250 Van | Ford E250 Van Ignition Coil V8 5.0L (8th Vin Digit N) for Models with |
| 1987-1996 | Ford | E250 Van | Ford E250 Van Ignition Coil V8 7.5L (8th Vin Digit G) for Models with |
| 1988 | Ford | E250 Van | Ford E250 Van Ignition Coil L6 4.9L LPG (8th Vin Digit 9) |
| 1995-1996 | Ford | E250 Van | Ford E250 Van Ignition Coil L6 4.9L (8th Vin Digit Z) |
| 1984-1996 | Ford | E350 Van | Ford E350 Van Ignition Coil (8th Vin Digit H) V8 5.8L |
| 1984-1996 | Ford | E350 Van | Ford E350 Van Ignition Coil L6 4.9L (8th Vin Digit Y) |
| 1984-1987 | Ford | E350 Van | Ford E350 Van Ignition Coil V8 7.5L (8th Vin Digit L) |
| 1984-1985 | Ford | E350 Van | Ford E350 Van Ignition Coil V8 5.0L (8th Vin Digit F) |
| 1984-1985 | Ford | E350 Van | Ford E350 Van Ignition Coil L6 4.9L LPG (8th Vin Digit 9) |
| 1984-1985 | Ford | E350 Van | Ford E350 Van Ignition Coil V8 5.8L (8th Vin Digit G) for Models with |
| 1986-1996 | Ford | E350 Van | Ford E350 Van Ignition Coil V8 5.0L (8th Vin Digit N) for Models with |
| 1987-1996 | Ford | E350 Van | Ford E350 Van Ignition Coil V8 7.5L (8th Vin Digit G) for Models with |
| 1988 | Ford | E350 Van | Ford E350 Van Ignition Coil L6 4.9L LPG (8th Vin Digit 9) |
| 1995-1996 | Ford | E350 Van | Ford E350 Van Ignition Coil L6 4.9L (8th Vin Digit Z) |
| 1983-1984 | Ford | EXP | Ford EXP Ignition Coil L4 1.6L (8th Vin Digit 5) for Models with |
| 1983 | Ford | EXP | Ford EXP Ignition Coil L4 1.6L (8th Vin Digit 2) |
| 1983-1985 | Ford | EXP | Ford EXP Ignition Coil L4 1.6L (8th Vin Digit 4) |
| 1984-1985 | Ford | EXP | Ford EXP Ignition Coil L4 1.6L (8th Vin Digit 8) |
| 1986-1987 | Ford | EXP | Ford EXP Ignition Coil L4 1.9L (8th Vin Digit J) |
| 1986-1988 | Ford | EXP | Ford EXP Ignition Coil L4 1.9L (8th Vin Digit 9) |
| 1982-1985 | Ford | Escort | Ford Escort Ignition Coil L4 1.6L (8th Vin Digit 2 or 4) |
| 1983 | Ford | Escort | Ford Escort Ignition Coil L4 1.6L (8th Vin Digit 7) |
| 1983-1985 | Ford | Escort | Ford Escort Ignition Coil L4 1.6L (8th Vin Digit 5) for Models with |
| 1984-1985 | Ford | Escort | Ford Escort Ignition Coil L4 1.6L Turbo (8th Vin Digit 8) |
| 1985-1990 | Ford | Escort | Ford Escort Ignition Coil L4 1.9L (8th Vin Digit 9) |
| 1986-1990 | Ford | Escort | Ford Escort Ignition Coil L4 1.9L (8th Vin Digit J) |
| 1984-1997 | Ford | F150 Truck | Ford F150 Truck Ignition Coil (8th Vin Digit H) V8 5.8L |
| 1984-1996 | Ford | F150 Truck | Ford F150 Truck Ignition Coil L6 4.9L (8th Vin Digit Y) |
| 1984-1985 | Ford | F150 Truck | Ford F150 Truck Ignition Coil V8 5.0L (8th Vin Digit F) |
| 1984-1985 | Ford | F150 Truck | Ford F150 Truck Ignition Coil V8 5.8L (8th Vin Digit G) for Models with |
| 1984-1985 | Ford | F150 Truck | Ford F150 Truck Ignition Coil L6 4.9L LPG (8th Vin Digit 9) |
| 1985-1996 | Ford | F150 Truck | Ford F150 Truck Ignition Coil V8 5.0L (8th Vin Digit N) for Models with |
| 1993-1995 | Ford | F150 Truck | Ford F150 Truck Lightning Ignition Coil V8 5.8L (8th Vin Digit R) |
| 1994-1996 | Ford | F150 Truck | Ford F150 Truck Ignition Coil L6 4.9L (8th Vin Digit Z) |
| 1984-1997 | Ford | F250 Truck | Ford F250 Truck Ignition Coil (8th Vin Digit H) V8 5.8L |
| 1984-1996 | Ford | F250 Truck | Ford F250 Truck Ignition Coil L6 4.9L (8th Vin Digit Y) |
| 1984-1987 | Ford | F250 Truck | Ford F250 Truck Ignition Coil V8 7.5L (8th Vin Digit L) |
| 1984-1985 | Ford | F250 Truck | Ford F250 Truck Ignition Coil V8 5.0L (8th Vin Digit F) |
| 1984-1985 | Ford | F250 Truck | Ford F250 Truck Ignition Coil V8 5.8L (8th Vin Digit G) for Models with |
| 1984-1985 | Ford | F250 Truck | Ford F250 Truck Ignition Coil L6 4.9L LPG (8th Vin Digit 9) |
| 1985-1996 | Ford | F250 Truck | Ford F250 Truck Ignition Coil V8 5.0L (8th Vin Digit N) for Models with |
| 1988-1997 | Ford | F250 Truck | Ford F250 Truck Ignition Coil V8 7.5L (8th Vin Digit G) for Models with |
| 1994-1996 | Ford | F250 Truck | Ford F250 Truck Ignition Coil L6 4.9L (8th Vin Digit Z) |
| 1984-1997 | Ford | F350 Truck | Ford F350 Truck Ignition Coil (8th Vin Digit H) V8 5.8L |
| 1984-1987 | Ford | F350 Truck | Ford F350 Truck Ignition Coil V8 7.5L (8th Vin Digit L) |
| 1984-1985 | Ford | F350 Truck | Ford F350 Truck Ignition Coil V8 5.0L (8th Vin Digit F) |
| 1984-1985 | Ford | F350 Truck | Ford F350 Truck Ignition Coil V8 5.8L (8th Vin Digit G) for Models with |
| 1985-1996 | Ford | F350 Truck | Ford F350 Truck Ignition Coil V8 5.0L (8th Vin Digit N) for Models with |
| 1988-1997 | Ford | F350 Truck | Ford F350 Truck Ignition Coil V8 7.5L (8th Vin Digit G) for Models with |
| 1984-1986 | Ford | LTD | Ford LTD Ignition Coil V6 3.8L (8th Vin Digit 3) for Models with |
| 1985 | Ford | LTD | Ford LTD Ignition Coil V8 5.0L (8th Vin Digit F) |
| 1986 | Ford | LTD | Ford LTD Ignition Coil L4 2.3L (8th Vin Digit A) for Models with |
| 1983-1984 | Ford | Mustang | Ford Mustang SVO Ignition Coil L4 2.3L Turbo (8th Vin Digit W) |
| 1984-1985 | Ford | Mustang | Ford Mustang SVO Ignition Coil L4 2.3L Turbo (8th Vin Digit T) |
| 1984-1986 | Ford | Mustang | Ford Mustang Ignition Coil V6 3.8L (8th Vin Digit 3) for Models with |
| 1984-1985 | Ford | Mustang | Ford Mustang Ignition Coil V8 5.0L (8th Vin Digit F) |
| 1986 | Ford | Mustang | Ford Mustang Ignition Coil V8 5.0L (8th Vin Digit M) |
| 1986 | Ford | Mustang | Ford Mustang SVO Ignition Coil L4 2.3L Turbo (8th Vin Digit W) |
| 1987-1989 | Ford | Mustang | Ford Mustang Ignition Coil L4 2.3L (8th Vin Digit A) for Models with |
| 1987-1993 | Ford | Mustang | Ford Mustang Ignition Coil V8 5.0L (8th Vin Digit E) for Models with |
| 1993 | Ford | Mustang | Ford Mustang Ignition Coil V8 5.0L (8th Vin Digit D) |
| 1994-1995 | Ford | Mustang | Ford Mustang Cobra Ignition Coil V8 5.0L (8th Vin Digit D) |
| 1994-1995 | Ford | Mustang | Ford Mustang Ignition Coil V8 5.0L (8th Vin Digit T) |
| 1995 | Ford | Mustang | Ford Mustang Cobra Ignition Coil V8 5.8L (8th Vin Digit R) |
| 1990-1992 | Ford | Probe | Ford Probe Ignition Coil V6 3.0L (8th Vin Digit U) |
| 1993-1997 | Ford | Probe | Ford Probe Ignition Coil L4 2.0L (8th Vin Digit A) |
| 1983-1985 | Ford | Ranger | Ford Ranger Ignition Coil V6 2.8L (8th Vin Digit S) for Models with |
| 1985-1988 | Ford | Ranger | Ford Ranger Ignition Coil L4 2.3L (8th Vin Digit A) for Models with |
| 1986-1992 | Ford | Ranger | Ford Ranger Ignition Coil V6 2.9L (8th Vin Digit T) |
| 1988 | Ford | Ranger | Ford Ranger Ignition Coil L4 2.0L (8th Vin Digit C) |
| 1991-1997 | Ford | Ranger | Ford Ranger Ignition Coil V6 3.0L (8th Vin Digit U) |
| 1986-1995 | Ford | Taurus | Ford Taurus Ignition Coil V6 3.0L (8th Vin Digit U) |
| 1986-1991 | Ford | Taurus | Ford Taurus Ignition Coil L4 2.5L (8th Vin Digit D) |
| 1988-1995 | Ford | Taurus | Ford Taurus Ignition Coil V6 3.8L (8th Vin Digit 4) for Models with |
| 1989-1992 | Ford | Taurus | Ford Taurus SHO Ignition Coil V6 3.0L (8th Vin Digit Y) |
| 1993-1995 | Ford | Taurus | Ford Taurus Ignition Coil V6 3.0L (8th Vin Digit 1) |
| 1985-1991 | Ford | Tempo | Ford Tempo Ignition Coil L4 2.3L (8th Vin Digit S) |
| 1985-1994 | Ford | Tempo | Ford Tempo Ignition Coil L4 2.3L (8th Vin Digit X) |
| 1992-1994 | Ford | Tempo | Ford Tempo Ignition Coil V6 3.0L (8th Vin Digit U) |
| 1984-1988 | Ford | Thunderbird | Ford Thunderbird Ignition Coil V8 5.0L (8th Vin Digit F) |
| 1984-1987 | Ford | Thunderbird | Ford Thunderbird Ignition Coil V6 3.8L (8th Vin Digit 3) for Models with |
| 1984-1987 | Ford | Thunderbird | Ford Thunderbird Ignition Coil L4 2.3L (8th Vin Digit W) for Models with |
| 1988-1995 | Ford | Thunderbird | Ford Thunderbird Ignition Coil V6 3.8L (8th Vin Digit 4) for Models with |
| 1988 | Ford | Thunderbird | Ford Thunderbird Ignition Coil L4 2.3L (8th Vin Digit T) |
| 1991-1993 | Ford | Thunderbird | Ford Thunderbird Ignition Coil V8 5.0L (8th Vin Digit T) |
| 1984-1987 | Lincoln | Continental | Lincoln Continental Ignition Coil V8 5.0L (8th Vin Digit F) |
| 1988-1994 | Lincoln | Continental | Lincoln Continental Ignition Coil V6 3.8L (8th Vin Digit 4) for Models with |
| 1984-1987 | Lincoln | Mark VII | Lincoln Mark VII Ignition Coil V8 5.0L (8th Vin Digit F) |
| 1985-1987 | Lincoln | Mark VII | Lincoln Mark VII Ignition Coil V8 5.0L (8th Vin Digit M) |
| 1988-1992 | Lincoln | Mark VII | Lincoln Mark VII Ignition Coil V8 5.0L (8th Vin Digit E) for Models with |
| 1984-1990 | Lincoln | Town Car | Lincoln Town Car Ignition Coil V8 5.0L (8th Vin Digit F) |
| 1994-1997 | Mazda | 626 | Mazda 626 Ignition Coil L4 2.0L (8th Vin Digit C) |
| 1994 | Mazda | B3000 Truck | Mazda B3000 Truck Ignition Coil V6 3.0L (8th Vin Digit U) |
| 1994-1997 | Mazda | MX-6 | Mazda MX-6 Ignition Coil L4 2.0L (8th Vin Digit C) |
| 1983-1984 | Mercury | Capri | Mercury Capri Ignition Coil L4 2.3L Turbo (8th Vin Digit W) |
| 1984-1986 | Mercury | Capri | Mercury Capri Ignition Coil V6 3.8L (8th Vin Digit 3) for Models with |
| 1984-1985 | Mercury | Capri | Mercury Capri Ignition Coil V8 5.0L (8th Vin Digit F) |
| 1986 | Mercury | Capri | Mercury Capri Ignition Coil L4 2.3L (8th Vin Digit A) for Models with |
| 1986 | Mercury | Capri | Mercury Capri Ignition Coil V8 5.0L (8th Vin Digit M) |
| 1985-1991 | Mercury | Colony Park | Mercury Colony Park Ignition Coil V8 5.0L (8th Vin Digit F) |
| 1984-1986 | Mercury | Cougar | Mercury Cougar Ignition Coil L4 2.3L Turbo (8th Vin Digit W) |
| 1984-1987 | Mercury | Cougar | Mercury Cougar Ignition Coil V6 3.8L (8th Vin Digit 3) for Models with |
| 1984-1988 | Mercury | Cougar | Mercury Cougar Ignition Coil V8 5.0L (8th Vin Digit F) |
| 1987-1995 | Mercury | Cougar | Mercury Cougar Ignition Coil V6 3.8L (8th Vin Digit 4) for Models with |
| 1989 | Mercury | Cougar | Mercury Cougar Ignition Coil V6 3.8L Supercharged (8th Vin Digit R) |
| 1991-1993 | Mercury | Cougar | Mercury Cougar Ignition Coil V8 5.0L (8th Vin Digit T) |
| 1984-1991 | Mercury | Grand Marquis | Mercury Grand Marquis Ignition Coil V8 5.0L (8th Vin Digit F) |
| 1982-1983 | Mercury | LN7 | Mercury LN7 Ignition Coil L4 1.6L (8th Vin Digit 4) |
| 1983 | Mercury | LN7 | Mercury LN7 Ignition Coil L4 1.6L (8th Vin Digit 5) for Models with |
| 1982-1985 | Mercury | Lynx | Mercury Lynx Ignition Coil L4 1.6L (8th Vin Digit 2 or 4) |
| 1983-1984 | Mercury | Lynx | Mercury Lynx Ignition Coil L4 1.6L (8th Vin Digit 5) for Models with |
| 1985-1987 | Mercury | Lynx | Mercury Lynx Ignition Coil L4 1.9L (8th Vin Digit 9) |
| 1986-1987 | Mercury | Lynx | Mercury Lynx Ignition Coil L4 1.9L (8th Vin Digit J) |
| 1984 | Mercury | Marquis | Mercury Marquis Ignition Coil L4 2.3L (8th Vin Digit 6) |
| 1984-1986 | Mercury | Marquis | Mercury Marquis Ignition Coil L4 2.3L (8th Vin Digit A) for Models with |
| 1984-1986 | Mercury | Marquis | Mercury Marquis Ignition Coil V6 3.8L (8th Vin Digit 3) for Models with |
| 1985 | Mercury | Marquis | Mercury Marquis Ignition Coil V8 5.0L (8th Vin Digit M) |
| 1986 | Mercury | Sable | Mercury Sable Ignition Coil L4 2.5L (8th Vin Digit D) |
| 1986-1995 | Mercury | Sable | Mercury Sable Ignition Coil V6 3.0L (8th Vin Digit U) |
| 1988-1995 | Mercury | Sable | Mercury Sable Ignition Coil V6 3.8L (8th Vin Digit 4) for Models with |
| 1984 | Mercury | Topaz | Mercury Topaz Ignition Coil L4 2.3L (8th Vin Digit R) |
| 1985-1991 | Mercury | Topaz | Mercury Topaz Ignition Coil L4 2.3L (8th Vin Digit S) |
| 1985-1994 | Mercury | Topaz | Mercury Topaz Ignition Coil L4 2.3L (8th Vin Digit X) |
| 1992-1994 | Mercury | Topaz | Mercury Topaz Ignition Coil V6 3.0L (8th Vin Digit U) |
| 1988-1989 | Merkur | Scorpio | Merkur Scorpio Ignition Coil V6 2.9L (8th Vin Digit V) |
| 1985-1987 | Merkur | XR4Ti | Merkur XR4Ti Ignition Coil L4 2.3L Turbo (8th Vin Digit W) |
| 1988-1989 | Merkur | XR4Ti | Merkur XR4Ti Ignition Coil L4 2.3L Turbo (8th Vin Digit T) |
This part replaces:
Hollander 610-00110
OE # 12321405
Standard Motor Products FD-478T
Part #: 1AECI00073
Order must be placed by 4pm ET
Get it in: 2 - 4 Business Days
Want it sooner? Choose Next Day Air at Checkout