ACERK00006-Ignition Coil
Replaces
Ignition Coil ACDelco D581 - ACERK00006
ACERK00006
AC Delco Ignition Coil Kit: D581
These AC Delco coils over plug ignition coils are genuine GM replacement parts! They are the very same parts you would receive if purchased from your local dealer!
Specifications:
(8) - Brand New AC Delco Ignition Coils
Built to strict quality control standards
Direct replacements
100% factory tested
Fits the following GM 8 cylinder engines as listed:

V8 4.8L, 5.3L, 6.0L, 8.1L

Fits models with square Mitsubishi style coils

Does not fit models with round Delphi style coil
This coil is a distributorless application. Sold as Set of 8.
Our electrical and electronic parts are subject to strict quality control testing. Please ensure proper diagnosis of this item before purchasing as the item cannot be returned once installed or plugged in.
Item Condition: New

Lifetime Warranty
This item is backed by a Limited Lifetime Warranty. In the event this item should fail due to manufacturing defects during intended use, we will exchange the part free of charge (excludes shipping charges) for the original purchaser.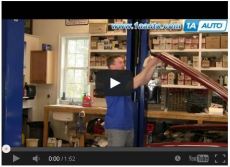 step : Removing the Ignition Coil (0:35)

Disconnect the ignition coil wiring harness
Remove the 10mm bolt from the hose bracket
Pull off the hose bracket
Disconnect the spark plug wire from the ignition coil
Remove the two 10mm bolts from the ignition coil
Pull the ignition coil up and out

step : Installing the New Ignition Coil (1:51)

Push the new ignition coil into place
Insert the two 10mm bolts into the ignition coil
Connect the spark plug wire to the ignition coil
Push the hose bracket into place
Insert the 10mm bolt into the hose bracket
Connect the ignition coil wiring harness
Tools needed for replacement:
Ratchets & Related

Socket Extensions
Ratchet

Sockets - Metric

10mm Socket
Vehicle Fit
| Year | Make | Model | Description |
| --- | --- | --- | --- |
| 2002-2005 | Cadillac | Escalade | Cadillac Escalade for Models with Square Style Coil Ignition Coil 8 Piece Set ACDelco D581 |
| 2003-2005 | Cadillac | Escalade ESV | Cadillac Escalade ESV for Models with Square Style Coil Ignition Coil 8 Piece Set ACDelco D581 |
| 2002-2005 | Cadillac | Escalade EXT | Cadillac Escalade EXT for Models with Square Style Coil Ignition Coil 8 Piece Set ACDelco D581 |
| 2002-2004 | Chevy | Avalanche 1500 | Chevy Avalanche 1500 for Models with Square Style Coil Ignition Coil 8 Piece Set ACDelco D581 |
| 2005-2006 | Chevy | Avalanche 1500 | Chevy Avalanche 1500 for Models with Square Style Coil Ignition Coil 8 Piece Set V8 5.3L (8th Vin Digit Z) ACDelco D581 |
| 2003-2006 | Chevy | Avalanche 2500 | Chevy Avalanche 2500 for Models with Square Style Coil Ignition Coil 8 Piece Set ACDelco D581 |
| 2003-2007 | Chevy | Express 1500 Van | Chevy Express 1500 Van for Models with Square Style Coil Ignition Coil 8 Piece Set ACDelco D581 |
| 2003-2007 | Chevy | Express 2500 Van | Chevy Express 2500 Van for Models with Square Style Coil Ignition Coil 8 Piece Set V8 4.8L ACDelco D581 |
| 2003-2005 | Chevy | Express 2500 Van | Chevy Express 2500 Van for Models with Square Style Coil Ignition Coil 8 Piece Set V8 5.3L ACDelco D581 |
| 2003-2007 | Chevy | Express 2500 Van | Chevy Express 2500 Van for Models with Square Style Coil Ignition Coil 8 Piece Set V8 6.0L ACDelco D581 |
| 2003-2005 | Chevy | Express 3500 Van | Chevy Express 3500 Van for Models with Square Style Coil Ignition Coil 8 Piece Set ACDelco D581 |
| 2006-2007 | Chevy | Express 3500 Van | Chevy Express 3500 Van for Models with Square Style Coil Ignition Coil 8 Piece Set (excluding Diesel Engines) ACDelco D581 |
| 2006 | Chevy | Impala | Chevy Impala SS for Models with Square Style Coil Ignition Coil 8 Piece Set V8 5.3L ACDelco D581 |
| 2006 | Chevy | Monte Carlo | Chevy Monte Carlo SS for Models with Square Style Coil Ignition Coil 8 Piece Set V8 5.3L ACDelco D581 |
| 2003-2004 | Chevy | SSR | Chevy SSR for Models with Square Style Coil Ignition Coil 8 Piece Set ACDelco D581 |
| 1999-2006 | Chevy | Silverado 1500 | Chevy Silverado 1500 for Models with Square Style Coil Ignition Coil 8 Piece Set V8 4.8L ACDelco D581 |
| 1999-2006 | Chevy | Silverado 1500 | Chevy Silverado 1500 for Models with Square Style Coil Ignition Coil 8 Piece Set V8 5.3L ACDelco D581 |
| 1999-2006 | Chevy | Silverado 1500 | Chevy Silverado 1500 for Models with Square Style Coil Ignition Coil 8 Piece Set V8 6.0L ACDelco D581 |
| 2007 | Chevy | Silverado 1500 Classic | Chevy Silverado 1500 Classic for Models with Square Style Coil Ignition Coil 8 Piece Set V8 6.0L ACDelco D581 |
| 2007 | Chevy | Silverado 1500 Classic | Chevy Silverado 1500 Classic for Models with Square Style Coil Ignition Coil 8 Piece Set V8 4.8L ACDelco D581 |
| 2007 | Chevy | Silverado 1500 Classic | Chevy Silverado 1500 Classic for Models with Square Style Coil Ignition Coil 8 Piece Set V8 5.3L ACDelco D581 |
| 2001-2003 | Chevy | Silverado 1500 HD | Chevy Silverado 1500 HD for Models with Square Style Coil Ignition Coil 8 Piece Set ACDelco D581 |
| 2005-2006 | Chevy | Silverado 1500 HD | Chevy Silverado 1500 HD for Models with Square Style Coil Ignition Coil 8 Piece Set ACDelco D581 |
| 1999-2004 | Chevy | Silverado 2500 | Chevy Silverado 2500 for Models with Square Style Coil Ignition Coil 8 Piece Set V8 6.0L ACDelco D581 |
| 2001-2006 | Chevy | Silverado 2500 HD | Chevy Silverado 2500 HD for Models with Square Style Coil Ignition Coil 8 Piece Set (excluding Diesel Engines) ACDelco D581 |
| 2007 | Chevy | Silverado 2500 HD Classic | Chevy Silverado 2500 HD Classic for Models with Square Style Coil Ignition Coil 8 Piece Set (excluding Diesel Engines) ACDelco D581 |
| 2001-2006 | Chevy | Silverado 3500 | Chevy Silverado 3500 for Models with Square Style Coil Ignition Coil 8 Piece Set V8 6.0L ACDelco D581 |
| 2003-2006 | Chevy | Silverado 3500 | Chevy Silverado 3500 for Models with Square Style Coil Ignition Coil 8 Piece Set V8 8.1L ACDelco D581 |
| 2007 | Chevy | Silverado 3500 Classic | Chevy Silverado 3500 Classic for Models with Square Style Coil Ignition Coil 8 Piece Set V8 6.0L ACDelco D581 |
| 2000-2006 | Chevy | Suburban 1500 | Chevy Suburban 1500 for Models with Square Style Coil Ignition Coil 8 Piece Set ACDelco D581 |
| 2000-2006 | Chevy | Suburban 2500 | Chevy Suburban 2500 for Models with Square Style Coil Ignition Coil 8 Piece Set ACDelco D581 |
| 2000 | Chevy | Tahoe | Chevy Tahoe for Models with Square Style Coil Ignition Coil 8 Piece Set (excluding Z71 Models) ACDelco D581 |
| 2001-2006 | Chevy | Tahoe | Chevy Tahoe for Models with Square Style Coil Ignition Coil 8 Piece Set ACDelco D581 |
| 2006 | Chevy | Trailblazer | Chevy Trailblazer SS for Models with Square Style Coil Ignition Coil 8 Piece Set V8 6.0L ACDelco D581 |
| 2003-2004 | Chevy | Trailblazer EXT | Chevy Trailblazer EXT for Models with Square Style Coil Ignition Coil 8 Piece Set V8 5.3L ACDelco D581 |
| 2003-2004 | GMC | Envoy XL | GMC Envoy XL for Models with Square Style Coil Ignition Coil 8 Piece Set V8 5.3L ACDelco D581 |
| 2003-2007 | GMC | Savana 1500 Van | GMC Savana 1500 Van for Models with Square Style Coil Ignition Coil 8 Piece Set ACDelco D581 |
| 2003-2007 | GMC | Savana 2500 Van | GMC Savana 2500 Van for Models with Square Style Coil Ignition Coil 8 Piece Set V8 4.8L ACDelco D581 |
| 2003-2005 | GMC | Savana 2500 Van | GMC Savana 2500 Van for Models with Square Style Coil Ignition Coil 8 Piece Set V8 5.3L ACDelco D581 |
| 2003-2007 | GMC | Savana 2500 Van | GMC Savana 2500 Van for Models with Square Style Coil Ignition Coil 8 Piece Set V8 6.0L ACDelco D581 |
| 2003-2005 | GMC | Savana 3500 Van | GMC Savana 3500 Van for Models with Square Style Coil Ignition Coil 8 Piece Set ACDelco D581 |
| 2006-2007 | GMC | Savana 3500 Van | GMC Savana 3500 Van for Models with Square Style Coil Ignition Coil 8 Piece Set (excluding Diesel Engines) ACDelco D581 |
| 1999-2006 | GMC | Sierra 1500 | GMC Sierra 1500 for Models with Square Style Coil Ignition Coil 8 Piece Set V8 4.8L ACDelco D581 |
| 1999-2006 | GMC | Sierra 1500 | GMC Sierra 1500 for Models with Square Style Coil Ignition Coil 8 Piece Set V8 6.0L ACDelco D581 |
| 1999-2006 | GMC | Sierra 1500 | GMC Sierra 1500 for Models with Square Style Coil Ignition Coil 8 Piece Set V8 5.3L ACDelco D581 |
| 2007 | GMC | Sierra 1500 Classic | GMC Sierra 1500 Classic for Models with Square Style Coil Ignition Coil 8 Piece Set V8 6.0L ACDelco D581 |
| 2007 | GMC | Sierra 1500 Classic | GMC Sierra 1500 Classic for Models with Square Style Coil Ignition Coil 8 Piece Set V8 4.8L ACDelco D581 |
| 2007 | GMC | Sierra 1500 Classic | GMC Sierra 1500 Classic for Models with Square Style Coil Ignition Coil 8 Piece Set V8 5.3L ACDelco D581 |
| 2001-2003 | GMC | Sierra 1500 HD | GMC Sierra 1500 HD for Models with Square Style Coil Ignition Coil 8 Piece Set ACDelco D581 |
| 2005-2006 | GMC | Sierra 1500 HD | GMC Sierra 1500 HD for Models with Square Style Coil Ignition Coil 8 Piece Set ACDelco D581 |
| 2007 | GMC | Sierra 1500 HD Classic | GMC Sierra 1500 HD Classic for Models with Square Style Coil Ignition Coil 8 Piece Set ACDelco D581 |
| 1999-2004 | GMC | Sierra 2500 | GMC Sierra 2500 for Models with Square Style Coil Ignition Coil 8 Piece Set V8 6.0L ACDelco D581 |
| 2001-2006 | GMC | Sierra 2500 HD | GMC Sierra 2500 HD for Models with Square Style Coil Ignition Coil 8 Piece Set (excluding Diesel Engines) ACDelco D581 |
| 2007 | GMC | Sierra 2500 HD Classic | GMC Sierra 2500 HD Classic for Models with Square Style Coil Ignition Coil 8 Piece Set (excluding Diesel Engines) ACDelco D581 |
| 2001-2006 | GMC | Sierra 3500 | GMC Sierra 3500 for Models with Square Style Coil Ignition Coil 8 Piece Set V8 6.0L ACDelco D581 |
| 2003-2006 | GMC | Sierra 3500 | GMC Sierra 3500 for Models with Square Style Coil Ignition Coil 8 Piece Set V8 8.1L ACDelco D581 |
| 2007 | GMC | Sierra 3500 Classic | GMC Sierra 3500 Classic for Models with Square Style Coil Ignition Coil 8 Piece Set V8 6.0L ACDelco D581 |
| 2000 | GMC | Yukon | GMC Yukon for Models with Square Style Coil Ignition Coil 8 Piece Set (excluding Denali Models) ACDelco D581 |
| 2001-2006 | GMC | Yukon | GMC Yukon for Models with Square Style Coil Ignition Coil 8 Piece Set ACDelco D581 |
| 2000-2006 | GMC | Yukon XL 1500 | GMC Yukon XL 1500 for Models with Square Style Coil Ignition Coil 8 Piece Set ACDelco D581 |
| 2000-2006 | GMC | Yukon XL 2500 | GMC Yukon XL 2500 for Models with Square Style Coil Ignition Coil 8 Piece Set ACDelco D581 |
| 2003-2007 | Hummer | H2 | Hummer H2 for Models with Square Style Coil Ignition Coil 8 Piece Set ACDelco D581 |
This part replaces:
ACDelco D581
Hollander 610-02828
OE # 12558693
OE # D581
Part #: ACERK00006
Order must be placed by 4pm ET
Get it in: 2 - 4 Business Days
Want it sooner? Choose Next Day Air at Checkout

Brand #: D581