1AACD00043-Idler Pulley
Replaces
Idler Pulley ACDelco 38006 - 1AACD00043
1AACD00043
AC DELCO 38006 [
BELT IDLER PULLEY
]
This AC DELCO idler pulley is a new part. It is the same piece that you would receive if you purchased it from your local GM dealer.
It is just what you need to bring your accessory belt system back to good working order!
Specifications:
New, AC DELCO PART
Engine mounted
Direct replacement
Replaces one of many dealer part numbers including: 12561092, 53008642, 53013324AA, E8ZE 6B209 BA, E8ZE6B209BA, 88909587, 97222021, 38006
Built to strict quality control standards
100% tested prior to leaving the factory
Item Condition: New

Lifetime Warranty
This item is backed by a Limited Lifetime Warranty. In the event this item should fail due to manufacturing defects during intended use, we will exchange the part free of charge (excludes shipping charges) for the original purchaser.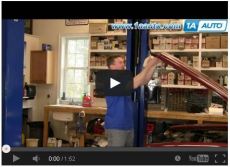 Tools needed for replacement:
Ratchets & Related

3/8 Inch Drive Ratchet

Sockets - Metric

13mm Socket

Wrenches - Metric

8mm Wrench
Idler pulley
This pulley is not listed correctly from some sources as the proper replacement, but it is. It is the one on the spring tensioner arm on my vehicle. From everything I could see it was the same dimensions, the only difference was the bearing seals were black, not orange, but still stamped Made in Canada. PS folks: Important - the bolt holding it on my Chevy truck used REVERSE threads. So if you are having a hard time getting that bolt out, try the other way!
Customer Q&A
Ask a question to 1A Auto customers who purchased the product
No questions have been asked about this item.
| Year | Make | Model | Description |
| --- | --- | --- | --- |
| 2008-2009 | Buick | Allure | Buick Allure Idler Pulley V8 5.3L (8th Vin Digit C) ACDelco 38006 |
| 2008-2009 | Buick | LaCrosse | Buick LaCrosse Idler Pulley V8 5.3L (8th Vin Digit C) ACDelco 38006 |
| 2009-2011 | Buick | Lucerne | Buick Lucerne Idler Pulley V6 3.9L (8th Vin Digit M) ACDelco 38006 |
| 2009-2010 | Buick | Lucerne | Buick Lucerne Idler Pulley V6 3.9L (8th Vin Digit 1) ACDelco 38006 |
| 1996-1997 | Buick | Riviera | Buick Riviera Idler Pulley V6 3.8L (8th Vin Digit K) ACDelco 38006 |
| 1996-1997 | Buick | Riviera | Buick Riviera Idler Pulley for V6 3.8L (8th Vin Digit 1) ACDelco 38006 |
| 2006-2007 | Buick | Terraza | Buick Terraza Idler Pulley V6 3.9L (8th Vin Digit 1) ACDelco 38006 |
| 2007 | Buick | Terraza | Buick Terraza Idler Pulley V6 3.9L (8th Vin Digit W) ACDelco 38006 |
| 1987-1989 | Chevy | Astro | Chevy Astro Idler Pulley V6 4.3L (8th Vin Digit Z) ACDelco 38006 |
| 1989-1994 | Chevy | Blazer Full Size | Chevy Blazer Full Size Idler Pulley V8 5.7L (8th Vin Digit K) ACDelco 38006 |
| 1988-1994 | Chevy | Blazer S10 | Chevy Blazer S10 Idler Pulley V6 4.3L (8th Vin Digit Z) ACDelco 38006 |
| 1992-1995 | Chevy | Blazer S10 | Chevy Blazer S10 Idler Pulley V6 4.3L (8th Vin Digit W) ACDelco 38006 |
| 1988-1995 | Chevy | C1500 Truck | Chevy C1500 Truck Idler Pulley V6 4.3L (8th Vin Digit Z) ACDelco 38006 |
| 1988-1995 | Chevy | C1500 Truck | Chevy C1500 Truck Idler Pulley V8 5.0L (8th Vin Digit H) ACDelco 38006 |
| 1988-1995 | Chevy | C1500 Truck | Chevy C1500 Truck Idler Pulley V8 5.7L (8th Vin Digit K) ACDelco 38006 |
| 1988-1995 | Chevy | C2500 Truck | Chevy C2500 Truck Idler Pulley V6 4.3L (8th Vin Digit Z) ACDelco 38006 |
| 1988-1995 | Chevy | C2500 Truck | Chevy C2500 Truck Idler Pulley V8 5.0L (8th Vin Digit H) ACDelco 38006 |
| 1988-1995 | Chevy | C2500 Truck | Chevy C2500 Truck Idler Pulley V8 5.7L (8th Vin Digit K) ACDelco 38006 |
| 1992-1995 | Chevy | C3500 Truck | Chevy C3500 Truck Idler Pulley V8 5.7L (8th Vin Digit K) ACDelco 38006 |
| 1995-2002 | Chevy | Camaro | Chevy Camaro Idler Pulley V6 3.8L (8th Vin Digit K) ACDelco 38006 |
| 1998-2000 | Chevy | Camaro | Chevy Camaro Idler Pulley for V8 5.7L (8th Vin Digit G) ACDelco 38006 |
| 1992 | Chevy | Corvette | Chevy Corvette Idler Pulley (8th Vin Digit J) V8 5.7L ACDelco 38006 |
| 1997-2004 | Chevy | Corvette | Chevy Corvette Idler Pulley for V8 5.7L (8th Vin Digit G) ACDelco 38006 |
| 2001-2004 | Chevy | Corvette | Chevy Corvette Idler Pulley V8 5.7L (8th Vin Digit S) ACDelco 38006 |
| 1987-1991 | Chevy | G10 | Chevy G10 Idler Pulley V8 5.0L (8th Vin Digit H) ACDelco 38006 |
| 1987-1991 | Chevy | G10 | Chevy G10 Idler Pulley V6 4.3L (8th Vin Digit Z) ACDelco 38006 |
| 1988-1991 | Chevy | G10 | Chevy G10 Idler Pulley V8 5.7L (8th Vin Digit K) ACDelco 38006 |
| 1987-1991 | Chevy | G20 | Chevy G20 Idler Pulley V6 4.3L (8th Vin Digit Z) ACDelco 38006 |
| 1987-1991 | Chevy | G20 | Chevy G20 Idler Pulley V8 5.0L (8th Vin Digit H) ACDelco 38006 |
| 1988-1991 | Chevy | G20 | Chevy G20 Idler Pulley V8 5.7L (8th Vin Digit K) ACDelco 38006 |
| 1987 | Chevy | G30 | Chevy G30 Idler Pulley for V8 5.7L (8th Vin Digit M) ACDelco 38006 |
| 1987-1991 | Chevy | G30 | Chevy G30 Idler Pulley V6 4.3L (8th Vin Digit Z) ACDelco 38006 |
| 1988-1991 | Chevy | G30 | Chevy G30 Idler Pulley V8 5.7L (8th Vin Digit K) ACDelco 38006 |
| 2006 | Chevy | Impala | Chevy Impala Idler Pulley V6 3.9L (8th Vin Digit 1) ACDelco 38006 |
| 2006-2011 | Chevy | Impala | Chevy Impala Idler Pulley V6 3.5L (8th Vin Digit K) ACDelco 38006 |
| 2006-2009 | Chevy | Impala | Chevy Impala Idler Pulley V8 5.3L (8th Vin Digit C) ACDelco 38006 |
| 2006-2010 | Chevy | Impala | Chevy Impala Idler Pulley V6 3.5L (8th Vin Digit N) ACDelco 38006 |
| 2007 | Chevy | Impala | Chevy Impala Idler Pulley V6 3.9L (8th Vin Digit R) ACDelco 38006 |
| 2008 | Chevy | Impala | Chevy Impala Idler Pulley V6 3.9L (8th Vin Digit 3) ACDelco 38006 |
| 2009-2011 | Chevy | Impala | Chevy Impala Idler Pulley V6 3.9L (8th Vin Digit M) ACDelco 38006 |
| 1988-1995 | Chevy | K1500 Truck | Chevy K1500 Truck Idler Pulley V8 5.7L (8th Vin Digit K) ACDelco 38006 |
| 1988-1995 | Chevy | K1500 Truck | Chevy K1500 Truck Idler Pulley V8 5.0L (8th Vin Digit H) ACDelco 38006 |
| 1988-1995 | Chevy | K1500 Truck | Chevy K1500 Truck Idler Pulley V6 4.3L (8th Vin Digit Z) ACDelco 38006 |
| 1988-1995 | Chevy | K2500 Truck | Chevy K2500 Truck Idler Pulley V6 4.3L (8th Vin Digit Z) ACDelco 38006 |
| 1988-1995 | Chevy | K2500 Truck | Chevy K2500 Truck Idler Pulley V8 5.0L (8th Vin Digit H) ACDelco 38006 |
| 1988-1995 | Chevy | K2500 Truck | Chevy K2500 Truck Idler Pulley V8 5.7L (8th Vin Digit K) ACDelco 38006 |
| 1992-1995 | Chevy | K3500 Truck | Chevy K3500 Truck Idler Pulley V8 5.7L (8th Vin Digit K) ACDelco 38006 |
| 1998 | Chevy | Lumina | Chevy Lumina Idler Pulley V6 3.8L (8th Vin Digit K) ACDelco 38006 |
| 1997-1999 | Chevy | Malibu | Chevy Malibu Idler Pulley V6 3.1L (8th Vin Digit M) ACDelco 38006 |
| 1999-2001 | Chevy | Malibu | Chevy Malibu Idler Pulley for V6 3.1L (8th Vin Digit J) ACDelco 38006 |
| 2006-2007 | Chevy | Malibu | Chevy Malibu Idler Pulley V6 3.9L (8th Vin Digit 1) ACDelco 38006 |
| 2007-2010 | Chevy | Malibu | Chevy Malibu Idler Pulley V6 3.5L (8th Vin Digit N) ACDelco 38006 |
| 2010 | Chevy | Malibu | Chevy Malibu Idler Pulley V6 3.5L (8th Vin Digit K) ACDelco 38006 |
| 1998 | Chevy | Monte Carlo | Chevy Monte Carlo Idler Pulley V6 3.8L (8th Vin Digit K) ACDelco 38006 |
| 2006 | Chevy | Monte Carlo | Chevy Monte Carlo Idler Pulley V6 3.9L (8th Vin Digit 1) ACDelco 38006 |
| 2006-2007 | Chevy | Monte Carlo | Chevy Monte Carlo Idler Pulley V8 5.3L (8th Vin Digit C) ACDelco 38006 |
| 2006-2007 | Chevy | Monte Carlo | Chevy Monte Carlo Idler Pulley V6 3.5L (8th Vin Digit N) ACDelco 38006 |
| 2006-2007 | Chevy | Monte Carlo | Chevy Monte Carlo Idler Pulley V6 3.5L (8th Vin Digit K) ACDelco 38006 |
| 1988-1995 | Chevy | S10 Pickup | Chevy S10 Pickup Idler Pulley V6 4.3L (8th Vin Digit Z) ACDelco 38006 |
| 1994-1995 | Chevy | S10 Pickup | Chevy S10 Pickup Idler Pulley V6 4.3L (8th Vin Digit W) ACDelco 38006 |
| 1992-1995 | Chevy | Suburban C1500 | Chevy Suburban C1500 Idler Pulley V8 5.7L (8th Vin Digit K) ACDelco 38006 |
| 1992-1995 | Chevy | Suburban C2500 | Chevy Suburban C2500 Idler Pulley V8 5.7L (8th Vin Digit K) ACDelco 38006 |
| 1992-1995 | Chevy | Suburban K1500 | Chevy Suburban K1500 Idler Pulley V8 5.7L (8th Vin Digit K) ACDelco 38006 |
| 1992-1995 | Chevy | Suburban K2500 | Chevy Suburban K2500 Idler Pulley V8 5.7L (8th Vin Digit K) ACDelco 38006 |
| 1989-1991 | Chevy | Suburban R1500 | Chevy Suburban R1500 Idler Pulley V8 5.7L (8th Vin Digit K) ACDelco 38006 |
| 1989-1991 | Chevy | Suburban R2500 | Chevy Suburban R2500 Idler Pulley V8 5.7L (8th Vin Digit K) ACDelco 38006 |
| 1989-1991 | Chevy | Suburban V1500 | Chevy Suburban V1500 Idler Pulley V8 5.7L (8th Vin Digit K) ACDelco 38006 |
| 1989-1991 | Chevy | Suburban V2500 | Chevy Suburban V2500 Idler Pulley V8 5.7L (8th Vin Digit K) ACDelco 38006 |
| 1995 | Chevy | Tahoe | Chevy Tahoe Idler Pulley V8 5.7L (8th Vin Digit K) ACDelco 38006 |
| 2006-2009 | Chevy | Uplander | Chevy Uplander Idler Pulley V6 3.9L (8th Vin Digit 1) ACDelco 38006 |
| 2007-2008 | Chevy | Uplander | Chevy Uplander Idler Pulley V6 3.9L (8th Vin Digit W) ACDelco 38006 |
| 1999-2001 | Chevy | Venture | Chevy Venture Idler Pulley V6 3.4L (8th Vin Digit E) ACDelco 38006 |
| 1990-1996 | Ford | Bronco | Ford Bronco Idler Pulley (8th Vin Digit H) V8 5.8L ACDelco 38006 |
| 1998 | Ford | Contour | Ford Contour Idler Pulley L4 2.0L (8th Vin Digit Z) ACDelco 38006 |
| 1998 | Ford | Contour | Ford Contour Idler Pulley L4 2.0L (8th Vin Digit 3) ACDelco 38006 |
| 1992-1999 | Ford | Crown Victoria | Ford Crown Victoria Idler Pulley V8 4.6L (8th Vin Digit W) ACDelco 38006 |
| 1996 | Ford | Crown Victoria | Ford Crown Victoria Idler Pulley V8 4.6L (8th Vin Digit 6) ACDelco 38006 |
| 1996-1999 | Ford | Crown Victoria | Ford Crown Victoria Idler Pulley for V8 4.6L (8th Vin Digit 9) ACDelco 38006 |
| 1990-1995 | Ford | E150 Van | Ford E150 Van Idler Pulley (8th Vin Digit H) V8 5.8L ACDelco 38006 |
| 1990-1994 | Ford | E150 Van | Ford E150 Van Idler Pulley V8 5.0L (8th Vin Digit N) ACDelco 38006 |
| 1990-1995 | Ford | E250 Van | Ford E250 Van Idler Pulley (8th Vin Digit H) V8 5.8L ACDelco 38006 |
| 1990-1991 | Ford | E250 Van | Ford E250 Van Idler Pulley V8 5.0L (8th Vin Digit N) ACDelco 38006 |
| 1990-1995 | Ford | E350 Van | Ford E350 Van Idler Pulley (8th Vin Digit H) V8 5.8L ACDelco 38006 |
| 2008 | Ford | Escape | Ford Escape Idler Pulley V6 3.0L (8th Vin Digit 1) ACDelco 38006 |
| 1999-2002 | Ford | Escort | Ford Escort ZX2 Idler Pulley L4 2.0L (8th Vin Digit 3) ACDelco 38006 |
| 2003 | Ford | Escort | Ford Escort Idler Pulley L4 2.0L (8th Vin Digit 3) ACDelco 38006 |
| 1990-1993 | Ford | F150 Truck | Ford F150 Truck Idler Pulley (8th Vin Digit H) V8 5.8L ACDelco 38006 |
| 1993 | Ford | F150 Truck | Ford F150 Truck Idler Pulley V8 5.8L (8th Vin Digit R) ACDelco 38006 |
| 1990-1993 | Ford | F250 Truck | Ford F250 Truck Idler Pulley (8th Vin Digit H) V8 5.8L ACDelco 38006 |
| 1990-1993 | Ford | F350 Truck | Ford F350 Truck Idler Pulley (8th Vin Digit H) V8 5.8L ACDelco 38006 |
| 2006-2009 | Ford | Fusion | Ford Fusion Idler Pulley V6 3.0L (8th Vin Digit 1) ACDelco 38006 |
| 2008-2009 | Ford | Fusion | Ford Fusion Idler Pulley L4 2.3L (8th Vin Digit Z) ACDelco 38006 |
| 1996-2002 | Ford | Mustang | Ford Mustang Idler Pulley V8 4.6L (8th Vin Digit X) ACDelco 38006 |
| 1996-2001 | Ford | Mustang | Ford Mustang Idler Pulley V8 4.6L (8th Vin Digit V) ACDelco 38006 |
| 1998-2004 | Ford | Mustang | Ford Mustang Idler Pulley V6 3.8L (8th Vin Digit 4) ACDelco 38006 |
| 1994-1997 | Ford | Thunderbird | Ford Thunderbird Idler Pulley V8 4.6L (8th Vin Digit W) ACDelco 38006 |
| 1988-1995 | GMC | C1500 Truck | GMC C1500 Truck Idler Pulley V8 5.0L (8th Vin Digit H) ACDelco 38006 |
| 1988-1995 | GMC | C1500 Truck | GMC C1500 Truck Idler Pulley V6 4.3L (8th Vin Digit Z) ACDelco 38006 |
| 1988-1995 | GMC | C1500 Truck | GMC C1500 Truck Idler Pulley V8 5.7L (8th Vin Digit K) ACDelco 38006 |
| 1988-1995 | GMC | C2500 Truck | GMC C2500 Truck Idler Pulley V8 5.7L (8th Vin Digit K) ACDelco 38006 |
| 1988-1995 | GMC | C2500 Truck | GMC C2500 Truck Idler Pulley V6 4.3L (8th Vin Digit Z) ACDelco 38006 |
| 1988-1995 | GMC | C2500 Truck | GMC C2500 Truck Idler Pulley V8 5.0L (8th Vin Digit H) ACDelco 38006 |
| 1992-1995 | GMC | C3500 Truck | GMC C3500 Truck Idler Pulley V8 5.7L (8th Vin Digit K) ACDelco 38006 |
| 1987-1991 | GMC | G1500 | GMC G1500 Idler Pulley V8 5.0L (8th Vin Digit H) ACDelco 38006 |
| 1987-1991 | GMC | G1500 | GMC G1500 Idler Pulley V6 4.3L (8th Vin Digit Z) ACDelco 38006 |
| 1988-1991 | GMC | G1500 | GMC G1500 Idler Pulley V8 5.7L (8th Vin Digit K) ACDelco 38006 |
| 1987-1991 | GMC | G2500 | GMC G2500 Idler Pulley V8 5.0L (8th Vin Digit H) ACDelco 38006 |
| 1987-1991 | GMC | G2500 | GMC G2500 Idler Pulley V6 4.3L (8th Vin Digit Z) ACDelco 38006 |
| 1988-1991 | GMC | G2500 | GMC G2500 Idler Pulley V8 5.7L (8th Vin Digit K) ACDelco 38006 |
| 1987 | GMC | G3500 | GMC G3500 Idler Pulley for V8 5.7L (8th Vin Digit M) ACDelco 38006 |
| 1987-1991 | GMC | G3500 | GMC G3500 Idler Pulley V6 4.3L (8th Vin Digit Z) ACDelco 38006 |
| 1988-1991 | GMC | G3500 | GMC G3500 Idler Pulley V8 5.7L (8th Vin Digit K) ACDelco 38006 |
| 1989-1991 | GMC | Jimmy Full Size | GMC Jimmy Full Size Idler Pulley V8 5.7L (8th Vin Digit K) ACDelco 38006 |
| 1988-1994 | GMC | Jimmy S-15 | GMC Jimmy S-15 Idler Pulley V6 4.3L (8th Vin Digit Z) ACDelco 38006 |
| 1992-1995 | GMC | Jimmy S-15 | GMC Jimmy S-15 Idler Pulley V6 4.3L (8th Vin Digit W) ACDelco 38006 |
| 1988-1995 | GMC | K1500 Truck | GMC K1500 Truck Idler Pulley V8 5.7L (8th Vin Digit K) ACDelco 38006 |
| 1988-1995 | GMC | K1500 Truck | GMC K1500 Truck Idler Pulley V6 4.3L (8th Vin Digit Z) ACDelco 38006 |
| 1988-1995 | GMC | K1500 Truck | GMC K1500 Truck Idler Pulley V8 5.0L (8th Vin Digit H) ACDelco 38006 |
| 1988-1995 | GMC | K2500 Truck | GMC K2500 Truck Idler Pulley V8 5.7L (8th Vin Digit K) ACDelco 38006 |
| 1988-1995 | GMC | K2500 Truck | GMC K2500 Truck Idler Pulley V6 4.3L (8th Vin Digit Z) ACDelco 38006 |
| 1988-1995 | GMC | K2500 Truck | GMC K2500 Truck Idler Pulley V8 5.0L (8th Vin Digit H) ACDelco 38006 |
| 1988-1995 | GMC | K3500 Truck | GMC K3500 Truck Idler Pulley V8 5.7L (8th Vin Digit K) ACDelco 38006 |
| 1988-1990 | GMC | S-15 Pickup | GMC S-15 Pickup Idler Pulley V6 4.3L (8th Vin Digit Z) ACDelco 38006 |
| 1991-1995 | GMC | S-15 Sonoma | GMC S-15 Sonoma Idler Pulley V6 4.3L (8th Vin Digit Z) ACDelco 38006 |
| 1992-1995 | GMC | S-15 Sonoma | GMC S-15 Sonoma Idler Pulley V6 4.3L (8th Vin Digit W) ACDelco 38006 |
| 1987-1989 | GMC | Safari | GMC Safari Idler Pulley V6 4.3L (8th Vin Digit Z) ACDelco 38006 |
| 1992-1995 | GMC | Suburban C1500 | GMC Suburban C1500 Idler Pulley V8 5.7L (8th Vin Digit K) ACDelco 38006 |
| 1992-1995 | GMC | Suburban C2500 | GMC Suburban C2500 Idler Pulley V8 5.7L (8th Vin Digit K) ACDelco 38006 |
| 1992-1995 | GMC | Suburban K1500 | GMC Suburban K1500 Idler Pulley V8 5.7L (8th Vin Digit K) ACDelco 38006 |
| 1992-1995 | GMC | Suburban K2500 | GMC Suburban K2500 Idler Pulley V8 5.7L (8th Vin Digit K) ACDelco 38006 |
| 1989-1991 | GMC | Suburban R1500 | GMC Suburban R1500 Idler Pulley V8 5.7L (8th Vin Digit K) ACDelco 38006 |
| 1989-1991 | GMC | Suburban R2500 | GMC Suburban R2500 Idler Pulley V8 5.7L (8th Vin Digit K) ACDelco 38006 |
| 1989-1991 | GMC | Suburban V1500 | GMC Suburban V1500 Idler Pulley V8 5.7L (8th Vin Digit K) ACDelco 38006 |
| 1989-1991 | GMC | Suburban V2500 | GMC Suburban V2500 Idler Pulley V8 5.7L (8th Vin Digit K) ACDelco 38006 |
| 1991 | GMC | Syclone | GMC Syclone Idler Pulley V6 4.3L (8th Vin Digit Z) ACDelco 38006 |
| 1992-1993 | GMC | Typhoon | GMC Typhoon Idler Pulley V6 4.3L (8th Vin Digit Z) ACDelco 38006 |
| 1992-1995 | GMC | Yukon | GMC Yukon Idler Pulley V8 5.7L (8th Vin Digit K) ACDelco 38006 |
| 1995-1996 | Hummer | H1 | Hummer H1 Idler Pulley V8 5.7L ACDelco 38006 |
| 2002-2005 | Jeep | Liberty | Jeep Liberty Idler Pulley L4 2.4L (8th Vin Digit 1) ACDelco 38006 |
| 2003-2006 | Jeep | Wrangler | Jeep Wrangler Idler Pulley L4 2.4L (8th Vin Digit 1) ACDelco 38006 |
| 1995-2002 | Lincoln | Continental | Lincoln Continental Idler Pulley V8 4.6L (8th Vin Digit V) ACDelco 38006 |
| 1993-1998 | Lincoln | Mark VIII | Lincoln Mark VIII Idler Pulley V8 4.6L (8th Vin Digit V) ACDelco 38006 |
| 1991-1999 | Lincoln | Town Car | Lincoln Town Car Idler Pulley V8 4.6L (8th Vin Digit W) ACDelco 38006 |
| 2006 | Lincoln | Zephyr | Lincoln Zephyr Idler Pulley V6 3.0L (8th Vin Digit 1) ACDelco 38006 |
| 2003-2007 | Mazda | 6 | Mazda 6 Idler Pulley L4 2.3L (8th Vin Digit C) ACDelco 38006 |
| 1997 | Mazda | B2300 Truck | Mazda B2300 Truck Idler Pulley for L4 2.3L (8th Vin Digit A) ACDelco 38006 |
| 1995-2003 | Mazda | B3000 Truck | Mazda B3000 Truck Idler Pulley V6 3.0L (8th Vin Digit U) ACDelco 38006 |
| 1999-2003 | Mazda | B3000 Truck | Mazda B3000 Truck Idler Pulley V6 3.0L (8th Vin Digit V) ACDelco 38006 |
| 2008 | Mazda | Tribute | Mazda Tribute Idler Pulley V6 3.0L (8th Vin Digit 1) ACDelco 38006 |
| 1994-1997 | Mercury | Cougar | Mercury Cougar Idler Pulley V8 4.6L (8th Vin Digit W) ACDelco 38006 |
| 1992-1999 | Mercury | Grand Marquis | Mercury Grand Marquis Idler Pulley V8 4.6L (8th Vin Digit W) ACDelco 38006 |
| 1996 | Mercury | Grand Marquis | Mercury Grand Marquis Idler Pulley V8 4.6L (8th Vin Digit 6) ACDelco 38006 |
| 2008 | Mercury | Mariner | Mercury Mariner Idler Pulley V6 3.0L (8th Vin Digit 1) ACDelco 38006 |
| 2006-2007 | Mercury | Milan | Mercury Milan Idler Pulley V6 3.0L (8th Vin Digit 1) ACDelco 38006 |
| 1998-2001 | Mercury | Mountaineer | Mercury Mountaineer Idler Pulley V8 5.0L (8th Vin Digit P) ACDelco 38006 |
| 1998 | Mercury | Mystique | Mercury Mystique Idler Pulley L4 2.0L (8th Vin Digit 3) ACDelco 38006 |
| 1993 | Mercury | Sable | Mercury Sable Idler Pulley V6 3.8L (8th Vin Digit 4) ACDelco 38006 |
| 1995 | Oldsmobile | 88 | Olds 88 Idler Pulley for V6 3.8L (8th Vin Digit 1) ACDelco 38006 |
| 1999-2002 | Oldsmobile | Alero | Olds Alero Idler Pulley V6 3.4L (8th Vin Digit E) ACDelco 38006 |
| 1991-1992 | Oldsmobile | Bravada | Olds Bravada Idler Pulley V6 4.3L (8th Vin Digit Z) ACDelco 38006 |
| 1992-1994 | Oldsmobile | Bravada | Olds Bravada Idler Pulley V6 4.3L (8th Vin Digit W) ACDelco 38006 |
| 2002-2004 | Oldsmobile | Bravada | Olds Bravada Idler Pulley for L6 4.2L (8th Vin Digit S) ACDelco 38006 |
| 1997-1999 | Oldsmobile | Cutlass | Olds Cutlass Idler Pulley V6 3.1L (8th Vin Digit M) ACDelco 38006 |
| 1999 | Oldsmobile | Cutlass | Olds Cutlass Idler Pulley for V6 3.1L (8th Vin Digit J) ACDelco 38006 |
| 1995 | Oldsmobile | Delta 88-Royale | Olds Delta 88-Royale Idler Pulley V6 3.8L (8th Vin Digit K) ACDelco 38006 |
| 1999-2002 | Oldsmobile | Silhouette | Olds Silhouette Idler Pulley V6 3.4L (8th Vin Digit E) ACDelco 38006 |
| 2001 | Pontiac | Aztek | Pontiac Aztek Idler Pulley V6 3.4L (8th Vin Digit E) ACDelco 38006 |
| 1995-2002 | Pontiac | Firebird | Pontiac Firebird Idler Pulley V6 3.8L (8th Vin Digit K) ACDelco 38006 |
| 2006-2009 | Pontiac | G6 | Pontiac G6 Idler Pulley V6 3.9L (8th Vin Digit 1) ACDelco 38006 |
| 2007-2009 | Pontiac | G6 | Pontiac G6 Idler Pulley V6 3.5L (8th Vin Digit N) ACDelco 38006 |
| 2009-2010 | Pontiac | G6 | Pontiac G6 Idler Pulley V6 3.5L (8th Vin Digit K) ACDelco 38006 |
| 1999-2001 | Pontiac | Grand Am | Pontiac Grand Am Idler Pulley V6 3.4L (8th Vin Digit E) ACDelco 38006 |
| 2005-2008 | Pontiac | Grand Prix | Pontiac Grand Prix Idler Pulley V8 5.3L (8th Vin Digit C) ACDelco 38006 |
| 1999-2002 | Pontiac | Montana | Pontiac Montana Idler Pulley V6 3.4L (8th Vin Digit E) ACDelco 38006 |
| 2007-2008 | Saturn | Aura | Saturn Aura Idler Pulley V6 3.5L (8th Vin Digit N) ACDelco 38006 |
| 2006-2007 | Saturn | Relay | Saturn Relay Idler Pulley V6 3.9L (8th Vin Digit 1) ACDelco 38006 |
| 2007 | Saturn | Relay | Saturn Relay Idler Pulley V6 3.9L (8th Vin Digit W) ACDelco 38006 |
| 2008-2010 | Saturn | Vue | Saturn Vue Idler Pulley V6 3.5L (8th Vin Digit N) ACDelco 38006 |
Part #: 1AACD00043
Order must be placed by 4pm ET
Get it in: 2 - 4 Business Days
Want it sooner? Choose Next Day Air at Checkout

Brand #: 38006