1ALHP00463-Headlight Pair
Replaces
Headlight Pair - 1ALHP00463
1ALHP00463
Headlight Specifications
Comes as a pair
Rectangle Shaped
Direct replacement Headlight - easy installation
Built to strict quality control standards
Low Beam
Light Measures 6 1/2" by 4 1/4"
Each light has THREE prongs on back
Direct Fit Replacement
Direct fit replacement for OEM assembly
Trouble-free Installation
Light uses same wiring as the original assembly, providing easy, trouble-free installation. No cutting or splicing required.
DOT and SAE Compliant
DOT & SAE compliant: meets federal regulations for on-road use
Lifetime Warranty
This item is backed by a Limited Lifetime Warranty. In the event this item should fail due to manufacturing defects during intended use, we will exchange the part free of charge (excludes shipping charges) for the original purchaser. Please keep your invoice for proof of this warranty.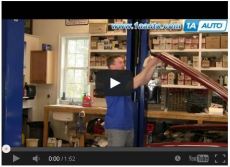 step : Removing the Headlight (0:31)

Remove the top two screws on the headlight.
If possible remove the two lower screws on the headlight.
If ALL four screws are removed slide the ring and headlight off.
If the bottom two cannot be removed pull the ring forward and slide the headlight up and out.
If the headlight breaks during this process wear gloves to protect your hands.
Disconnect the connector from the back of the light.

step : Replacing the Headlight (2:09)

Connect the headlight.
Slide the ring and headlight back into place.
OR Carefully push the light down behind the ring and pull the top of the ring over the light.
Replace the screws.
Tools needed for replacement:
Screwdrivers & Related

Phillips Head Screwdriver
Vehicle Fit
1979-1980 American Motors AMX Low Beam Sealed Beam Headlight Pair Rectangular
1979-1983 American Motors Concord Low Beam Sealed Beam Headlight Pair Rectangular
1980-1988 American Motors Eagle Low Beam Sealed Beam Headlight Pair Rectangular
1979-1983 American Motors Spirit Low Beam Sealed Beam Headlight Pair Rectangular
1980-1981 Audi 5000 Low Beam Sealed Beam Headlight Pair Rectangular
1974 Buick Apollo Low Beam Sealed Beam Headlight Pair Rectangular
1976-1985 Buick Century Low Beam Sealed Beam Headlight Pair Rectangular
1976-1986 Buick Electra Low Beam Sealed Beam Headlight Pair Rectangular
1976-1981 Buick Estate Wagon Low Beam Sealed Beam Headlight Pair Rectangular
1985-1986 Buick Estate Wagon Low Beam Sealed Beam Headlight Pair Rectangular
1976-1986 Buick LeSabre Low Beam Sealed Beam Headlight Pair Rectangular
1976-1986 Buick Regal Low Beam Sealed Beam Headlight Pair Rectangular
1975-1985 Buick Riviera Low Beam Sealed Beam Headlight Pair Rectangular
1975-1986 Buick Skyhawk Low Beam Sealed Beam Headlight Pair Rectangular
1975-1976 Cadillac Calais Low Beam Sealed Beam Headlight Pair Rectangular
1982-1985 Cadillac Cimarron Low Beam Sealed Beam Headlight Pair Rectangular
1975-1985 Cadillac Deville Low Beam Sealed Beam Headlight Pair Rectangular
1975-1985 Cadillac Eldorado Low Beam Sealed Beam Headlight Pair Rectangular
1975-1983 Cadillac Fleetwood Low Beam Sealed Beam Headlight Pair Rectangular
1983 Cadillac Fleetwood Low Beam Sealed Beam Headlight Pair Rectangular
1985-1988 Cadillac Fleetwood Rear Wheel Drive Low Beam Sealed Beam Headlight Pair Rectangular
1975-1985 Cadillac Seville Low Beam Sealed Beam Headlight Pair Rectangular
1984-1987 Chevy Blazer Full Size Low Beam Sealed Beam Headlight Pair Rectangular
1983 Chevy Blazer S10 Low Beam Sealed Beam Headlight Pair Rectangular
1981-1986 Chevy C10 Truck Low Beam Sealed Beam Headlight Pair Rectangular
1981-1986 Chevy C1500 Truck Low Beam Sealed Beam Headlight Pair Rectangular
1981-1986 Chevy C20 Truck Low Beam Sealed Beam Headlight Pair Rectangular
1981-1986 Chevy C2500 Truck Low Beam Sealed Beam Headlight Pair Rectangular
1981-1986 Chevy C30 Truck Low Beam Sealed Beam Headlight Pair Rectangular
1981-1986 Chevy C3500 Truck Low Beam Sealed Beam Headlight Pair Rectangular
1982-1992 Chevy Camaro Low Beam Sealed Beam Headlight Pair Rectangular
1977-1986 Chevy Caprice Low Beam Sealed Beam Headlight Pair Rectangular
1984-1987 Chevy Cavalier Low Beam Sealed Beam Headlight Pair Rectangular
1982-1986 Chevy Celebrity Low Beam Sealed Beam Headlight Pair Rectangular
1976-1977 Chevy Chevelle Low Beam Sealed Beam Headlight Pair Rectangular
1977-1987 Chevy El Camino Low Beam Sealed Beam Headlight Pair Rectangular
1977-1985 Chevy Impala Low Beam Sealed Beam Headlight Pair Rectangular
1981-1986 Chevy K10 Truck Low Beam Sealed Beam Headlight Pair Rectangular
1981-1986 Chevy K1500 Truck Low Beam Sealed Beam Headlight Pair Rectangular
1981-1986 Chevy K20 Truck Low Beam Sealed Beam Headlight Pair Rectangular
1981-1986 Chevy K2500 Truck Low Beam Sealed Beam Headlight Pair Rectangular
1981-1986 Chevy K30 Truck Low Beam Sealed Beam Headlight Pair Rectangular
1981-1986 Chevy K3500 Truck Low Beam Sealed Beam Headlight Pair Rectangular
1982-1983 Chevy Malibu Low Beam Sealed Beam Headlight Pair Rectangular
1976-1988 Chevy Monte Carlo Low Beam Sealed Beam Headlight Pair Rectangular
1977-1980 Chevy Monza Low Beam Sealed Beam Headlight Pair Rectangular
1985-1988 Chevy Nova Low Beam Sealed Beam Headlight Pair Rectangular
1987 Chevy R1500 Truck Low Beam Sealed Beam Headlight Pair Rectangular
1987-1988 Chevy R2500 Truck Low Beam Sealed Beam Headlight Pair Rectangular
1987 Chevy R2500 Truck Low Beam Sealed Beam Headlight Pair Rectangular
1987-1988 Chevy R3500 Truck Low Beam Sealed Beam Headlight Pair Rectangular
1987 Chevy R3500 Truck Low Beam Sealed Beam Headlight Pair Rectangular
1987 Chevy V1500 Truck Low Beam Sealed Beam Headlight Pair Rectangular
1987-1988 Chevy V2500 Truck Low Beam Sealed Beam Headlight Pair Rectangular
1987-1988 Chevy V3500 Truck Low Beam Sealed Beam Headlight Pair Rectangular
1985-1989 Chevy Van - P Series Forward Control Low Beam Sealed Beam Headlight Pair Rectangular
1985-1991 Chevy Van - P Series Forward Control Low Beam Sealed Beam Headlight Pair Rectangular
1985-1991 Chevy Van G-Series Low Beam Sealed Beam Headlight Pair Rectangular
1988-1991 Chevy Van G-Series Low Beam Sealed Beam Headlight Pair Rectangular
1978-1979 Chrysler Cordoba Low Beam Sealed Beam Headlight Pair Rectangular
1978-1982 Chrysler Lebaron Low Beam Sealed Beam Headlight Pair Rectangular
1979-1982 Chrysler New Yorker Low Beam Sealed Beam Headlight Pair Rectangular
1979-1981 Chrysler Newport Low Beam Sealed Beam Headlight Pair Rectangular
1979-1981 Chrysler Town & Country Low Beam Sealed Beam Headlight Pair Rectangular
1982 Dodge 400 Low Beam Sealed Beam Headlight Pair Rectangular
1978-1983 Dodge Challenger Low Beam Sealed Beam Headlight Pair Rectangular
1977-1978 Dodge Charger Low Beam Sealed Beam Headlight Pair Rectangular
1979-1980 Dodge D100 Truck Low Beam Sealed Beam Headlight Pair Rectangular
1979-1980 Dodge D150 Truck Low Beam Sealed Beam Headlight Pair Rectangular
1979-1980 Dodge D200 Truck Low Beam Sealed Beam Headlight Pair Rectangular
1979-1980 Dodge D300 Truck Low Beam Sealed Beam Headlight Pair Rectangular
1977-1982 Dodge Diplomat Low Beam Sealed Beam Headlight Pair Rectangular
1978-1979 Dodge Magnum Low Beam Sealed Beam Headlight Pair Rectangular
1986 Dodge Mini Ram Low Beam Sealed Beam Headlight Pair Rectangular
1977-1978 Dodge Monaco Low Beam Sealed Beam Headlight Pair Rectangular
1982-1986 Dodge Ram 50 Truck Low Beam Sealed Beam Headlight Pair Rectangular
1983-1986 Dodge Ram 50 Truck Low Beam Sealed Beam Headlight Pair Rectangular
1980 Dodge Ramcharger Low Beam Sealed Beam Headlight Pair Rectangular
1982 Dodge Rampage Low Beam Sealed Beam Headlight Pair Rectangular
1979-1981 Dodge St Regis Low Beam Sealed Beam Headlight Pair Rectangular
1979-1980 Dodge W100 Truck Low Beam Sealed Beam Headlight Pair Rectangular
1979-1980 Dodge W150 Truck Low Beam Sealed Beam Headlight Pair Rectangular
1979-1980 Dodge W200 Truck Low Beam Sealed Beam Headlight Pair Rectangular
1979-1980 Dodge W300 Truck Low Beam Sealed Beam Headlight Pair Rectangular
1977-1979 Ford LTD II Low Beam Sealed Beam Headlight Pair Rectangular
1979 Ford Mustang Low Beam Sealed Beam Headlight Pair Rectangular
1977-1979 Ford Ranchero Low Beam Sealed Beam Headlight Pair Rectangular
1982-1986 GMC C1500 Truck Low Beam Sealed Beam Headlight Pair Rectangular
1982-1986 GMC C2500 Truck Low Beam Sealed Beam Headlight Pair Rectangular
1982-1986 GMC C3500 Truck Low Beam Sealed Beam Headlight Pair Rectangular
1978-1987 GMC Caballero Low Beam Sealed Beam Headlight Pair Rectangular
1984-1988 GMC Jimmy Full Size Low Beam Sealed Beam Headlight Pair Rectangular
1983 GMC Jimmy S-15 Low Beam Sealed Beam Headlight Pair Rectangular
1982-1986 GMC K1500 Truck Low Beam Sealed Beam Headlight Pair Rectangular
1982-1986 GMC K2500 Truck Low Beam Sealed Beam Headlight Pair Rectangular
1982-1986 GMC K3500 Truck Low Beam Sealed Beam Headlight Pair Rectangular
1987 GMC R1500 Truck Low Beam Sealed Beam Headlight Pair Rectangular
1987 GMC R2500 Truck Low Beam Sealed Beam Headlight Pair Rectangular
1987 GMC R3500 Truck Low Beam Sealed Beam Headlight Pair Rectangular
1982-1986 GMC Suburban C1500 Low Beam Sealed Beam Headlight Pair Rectangular
1982-1986 GMC Suburban C2500 Low Beam Sealed Beam Headlight Pair Rectangular
1982-1986 GMC Suburban K1500 Low Beam Sealed Beam Headlight Pair Rectangular
1982-1986 GMC Suburban K2500 Low Beam Sealed Beam Headlight Pair Rectangular
1987-1988 GMC Suburban R1500 Low Beam Sealed Beam Headlight Pair Rectangular
1987-1988 GMC Suburban R2500 Low Beam Sealed Beam Headlight Pair Rectangular
1987-1988 GMC Suburban V1500 Low Beam Sealed Beam Headlight Pair Rectangular
1987-1988 GMC Suburban V2500 Low Beam Sealed Beam Headlight Pair Rectangular
1987 GMC V1500 Truck Low Beam Sealed Beam Headlight Pair Rectangular
1987 GMC V2500 Truck Low Beam Sealed Beam Headlight Pair Rectangular
1987 GMC V3500 Truck Low Beam Sealed Beam Headlight Pair Rectangular
1983-1987 GMC Van - P Series Forward Control Low Beam Sealed Beam Headlight Pair Rectangular
1985-1987 GMC Van - P Series Forward Control Low Beam Sealed Beam Headlight Pair Rectangular
1983-1985 Mazda 626 Low Beam Sealed Beam Headlight Pair Rectangular
1977-1979 Mercury Cougar Low Beam Sealed Beam Headlight Pair Rectangular
1977-1979 Mercury Marquis Low Beam Sealed Beam Headlight Pair Rectangular
1983-1987 Mitsubishi Cordia Low Beam Sealed Beam Headlight Pair Rectangular
1987-1990 Mitsubishi Van Low Beam Sealed Beam Headlight Pair Rectangular
1980-1981 Nissan 200SX Low Beam Sealed Beam Headlight Pair Rectangular
1980-1982 Nissan 720 Low Beam Sealed Beam Headlight Pair Rectangular
1985-1986 Olds 442 Low Beam Sealed Beam Headlight Pair Rectangular
1976-1986 Olds 98 Low Beam Sealed Beam Headlight Pair Rectangular
1985-1986 Olds Calais Low Beam Sealed Beam Headlight Pair Rectangular
1976-1990 Olds Custom Cruiser Low Beam Sealed Beam Headlight Pair Rectangular
1976-1981 Olds Cutlass Low Beam Sealed Beam Headlight Pair Rectangular
1982-1984 Olds Cutlass Calais Low Beam Sealed Beam Headlight Pair Rectangular
1982-1987 Olds Cutlass Ciera Low Beam Sealed Beam Headlight Pair Rectangular
1980-1983 Olds Cutlass Cruiser Low Beam Sealed Beam Headlight Pair Rectangular
1982-1988 Olds Cutlass Supreme RWD Low Beam Sealed Beam Headlight Pair Rectangular
1976-1986 Olds Delta 88 Low Beam Sealed Beam Headlight Pair Rectangular
1983-1987 Olds Firenza Low Beam Sealed Beam Headlight Pair Rectangular
1975-1980 Olds Starfire Low Beam Sealed Beam Headlight Pair Rectangular
1976-1985 Olds Toronado Low Beam Sealed Beam Headlight Pair Rectangular
1976-1977 Olds Vista Cruiser Low Beam Sealed Beam Headlight Pair Rectangular
1981-1982 Plymouth Arrow Low Beam Sealed Beam Headlight Pair Rectangular
1977-1978 Plymouth Fury Low Beam Sealed Beam Headlight Pair Rectangular
1980-1983 Plymouth Gran Fury Low Beam Sealed Beam Headlight Pair Rectangular
1978-1983 Plymouth Sapporo Low Beam Sealed Beam Headlight Pair Rectangular
1979-1980 Plymouth Trailduster Low Beam Sealed Beam Headlight Pair Rectangular
1979-1983 Plymouth Voyager Low Beam Sealed Beam Headlight Pair Rectangular
1983-1984 Pontiac 2000 Low Beam Sealed Beam Headlight Pair Rectangular
1982-1986 Pontiac 6000 Low Beam Sealed Beam Headlight Pair Rectangular
1975-1986 Pontiac Bonneville Low Beam Sealed Beam Headlight Pair Rectangular
1977-1981 Pontiac Catalina Low Beam Sealed Beam Headlight Pair Rectangular
1977-1981 Pontiac Firebird Low Beam Sealed Beam Headlight Pair Rectangular
1985-1989 Pontiac Grand Am Low Beam Sealed Beam Headlight Pair Rectangular
1976-1987 Pontiac Grand Prix Low Beam Sealed Beam Headlight Pair Rectangular
1983-1984 Pontiac J2000 Low Beam Sealed Beam Headlight Pair Rectangular
1976-1977 Pontiac LeMans Low Beam Sealed Beam Headlight Pair Rectangular
1983-1986 Pontiac Parisienne Low Beam Sealed Beam Headlight Pair Rectangular
1976-1988 Pontiac Sunbird Low Beam Sealed Beam Headlight Pair Rectangular
1980-1981 Toyota Celica Low Beam Sealed Beam Headlight Pair Rectangular
1979-1982 Toyota Corona Low Beam Sealed Beam Headlight Pair Rectangular
1979-1981 Toyota Supra Low Beam Sealed Beam Headlight Pair Rectangular
1984-1989 Toyota Van Wagon Low Beam Sealed Beam Headlight Pair Rectangular
1980-1982 Volvo 240 Low Beam Sealed Beam Headlight Pair Rectangular
1981-1982 Volvo 240 Low Beam Sealed Beam Headlight Pair Rectangular
1978-1981 Volvo 260 Low Beam Sealed Beam Headlight Pair Rectangular
1980-1982 Volvo 260 Low Beam Sealed Beam Headlight Pair Rectangular
1980-1981 Volvo 260 Low Beam Sealed Beam Headlight Pair Rectangular
Part #: 1ALHP00463


Ships Same Day for orders placed by 4 P.M. ET