1AFGC00004-Gas Cap
Replaces
Gas Cap - 1AFGC00004
1AFGC00004
Frequently bought together
Part Details
Gas Cap Style:




  Non-Locking




  Threaded
Specifications:
Brand New Gas Cap
Direct replacement
Built to strict quality control standards
Item Condition: New

Lifetime Warranty
This item is backed by a Limited Lifetime Warranty. In the event this item should fail due to manufacturing defects during intended use, we will exchange the part free of charge (excludes shipping charges) for the original purchaser.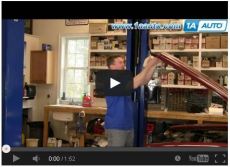 step : Replacing the Gas Cap (1:53)

Twist off the old gas cap
Twist on the new gas cap until it clicks
Tools needed for replacement:
1A - No Tools Needed

No Tools Needed
There are no reviews for this item.
Customer Q&A
Ask a question to 1A Auto customers who purchased the product
Is this a push on or twist cap? I need a push cap
Its the kind that you screw in by turning it. I have purchased two of these and they work fine.
Keenan, the one I received is a twist cap. It fit my Hyundai perfectly, just like the original cap. Good luck in your search! John
This is a twist on cap. We ordered it for a 1998 Toyota Avalon. The cap was just like the original.
Theaded twist on cap
Jason H
December 11, 2017
| Year | Make | Model | Description |
| --- | --- | --- | --- |
| 1992-1993 | Asuna | Sunfire | Asuna Sunfire Threaded Non-Locking Gas Cap |
| 1998-2001 | Chevy | Metro | Chevy Metro Threaded Non-Locking Gas Cap |
| 1985-1988 | Chevy | Nova | Chevy Nova Threaded Non-Locking Gas Cap |
| 1998-2002 | Chevy | Prizm | Chevy Prizm Threaded Non-Locking Gas Cap |
| 1998-2004 | Chevy | Tracker | Chevy Tracker Threaded Non-Locking Gas Cap |
| 1987-1989 | Chrysler | Conquest | Chrysler Conquest Threaded Non-Locking Gas Cap |
| 1985-1994 | Dodge | Colt | Dodge Colt Threaded Non-Locking Gas Cap |
| 1985-1986 | Dodge | Conquest | Dodge Conquest Threaded Non-Locking Gas Cap |
| 1987-1989 | Dodge | Raider | Dodge Raider Threaded Non-Locking Gas Cap |
| 1988-1994 | Eagle | Summit | Eagle Summit Threaded Non-Locking Gas Cap |
| 1990-1994 | Eagle | Talon | Eagle Talon Threaded Non-Locking Gas Cap |
| 1995-1997 | Geo | Metro | Geo Metro Threaded Non-Locking Gas Cap |
| 1989-1997 | Geo | Prizm | Geo Prizm Threaded Non-Locking Gas Cap |
| 1991-1997 | Geo | Tracker | Geo Tracker Threaded Non-Locking Gas Cap |
| 1995-2004 | Hyundai | Accent | Hyundai Accent Threaded Non-Locking Gas Cap |
| 1992-2005 | Hyundai | Elantra | Hyundai Elantra Threaded Non-Locking Gas Cap |
| 1986-1994 | Hyundai | Excel | Hyundai Excel Threaded Non-Locking Gas Cap |
| 2001-2006 | Hyundai | Santa Fe | Hyundai Santa Fe Threaded Non-Locking Gas Cap |
| 1991-1995 | Hyundai | Scoupe | Hyundai Scoupe Threaded Non-Locking Gas Cap |
| 1989-2005 | Hyundai | Sonata | Hyundai Sonata Threaded Non-Locking Gas Cap |
| 1997-2001 | Hyundai | Tiburon | 1997-01, 2003-04 Hyundai Tiburon Threaded Non-Locking Gas Cap |
| 2003-2004 | Hyundai | Tiburon | 1997-01, 2003-04 Hyundai Tiburon Threaded Non-Locking Gas Cap |
| 2001 | Hyundai | XG300 | Hyundai XG300 Threaded Non-Locking Gas Cap |
| 2002-2005 | Hyundai | XG350 | Hyundai XG350 Threaded Non-Locking Gas Cap |
| 2004-2006 | Kia | Amanti | Kia Amanti Threaded Non-Locking Gas Cap |
| 2001-2005 | Kia | Magentis | Kia Magentis Threaded Non-Locking Gas Cap |
| 2002-2005 | Kia | Optima | Kia Optima Threaded Non-Locking Gas Cap |
| 2003-2004 | Kia | Rio | Kia Rio Threaded Non-Locking Gas Cap |
| 2002-2004 | Kia | Sedona | Kia Sedona Threaded Non-Locking Gas Cap |
| 2003-2004 | Kia | Sorento | Kia Sorento Threaded Non-Locking Gas Cap |
| 2003-2004 | Kia | Spectra | Kia Spectra Threaded Non-Locking Gas Cap |
| 1990-1991 | Lexus | ES250 | Lexus ES250 Threaded Non-Locking Gas Cap |
| 1992-2000 | Lexus | ES300 | Lexus ES300 Threaded Non-Locking Gas Cap |
| 1993-1999 | Lexus | GS300 | Lexus GS300 Threaded Non-Locking Gas Cap |
| 1998-2000 | Lexus | GS400 | Lexus GS400 Threaded Non-Locking Gas Cap |
| 2007-2009 | Lexus | GS450h | Lexus GS450h Threaded Non-Locking Gas Cap |
| 1990-2000 | Lexus | LS400 | Lexus LS400 Threaded Non-Locking Gas Cap |
| 2008-2009 | Lexus | LS600h | Lexus LS600h Threaded Non-Locking Gas Cap |
| 1996-1997 | Lexus | LX450 | Lexus LX450 Threaded Non-Locking Gas Cap |
| 1998-2000 | Lexus | LX470 | Lexus LX470 Threaded Non-Locking Gas Cap |
| 1999-2000 | Lexus | RX300 | Lexus RX300 Threaded Non-Locking Gas Cap |
| 2006-2008 | Lexus | RX400h | Lexus RX400h Threaded Non-Locking Gas Cap |
| 2010 | Lexus | RX450h | Lexus RX450h Threaded Non-Locking Gas Cap |
| 1992-2000 | Lexus | SC300 | Lexus SC300 Threaded Non-Locking Gas Cap |
| 1992-2000 | Lexus | SC400 | Lexus SC400 Threaded Non-Locking Gas Cap |
| 1985-1988 | Mitsubishi | Cordia | Mitsubishi Cordia Threaded Non-Locking Gas Cap |
| 1992-1996 | Mitsubishi | Diamante | Mitsubishi Diamante Threaded Non-Locking Gas Cap |
| 1990-1994 | Mitsubishi | Eclipse | Mitsubishi Eclipse Threaded Non-Locking Gas Cap |
| 1992-1995 | Mitsubishi | Expo | Mitsubishi Expo Threaded Non-Locking Gas Cap |
| 1985-1993 | Mitsubishi | Galant | Mitsubishi Galant Threaded Non-Locking Gas Cap |
| 1985-1996 | Mitsubishi | Mighty Max Truck | Mitsubishi Mighty Max Truck Threaded Non-Locking Gas Cap |
| 1985-1997 | Mitsubishi | Mirage | Mitsubishi Mirage Threaded Non-Locking Gas Cap |
| 1985-1997 | Mitsubishi | Montero | Mitsubishi Montero Threaded Non-Locking Gas Cap |
| 1987-1994 | Mitsubishi | Precis | Mitsubishi Precis Threaded Non-Locking Gas Cap |
| 1988-1990 | Mitsubishi | Sigma | Mitsubishi Sigma Threaded Non-Locking Gas Cap |
| 1985-1989 | Mitsubishi | Starion | Mitsubishi Starion Threaded Non-Locking Gas Cap |
| 1985-1987 | Mitsubishi | Tredia | Mitsubishi Tredia Threaded Non-Locking Gas Cap |
| 1987-1990 | Mitsubishi | Van | Mitsubishi Van Threaded Non-Locking Gas Cap |
| 1984-1988 | Nissan | 200SX | Nissan 200SX Threaded Non-Locking Gas Cap |
| 1986-1989 | Nissan | D21 Hardbody Pickup | Nissan D21 Hardbody Pickup Threaded Non-Locking Gas Cap |
| 1985-1988 | Nissan | Maxima | Nissan Maxima Threaded Non-Locking Gas Cap |
| 1983-1990 | Nissan | Pulsar | Nissan Pulsar Threaded Non-Locking Gas Cap |
| 1982-1990 | Nissan | Sentra | Nissan Sentra Threaded Non-Locking Gas Cap |
| 1987-1989 | Nissan | Stanza | Nissan Stanza Threaded Non-Locking Gas Cap |
| 1988 | Nissan | Van | Nissan Van Threaded Non-Locking Gas Cap |
| 1985-1994 | Plymouth | Colt | Plymouth Colt Threaded Non-Locking Gas Cap |
| 1985-1986 | Plymouth | Conquest | Plymouth Conquest Threaded Non-Locking Gas Cap |
| 1990-1994 | Plymouth | Laser | Plymouth Laser Threaded Non-Locking Gas Cap |
| 1995-2000 | Pontiac | Firefly | Pontiac Firefly Threaded Non-Locking Gas Cap |
| 1994-1997 | Pontiac | SunRunner | Pontiac SunRunner Threaded Non-Locking Gas Cap |
| 1993-1994 | Saab | 900 | Saab 900 Threaded Non-Locking Gas Cap |
| 1990-1994 | Saab | 9000 | Saab 9000 Threaded Non-Locking Gas Cap |
| 1987-1989 | Subaru | 1800 | Subaru 1800 Threaded Non-Locking Gas Cap |
| 1988-1989 | Subaru | GL | Subaru GL Threaded Non-Locking Gas Cap |
| 1988-1989 | Subaru | GL-10 | Subaru GL-10 Threaded Non-Locking Gas Cap |
| 1987-1995 | Subaru | Justy | Subaru Justy Threaded Non-Locking Gas Cap |
| 1990-1994 | Subaru | Loyale | Subaru Loyale Threaded Non-Locking Gas Cap |
| 1987-1989 | Subaru | RX | Subaru RX Threaded Non-Locking Gas Cap |
| 1987-1991 | Subaru | XT | Subaru XT Threaded Non-Locking Gas Cap |
| 2002-2005 | Suzuki | Aerio | Suzuki Aerio Threaded Non-Locking Gas Cap |
| 1995-2002 | Suzuki | Esteem | Suzuki Esteem Threaded Non-Locking Gas Cap |
| 1999-2004 | Suzuki | Grand Vitara | Suzuki Grand Vitara Threaded Non-Locking Gas Cap |
| 1989-1998 | Suzuki | Sidekick | Suzuki Sidekick Threaded Non-Locking Gas Cap |
| 1995-2001 | Suzuki | Swift | Suzuki Swift Threaded Non-Locking Gas Cap |
| 1996-1998 | Suzuki | X-90 | Suzuki X-90 Threaded Non-Locking Gas Cap |
| 2002-2004 | Suzuki | XL-7 | Suzuki XL-7 Threaded Non-Locking Gas Cap |
| 1989-2000 | Toyota | 4Runner | Toyota 4Runner Threaded Non-Locking Gas Cap |
| 1995-1999 | Toyota | Avalon | Toyota Avalon Threaded Non-Locking Gas Cap |
| 1989-1999 | Toyota | Camry | Toyota Camry Threaded Non-Locking Gas Cap |
| 1989-1999 | Toyota | Celica | Toyota Celica Threaded Non-Locking Gas Cap |
| 1993-1999 | Toyota | Corolla | Toyota Corolla Threaded Non-Locking Gas Cap |
| 1990-1992 | Toyota | Cressida | Toyota Cressida Threaded Non-Locking Gas Cap |
| 1990-1999 | Toyota | Land Cruiser | Toyota Land Cruiser Threaded Non-Locking Gas Cap |
| 1989-1995 | Toyota | MR2 | Toyota MR2 Threaded Non-Locking Gas Cap |
| 1992-1998 | Toyota | Paseo | Toyota Paseo Threaded Non-Locking Gas Cap |
| 1989-1995 | Toyota | Pickup | Toyota Pickup Threaded Non-Locking Gas Cap |
| 1989-1997 | Toyota | Previa | Toyota Previa Threaded Non-Locking Gas Cap |
| 1996-2000 | Toyota | Rav4 | Toyota Rav4 Threaded Non-Locking Gas Cap |
| 1998 | Toyota | Sienna | Toyota Sienna Threaded Non-Locking Gas Cap |
| 1999 | Toyota | Solara | Toyota Solara Threaded Non-Locking Gas Cap |
| 1989-1998 | Toyota | Supra | Toyota Supra Threaded Non-Locking Gas Cap |
| 1993-1998 | Toyota | T100 | Toyota T100 Threaded Non-Locking Gas Cap |
| 1995-1999 | Toyota | Tacoma | Toyota Tacoma Threaded Non-Locking Gas Cap |
| 1989-1998 | Toyota | Tercel | Toyota Tercel Threaded Non-Locking Gas Cap |
Part #: 1AFGC00004
Order must be placed by 4pm ET
Get it in: 2 - 4 Business Days
Want it sooner? Choose Next Day Air at Checkout