1AFGC00002-Non-Locking Gas Cap
Replaces
Non-Locking Gas Cap - 1AFGC00002
1AFGC00002
Frequently bought together
Part Details
Gas Cap Style:

  Non-Locking
Your fuel system uses both vacuum and pressure to ensure that as few gasoline vapors reach the air as possible. The gas cap regulates this balance. The cap has relief and pressure valves that regulate the pressure in the tank. Over time the gas cap can cease to work properly due to dirt, wear, and damage. In modern cars this will cause your check engine light to come on (usually after you fill up). If you notice your check engine light comes on after a fill up first check the cap for tightness. Then give the light a few days to go off. If your gas cap is the culprit then this replacement is what you need. Most cars the light will go out after 10-12 cycles of the key as long as nothing else is affecting the fuel vapor system
This gas cap features the following specifications:
Brand New
Replaces dealer part numbers: 1725179961, 172515M000, 17251-5M000, 17251-79961, 172517B001, 17251-7B001, 172517B002, 17251-7B002, 172518J000, 17251-8J000, 172518U600, 17251-8U600, 17251AR200, 17251-AR200, 17251AR201, 17251-AR201, 17251CD000, 17251-CD000, 17251CG000, 17251-CG000, 17251JK60B, 17251-JK60B, 1F5Z 9030 AA, 1F5Z9030AA, 4578235AA, 52080289AA, 52100552AA, 52100552AB, 52100552AC, 52100553AA, 52100553AC, 52100554AB, 52102464AA, 52124512AA, 5278632AA, 5278632AB, 5278632AC, 5278632AD, 5278632AE, 5278632AG, 5278632AG, 5290145AA, 5290145AB, FEO142250, FEO-14-2250, GK2A42250A, GK2A-42-250A, MR503001, MR503001, YF53 9030 AA, YF539030AA, YF5Z 9030 AA, YF5Z9030AA
100% tested
Non Locking
Item Condition: New

Lifetime Warranty
This item is backed by a Limited Lifetime Warranty. In the event this item should fail due to manufacturing defects during intended use, we will exchange the part free of charge (excludes shipping charges) for the original purchaser.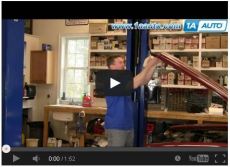 step : Replacing the Gas Cap (1:20)

Turn the cap counterclockwise to remove it
Turn the new cap clockwise until it clicks to secure it
Tools needed for replacement:
1A - No Tools Needed

No Tools Needed
Works great
I bought this gas cap in an attempt to resolve a check engine light issue I was having. The fit and seal was perfect, and the light reset itself inside of 2 days. The only drawback is the cap is not tethered, like the OEM cap is. If youre having a an evap purge system error code, try this cap!
Perfect
Exactly what I ordered and is a perfect fit for my car...
No more check engine light
This has been so frustrating. I have bought gas caps and still had a check engine light. Finally got the right fit for my truck here.
Dodge RAM Gas Cap
The item arrived on time and in good shape. I havent been able to give it to my grandson yet, as I ordered it for his truck to try and get the "service engine - gas cap" warning to go out, so I dont know if it works or not.
Customer Q&A
Ask a question to 1A Auto customers who purchased the product
No questions have been asked about this item.
| Year | Make | Model | Description |
| --- | --- | --- | --- |
| 2011-2015 | Chrysler | 200 | Chrysler 200 Non-Locking Gas Cap |
| 2005-2010 | Chrysler | 300 | Chrysler 300 Non-Locking Gas Cap |
| 2000-2004 | Chrysler | 300M | Chrysler 300M Non-Locking Gas Cap |
| 2007-2009 | Chrysler | Aspen | Chrysler Aspen Non-Locking Gas Cap |
| 2000 | Chrysler | Cirrus | Chrysler Cirrus Non-Locking Gas Cap |
| 1999-2004 | Chrysler | Concorde | Chrysler Concorde Non-Locking Gas Cap |
| 2000-2001 | Chrysler | LHS | Chrysler LHS Non-Locking Gas Cap |
| 2004-2008 | Chrysler | Pacifica | Chrysler Pacifica Non-Locking Gas Cap |
| 2001-2002 | Chrysler | Prowler | Chrysler Prowler Non-Locking Gas Cap |
| 2001-2010 | Chrysler | Sebring | Chrysler Sebring Non-Locking Gas Cap |
| 1999-2014 | Chrysler | Town & Country | Chrysler Town & Country Non-Locking Gas Cap |
| 2000-2003 | Chrysler | Voyager | Chrysler Voyager Non-Locking Gas Cap |
| 2008-2014 | Dodge | Avenger | Dodge Avenger Non-Locking Gas Cap |
| 2007-2012 | Dodge | Caliber | Dodge Caliber Non-Locking Gas Cap |
| 1999-2007 | Dodge | Caravan | Dodge Caravan Non-Locking Gas Cap |
| 2008-2015 | Dodge | Challenger | Dodge Challenger Non-Locking Gas Cap |
| 2006-2010 | Dodge | Charger | Dodge Charger Non-Locking Gas Cap |
| 2000-2010 | Dodge | Dakota | Dodge Dakota Non-Locking Gas Cap |
| 2013-2014 | Dodge | Dart | Dodge Dart Non-Locking Gas Cap |
| 2000-2009 | Dodge | Durango | Dodge Durango Non-Locking Gas Cap |
| 2011-2013 | Dodge | Durango | Dodge Durango Non-Locking Gas Cap |
| 1999-2013 | Dodge | Grand Caravan | Dodge Grand Caravan Non-Locking Gas Cap |
| 2000-2004 | Dodge | Intrepid | Dodge Intrepid Non-Locking Gas Cap |
| 2009-2017 | Dodge | Journey | Dodge Journey Non-Locking Gas Cap |
| 2005-2008 | Dodge | Magnum | Dodge Magnum Non-Locking Gas Cap |
| 1999-2005 | Dodge | Neon | Dodge Neon Non-Locking Gas Cap |
| 2007-2011 | Dodge | Nitro | Dodge Nitro Non-Locking Gas Cap |
| 2000-2010 | Dodge | Ram 1500 Truck | Dodge Ram 1500 Truck Non-Locking Gas Cap |
| 2000-2003 | Dodge | Ram 1500 Van | Dodge Ram 1500 Van Non-Locking Gas Cap |
| 2000-2010 | Dodge | Ram 2500 Truck | Dodge Ram 2500 Truck Non-Locking Gas Cap |
| 2000-2003 | Dodge | Ram 2500 Van | Dodge Ram 2500 Van Non-Locking Gas Cap |
| 2000-2010 | Dodge | Ram 3500 Truck | Dodge Ram 3500 Truck Non-Locking Gas Cap |
| 2000-2003 | Dodge | Ram 3500 Van | Dodge Ram 3500 Van Non-Locking Gas Cap |
| 1999-2006 | Dodge | Stratus | Dodge Stratus Non-Locking Gas Cap |
| 2003-2006 | Dodge | Viper | 2003-06, 2008-10 Dodge Viper Non-Locking Gas Cap |
| 2008-2010 | Dodge | Viper | 2003-06, 2008-10 Dodge Viper Non-Locking Gas Cap |
| 2012-2014 | Fiat | 500 | Fiat 500 Non-Locking Gas Cap |
| 2014 | Fiat | 500L | Fiat 500L Non-Locking Gas Cap |
| 2010-2011 | Ford | Ranger | Ford Ranger Non-Locking Gas Cap |
| 2008-2010 | Infiniti | EX35 | Infiniti EX35 Non-Locking Gas Cap |
| 2003-2009 | Infiniti | FX35 | Infiniti FX35 Non-Locking Gas Cap |
| 2003-2008 | Infiniti | FX45 | Infiniti FX45 Non-Locking Gas Cap |
| 2009 | Infiniti | FX50 | Infiniti FX50 Non-Locking Gas Cap |
| 2003-2008 | Infiniti | G35 | Infiniti G35 Non-Locking Gas Cap |
| 2008-2011 | Infiniti | G37 | Infiniti G37 Non-Locking Gas Cap |
| 2002-2004 | Infiniti | I35 | Infiniti I35 Non-Locking Gas Cap |
| 2006-2009 | Infiniti | M35 | Infiniti M35 Non-Locking Gas Cap |
| 2003-2004 | Infiniti | M45 | Infiniti M45 Non-Locking Gas Cap |
| 2002-2006 | Infiniti | Q45 | Infiniti Q45 Non-Locking Gas Cap |
| 2002-2003 | Infiniti | QX4 | Infiniti QX4 Non-Locking Gas Cap |
| 2004-2011 | Infiniti | QX56 | Infiniti QX56 Non-Locking Gas Cap |
| 2000-2001 | Jeep | Cherokee | Jeep Cherokee Non-Locking Gas Cap |
| 2014 | Jeep | Cherokee | Jeep Cherokee Non-Locking Gas Cap |
| 2006-2010 | Jeep | Commander (XK) | Jeep Commander (XK) Non-Locking Gas Cap |
| 2007-2014 | Jeep | Compass (MK) | Jeep Compass (MK) Non-Locking Gas Cap |
| 2001-2014 | Jeep | Grand Cherokee | Jeep Grand Cherokee Non-Locking Gas Cap |
| 2002-2012 | Jeep | Liberty | Jeep Liberty Non-Locking Gas Cap |
| 2007-2015 | Jeep | Patriot (MK) | Jeep Patriot (MK) Non-Locking Gas Cap |
| 2001-2014 | Jeep | Wrangler | Jeep Wrangler Non-Locking Gas Cap |
| 2003-2008 | Mazda | 6 | Mazda 6 Non-Locking Gas Cap |
| 2007-2009 | Mazda | CX-7 | Mazda CX-7 Non-Locking Gas Cap |
| 2009 | Mazda | CX-9 | Mazda CX-9 Non-Locking Gas Cap |
| 2006 | Mazda | MPV | Mazda MPV Non-Locking Gas Cap |
| 2006-2015 | Mazda | MX-5 Miata | Mazda MX-5 Miata Non-Locking Gas Cap |
| 2004-2011 | Mazda | RX-8 | Mazda RX-8 Non-Locking Gas Cap |
| 2011 | Mercedes Benz | C350 | Mercedes Benz C350 Non-Locking Gas Cap |
| 2007-2009 | Mercedes Benz | GL320 | Mercedes Benz GL320 Non-Locking Gas Cap |
| 2007-2009 | Mercedes Benz | GL450 | Mercedes Benz GL450 Non-Locking Gas Cap |
| 2012 | Mercedes Benz | GL450 | Mercedes Benz GL450 Non-Locking Gas Cap |
| 2008-2009 | Mercedes Benz | GL550 | Mercedes Benz GL550 Non-Locking Gas Cap |
| 2013-2016 | Mercedes Benz | GL550 | Mercedes Benz GL550 Non-Locking Gas Cap |
| 2013-2016 | Mercedes Benz | GL63 AMG | Mercedes Benz GL63 AMG Non-Locking Gas Cap |
| 2016 | Mercedes Benz | GLE350 | Mercedes Benz GLE350 Non-Locking Gas Cap |
| 2016 | Mercedes Benz | GLE400 | Mercedes Benz GLE400 Non-Locking Gas Cap |
| 2017 | Mercedes Benz | GLE43 AMG | Mercedes Benz GLE43 AMG Non-Locking Gas Cap |
| 2016 | Mercedes Benz | GLE450 AMG | Mercedes Benz GLE450 AMG Non-Locking Gas Cap |
| 2016-2017 | Mercedes Benz | GLE63 AMG | Mercedes Benz GLE63 AMG Non-Locking Gas Cap |
| 2017 | Mercedes Benz | GLS450 | Mercedes Benz GLS450 Non-Locking Gas Cap |
| 2017 | Mercedes Benz | GLS550 | Mercedes Benz GLS550 Non-Locking Gas Cap |
| 2017 | Mercedes Benz | GLS63 AMG | Mercedes Benz GLS63 AMG Non-Locking Gas Cap |
| 2007-2009 | Mercedes Benz | ML320 | Mercedes Benz ML320 Non-Locking Gas Cap |
| 2006-2013 | Mercedes Benz | ML350 | Mercedes Benz ML350 Non-Locking Gas Cap |
| 2006-2007 | Mercedes Benz | ML500 | Mercedes Benz ML500 Non-Locking Gas Cap |
| 2008-2015 | Mercedes Benz | ML550 | Mercedes Benz ML550 Non-Locking Gas Cap |
| 2007-2015 | Mercedes Benz | ML63 AMG | Mercedes Benz ML63 AMG Non-Locking Gas Cap |
| 2007-2009 | Mercedes Benz | R320 | Mercedes Benz R320 Non-Locking Gas Cap |
| 2006-2009 | Mercedes Benz | R350 | Mercedes Benz R350 Non-Locking Gas Cap |
| 2006-2007 | Mercedes Benz | R500 | Mercedes Benz R500 Non-Locking Gas Cap |
| 2007 | Mercedes Benz | R63 AMG | Mercedes Benz R63 AMG Non-Locking Gas Cap |
| 2000-2002 | Mercury | Villager | Mercury Villager Non-Locking Gas Cap |
| 2001-2012 | Mitsubishi | Eclipse | Mitsubishi Eclipse Non-Locking Gas Cap |
| 2004-2008 | Mitsubishi | Endeavor | Mitsubishi Endeavor Non-Locking Gas Cap |
| 2001-2010 | Mitsubishi | Galant | Mitsubishi Galant Non-Locking Gas Cap |
| 2014-2017 | Mitsubishi | Outlander | Mitsubishi Outlander Non-Locking Gas Cap |
| 2012-2017 | Mitsubishi | Outlander Sport | Mitsubishi Outlander Sport Non-Locking Gas Cap |
| 2006-2009 | Mitsubishi | Raider | Mitsubishi Raider Non-Locking Gas Cap |
| 2003-2009 | Nissan | 350Z | Nissan 350Z Non-Locking Gas Cap |
| 2009-2013 | Nissan | 370Z | Nissan 370Z Non-Locking Gas Cap |
| 2002-2011 | Nissan | Altima | Nissan Altima Non-Locking Gas Cap |
| 2005-2013 | Nissan | Armada | Nissan Armada Non-Locking Gas Cap |
| 2011-2013 | Nissan | Cube | Nissan Cube Non-Locking Gas Cap |
| 2001-2011 | Nissan | Frontier | Nissan Frontier Non-Locking Gas Cap |
| 2009-2011 | Nissan | GT-R | Nissan GT-R Non-Locking Gas Cap |
| 2011 | Nissan | Juke | Nissan Juke Non-Locking Gas Cap |
| 2002-2011 | Nissan | Maxima | Nissan Maxima Non-Locking Gas Cap |
| 2003-2007 | Nissan | Murano | Nissan Murano Non-Locking Gas Cap |
| 2009-2011 | Nissan | Murano | Nissan Murano Non-Locking Gas Cap |
| 2002-2011 | Nissan | Pathfinder | Nissan Pathfinder Non-Locking Gas Cap |
| 2004 | Nissan | Pathfinder Armada | Nissan Pathfinder Armada Non-Locking Gas Cap |
| 2000-2009 | Nissan | Quest | Nissan Quest Non-Locking Gas Cap |
| 2008-2013 | Nissan | Rogue | Nissan Rogue Non-Locking Gas Cap |
| 2000-2012 | Nissan | Sentra | Nissan Sentra Non-Locking Gas Cap |
| 2004-2013 | Nissan | Titan | Nissan Titan Non-Locking Gas Cap |
| 2007-2011 | Nissan | Versa | Nissan Versa Non-Locking Gas Cap |
| 2001-2013 | Nissan | Xterra | Nissan Xterra Non-Locking Gas Cap |
| 2000 | Plymouth | Breeze | Plymouth Breeze Non-Locking Gas Cap |
| 1999-2000 | Plymouth | Grand Voyager | Plymouth Grand Voyager Non-Locking Gas Cap |
| 1999-2001 | Plymouth | Neon | Plymouth Neon Non-Locking Gas Cap |
| 1999-2000 | Plymouth | Voyager | Plymouth Voyager Non-Locking Gas Cap |
| 2011-2016 | Ram | 1500 Truck | Ram 1500 Truck Non-Locking Gas Cap |
| 2011-2017 | Ram | 2500 Truck | Ram 2500 Truck Non-Locking Gas Cap |
| 2011-2017 | Ram | 3500 Truck | Ram 3500 Truck Non-Locking Gas Cap |
| 2011-2017 | Ram | 4500 Truck | Ram 4500 Truck Non-Locking Gas Cap |
| 2011-2017 | Ram | 5500 Truck | Ram 5500 Truck Non-Locking Gas Cap |
| 2012-2015 | Ram | Cargo Van | Ram Cargo Van Non-Locking Gas Cap |
| 2011 | Ram | Dakota | Ram Dakota Non-Locking Gas Cap |
| 2014-2015 | Ram | ProMaster 1500 | Ram ProMaster 1500 Non-Locking Gas Cap |
| 2014-2015 | Ram | ProMaster 2500 | Ram ProMaster 2500 Non-Locking Gas Cap |
| 2014-2015 | Ram | ProMaster 3500 | Ram ProMaster 3500 Non-Locking Gas Cap |
| 2006-2007 | Subaru | B9 Tribeca | Subaru B9 Tribeca Non-Locking Gas Cap |
| 2009-2012 | Subaru | Forester | Subaru Forester Non-Locking Gas Cap |
| 2009-2012 | Subaru | Impreza | Subaru Impreza Non-Locking Gas Cap |
| 2009-2012 | Subaru | Impreza | Subaru Impreza WRX STI Non-Locking Gas Cap |
| 2009-2012 | Subaru | Impreza | Subaru Impreza WRX Non-Locking Gas Cap |
| 2005-2009 | Subaru | Legacy | Subaru Legacy Non-Locking Gas Cap |
| 2005-2009 | Subaru | Outback | Subaru Outback Non-Locking Gas Cap |
| 2008-2012 | Subaru | Tribeca | Subaru Tribeca Non-Locking Gas Cap |
| 2009-2012 | Suzuki | Equator | Suzuki Equator Non-Locking Gas Cap |
| 2009-2014 | Volkswagen | Routan | VW Routan Non-Locking Gas Cap |
Part 1AFGC00002
In Stock
Order must be placed by 4pm ET
Get it in: 2 - 4 Business Days
Want it sooner? Choose Next Day Air at Checkout