1AEEF00014-Fuel Pressure Regulator
Replaces
Fuel Pressure Regulator - 1AEEF00014
1AEEF00014
This fuel pressure regulator (FPR) is just what you need to get your vehicle running great again!
Specifications:
Fuel Pressure Regulator (FPR)
Includes regulator, bracket, & clip

Replaces dealer part numbers: 12574986, 12579942, 12583236, 17113288, 17113517, 17113536, 17113555, 17113660, 17113678, 17122592, 89060418, 89060420
Direct replacement
Built to strict quality control standards
This fuel pressure regulator makes a great replacement and has good cost savings over a dealer unit.
Lifetime Warranty
This item is backed by a Limited Lifetime Warranty. In the event this item should fail due to manufacturing defects during intended use, we will exchange the part free of charge (excludes shipping charges) for the original purchaser.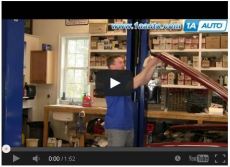 Tools needed for replacement:
Materials, Fluids, and Supplies

Paper Towels
Rust Penetrant

Screwdrivers & Related

Flat Blade Screwdriver
Fuel pressure regulator
Seems to be a good product , fast shipping , easy install video helpful
January 20, 2018
Purchased
6 months ago
Gm fuel pressure regulator
Works great easy to install but you will need a special tool, and the help of a second person is highly recommended. A1 auto has good deals and hard to find parts.
August 21, 2017
Purchased
11 months ago
Vehicle Fit
2001-2005 Buick LeSabre Fuel Pressure Regulator V6 3.8L
2001-2005 Buick Park Avenue Fuel Pressure Regulator V6 3.8L (8th Vin Digit K)
2004 Buick Rainier Fuel Pressure Regulator V8 5.3L
2001-2004 Buick Regal Fuel Pressure Regulator V6 3.8L (8th Vin Digit K)
2002-2003 Cadillac Escalade Fuel Pressure Regulator V8 6.0L
2002-2003 Cadillac Escalade Fuel Pressure Regulator V8 5.3L
2002-2003 Chevy Avalanche 1500 Fuel Pressure Regulator V8 5.3L
2002-2003 Chevy Avalanche 2500 Fuel Pressure Regulator V8 8.1L
1996-2000 Chevy C2500 Truck Fuel Pressure Regulator V8 7.4L
2000 Chevy C2500 Truck Fuel Pressure Regulator V8 5.7L
2000 Chevy C2500 Truck Fuel Pressure Regulator V8 6.5L Turbo Diesel
1996-2000 Chevy C3500 Truck Fuel Pressure Regulator V8 7.4L
2000-2002 Chevy C3500 Truck Fuel Pressure Regulator V8 6.5L Turbo Diesel
2000 Chevy C3500 Truck Fuel Pressure Regulator V8 5.7L
2001-2002 Chevy C3500 Truck Fuel Pressure Regulator V8 8.1L
1998 Chevy Camaro Fuel Pressure Regulator V8 5.7L
2003-2004 Chevy Express 1500 Van Fuel Pressure Regulator V8 5.3L
2003-2004 Chevy Express 2500 Van Fuel Pressure Regulator V8 5.3L
2003 Chevy Express 2500 Van Fuel Pressure Regulator V8 4.8L
2003 Chevy Express 2500 Van Fuel Pressure Regulator V8 6.0L
1996-2000 Chevy Express 3500 Van Fuel Pressure Regulator V8 7.4L (8th Vin Digit J)
2001-2002 Chevy Express 3500 Van Fuel Pressure Regulator V8 8.1L
2003 Chevy Express 3500 Van Fuel Pressure Regulator V8 6.0L
2001-2005 Chevy Impala Fuel Pressure Regulator V6 3.8L (8th Vin Digit K)
1996-2000 Chevy K2500 Truck Fuel Pressure Regulator V8 7.4L
2000 Chevy K2500 Truck Fuel Pressure Regulator V8 5.7L
2000 Chevy K2500 Truck Fuel Pressure Regulator V8 6.5L Turbo Diesel
1996-2000 Chevy K3500 Truck Fuel Pressure Regulator V8 7.4L
2000 Chevy K3500 Truck Fuel Pressure Regulator V8 5.7L
2000 Chevy K3500 Truck Fuel Pressure Regulator V8 6.5L Turbo Diesel
1999-2000 Chevy Kodiak Fuel Pressure Regulator V8 7.4L
2001-2005 Chevy Kodiak Fuel Pressure Regulator V8 8.1L
2001-2005 Chevy Monte Carlo SS Fuel Pressure Regulator V6 3.8L (8th Vin Digit K)
2003-2004 Chevy SSR Fuel Pressure Regulator V8 5.3L
1999-2000 Chevy School Bus Fuel Pressure Regulator V8 7.4L
2001-2002 Chevy School Bus Fuel Pressure Regulator V8 8.1L
1999-2005 Chevy Silverado 1500 Fuel Pressure Regulator V8 4.8L
1999-2003 Chevy Silverado 1500 Fuel Pressure Regulator V8 5.3L (8th Vin Digit T)
2000-2001 Chevy Silverado 1500 Fuel Pressure Regulator V6 4.3L (8th Vin Digit W)
2002 Chevy Silverado 1500 Fuel Pressure Regulator V6 4.3L
2002 Chevy Silverado 1500 Fuel Pressure Regulator V8 5.3L (8th Vin Digit Z)
2003-2005 Chevy Silverado 1500 SS Fuel Pressure Regulator V8 6.0L (8th Vin Digit N)
2001-2003 Chevy Silverado 1500 HD Fuel Pressure Regulator V8 6.0L
2005 Chevy Silverado 1500 HD Fuel Pressure Regulator
1999-2000 Chevy Silverado 2500 Fuel Pressure Regulator V8 5.3L
1999-2004 Chevy Silverado 2500 Fuel Pressure Regulator V8 6.0L
2001-2005 Chevy Silverado 2500 HD Fuel Pressure Regulator V8 6.0L
2001-2003 Chevy Silverado 2500 HD Fuel Pressure Regulator V8 8.1L
2001-2003 Chevy Silverado 3500 Fuel Pressure Regulator V8 8.1L
2001-2005 Chevy Silverado 3500 Fuel Pressure Regulator V8 6.0L
2000-2005 Chevy Suburban 1500 Fuel Pressure Regulator V8 5.3L (8th Vin Digit T)
2000-2005 Chevy Suburban 2500 Fuel Pressure Regulator V8 6.0L
2001-2003 Chevy Suburban 2500 Fuel Pressure Regulator V8 8.1L
2000-2005 Chevy Tahoe Fuel Pressure Regulator V8 5.3L (8th Vin Digit T)
2000-2005 Chevy Tahoe Fuel Pressure Regulator V8 4.8L
2003-2004 Chevy Trailblazer EXT Fuel Pressure Regulator V8 5.3L
1996-1997 Chevy Van - P Series Forward Control P30 Fuel Pressure Regulator V8 7.4L (8th Vin Digit J)
1998-1999 Chevy Van - P Series Forward Control P30 Fuel Pressure Regulator V8 7.4L
1996-2000 GMC C2500 Truck Fuel Pressure Regulator V8 7.4L
2000 GMC C2500 Truck Fuel Pressure Regulator V8 5.7L
2000 GMC C2500 Truck Fuel Pressure Regulator V8 6.5L Turbo Diesel
1996-2000 GMC C3500 Truck Fuel Pressure Regulator V8 7.4L
2000 GMC C3500 Truck Fuel Pressure Regulator V8 5.7L
2000 GMC C3500 Truck Fuel Pressure Regulator V8 6.5L Turbo Diesel
2001-2002 GMC C3500 Truck Fuel Pressure Regulator V8 8.1L
2003-2004 GMC Envoy XL Fuel Pressure Regulator V8 5.3L
1996-2000 GMC K2500 Truck Fuel Pressure Regulator V8 7.4L
2000 GMC K2500 Truck Fuel Pressure Regulator V8 6.5L Turbo Diesel
2000 GMC K2500 Truck Fuel Pressure Regulator V8 5.7L
1996-2000 GMC K3500 Truck Fuel Pressure Regulator V8 7.4L
2000 GMC K3500 Truck Fuel Pressure Regulator V8 5.7L
2000 GMC K3500 Truck Fuel Pressure Regulator V8 6.5L Turbo Diesel
2003-2004 GMC Savana 1500 Van Fuel Pressure Regulator V8 5.3L
2003 GMC Savana 2500 Van Fuel Pressure Regulator V8 6.0L
2003 GMC Savana 2500 Van Fuel Pressure Regulator V8 4.8L
2003-2004 GMC Savana 2500 Van Fuel Pressure Regulator V8 5.3L
1996-2000 GMC Savana 3500 Van Fuel Pressure Regulator V8 7.4L (8th Vin Digit J)
2001-2002 GMC Savana 3500 Van Fuel Pressure Regulator V8 8.1L
2003 GMC Savana 3500 Van Fuel Pressure Regulator V8 6.0L
1999-2000 GMC School Bus Fuel Pressure Regulator V8 7.4L
2001-2002 GMC School Bus Fuel Pressure Regulator V8 8.1L
1999-2003 GMC Sierra 1500 Fuel Pressure Regulator V8 5.3L (8th Vin Digit T)
1999-2005 GMC Sierra 1500 Fuel Pressure Regulator V8 4.8L
2000 GMC Sierra 1500 Fuel Pressure Regulator V6 4.3L
2001-2003 GMC Sierra 1500 HD Fuel Pressure Regulator V8 6.0L
2005 GMC Sierra 1500 HD Fuel Pressure Regulator
1999-2000 GMC Sierra 2500 Fuel Pressure Regulator V8 5.3L
1999-2004 GMC Sierra 2500 Fuel Pressure Regulator V8 6.0L
2001-2005 GMC Sierra 2500 HD Fuel Pressure Regulator V8 6.0L
2001-2003 GMC Sierra 2500 HD Fuel Pressure Regulator V8 8.1L
2001-2005 GMC Sierra 3500 Fuel Pressure Regulator V8 6.0L
2001-2003 GMC Sierra 3500 Fuel Pressure Regulator V8 8.1L
1996-1999 GMC Suburban C2500 Fuel Pressure Regulator V8 7.4L
1996-1999 GMC Suburban K2500 Fuel Pressure Regulator V8 7.4L
1999-2000 GMC Topkick Fuel Pressure Regulator V8 7.4L
2001-2002 GMC Topkick Fuel Pressure Regulator V8 8.1L
1996-1997 GMC Van - P Series Forward Control P3500 Fuel Pressure Regulator V8 7.4L (8th Vin Digit J)
1998-1999 GMC Van - P Series Forward Control P3500 Fuel Pressure Regulator V8 7.4L
2000-2005 GMC Yukon Fuel Pressure Regulator V8 4.8L
2000-2005 GMC Yukon Fuel Pressure Regulator V8 5.3L (8th Vin Digit T)
2004-2005 GMC Yukon Denali Fuel Pressure Regulator V8 6.0L
2004 GMC Yukon Fuel Pressure Regulator V8 5.3L (8th Vin Digit Z)
2000-2005 GMC Yukon XL 1500 Fuel Pressure Regulator V8 5.3L (8th Vin Digit T)
2000-2005 GMC Yukon XL 2500 Fuel Pressure Regulator V8 6.0L
2001-2003 GMC Yukon XL 2500 Fuel Pressure Regulator V8 8.1L
2003 Hummer H2 Fuel Pressure Regulator V8 6.0L
2003-2004 Isuzu Ascender Fuel Pressure Regulator V8 5.3L
2001-2005 Pontiac Bonneville Fuel Pressure Regulator V6 3.8L (8th Vin Digit K)
1998 Pontiac Firebird Formula Fuel Pressure Regulator V8 5.7L
2001-2003 Pontiac Grand Prix Fuel Pressure Regulator V6 3.8L (8th Vin Digit K)
This part replaces:
OE # 12583236
OE # 89060418
Standard Motor Products PR217T