1AERK00303-Fuel Injector Harness 8 Piece Set
Replaces
Fuel Injector Harness 8 Piece Set - 1AERK00303
1AERK00303
Frequently bought together
Specifications:
Comes as a SET of 8
Brand New Fuel Injector Pigtail Harnesses

Direct replacement
EV6 style connector

Built to strict quality control standards
100% factory tested
Item Condition: New

Attention California Customers:
WARNING: Cancer and Reproductive Harm - www.P65Warnings.ca.gov.
Lifetime Warranty
This item is backed by a Limited Lifetime Warranty. In the event this item should fail due to manufacturing defects during intended use, we will exchange the part free of charge (excludes shipping charges) for the original purchaser.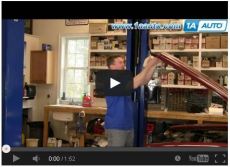 step : How to Pin the Harness (0:16)

Make sure the center plate is up and free
Push the terminals in until they click
Press down the center plate
Check that the terminals are flush with the center plate slots
Tools needed for replacement:
The part you see online is not the part you will receive
Working on a 2001 Dodge Dakota 4x4 with 4.7 engine. Factory Dodge fuel injector wiring sockets (as shown online part # 1AERK00303) have a red safety clip that unlocks when servicing the injectors. The factory red plastic locking tabs disintegrated when I tried to unlock them (all 8). They were 17 years old and obviously made of cheap plastic. Solution was to order this part from 1A AUTO which shows the red locking tabs and appears as pictured that you have to assemble them which makes sense during a repair. Who wants to cut a factory wiring harness? Seemed like a good deal, use your socket/terminal release set, remove the old comet, replace with this one and DONE! Wrong....... When I received the part, it was not the part # you see pictured here on 1A AUTO website for part # 1AERK00303 which appears to be a kit needing assembled. What you will receive is a STANDARD brand part (SKU S824) already assembled and no part # written anywhere on the box or packaging for reference. This part will fit the injector and lock in however, you have to cut your factory wiring harness to make it work as the factory sockets and terminal size are different from this STANDARD part received from 1A AUTO. Called 1A AUTO, they were prompt to get a new part sent out claiming it was a mistake. They asked for a photo of what I received? I gave them the SKU # S824 and they said, yep thats different than whats pictured. So they sent another box and I received the exact same STANDARD part with SKU # S824 they sent me the first time. Didnt solve the problem and at this point I have already used some high quality zip ties to secure the fuel injectors. 1 Star - for sending me the parts fast and trying to correct the problem, good customer service. The other 4 stars were taken away for making me think I was getting the part they had pictured and putting me through this hassle wasting money. False display of part / False advertisement in my opinion. I will probably use these sockets in the future when I have time to cut the wiring harness and solder the wires using shrink tube for a long term repair. Much easier replacing the sockets though. Will I return to 1A AUTO - Absolutely not, theres obviously a disconnect somewhere in this business practice website and I cannot trust that what I see is what I will get. Its a Hassle! Thanks 1A AUTO
Customer Q&A
Ask a question to 1A Auto customers who purchased the product
No questions have been asked about this item.
| Year | Make | Model | Description |
| --- | --- | --- | --- |
| 2006-2007 | Buick | Lucerne | Buick Lucerne Fuel Injector Harness 8 Piece Set V8 4.6L |
| 2004 | Cadillac | CTS | Cadillac CTS Fuel Injector Harness 8 Piece Set V8 5.7L |
| 2006-2007 | Cadillac | DTS | Cadillac DTS Fuel Injector Harness 8 Piece Set V8 4.6L |
| 2000-2005 | Cadillac | Deville | Cadillac Deville Fuel Injector Harness 8 Piece Set V8 4.6L |
| 2000-2002 | Cadillac | Eldorado | Cadillac Eldorado Fuel Injector Harness 8 Piece Set V8 4.6L |
| 2004-2007 | Cadillac | SRX | Cadillac SRX Fuel Injector Harness 8 Piece Set V8 4.6L |
| 2005-2007 | Cadillac | STS | Cadillac STS Fuel Injector Harness 8 Piece Set V8 4.6L |
| 2006-2007 | Cadillac | STS | Cadillac STS Fuel Injector Harness 8 Piece Set V8 4.4L |
| 2000-2004 | Cadillac | Seville | Cadillac Seville Fuel Injector Harness 8 Piece Set V8 4.6L |
| 2004-2007 | Cadillac | XLR | Cadillac XLR Fuel Injector Harness 8 Piece Set V8 4.6L |
| 2006-2007 | Cadillac | XLR | Cadillac XLR Fuel Injector Harness 8 Piece Set V8 4.4L |
| 2007 | Chevy | Avalanche | Chevy Avalanche Fuel Injector Harness 8 Piece Set V8 6.0L |
| 2007 | Chevy | Avalanche | Chevy Avalanche Fuel Injector Harness 8 Piece Set V8 5.3L |
| 2006 | Chevy | Avalanche 1500 | Chevy Avalanche 1500 Fuel Injector Harness 8 Piece Set V8 5.3L |
| 2006 | Chevy | Avalanche 2500 | Chevy Avalanche 2500 Fuel Injector Harness 8 Piece Set V8 8.1L |
| 2002 | Chevy | C3500 Truck | Chevy C3500 Truck Fuel Injector Harness 8 Piece Set V8 8.1L |
| 2010-2011 | Chevy | Camaro | Chevy Camaro Fuel Injector Harness 8 Piece Set V8 6.2L |
| 2005-2007 | Chevy | Corvette | Chevy Corvette Fuel Injector Harness 8 Piece Set V8 6.0L |
| 2007-2013 | Chevy | Corvette | Chevy Corvette Fuel Injector Harness 8 Piece Set V8 7.0L |
| 2008-2013 | Chevy | Corvette | Chevy Corvette Fuel Injector Harness 8 Piece Set V8 6.2L |
| 2006-2007 | Chevy | Impala | Chevy Impala Fuel Injector Harness 8 Piece Set V8 5.3L |
| 2006-2007 | Chevy | Monte Carlo | Chevy Monte Carlo Fuel Injector Harness 8 Piece Set V8 5.3L |
| 2005-2008 | Chrysler | 300 | Chrysler 300 Fuel Injector Harness 8 Piece Set V8 5.7L |
| 2005-2008 | Chrysler | 300 | Chrysler 300 Fuel Injector Harness 8 Piece Set V8 6.1L |
| 2007 | Chrysler | Aspen | Chrysler Aspen Fuel Injector Harness 8 Piece Set V8 4.7L |
| 2007 | Chrysler | Aspen | Chrysler Aspen Fuel Injector Harness 8 Piece Set V8 5.7L |
| 2006 | Dodge | Charger | Dodge Charger Fuel Injector Harness 8 Piece Set V8 5.7L |
| 2006 | Dodge | Charger | Dodge Charger Fuel Injector Harness 8 Piece Set V8 6.1L |
| 2000-2003 | Dodge | Dakota | Dodge Dakota Fuel Injector Harness 8 Piece Set V8 5.9L |
| 2000-2010 | Dodge | Dakota | Dodge Dakota Fuel Injector Harness 8 Piece Set V8 4.7L |
| 2000-2009 | Dodge | Durango | Dodge Durango Fuel Injector Harness 8 Piece Set V8 4.7L |
| 2000 | Dodge | Durango | Dodge Durango Fuel Injector Harness 8 Piece Set V8 5.2L |
| 2000-2003 | Dodge | Durango | Dodge Durango Fuel Injector Harness 8 Piece Set V8 5.9L |
| 2004-2009 | Dodge | Durango | 2004-09, 2011-12 Dodge Durango Fuel Injector Harness 8 Piece Set V8 5.7L |
| 2011-2012 | Dodge | Durango | 2004-09, 2011-12 Dodge Durango Fuel Injector Harness 8 Piece Set V8 5.7L |
| 2005-2006 | Dodge | Magnum | Dodge Magnum Fuel Injector Harness 8 Piece Set V8 5.7L |
| 2006 | Dodge | Magnum | Dodge Magnum Fuel Injector Harness 8 Piece Set V8 6.1L |
| 2000-2003 | Dodge | Ram 1500 Truck | Dodge Ram 1500 Truck Fuel Injector Harness 8 Piece Set V8 5.9L |
| 2000-2001 | Dodge | Ram 1500 Truck | Dodge Ram 1500 Truck Fuel Injector Harness 8 Piece Set V8 5.2L |
| 2002-2008 | Dodge | Ram 1500 Truck | Dodge Ram 1500 Truck Fuel Injector Harness 8 Piece Set V8 4.7L |
| 2003-2008 | Dodge | Ram 1500 Truck | Dodge Ram 1500 Truck Fuel Injector Harness 8 Piece Set V8 5.7L |
| 2000-2003 | Dodge | Ram 1500 Van | Dodge Ram 1500 Van Fuel Injector Harness 8 Piece Set V8 5.9L |
| 2000-2003 | Dodge | Ram 1500 Van | Dodge Ram 1500 Van Fuel Injector Harness 8 Piece Set V8 5.2L |
| 1999-2003 | Dodge | Ram 2500 Truck | Dodge Ram 2500 Truck Fuel Injector Harness 8 Piece Set V10 8.0L |
| 2004-2010 | Dodge | Ram 2500 Truck | Dodge Ram 2500 Truck Fuel Injector Harness 8 Piece Set V8 5.7L |
| 2000-2003 | Dodge | Ram 2500 Van | Dodge Ram 2500 Van Fuel Injector Harness 8 Piece Set V8 5.9L |
| 2000-2003 | Dodge | Ram 2500 Van | Dodge Ram 2500 Van Fuel Injector Harness 8 Piece Set V8 5.2L |
| 1998-2003 | Dodge | Ram 3500 Truck | Dodge Ram 3500 Truck Fuel Injector Harness 8 Piece Set V10 8.0L |
| 2003-2008 | Dodge | Ram 3500 Truck | Dodge Ram 3500 Truck Fuel Injector Harness 8 Piece Set V8 5.7L |
| 2000-2003 | Dodge | Ram 3500 Van | Dodge Ram 3500 Van Fuel Injector Harness 8 Piece Set V8 5.9L |
| 2000-2003 | Dodge | Ram 3500 Van | Dodge Ram 3500 Van Fuel Injector Harness 8 Piece Set V8 5.2L |
| 1999-2011 | Ford | Crown Victoria | Ford Crown Victoria Fuel Injector Harness 8 Piece Set V8 4.6L |
| 2005-2009 | Ford | E150 Van | Ford E150 Van Fuel Injector Harness 8 Piece Set V8 5.4L |
| 2005-2007 | Ford | E150 Van | Ford E150 Van Fuel Injector Harness 8 Piece Set V8 4.6L |
| 2005-2009 | Ford | E250 Van | Ford E250 Van Fuel Injector Harness 8 Piece Set V8 5.4L |
| 2005-2007 | Ford | E250 Van | Ford E250 Van Fuel Injector Harness 8 Piece Set V8 4.6L |
| 1999-2005 | Ford | E350 Van | Ford E350 Van Fuel Injector Harness 8 Piece Set V10 6.8L |
| 2004-2005 | Ford | E350 Van | Ford E350 Van Fuel Injector Harness 8 Piece Set V8 5.4L |
| 1999-2008 | Ford | E350 Van Super Duty | Ford E350 Van Super Duty Fuel Injector Harness 8 Piece Set V10 6.8L |
| 2004-2008 | Ford | E350 Van Super Duty | Ford E350 Van Super Duty Fuel Injector Harness 8 Piece Set V8 5.4L |
| 2009 | Ford | E350 Van Super Duty | Ford E350 Van Super Duty Fuel Injector Harness 8 Piece Set V8 5.4L |
| 2009 | Ford | E350 Van Super Duty | Ford E350 Van Super Duty Fuel Injector Harness 8 Piece Set V10 6.8L |
| 2007-2009 | Ford | E450 Van | Ford E450 Van Fuel Injector Harness 8 Piece Set V8 5.4L |
| 2009 | Ford | E450 Van | Ford E450 Van Fuel Injector Harness 8 Piece Set V10 6.8L |
| 2003 | Ford | E550 Van | Ford E550 Van Fuel Injector Harness 8 Piece Set V10 6.8L |
| 2000-2005 | Ford | Excursion | Ford Excursion Fuel Injector Harness 8 Piece Set V10 6.8L |
| 2003-2008 | Ford | Expedition | Ford Expedition Fuel Injector Harness 8 Piece Set V8 5.4L |
| 2003-2004 | Ford | Expedition | Ford Expedition Fuel Injector Harness 8 Piece Set V8 4.6L |
| 2005-2009 | Ford | Explorer | Ford Explorer Fuel Injector Harness 8 Piece Set V8 4.6L |
| 2007-2009 | Ford | Explorer Sport Trac | Ford Explorer Sport Trac Fuel Injector Harness 8 Piece Set V8 4.6L |
| 2005-2009 | Ford | F150 Truck | Ford F150 Truck Fuel Injector Harness 8 Piece Set V8 5.4L |
| 2005-2009 | Ford | F150 Truck | Ford F150 Truck Fuel Injector Harness 8 Piece Set V8 4.6L |
| 1999-2010 | Ford | F250 Super Duty Truck | Ford F250 Super Duty Truck Fuel Injector Harness 8 Piece Set V10 6.8L |
| 2005-2009 | Ford | F250 Super Duty Truck | Ford F250 Super Duty Truck Fuel Injector Harness 8 Piece Set V8 5.4L |
| 1999-2009 | Ford | F350 Super Duty Truck | Ford F350 Super Duty Truck Fuel Injector Harness 8 Piece Set V10 6.8L |
| 2005-2009 | Ford | F350 Super Duty Truck | Ford F350 Super Duty Truck Fuel Injector Harness 8 Piece Set V8 5.4L |
| 2000-2008 | Ford | F450 Truck | Ford F450 Truck Fuel Injector Harness 8 Piece Set V10 6.8L |
| 2000-2007 | Ford | F550 Truck | Ford F550 Truck Fuel Injector Harness 8 Piece Set V10 6.8L |
| 2005-2006 | Ford | GT | Ford GT Fuel Injector Harness 8 Piece Set V8 5.4L |
| 2001-2010 | Ford | Mustang | Ford Mustang Fuel Injector Harness 8 Piece Set V8 4.6L |
| 2002-2005 | Ford | Thunderbird | Ford Thunderbird Fuel Injector Harness 8 Piece Set V8 3.9L |
| 2005-2009 | GMC | Envoy | GMC Envoy Fuel Injector Harness 8 Piece Set V8 5.3L |
| 2005-2006 | GMC | Envoy XL | GMC Envoy XL Fuel Injector Harness 8 Piece Set V8 5.3L |
| 2005 | GMC | Envoy XUV | GMC Envoy XUV Fuel Injector Harness 8 Piece Set V8 5.3L |
| 2005-2006 | Isuzu | Ascender | Isuzu Ascender Fuel Injector Harness 8 Piece Set V8 5.3L |
| 1999-2005 | Jeep | Grand Cherokee | Jeep Grand Cherokee Fuel Injector Harness 8 Piece Set V8 4.7L |
| 2005 | Jeep | Grand Cherokee | Jeep Grand Cherokee Fuel Injector Harness 8 Piece Set V8 5.7L |
| 2003-2005 | Lincoln | Aviator | Lincoln Aviator Fuel Injector Harness 8 Piece Set V8 4.6L |
| 2002 | Lincoln | Blackwood | Lincoln Blackwood Fuel Injector Harness 8 Piece Set V8 5.4L |
| 1999-2002 | Lincoln | Continental | Lincoln Continental Fuel Injector Harness 8 Piece Set V8 4.6L |
| 2000-2005 | Lincoln | LS | Lincoln LS Fuel Injector Harness 8 Piece Set V8 3.9L |
| 2006-2007 | Lincoln | Mark LT | Lincoln Mark LT Fuel Injector Harness 8 Piece Set V8 5.4L |
| 2000-2007 | Lincoln | Navigator | Lincoln Navigator Fuel Injector Harness 8 Piece Set V8 5.4L |
| 1999-2005 | Lincoln | Town Car | Lincoln Town Car Fuel Injector Harness 8 Piece Set V8 4.6L |
| 2003-2004 | Mercury | Marauder | Mercury Marauder Fuel Injector Harness 8 Piece Set V8 4.6L |
| 2004-2007 | Mercury | Mountaineer | Mercury Mountaineer Fuel Injector Harness 8 Piece Set V8 4.6L |
| 2003 | Oldsmobile | Aurora | Olds Aurora Fuel Injector Harness 8 Piece Set V8 4.0L |
| 2005 | Pontiac | GTO | Pontiac GTO Fuel Injector Harness 8 Piece Set V8 6.0L |
| 2005-2006 | Pontiac | Grand Prix | Pontiac Grand Prix Fuel Injector Harness 8 Piece Set V8 5.3L |
| 2007 | Saab | 9-7X | Saab 9-7X Fuel Injector Harness 8 Piece Set V8 5.3L |
Part 1AERK00303
In Stock
Order must be placed by 4pm ET
Get it in: 2 - 4 Business Days
Want it sooner? Choose Next Day Air at Checkout