1AEEM00657-Exhaust Manifold & Gasket Kit
Replaces
Exhaust Manifold & Gasket Kit Dorman 674-732 - 1AEEM00657
1AEEM00657
Our aftermarket manifolds are some of the highest quality replacements on the market!
If your vehicle's exhaust is getting loud and the exhaust noise is coming from under the hood or engine then you may need to fix a cracked exhaust manifold. Replacing a broken manifold is easiest with a direct replacement manifold that will fit correctly and bolt up to you original engine and exhaust system. This manifold is a direct fitting replacement.
Specifications:
Fits the RH (Passenger Side)

Includes:

(1) Exhaust manifold
(1) Gaskets (manifold to cylinder head)
(1) Gasket (manifold to exhaust pipe)
(3) Studs (manifold to exhaust pipe flange)
(3) Nuts (manifold to exhaust pipe flange)

Replaces dealer part numbers: 12616286
Direct replacement
Replaces original manifolds that are cracked from thermal expansion and contraction
Strengthened and redesigned in the vulnerable areas of failure
Manifold may look different than original

Manifold has hump where the EGR valve tube used to bolt to
It is not drilled or tapped for this provision
Now you can buy a high quality exhaust manifold that is built to strict quality control standards for less than the price at the dealer. REPLACE your broken, warped, or cracked exhaust manifold now with this great fitting, alternative. This exhaust manifold is a great replacement and has substantial cost savings over a dealer unit.
Lifetime Warranty
This item is backed by a Limited Lifetime Warranty. In the event this item should fail due to manufacturing defects during intended use, we will exchange the part free of charge (excludes shipping charges) for the original purchaser.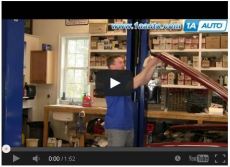 Tools needed for replacement:
General Tools

Jack Stands
Wire Brush

Materials, Fluids, and Supplies

Rust Penetrant

Pliers, Cutters & misc Wrenches

Needle nose pliers
Pipe Wrench

Ratchets & Related

Ratchet
Socket Extensions
Torque Wrench

Sockets - Metric

10mm Socket
15mm Socket
Vehicle Fit
| Year | Make | Model | Description |
| --- | --- | --- | --- |
| 2002-2003 | Cadillac | Escalade | Cadillac Escalade Exhaust Manifold & Gasket Kit V8 6.0L without EGR Valve Passenger Side Dorman 674-732 |
| 2002-2003 | Cadillac | Escalade | Cadillac Escalade Exhaust Manifold & Gasket Kit V8 5.3L without EGR Valve Passenger Side Dorman 674-732 |
| 2004-2005 | Cadillac | Escalade | Cadillac Escalade Exhaust Manifold & Gasket Kit V8 5.3L Passenger Side Dorman 674-732 |
| 2004-2005 | Cadillac | Escalade | Cadillac Escalade Exhaust Manifold & Gasket Kit V8 6.0L Passenger Side Dorman 674-732 |
| 2006-2012 | Cadillac | Escalade | Cadillac Escalade Exhaust Manifold & Gasket Kit Passenger Side Dorman 674-732 |
| 2003-2012 | Cadillac | Escalade ESV | Cadillac Escalade ESV Exhaust Manifold & Gasket Kit V8 6.0L without EGR Valve Passenger Side Dorman 674-732 |
| 2004-2012 | Cadillac | Escalade ESV | Cadillac Escalade ESV Exhaust Manifold & Gasket Kit Passenger Side Dorman 674-732 |
| 2002-2003 | Cadillac | Escalade EXT | Cadillac Escalade EXT Exhaust Manifold & Gasket Kit V8 6.0L without EGR Valve Passenger Side Dorman 674-732 |
| 2004-2010 | Cadillac | Escalade EXT | Cadillac Escalade EXT Exhaust Manifold & Gasket Kit Passenger Side Dorman 674-732 |
| 2002-2003 | Chevy | Avalanche 1500 | Chevy Avalanche 1500 Exhaust Manifold & Gasket Kit V8 5.3L Passenger Side Dorman 674-732 |
| 2004-2012 | Chevy | Avalanche 1500 | Chevy Avalanche 1500 Exhaust Manifold & Gasket Kit Passenger Side Dorman 674-732 |
| 2003 | Chevy | Express 1500 Van | Chevy Express 1500 Van Exhaust Manifold & Gasket Kit Passenger Side V8 6.0L without EGR Valve Dorman 674-732 |
| 2003 | Chevy | Express 1500 Van | Chevy Express 1500 Van Exhaust Manifold & Gasket Kit Passenger Side V8 4.8L without EGR Valve Dorman 674-732 |
| 2003 | Chevy | Express 1500 Van | Chevy Express 1500 Van Exhaust Manifold & Gasket Kit Passenger Side V8 5.3L without EGR Valve Dorman 674-732 |
| 2004-2013 | Chevy | Express 1500 Van | Chevy Express 1500 Van Exhaust Manifold & Gasket Kit Passenger Side V8 4.8L Dorman 674-732 |
| 2004-2013 | Chevy | Express 1500 Van | Chevy Express 1500 Van Exhaust Manifold & Gasket Kit Passenger Side V8 6.0L Dorman 674-732 |
| 2004-2013 | Chevy | Express 1500 Van | Chevy Express 1500 Van Exhaust Manifold & Gasket Kit Passenger Side V8 5.3L Dorman 674-732 |
| 2003 | Chevy | Express 2500 Van | Chevy Express 2500 Van Exhaust Manifold & Gasket Kit Passenger Side V8 6.0L without EGR Valve Dorman 674-732 |
| 2003 | Chevy | Express 2500 Van | Chevy Express 2500 Van Exhaust Manifold & Gasket Kit Passenger Side V8 5.3L without EGR Valve Dorman 674-732 |
| 2003 | Chevy | Express 2500 Van | Chevy Express 2500 Van Exhaust Manifold & Gasket Kit Passenger Side V8 4.8L without EGR Valve Dorman 674-732 |
| 2004-2009 | Chevy | Express 2500 Van | Chevy Express 2500 Van Exhaust Manifold & Gasket Kit Passenger Side V8 4.8L Dorman 674-732 |
| 2004-2013 | Chevy | Express 2500 Van | Chevy Express 2500 Van Exhaust Manifold & Gasket Kit Passenger Side V8 5.3L Dorman 674-732 |
| 2004-2013 | Chevy | Express 2500 Van | Chevy Express 2500 Van Exhaust Manifold & Gasket Kit Passenger Side V8 6.0L Dorman 674-732 |
| 2003 | Chevy | Express 3500 Van | Chevy Express 3500 Van Exhaust Manifold & Gasket Kit Passenger Side V8 5.3L without EGR Valve Dorman 674-732 |
| 2003 | Chevy | Express 3500 Van | Chevy Express 3500 Van Exhaust Manifold & Gasket Kit Passenger Side V8 6.0L without EGR Valve Dorman 674-732 |
| 2003 | Chevy | Express 3500 Van | Chevy Express 3500 Van Exhaust Manifold & Gasket Kit Passenger Side V8 4.8L without EGR Valve Dorman 674-732 |
| 2004-2012 | Chevy | Express 3500 Van | Chevy Express 3500 Van Exhaust Manifold & Gasket Kit Passenger Side V8 4.8L Dorman 674-732 |
| 2004-2012 | Chevy | Express 3500 Van | Chevy Express 3500 Van Exhaust Manifold & Gasket Kit Passenger Side V8 5.3L Dorman 674-732 |
| 2004-2012 | Chevy | Express 3500 Van | Chevy Express 3500 Van Exhaust Manifold & Gasket Kit Passenger Side V8 6.0L Dorman 674-732 |
| 2002-2003 | Chevy | Silverado 1500 | Chevy Silverado 1500 Exhaust Manifold & Gasket Kit Passenger Side V8 6.0L without EGR Valve Dorman 674-732 |
| 2002-2003 | Chevy | Silverado 1500 | Chevy Silverado 1500 Exhaust Manifold & Gasket Kit Passenger Side V8 5.3L without EGR Valve Dorman 674-732 |
| 2002-2003 | Chevy | Silverado 1500 | Chevy Silverado 1500 Exhaust Manifold & Gasket Kit Passenger Side V8 4.8L without EGR Valve Dorman 674-732 |
| 2004-2010 | Chevy | Silverado 1500 | Chevy Silverado 1500 Exhaust Manifold & Gasket Kit Passenger Side V8 6.0L Dorman 674-732 |
| 2004-2013 | Chevy | Silverado 1500 | Chevy Silverado 1500 Exhaust Manifold & Gasket Kit Passenger Side V8 5.3L Dorman 674-732 |
| 2004-2013 | Chevy | Silverado 1500 | Chevy Silverado 1500 Exhaust Manifold & Gasket Kit Passenger Side V8 4.8L Dorman 674-732 |
| 2009-2013 | Chevy | Silverado 1500 | Chevy Silverado 1500 Exhaust Manifold & Gasket Kit Passenger Side Dorman 674-732 |
| 2009-2013 | Chevy | Silverado 1500 | Chevy Silverado 1500 Exhaust Manifold & Gasket Kit Passenger Side V8 6.2L Dorman 674-732 |
| 2007 | Chevy | Silverado 1500 Classic | Chevy Silverado 1500 Classic Exhaust Manifold & Gasket Kit Passenger Side V8 6.0L Dorman 674-732 |
| 2007 | Chevy | Silverado 1500 Classic | Chevy Silverado 1500 Classic Exhaust Manifold & Gasket Kit Passenger Side V8 5.3L Dorman 674-732 |
| 2007 | Chevy | Silverado 1500 Classic | Chevy Silverado 1500 Classic Exhaust Manifold & Gasket Kit Passenger Side V8 4.8L Dorman 674-732 |
| 2002-2003 | Chevy | Silverado 1500 HD | Chevy Silverado 1500 HD Exhaust Manifold & Gasket Kit Passenger Side V8 6.0L without EGR Valve Dorman 674-732 |
| 2005-2006 | Chevy | Silverado 1500 HD | Chevy Silverado 1500 HD Exhaust Manifold & Gasket Kit Passenger Side V8 6.0L Dorman 674-732 |
| 2007 | Chevy | Silverado 1500 HD Classic | Chevy Silverado 1500 HD Classic Exhaust Manifold & Gasket Kit Passenger Side V8 6.0L Dorman 674-732 |
| 2002-2003 | Chevy | Silverado 2500 | Chevy Silverado 2500 Exhaust Manifold & Gasket Kit Passenger Side V8 6.0L without EGR Valve Dorman 674-732 |
| 2004 | Chevy | Silverado 2500 | Chevy Silverado 2500 Exhaust Manifold & Gasket Kit Passenger Side V8 6.0L Dorman 674-732 |
| 2002-2003 | Chevy | Silverado 2500 HD | Chevy Silverado 2500 HD Exhaust Manifold & Gasket Kit Passenger Side V8 6.0L without EGR Valve Dorman 674-732 |
| 2004-2006 | Chevy | Silverado 2500 HD | Chevy Silverado 2500 HD Exhaust Manifold & Gasket Kit Passenger Side V8 6.0L Dorman 674-732 |
| 2007 | Chevy | Silverado 2500 HD | Chevy Silverado 2500 HD New Body Style Exhaust Manifold & Gasket Kit with V8 6.0L (excluding Cab & Chassis) Passenger Side Dorman 674-732 |
| 2008-2017 | Chevy | Silverado 2500 HD | Chevy Silverado 2500 HD Exhaust Manifold & Gasket Kit Passenger Side V8 6.0L (excluding Cab & Chassis) Dorman 674-732 |
| 2007 | Chevy | Silverado 2500 HD Classic | Chevy Silverado 2500 HD Classic Exhaust Manifold & Gasket Kit with V8 6.0L Passenger Side Dorman 674-732 |
| 2002-2003 | Chevy | Silverado 3500 | Chevy Silverado 3500 Exhaust Manifold & Gasket Kit Passenger Side V8 6.0L without EGR Valve Dorman 674-732 |
| 2004-2006 | Chevy | Silverado 3500 | Chevy Silverado 3500 Exhaust Manifold & Gasket Kit Passenger Side V8 6.0L Dorman 674-732 |
| 2007 | Chevy | Silverado 3500 | Chevy Silverado 3500 New Body Style Exhaust Manifold & Gasket Kit with V8 6.0L (excluding Cab & Chassis) Passenger Side Dorman 674-732 |
| 2008-2017 | Chevy | Silverado 3500 | Chevy Silverado 3500 Exhaust Manifold & Gasket Kit Passenger Side V8 6.0L (excluding Cab & Chassis) Dorman 674-732 |
| 2008-2017 | Chevy | Silverado 3500 | Chevy Silverado 3500 Exhaust Manifold & Gasket Kit V8 6.0L Passenger Side (excluding Cab & Chassis) Dorman 674-732 |
| 2007 | Chevy | Silverado 3500 Classic | Chevy Silverado 3500 Classic Exhaust Manifold & Gasket Kit with V8 6.0L Passenger Side Dorman 674-732 |
| 2002-2003 | Chevy | Suburban 1500 | Chevy Suburban 1500 Exhaust Manifold & Gasket Kit without EGR Valve Passenger Side Dorman 674-732 |
| 2004-2006 | Chevy | Suburban 1500 | Chevy Suburban 1500 Exhaust Manifold & Gasket Kit Passenger Side Dorman 674-732 |
| 2002-2003 | Chevy | Suburban 2500 | Chevy Suburban 2500 Exhaust Manifold & Gasket Kit V8 6.0L without EGR Valve Passenger Side Dorman 674-732 |
| 2004-2006 | Chevy | Suburban 2500 | Chevy Suburban 2500 Exhaust Manifold & Gasket Kit V8 6.0L Passenger Side Dorman 674-732 |
| 2007-2009 | Chevy | Suburban 2500 | Chevy Suburban 2500 Exhaust Manifold & Gasket Kit Passenger Side Dorman 674-732 |
| 2002-2003 | Chevy | Tahoe | Chevy Tahoe Exhaust Manifold & Gasket Kit without EGR Valve Passenger Side Dorman 674-732 |
| 2004-2012 | Chevy | Tahoe | Chevy Tahoe Exhaust Manifold & Gasket Kit Passenger Side Dorman 674-732 |
| 2003 | GMC | Savana 1500 Van | GMC Savana 1500 Van Exhaust Manifold & Gasket Kit Passenger Side V8 4.8L without EGR Valve Dorman 674-732 |
| 2003 | GMC | Savana 1500 Van | GMC Savana 1500 Van Exhaust Manifold & Gasket Kit Passenger Side V8 5.3L without EGR Valve Dorman 674-732 |
| 2003 | GMC | Savana 1500 Van | GMC Savana 1500 Van Exhaust Manifold & Gasket Kit Passenger Side V8 6.0L without EGR Valve Dorman 674-732 |
| 2003-2013 | GMC | Savana 1500 Van | GMC Savana 1500 Van Exhaust Manifold & Gasket Kit Passenger Side V8 5.3L Dorman 674-732 |
| 2004-2013 | GMC | Savana 1500 Van | GMC Savana 1500 Van Exhaust Manifold & Gasket Kit Passenger Side V8 6.0L Dorman 674-732 |
| 2004-2013 | GMC | Savana 1500 Van | GMC Savana 1500 Van Exhaust Manifold & Gasket Kit Passenger Side V8 4.8L Dorman 674-732 |
| 2003 | GMC | Savana 2500 Van | GMC Savana 2500 Van Exhaust Manifold & Gasket Kit Passenger Side V8 6.0L without EGR Valve Dorman 674-732 |
| 2003 | GMC | Savana 2500 Van | GMC Savana 2500 Van Exhaust Manifold & Gasket Kit Passenger Side V8 4.8L without EGR Valve Dorman 674-732 |
| 2003 | GMC | Savana 2500 Van | GMC Savana 2500 Van Exhaust Manifold & Gasket Kit Passenger Side V8 5.3L without EGR Valve Dorman 674-732 |
| 2003-2017 | GMC | Savana 2500 Van | GMC Savana 2500 Van Exhaust Manifold & Gasket Kit Passenger Side V8 6.0L Dorman 674-732 |
| 2004-2013 | GMC | Savana 2500 Van | GMC Savana 2500 Van Exhaust Manifold & Gasket Kit Passenger Side V8 5.3L Dorman 674-732 |
| 2004-2013 | GMC | Savana 2500 Van | GMC Savana 2500 Van Exhaust Manifold & Gasket Kit Passenger Side V8 4.8L Dorman 674-732 |
| 2003 | GMC | Savana 3500 Van | GMC Savana 3500 Van Exhaust Manifold & Gasket Kit Passenger Side V8 6.0L without EGR Valve Dorman 674-732 |
| 2003 | GMC | Savana 3500 Van | GMC Savana 3500 Van Exhaust Manifold & Gasket Kit Passenger Side V8 4.8L without EGR Valve Dorman 674-732 |
| 2003 | GMC | Savana 3500 Van | GMC Savana 3500 Van Exhaust Manifold & Gasket Kit Passenger Side V8 5.3L without EGR Valve Dorman 674-732 |
| 2004-2009 | GMC | Savana 3500 Van | GMC Savana 3500 Van Exhaust Manifold & Gasket Kit Passenger Side V8 5.3L Dorman 674-732 |
| 2004-2009 | GMC | Savana 3500 Van | GMC Savana 3500 Van Exhaust Manifold & Gasket Kit Passenger Side V8 4.8L Dorman 674-732 |
| 2004-2009 | GMC | Savana 3500 Van | GMC Savana 3500 Van Exhaust Manifold & Gasket Kit Passenger Side V8 6.0L Dorman 674-732 |
| 2002-2003 | GMC | Sierra 1500 | GMC Sierra 1500 Exhaust Manifold & Gasket Kit Passenger Side V8 6.0L without EGR Valve Dorman 674-732 |
| 2002-2003 | GMC | Sierra 1500 | GMC Sierra 1500 Exhaust Manifold & Gasket Kit Passenger Side V8 4.8L without EGR Valve Dorman 674-732 |
| 2002-2003 | GMC | Sierra 1500 | GMC Sierra 1500 Exhaust Manifold & Gasket Kit Passenger Side V8 5.3L without EGR Valve Dorman 674-732 |
| 2004-2009 | GMC | Sierra 1500 | GMC Sierra 1500 Exhaust Manifold & Gasket Kit Passenger Side V8 6.0L Dorman 674-732 |
| 2004-2009 | GMC | Sierra 1500 | GMC Sierra 1500 Exhaust Manifold & Gasket Kit Passenger Side V8 5.3L Dorman 674-732 |
| 2004-2009 | GMC | Sierra 1500 | GMC Sierra 1500 Exhaust Manifold & Gasket Kit Passenger Side V8 4.8L Dorman 674-732 |
| 2009-2013 | GMC | Sierra 1500 | GMC Sierra 1500 Exhaust Manifold & Gasket Kit Passenger Side V8 6.2L Dorman 674-732 |
| 2007 | GMC | Sierra 1500 Classic | GMC Sierra 1500 Classic Exhaust Manifold & Gasket Kit Passenger Side V8 6.0L Dorman 674-732 |
| 2007 | GMC | Sierra 1500 Classic | GMC Sierra 1500 Classic Exhaust Manifold & Gasket Kit Passenger Side V8 5.3L Dorman 674-732 |
| 2007 | GMC | Sierra 1500 Classic | GMC Sierra 1500 Classic Exhaust Manifold & Gasket Kit Passenger Side V8 4.8L Dorman 674-732 |
| 2002-2003 | GMC | Sierra 1500 HD | GMC Sierra 1500 HD Exhaust Manifold & Gasket Kit Passenger Side V8 6.0L without EGR Valve Dorman 674-732 |
| 2005-2006 | GMC | Sierra 1500 HD | GMC Sierra 1500 HD Exhaust Manifold & Gasket Kit Passenger Side V8 6.0L Dorman 674-732 |
| 2007 | GMC | Sierra 1500 HD Classic | GMC Sierra 1500 HD Classic Exhaust Manifold & Gasket Kit Passenger Side V8 6.0L Dorman 674-732 |
| 2002-2003 | GMC | Sierra 2500 | GMC Sierra 2500 Exhaust Manifold & Gasket Kit Passenger Side V8 6.0L without EGR Valve Dorman 674-732 |
| 2004 | GMC | Sierra 2500 | GMC Sierra 2500 Exhaust Manifold & Gasket Kit Passenger Side V8 6.0L Dorman 674-732 |
| 2002-2003 | GMC | Sierra 2500 HD | GMC Sierra 2500 HD Exhaust Manifold & Gasket Kit Passenger Side V8 6.0L without EGR Valve Dorman 674-732 |
| 2004-2006 | GMC | Sierra 2500 HD | GMC Sierra 2500 HD Exhaust Manifold & Gasket Kit Passenger Side V8 6.0L Dorman 674-732 |
| 2007 | GMC | Sierra 2500 HD | GMC Sierra 2500 HD New Body Style Exhaust Manifold & Gasket Kit with V8 6.0L (excluding Cab & Chassis) Passenger Side Dorman 674-732 |
| 2008-2017 | GMC | Sierra 2500 HD | GMC Sierra 2500 HD Exhaust Manifold & Gasket Kit Passenger Side V8 6.0L (excluding Cab & Chassis) Dorman 674-732 |
| 2007 | GMC | Sierra 2500 HD Classic | GMC Sierra 2500 HD Classic Exhaust Manifold & Gasket Kit with V8 6.0L Passenger Side Dorman 674-732 |
| 2002-2003 | GMC | Sierra 3500 | GMC Sierra 3500 Exhaust Manifold & Gasket Kit Passenger Side V8 6.0L without EGR Valve Dorman 674-732 |
| 2004-2006 | GMC | Sierra 3500 | GMC Sierra 3500 Exhaust Manifold & Gasket Kit Passenger Side V8 6.0L Dorman 674-732 |
| 2007 | GMC | Sierra 3500 | GMC Sierra 3500 New Body Style Exhaust Manifold & Gasket Kit with V8 6.0L (excluding Cab & Chassis) Passenger Side Dorman 674-732 |
| 2008-2013 | GMC | Sierra 3500 | GMC Sierra 3500 Exhaust Manifold & Gasket Kit Passenger Side V8 6.0L (excluding Cab & Chassis) Dorman 674-732 |
| 2007 | GMC | Sierra 3500 Classic | GMC Sierra 3500 Classic Exhaust Manifold & Gasket Kit with V8 6.0L Passenger Side Dorman 674-732 |
| 2011-2013 | GMC | Sierra Denali 2500 HD | GMC Sierra Denali 2500 HD Exhaust Manifold & Gasket Kit Passenger Side V8 6.0L (excluding Cab & Chassis) Dorman 674-732 |
| 2011-2013 | GMC | Sierra Denali 3500 HD | GMC Sierra Denali 3500 HD Exhaust Manifold & Gasket Kit Passenger Side V8 6.0L (excluding Cab & Chassis) Dorman 674-732 |
| 2002-2003 | GMC | Yukon | GMC Yukon Exhaust Manifold & Gasket Kit without EGR Valve Passenger Side Dorman 674-732 |
| 2004-2014 | GMC | Yukon | GMC Yukon Exhaust Manifold & Gasket Kit Passenger Side Dorman 674-732 |
| 2002-2003 | GMC | Yukon XL 1500 | GMC Yukon XL 1500 Exhaust Manifold & Gasket Kit without EGR Valve Passenger Side Dorman 674-732 |
| 2004-2013 | GMC | Yukon XL 1500 | GMC Yukon XL 1500 Exhaust Manifold & Gasket Kit Passenger Side Dorman 674-732 |
| 2002-2003 | GMC | Yukon XL 2500 | GMC Yukon XL 2500 Exhaust Manifold & Gasket Kit V8 6.0L without EGR Valve Passenger Side Dorman 674-732 |
| 2002-2013 | GMC | Yukon XL 2500 | GMC Yukon XL 2500 Exhaust Manifold & Gasket Kit V8 6.0L Passenger Side Dorman 674-732 |
| 2007-2013 | GMC | Yukon XL 2500 | GMC Yukon XL 2500 Exhaust Manifold & Gasket Kit Passenger Side Dorman 674-732 |
| 2003 | Hummer | H2 | Hummer H2 Exhaust Manifold & Gasket Kit without EGR Valve Passenger Side Dorman 674-732 |
| 2004-2009 | Hummer | H2 | Hummer H2 Exhaust Manifold & Gasket Kit Passenger Side Dorman 674-732 |
This part replaces:
Hollander 327-00167
OE # 12616286
Dorman 674-732
Part #: 1AEEM00657
Order must be placed by 4pm ET
Get it in: 2 - 4 Business Days
Want it sooner? Choose Next Day Air at Checkout

Brand #: 674-732