DMEEM00033-Exhaust Manifold & Gasket Kit
Replaces
Exhaust Manifold & Gasket Kit Dorman 674-217 - DMEEM00033
DMEEM00033
DORMAN EXHAUST MANIFOLD & GASKET KIT: 674-217
Specifications:
Brand New Dorman Exhaust Manifold Kit
RH (Passenger Side)
Includes:

Gaskets (Qty 3)
Studs (Qty 3)
Nuts (Qty 3)

3 bolt flange
Direct replacement
Strengthened and redesigned in the vulnerable areas of failure
WARNING: This product can expose you to chemicals including Nickel (Metallic), which is known to the State of California to cause cancer. For more information, go to www.P65Warnings.ca.gov.
Lifetime Warranty
This item is backed by a Limited Lifetime Warranty. In the event this item should fail due to manufacturing defects during intended use, we will exchange the part free of charge (excludes shipping charges) for the original purchaser.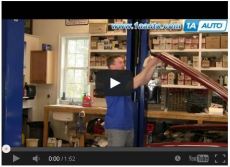 step : Removing the Exhaust Manifold (0:48)

Start the vehicle
Keep your hands away from the hot engine
Crack loose the six bolts on the exhaust manifold
Remove the three 13mm bolts around the flange where the exhaust meets the exhaust manifold
Disconnect the connector for the O2 sensor
Remove the exhaust manifold

step : Installing the Exhaust Manifold (4:38)

Place appropriate high temp threat locker on the short side of the stud
Start the threads by hand to the flange
Tighten the nut so the edge faces out
Once it's tightened two times the length of the nut, tighten a second nut so they face eachother
Lock the nuts together
Turn the nut to install the stud until it bottoms out
Remove the nuts
Repeat this process for the remaining studs
Place the thread locker and new gaskets into place
Insert the exhaust manifold to the mating surface
Hand-tighten the six bolts a few threads to support the manifold
Torque the two center bolts to 26 foot-pounds
Tighten the three 13mm bolts to the flange
Connect the O2 sensor connector
Tighten the six bolts to the exhaust manifold
Tools needed for replacement:
Materials, Fluids, and Supplies

Gloves
Rust Penetrant
Safety Glasses

Pliers, Cutters & misc Wrenches

Needle nose pliers

Ratchets & Related

Ratchet
Socket Extensions

Sockets - Metric

14mm Socket
15mm Socket

Wrenches - Metric

14mm Wrench
15mm Wrench
Vehicle Fit
| Year | Make | Model | Description |
| --- | --- | --- | --- |
| 1999-2000 | Cadillac | Escalade | Cadillac Escalade Exhaust Manifold & Gasket Kit V8 5.7L without Air Injection Provisions Passenger Side Dorman 674-217 |
| 1996-1999 | Chevy | C1500 Truck | Chevy C1500 Truck Exhaust Manifold & Gasket Kit V8 5.0L Passenger Side Dorman 674-217 |
| 1996-1997 | Chevy | C1500 Truck | Chevy C1500 Truck Exhaust Manifold & Gasket Kit V8 5.7L Passenger Side Dorman 674-217 |
| 1998-1999 | Chevy | C1500 Truck | Chevy C1500 Truck Exhaust Manifold & Gasket Kit V8 5.7L without Air Injection Provisions Passenger Side Dorman 674-217 |
| 1996-1999 | Chevy | C2500 Truck | Chevy C2500 Truck Exhaust Manifold & Gasket Kit V8 5.0L Passenger Side Dorman 674-217 |
| 1996-1997 | Chevy | C2500 Truck | Chevy C2500 Truck Exhaust Manifold & Gasket Kit V8 5.7L Passenger Side Dorman 674-217 |
| 1998-1999 | Chevy | C2500 Truck | Chevy C2500 Truck Exhaust Manifold & Gasket Kit V8 5.7L without Air Injection Provisions Passenger Side Dorman 674-217 |
| 2000 | Chevy | C2500 Truck | Chevy C2500 Truck Exhaust Manifold & Gasket Kit V8 5.7L without Air Injection Provisions Passenger Side Dorman 674-217 |
| 1996-1997 | Chevy | C3500 Truck | Chevy C3500 Truck Exhaust Manifold & Gasket Kit V8 5.7L Passenger Side Dorman 674-217 |
| 1998-1999 | Chevy | C3500 Truck | Chevy C3500 Truck Exhaust Manifold & Gasket Kit V8 5.7L without Air Injection Provisions Passenger Side Dorman 674-217 |
| 2000 | Chevy | C3500 Truck | Chevy C3500 Truck Exhaust Manifold & Gasket Kit V8 5.7L without Air Injection Provisions Passenger Side Dorman 674-217 |
| 1996-1999 | Chevy | K1500 Truck | Chevy K1500 Truck Exhaust Manifold & Gasket Kit V8 5.0L Passenger Side Dorman 674-217 |
| 1996-1997 | Chevy | K1500 Truck | Chevy K1500 Truck Exhaust Manifold & Gasket Kit V8 5.7L Passenger Side Dorman 674-217 |
| 1998-1999 | Chevy | K1500 Truck | Chevy K1500 Truck Exhaust Manifold & Gasket Kit V8 5.7L without Air Injection Provisions Passenger Side Dorman 674-217 |
| 1996-1999 | Chevy | K2500 Truck | Chevy K2500 Truck Exhaust Manifold & Gasket Kit V8 5.0L Passenger Side Dorman 674-217 |
| 1996-1997 | Chevy | K2500 Truck | Chevy K2500 Truck Exhaust Manifold & Gasket Kit V8 5.7L Passenger Side Dorman 674-217 |
| 1998-1999 | Chevy | K2500 Truck | Chevy K2500 Truck Exhaust Manifold & Gasket Kit V8 5.7L without Air Injection Provisions Passenger Side Dorman 674-217 |
| 2000 | Chevy | K2500 Truck | Chevy K2500 Truck Exhaust Manifold & Gasket Kit V8 5.7L without Air Injection Provisions Passenger Side Dorman 674-217 |
| 1996-1997 | Chevy | K3500 Truck | Chevy K3500 Truck Exhaust Manifold & Gasket Kit V8 5.7L Passenger Side Dorman 674-217 |
| 1998-1999 | Chevy | K3500 Truck | Chevy K3500 Truck Exhaust Manifold & Gasket Kit V8 5.7L without Air Injection Provisions Passenger Side Dorman 674-217 |
| 2000 | Chevy | K3500 Truck | Chevy K3500 Truck Exhaust Manifold & Gasket Kit V8 5.7L without Air Injection Provisions Passenger Side Dorman 674-217 |
| 1996-1997 | Chevy | Suburban C1500 | Chevy Suburban C1500 Exhaust Manifold & Gasket Kit V8 5.7L Passenger Side Dorman 674-217 |
| 1998-1999 | Chevy | Suburban C1500 | Chevy Suburban C1500 Exhaust Manifold & Gasket Kit V8 5.7L without Air Injection Provisions Passenger Side Dorman 674-217 |
| 1996-1997 | Chevy | Suburban C2500 | Chevy Suburban C2500 Exhaust Manifold & Gasket Kit V8 5.7L Passenger Side Dorman 674-217 |
| 1998-1999 | Chevy | Suburban C2500 | Chevy Suburban C2500 Exhaust Manifold & Gasket Kit V8 5.7L without Air Injection Provisions Passenger Side Dorman 674-217 |
| 1996-1997 | Chevy | Suburban K1500 | Chevy Suburban K1500 Exhaust Manifold & Gasket Kit V8 5.7L Passenger Side Dorman 674-217 |
| 1998-1999 | Chevy | Suburban K1500 | Chevy Suburban K1500 Exhaust Manifold & Gasket Kit V8 5.7L without Air Injection Provisions Passenger Side Dorman 674-217 |
| 1996-1997 | Chevy | Suburban K2500 | Chevy Suburban K2500 Exhaust Manifold & Gasket Kit V8 5.7L Passenger Side Dorman 674-217 |
| 1998-1999 | Chevy | Suburban K2500 | Chevy Suburban K2500 Exhaust Manifold & Gasket Kit V8 5.7L without Air Injection Provisions Passenger Side Dorman 674-217 |
| 1996-1997 | Chevy | Tahoe | Chevy Tahoe Exhaust Manifold & Gasket Kit V8 5.7L Passenger Side Dorman 674-217 |
| 1998-1999 | Chevy | Tahoe | Chevy Tahoe Exhaust Manifold & Gasket Kit V8 5.7L without Air Injection Provisions Passenger Side Dorman 674-217 |
| 2000 | Chevy | Tahoe | Chevy Tahoe Exhaust Manifold & Gasket Kit V8 5.7L without Air Injection Provisions Passenger Side Dorman 674-217 |
| 1996-1999 | GMC | C1500 Truck | GMC C1500 Truck Exhaust Manifold & Gasket Kit V8 5.0L Passenger Side Dorman 674-217 |
| 1996-1997 | GMC | C1500 Truck | GMC C1500 Truck Exhaust Manifold & Gasket Kit V8 5.7L Passenger Side Dorman 674-217 |
| 1998-1999 | GMC | C1500 Truck | GMC C1500 Truck Exhaust Manifold & Gasket Kit V8 5.7L without Air Injection Provisions Passenger Side Dorman 674-217 |
| 1996-1999 | GMC | C2500 Truck | GMC C2500 Truck Exhaust Manifold & Gasket Kit V8 5.0L Passenger Side Dorman 674-217 |
| 1996-1997 | GMC | C2500 Truck | GMC C2500 Truck Exhaust Manifold & Gasket Kit V8 5.7L Passenger Side Dorman 674-217 |
| 1998-1999 | GMC | C2500 Truck | GMC C2500 Truck Exhaust Manifold & Gasket Kit V8 5.7L without Air Injection Provisions Passenger Side Dorman 674-217 |
| 2000 | GMC | C2500 Truck | GMC C2500 Truck Exhaust Manifold & Gasket Kit V8 5.7L without Air Injection Provisions Passenger Side Dorman 674-217 |
| 1996-1997 | GMC | C3500 Truck | GMC C3500 Truck Exhaust Manifold & Gasket Kit V8 5.7L Passenger Side Dorman 674-217 |
| 1998-1999 | GMC | C3500 Truck | GMC C3500 Truck Exhaust Manifold & Gasket Kit V8 5.7L without Air Injection Provisions Passenger Side Dorman 674-217 |
| 2000 | GMC | C3500 Truck | GMC C3500 Truck Exhaust Manifold & Gasket Kit V8 5.7L without Air Injection Provisions Passenger Side Dorman 674-217 |
| 1996-1999 | GMC | K1500 Truck | GMC K1500 Truck Exhaust Manifold & Gasket Kit V8 5.0L Passenger Side Dorman 674-217 |
| 1996-1997 | GMC | K1500 Truck | GMC K1500 Truck Exhaust Manifold & Gasket Kit V8 5.7L Passenger Side Dorman 674-217 |
| 1998-1999 | GMC | K1500 Truck | GMC K1500 Truck Exhaust Manifold & Gasket Kit V8 5.7L without Air Injection Provisions Passenger Side Dorman 674-217 |
| 1996-1999 | GMC | K2500 Truck | GMC K2500 Truck Exhaust Manifold & Gasket Kit V8 5.0L Passenger Side Dorman 674-217 |
| 1996-1997 | GMC | K2500 Truck | GMC K2500 Truck Exhaust Manifold & Gasket Kit V8 5.7L Passenger Side Dorman 674-217 |
| 1998-1999 | GMC | K2500 Truck | GMC K2500 Truck Exhaust Manifold & Gasket Kit V8 5.7L without Air Injection Provisions Passenger Side Dorman 674-217 |
| 2000 | GMC | K2500 Truck | GMC K2500 Truck Exhaust Manifold & Gasket Kit V8 5.7L without Air Injection Provisions Passenger Side Dorman 674-217 |
| 1996-1997 | GMC | K3500 Truck | GMC K3500 Truck Exhaust Manifold & Gasket Kit V8 5.7L Passenger Side Dorman 674-217 |
| 1998-1999 | GMC | K3500 Truck | GMC K3500 Truck Exhaust Manifold & Gasket Kit V8 5.7L without Air Injection Provisions Passenger Side Dorman 674-217 |
| 2000 | GMC | K3500 Truck | GMC K3500 Truck Exhaust Manifold & Gasket Kit V8 5.7L without Air Injection Provisions Passenger Side Dorman 674-217 |
| 1996-1997 | GMC | Suburban C1500 | GMC Suburban C1500 Exhaust Manifold & Gasket Kit V8 5.7L Passenger Side Dorman 674-217 |
| 1998-1999 | GMC | Suburban C1500 | GMC Suburban C1500 Exhaust Manifold & Gasket Kit V8 5.7L without Air Injection Provisions Passenger Side Dorman 674-217 |
| 1996-1997 | GMC | Suburban C2500 | GMC Suburban C2500 Exhaust Manifold & Gasket Kit V8 5.7L Passenger Side Dorman 674-217 |
| 1998-1999 | GMC | Suburban C2500 | GMC Suburban C2500 Exhaust Manifold & Gasket Kit V8 5.7L without Air Injection Provisions Passenger Side Dorman 674-217 |
| 1996-1997 | GMC | Suburban K1500 | GMC Suburban K1500 Exhaust Manifold & Gasket Kit V8 5.7L Passenger Side Dorman 674-217 |
| 1998-1999 | GMC | Suburban K1500 | GMC Suburban K1500 Exhaust Manifold & Gasket Kit V8 5.7L without Air Injection Provisions Passenger Side Dorman 674-217 |
| 1996-1997 | GMC | Suburban K2500 | GMC Suburban K2500 Exhaust Manifold & Gasket Kit V8 5.7L Passenger Side Dorman 674-217 |
| 1998-1999 | GMC | Suburban K2500 | GMC Suburban K2500 Exhaust Manifold & Gasket Kit V8 5.7L without Air Injection Provisions Passenger Side Dorman 674-217 |
| 1996-1997 | GMC | Yukon | GMC Yukon Exhaust Manifold & Gasket Kit V8 5.7L Passenger Side Dorman 674-217 |
| 1998-1999 | GMC | Yukon | GMC Yukon Exhaust Manifold & Gasket Kit V8 5.7L without Air Injection Provisions Passenger Side Dorman 674-217 |
| 2000 | GMC | Yukon | GMC Yukon Exhaust Manifold & Gasket Kit V8 5.7L without Air Injection Provisions Passenger Side Dorman 674-217 |

Brand #: 674-217